Arshile Gorky
The Art History Archive - Abstract Expressionism
---
This Website is Best Viewed Using Firefox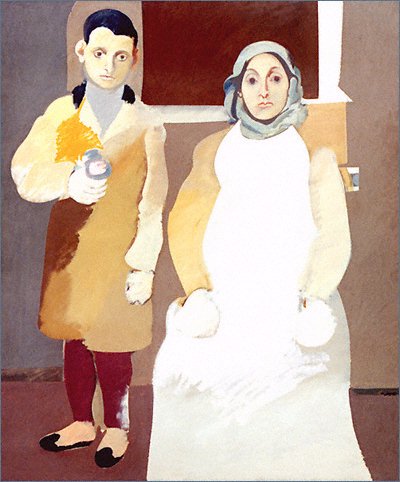 The Father of Abstract Expressionism
Biography by Charles Moffat - December 2007.
April 15th 1904 - Died July 21st 1948
Vostanik Manoog Adoyan (commonly known as Arshile Gorky) was an Armenian-American painter who had a fatherly influence on the creation of the Abstract Expressionist art movement. Gorky created a crucial bridge between Surrealism and Abstract Expressionism.
Gorky was born in the Armenian village of Khorkom near Van. The actual date is unknown. It was sometime between 1902 and 1905. In his later years Gorky was always vague about even the date of his birthday and he would it change from year to year.
In 1910 Gorky's father immigrated to the United States to avoid a Turkish war draft, leaving his family behind. Gorky fled the country in 1915 during the Armenian Genocide and escaped to Russian-controlled territory with his mother and his three sisters. Gorky's mother died of starvation during their forced march in Yerevan in 1919 (her memory inspired a series of portraits).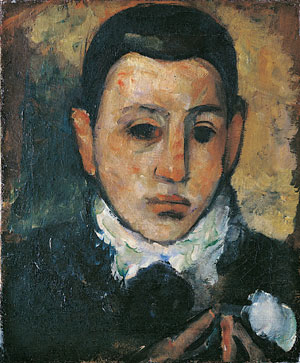 Gorky reunited with his father when he arrived in the United States in 1920, at the age of 16, but their relationship was never close.
Gorky enrolled in the New School of Design in Boston in 1922, and eventually became a part-time instructor at the Rhode Island School of Design. He later moved to Greenwich Village and embraced the the Bohemian lifestyle of New York City and was influenced by Paul Cezanne and French Impressionism, although later in the decade he produced works that were more post-impressionist.
Gorky befriended Stuart Davis and John Graham, two Cubist artists. Gorky, Graham and Davis became to known as the "three musketeers". Graham later became a particularly important influence on Gorky in the 1930s, providing Gorky intellectual art writings that would complement Gorky's understanding of Cubism and abstraction. Gorky developed a close relationship with Willem de Kooning soon after the Dutch-born artist arrived in the United States in 1926, and introduced the immigrant artist to other artists working in New York.
He hit on the idea of becoming a great painter by practicing painting in the style of respected artists such Paul Cézanne, Joan Miró, and Pablo Picasso. He was particularly interested in Picasso's Synthetic Cubism. At the end of the 1920s and into the 1930s he experimented with Cubism, eventually moving to Surrealism. His aim was never to imitate the work of others however, but to learn their from their aesthetic ideas and then evolve beyond it.
From 1926 to 1931 he taught at the Grand Central School of Art and influenced many young artists with his theories about abstraction.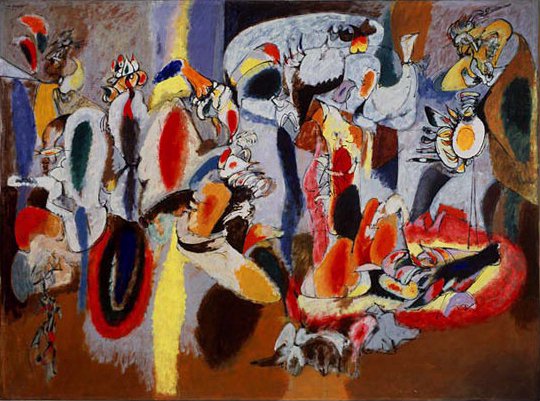 Gorky took great pains to obscure his Armenian heritage. At the age of 31 he married and changed his name to Arshile Gorky (The name Arshile is derived from Achilles from the Trojan War), in the process reinventing his identity (he told people he was a relative of the Russian writer Maxim Gorky) and started lying about his age and date of birth. He liked passing himself off as a successful Russian portraitist who had studied in Paris and experimented with Automatism.
In 1939 he met the Chilean Surrealist painter Roberto Matta who influenced him greatly. The Surrealist philosophy of art unlocking the unconscious enabled Gorky to hone his personal style, which resulted in his artistic style that lasted the remaining eight years of his life. The resulting style could best be described as "biomorphic forms floating over a background of melting colours".
Gorky's final years were a soap opera of intense pain and heartbreak. He achieved personal success and fame, but his barn studio burned down in Spring 1946 and he lost many of his paintings. He also had surgery to remove some throat cancer during the Summer of 1946.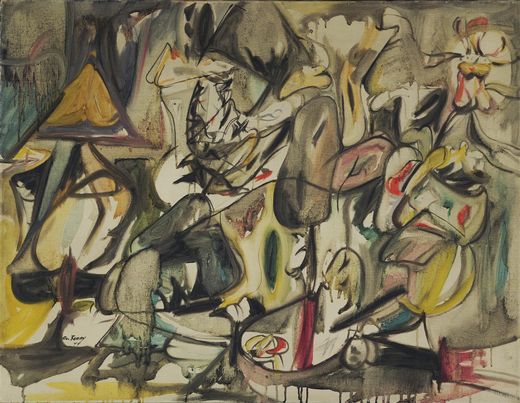 After his cancer operation he recovered on a Virginia farm. Too weak to paint, Gorky created some 300 drawings during the summer of 1946.
In June 1948 his neck was broken and his painting arm temporarily paralyzed in an automobile accident. In July his wife of seven years left him, taking their children with her.
On July 21st 1948 Gorky hanged himself in Sherman, Connecticut at the age of 44. He was buried in North Cemetery in Sherman, Connecticut.
In 1951 the Whitney Museum of American Art mounted "Arshile Gorky: Memorial Exhibition", which secured his name in the art history books.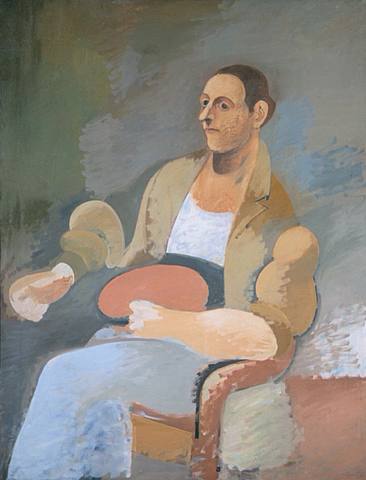 The Paintings of Arshile Gorky
The Artist and his Mother - 1926-34
Self-Portrait at the Age of Nine - 1928
The Artist and his Mother - c.1929-36
Portrait of Master Bill - 1929-36
Night-time, Enigma, and Nostalgia - 1932-34
Woman with Necklace Marquette - 1936
The Liver is the Cock's Comb - 1944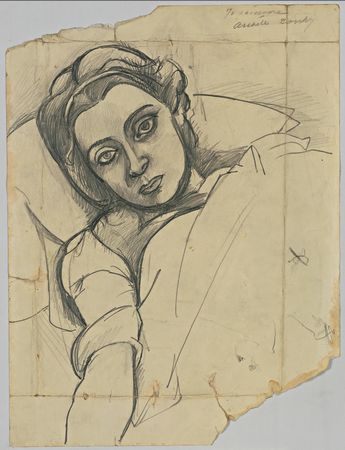 The Leaf of the Artichoke is an Owl - 1944
Water of the Flowery Mill - 1944