Tomma Abts
The Art History Archive - Abstraction
---
This Website is Best Viewed Using Firefox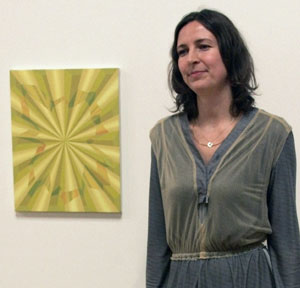 German Abstractionist
Tomma Abts is a German abstract painter born in Kiel 1967 and living and working in London, England, where she is represented by the greengrassi gallery. Abts works in acrylic and oil, often building up her designs from repetitive geometrical elements.
The titles of her paintings are derived from a dictionary of German first names. Tomma Abts also claims that all of her work pieces measure 48 cm × 38 cm (19 inches by 15 inches). She claims that this is the size and style that works for her.
Officially none of Tomma Abts paintings are representational. There are no references to nature, the world or any other theme. The abstraction in Tomma Abts paintings is supported by the lack of detail and an overall retro feel. The paintings do not follow the traditional rules of abstract art though. They involve complex shapes that are layered and woven in different ways with added highlights, shadows and sense of depth.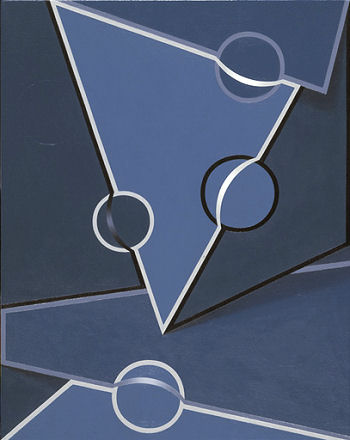 Like many abstract artists who preceded her, from Piet Mondrian to Robert Ryman, Abts reinvigorates the medium by reducing it to its basic elements: color, line, flatness. Each of Tomma Abts' work takes on a colour scheme that is rich and somewhat neutral. The colours are not obviously vibrant and work with each other's tones within each work of art. Abts creates a 3D effect by meticulously layering and working up each painting. The works are thickly painted, almost over-painted, which gives a hint of something created by trial and error. It seems as though the layers of paint could be covering up something underneath the finished product. Abts' paintings display balance without symmetry, movement and depth without optical tricks, and luminosity without the harshness of bright color.
"Abts approaches each canvas without preconception, building up layers of paint until a form crystallizes."
Tomma Abts was the winner of the 2006 Turner Prize, having been selected for her solo exhibitions at Kunsthalle Basel, Switzerland, and greengrassi, London. The Tate Gallery praised "her rigorous and consistent approach to painting" and added "Through her intimate and compelling canvases she builds on and enriches the language of abstract painting."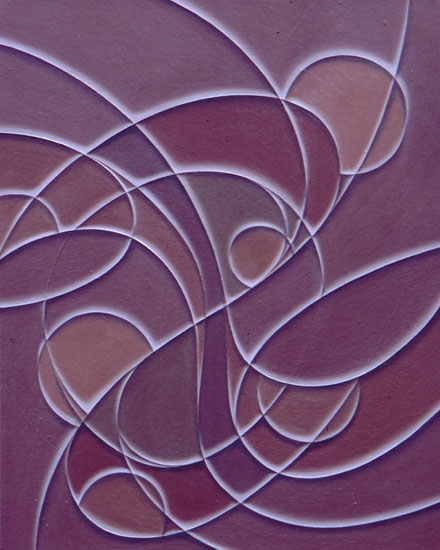 QUOTES
"I develop something without any preconceptions of what it is going to look like, so, to give it a meaning and sense of self-evidence, I try to define the forms precisely. They become, through the shadows, texture, etc., quite physical and therefore "real" and not an image of something else. The forms don't stand for anything else, they don't symbolize anything or describe anything outside of painting. They represent themselves." - Tomma Abts, 2004.
"I work inside- out, so to say, and the shapes are almost negative shapes." - Tomma Abts.
"I start with nothing really, I make no sketches before I start the painting, I work directly onto the canvas." - Tomma Abts.
ARTWORKS BY TOMMA ABTS