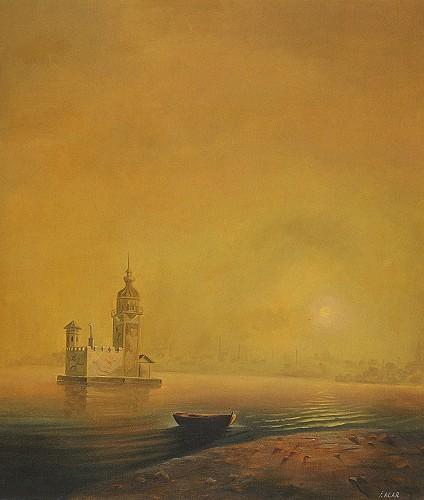 Ismail Acar
Ismail Acar is a leading Turkish artist in painting. He was born in 1971 and graduated in 1991 from the College of Fine Arts of the Marmara University in Istanbul, Turkey with honors. In 1993, Acar received his Master of Arts degree in "Technology and Art", as well as in "Postmodernism".
He received lessons from and studied wall painting with Prof. M. Plevneli, gravure and printing with Prof. T. Erdogmus, wood press with Prof. Mustafa Aslier, pattern with Prof. B. Cimsir Ali, Turkish Art with Prof. O. Aslan Apa, Sociology of Art with Prof. Nermi Ugur, design with Prof. M. Özer, Byzantine Art with Prof. Semavi Egice, Aesthetics of Art with Prof. Ismail Tunali, calligraphy and decoration illumination with Mr. Sarkis. He performed wall practice projects with Prof. H. Koçan. He studied exhibition preparation with David Salle.
Acar, was awarded "The Most Successful Artist of Turkey" in 2004. His paintings have been exhibited at many galleries within Turkey and abroad, as well as in museums and private collections. The artist had exhibited over sixty solo and well over forty joint exhibitions by 2006.
In Ismael Acar's paintings East appears to meet west, with tens of thousands of years' history viewed by him in a contemporary way . We can also in Acar's paintings all ethnicities, cultures and religions in conjunction.
Ismail Acar applies contemporary media techniques, including computer technology, to traditional painting techniques. The artist often concentrates on themes such as "Kaftans", "Istanbul" (as the historical Byzantine, Ottoman and the Republic eras), "Three Istanbul: The Capital of Cultures","Hagia Sophia", "Calligraphy", the "Struggle of Women", "Sultans' Portraits", "Harem and Rakkase", "Hagia Sophia and Imaginary Projections", "Pomegranate","Dervish and Rumi", "Tile-Calligraphy", "Roses-Gulname", and "Porcelain Kingdoms", "Gods and Rulers of Anatolia", "Anatolian Kings and Gods" in time, history and geography( as were entuitled some of his exhibitions).
His 41st individual exhibition entitled "Meeting" was held in Galata district, with Mevlevi dervishes.
He performed an art exhibition in 1999 in the Hagia Sophia Museum in Istanbul which was the first such in its 1,600-year-old history and which 350,000 people visited.
Ismail Acar and Hagia Sofia was the theme of a documentary film prepared by Serpil Boydak in 1999. Ismail Acar worked on the preparation of the "Hagia Sofia and Imaginary Projections" exhibition with Prof. Semavi Egice.
He painted the world's largest open-air wall-art project in Kas port, in Antalya in 2000, entitled "Clean Nature Clean World". It is 350 metres wide and it can be seen from a 5 km distance.
Other major exhibitions of Acar were held in the Topkapi Palace Museum and the Military Museum in Istanbul, the Museum of Painting and Sculpture in Ankara, and the Museum of Painting and Sculpture in Izmir. He also held exhibitions in Geneva, Prague and Saint Tropez in 2001, Davos, Switzerland in January 2003, and Tokyo, Japan, and New York in February 2003, Bahrain in May 2004.
In May 2005, he exhibited the "Melange Objects" exhibition at the Camps Elysees in Paris.
His Sultans in Venice exhibition was a major three-part art event held during the 51st International Biennale of Venice in June 2005, that was organized by the venetian curator Umberto Branchini. The Installations of the Sultans in Venice, curated by Branchini, was held in 20 different terraces along the Grand Canal. The second show by Acar in Venice, also curated by Branchini, was The Sultans that was held at the Fondaco dei Turchi: Museum of Natural History. The "Red Room" and the "White Room" Exhibitions at The Institute of Science, Literature and Arts, in Grand Canal,Venice was also organized by Branchini and it had as huge a success as the others.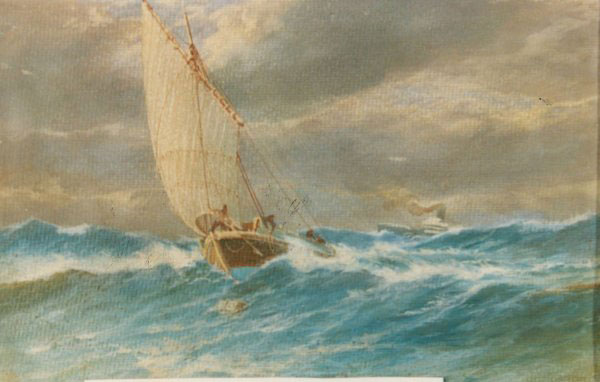 At the same time, in Venice, the images and the sounds of the video, "Sultan Dream" was jointly realized by Umberto Branchini (as art director) and Ismail Acar (as artist) in a collaboration with Bruna Rotunno ( as video director) and Eraldo Bernocchi ( as sound designer).
Ismail Acar has donated one part of the income of all his exhibitions since 2001 to social charity foundations and institutions. Currently, Acar is continuing his work at Istanbul.
Hoca Ali Riza
Hoca Ali Riza (1858-1939) was a Turkish painter.
Born in Uskudar, Istanbul. Painted many landscapes of Istanbul and especially Uskudar. Attended Kuleli Military High School and then the Military Academy. There he studied under Osman Nuri Pasha, Süleyman Seyyid and Monsieur Gués, and graduated in 1884. From 1909 to 1912 he served as President of the Society of Ottoman Painters.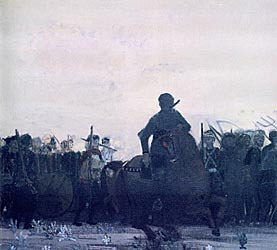 Avni Arbas
Avni Arbas (1919–October 16, 2003) was a Turkish artist.
Arbas was born in Istanbul, Turkey. He is best known for his paintings of scenes from daily life in Turkey, the Turkish War of Independence, the Bosphorus, fishermen, horses and nature. He died of cancer in Izmir in 2003.
Esref Armagan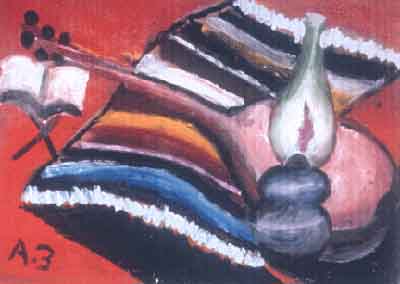 Esref Armagan is a blind painter of Turkish origin. He was born blind to a poor family in Turkey, and has been drawing or painting since childhood. He has had exhibitions in Turkey and in Holland and the Czech Republic. In 2004, he was the subject of a study of human perception, conducted by the psychologist John Kennedy of University of Toronto.
Tomur Atagok
Tomur Atagok (born 1939, Istanbul) is a Turkish painter and professor. She graduated from American College for Girls in 1959. She continued her education in plastic arts at the Oklahoma State University and California College of Arts and Crafts during 1962-64. She completed her MA in plastic arts in University of California, Berkeley in 1965.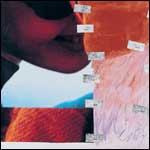 Her first personal exhibition was held in 1966 at the Istanbul Devlet Güzel Sanatlar Gallery. From then on she had numerous personal and collective exhibitions all over the world, including England, France, Egypt, Algeria and the United States.
She began to work at MSU Sculpture and Painting Museum (Resim Heykel muzesi) as Director Assistant in 1980. Then in 1984 she became the Yildiz University Culture, Press and Foreign Relations Director. She became a professor in 1993.
Apart from her work as an artist, she has written numerous essays on Museum Studies, and organised and held many conferences with notable figures.
She founded the first Museology department in Turkey in Yildiz University. She is currently the dean of the Art and Design Faculty in Yildiz University, and the tutor of Museums and Museology course in the said department.
She has also attended to artistic activities in Romania and Greece as a representative of Turkey and curated many exhibitions for Turkish Ministry of Culture.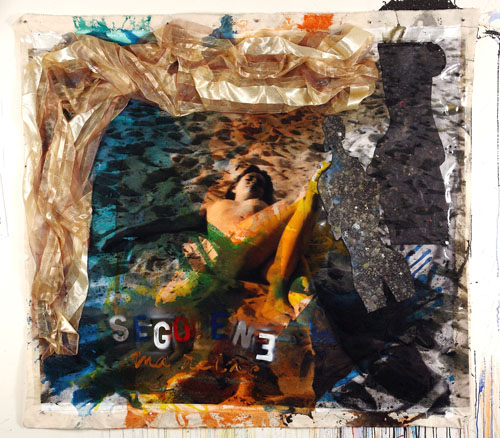 Bedri Baykam
Bedri Baykam (born Ankara, 1957) is an internationally acclaimed Turkish artist and intellectual. His father Dr. Suphi Baykam was a famous deputy in the Turkish parliament and his mother Mutahhar Baykam an architect-engineer. He started to paint when he was only two years old, and has had several exhibitions since the age of six in Bern, Geneva, New York, Washington, London, Rome, Munich, Stockholm, etc. during his childhood years, when he was known as a child prodigy, (wunderkind) throughout the world. Baykam also obtained many prestigious placaments as a tennis player throughout the 70s at Turkey Championships.
He studied at the Sorbonne University in Paris from 1975 to 1980 and got an MBA degree. During this time, he also studied drama in L'Actorat, Paris. He lived in California during the years 1980-1987, studied painting and film-making at the California College of Arts and Crafts, in Oakland. He had several shows in New York, California and Paris. He returned to Turkey in 1987 and has been living in Istanbul since.
He has had 97 one-man-shows in various countries in addition to participating in numerous group shows. To date, he authored eighteen books, five of which were on art (one in English), and eleven on politics. One of his most well-known books, "Monkeys' Right to Paint" published in Turkish and English, brings to light the rights of non western artists and severely criticizes the one sided prejudiced attitude of the western art establishment that keeps building a one sided, all western art-history. Baykam is also the writer of a controversial bestseller "The Bone", published in december 2000. A turn of the Century novel around sex, death, philosophy new sciences, technology and spying, "The Bone" predicted the events of september 11, 10 months before it happened in all its details! "The Bone" has been published english in 2005.
Baykam is one of the pioneers of the New-Expressionism movement and of multi-media and photo-painting oriented political art. Since the beginning of the 80's. He directed several 16 mm. short films and has acted in several parts in feature films in Turkey as an actor. He is the author of 20 published books.
He is working actively for some associations, such as "The Association for Supporting the Contemporary Living" and "The Association for Atatürk's Thoughts". He is also one of the founders of UNESCO-AIAP-IAA International Association of artists Turkish National Committee. Between 1995 and 1998, he was an elected member of the Party Assembly of the Social Democrat "Republican People's Party" (CHP).(Turkey's leading leftist Party ) Baykam was also a candidate for the Presidency of this Party in October 2003, at the General Congress in Ankara. He is one of the most outspoken defenders of the secular "Kemalist" republic and of democracy and human rights. Baykam who the founded and directed the monthly art magazine Skala between 2000 and 2002, also writes for the daily Cumhuriyet, and several different art and political magazines. He is one of the central characters of the Turkish intellectual and political milieu, heading actually the "Patriotic Movement".
Sevgi Çagal
Sevgi Çagal, born on February 17, 1957 in New York, U.S. is a Turkish painter and sculptress.
She was educated in French Linguistics at the New York University from 1974 to 1978, from where she received a BA degree. In 1976, Çagal studied History of Arts in Paris, France. She completed her education with a MA degree in French Linguistic and Literature at NYU in 1980.
She moved to Turkey in 1987, and lives since then in Istanbul. Between 1990 and 1998, Çagal worked in some art workshops of her masters. She opened her own workshop in 1997.
Her works are recognized by their round forms and vibrant color. They can be found in collections all over in Europe, USA and parts of Asia. Her latest works are of tulips, abstracted so that they have a life of their own. The previous works consisted of almost magnified detail of organic forms. Detail has always been important to her: she believes the essence of being is hidden in the detail and tulips, rather the form of the tulip, to her consists of the folds and the forms we may find in all living things.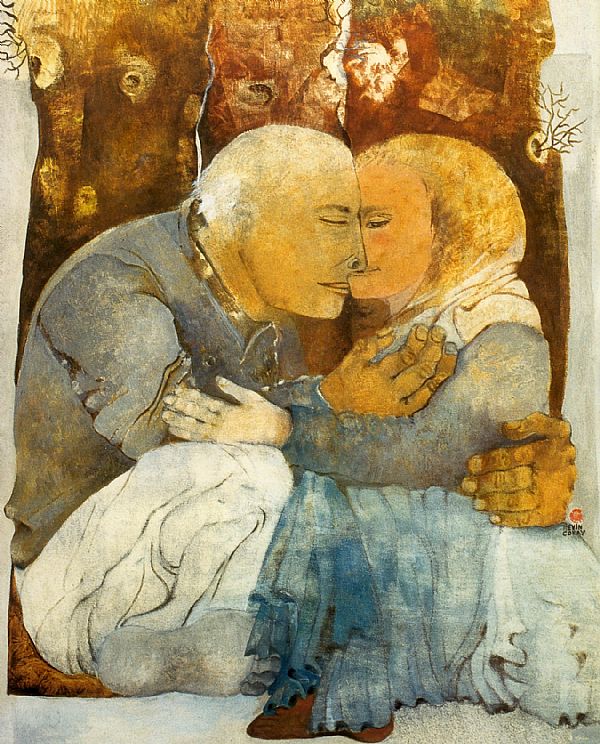 Nevin Çokay
Nevin Çokay (born 1930 in Istanbul) is a Turkish painter.
Nevin Çokay spent her childhood in different regions of Turkey. In 1947 she started to attend to the studio of Bedri Rahmi Eyüboglu at the Academy of Fine Arts Istanbul, which she finished in 1953. She also joined The Group Ten. Her first exhibition took place in the Gallery "Maya" in Istanbul (1953). Between 1950 and 1953 she was a member of the State Choir for Turkish folk music under the direction of Nedim Otyam. Beside the participation in concerts and folkloric arrangements e.g. in Italy, she also worked as a voice artist and acted in the film Yurda Dönüs.
After 1954 she completely devoted herself to painting. Her paintings were shown in special exhibitions of the State Museum for Painting and Sculptures Istanbul and the Biennale for Young Artist in Paris. In 1961 she won the second price of the Istanbul Art Festival. 1979 she was invited to Holland, where her pictures were exhibited in different museums and galleries in Deventer, Hague and Rotterdam for the duration of one year. Her paintings are found in public and private collections in Germany and Holland, in the Museum for Painting and Sculptures Istanbul, the Turkish Ministry of Culture and Tourism, the city administration Istanbul, the University of Istanbul and the Umjetnicka Galerij in former Yugoslavia.
Nevin Çokay worked 17 years as a teacher for art and art history in high schools and gave 10 years of private painting lessons in different gallery studios. Today she works in her private studio in Istanbul.
She is married and has a son.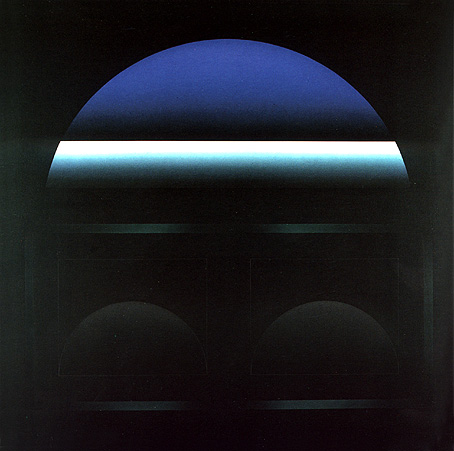 Adnan Coker
Adnan Coker (born 1927 in Istanbul) is an artist. He graduated from Academy of Fine Arts Istanbul in 1951 and won European Concourt Prize in 1955. He went on to Paris on a scholarship from the Turkish state. He worked at the André Lhote, Henri Goetz and Hayter studios in Paris and the Emilio Vedova Studio at the International Salzburg Summer Academy.
Adnan Coker was an instructor at the Academy of Fine Arts, 1960-1995 and performed "Demonstrations of Painting with music", 1961-1966. He had 23 one person exhibitions and participated in 24 group exhibitions. Winner of 8 national and 2 international awards.
Gürkan Coskun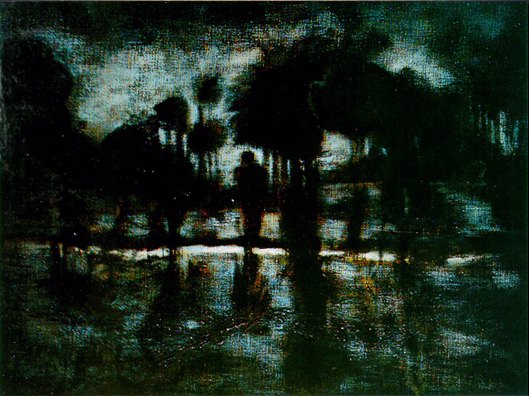 Gürkan Coskun (Çorum, 1941 - ) or more widely known as Komet is a famous Turkish painter. After attending Istanbul State Academy of Fine Arts between the years 1960 and 1967, he moved to Paris in 1971. Today, he still splits his time between the two cities. His work is exhibited in various countries and is very respected in his home town. [1] In his paintings, he usually blends fantasy and reality.
Abidin Dino
Abidin Dino, (March 23, 1913 – December 7, 1993) was a Turkish artist and a well-known painter.
He was born on March 23, 1913 in Istanbul into a family who loved art. He started drawing and painting at a young age influenced by his family. As a child he lived in Geneve, Switzerland and France for several years with his parents, returning to Istanbul in 1925. Dino began his secondary education at the American highschool Robert College of Istanbul, but dropped out to devote himself to painting, drawing and writing. His articles and cartoons were soon being published in newspapers and magazines, and in 1933 he and five other young innovative painters founded the "Group D", which held several exhibitions of their work. At around the same time, he illustrated Nazim Hikmet's books of poetry
In 1933, the Soviet director Sergei Yutkevich, who had made a film about Ankara, invited Dino to the Lenfil Studios in Leningrad, and with Atatürk's encouragement Dino accepted. In Leningrad, he worked as a scenery designer and assistant director at several film studios, and directed a film called "Miners" in Moscow, Kiev and Odessa. Shortly after returning to Turkey, he went to Paris, France where he worked from 1937 to 1939, meeting such famous artists as Gertrude Stein, Tristan Tzara and Picasso.
Following his return to Istanbul again, he participated in the famous "Harbor Exhibition", consisting of paintings of the city's dockworkers and fishermen by well-known Turkish painters of the time. The exhibition aroused widespread public interest, and that year Dino was asked to design the Turkish pavilion at the 1939 New York World's Fair. Meanwhile, he published articles and cartoons in several of the foremost magazines of that time, studying a new approach to realism together with his elder brother poet Arif Dino.
During World War II, he did drawings inspired by the conflict, but his treatment of political subjects in wartime aroused official hackles, and in 1941 the martial law command of Istanbul exiled him and his elder brother to southeastern Anatolia, where their grandfather was governor before. The years of exile until 1945 were artistically very productive for Dino. While his young wife Guzin Dino taught French at Adana High School, he worked for a local newspaper, producing articles and drawings that illustrated with poetic realism of the hard lives and working conditions of agricultural laborers in the region. It was here that he wrote his plays "Bald" and "Heirs", and began doing sculpture. In 1951, he was allowed to leave Turkey. So he went first to Rome, Italy where he stayed nine months, but settled then in Paris in 1952.
Within a short time, the home of Guzin and Abidin Dino in Paris became the haunt of many famous artists and writers. The couple first moved into the studio on the top floor of Max Ernst's apartment on the quay of Saint Michel, and later to a small flat in L'Eure.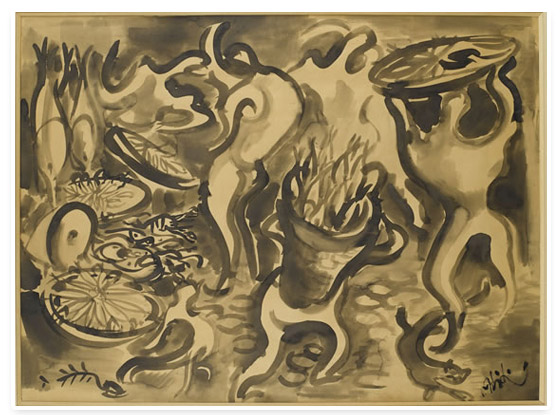 Their foreign and Turkish friends, including Nazim Hikmet, Yasar Kemal, Ahmet Hamdi Tanpinar and Melih Cevdet, found the opportunity to meet one another at the Dino's home. The Dinos were also always ready with a helping hand for young Turkish painters and students in Paris, introducing them to world famous masters, and assisting them to get established.
For eight years from 1954, Abidin Dino participated in the "Salon de Mai" exhibitions in Paris, while Guzin Dino produced programmes for Radio France, taught Turkish at the Oriental Languages Department of the Sorbonne, and did French translations of Turkish literature.
Although Abidin Dino lived abroad, he never severed relations with Turkey and his friends there, and took a close interest in everything that occurred, particularly in the political field. He was always delighted to cooperate with other artists and writers, writing prefaces and drawing illustrations for his friends' books with unbounded generosity.
After more than a decade's absence he visited Turkey in 1969 to open an exhibition of his work. From then on he came more frequently, participating in both one-person and mixed exhibitions. In 1979 he was elected honorary president of the National Union of the Visual Arts (UNAP) in France. His film "Goal! World Cup 1966" (1966) was a spectacular tribute to his visual sensitivity and brought him the "Flaherty prize". This film about the 1966 World Cup final is a documentary that did not confine itself to football matches, but included fascinating footage of people in London and elsewhere in England.
Abidin Dino was interested in everything that was alive, skillfully capturing images with his brush, pencil and camera. He had two favorite themes: hands and flowers. In a book of small drawings, which he did for his wife Guzin published on the tenth anniversary of his death, glimpses of the love and sense of solidarity are seen, which were his inspiration. Entitled "Guzin's Abidins", this book consists of drawings and essays by Abidin Dino.
One may come across his name in numerous art galleries and museums around the world, in a poem, the lyrics of a song, or a book. He is not only one of the pioneers of modern Turkish painting, but produced masterful works in such disparate fields as caricature, sculpture, ceramics, cinema, and literature.
Dino died on December 7, 1993 at the Villejuif Hospital in Paris. He laid to rest in the Asiyan Cemetery in Istanbul.
Burhan Cahit Dogançay
Burhan Dogançay, born in Istanbul in 1929, is Turkey's most celebrated and expensive living artist. He obtained his artistic training from his father, Adil, and Arif Kaptan, both well-known Turkish painters. Upon completion of his law studies in Ankara, he went to Paris where he attended art courses at the Académie de la Grande Chaumière and enrolled at the University of Paris from where he obtained a doctorate degree in economics. During his student years in Paris and in the years after his return to Ankara he held several solo exhibitions and participated in numerous group shows. Following a brief career in the diplomatic service, which brought him to New York City in 1962, Dogançay decided in 1964 to devote himself entirely to art and make New York his permanent home.
Dogançay is primarily known for a body of work that grew out of fascination with urban walls which have a special meaning to him. He sees them as witnesses to the passage of time—the barometers of our society —reflecting social, political, and economic changes, all the while withstanding the assaults of the elements and the graffiti and other markings left by people. In the mid-1970s, Dogançay embarked on what he saw then as a secondary project: photographing urban walls all over the globe. Over time, this project has gained in importance as well as in content and, after four decades, now encompasses more than one hundred countries. In 1982 this archive culminated in a one-man exhibition at the Georges Pompidou Center, Paris, entitled Les murs murmurent, ils crient, ils chantent ….("Walls that whisper, shout and sing…."). His photographs of urban walls are an archive of our time and provide the seeds for Dogançay's paintings, which in and by themselves document the era in which we live.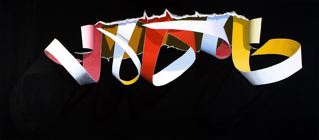 With posters and objects gathered from walls forming the main elements of his works, it is only natural that Dogançay's preferred medium has been predominantly collage, and to some extent "fumage" (blackened effect achieved with a burning candle). Dogançay re-creates walls in different series, relating to doors, colors, graffiti-types or the objects that he incorporates in his pieces. In the 1970s and 1980s his interpretation of urban walls developed into his signature Ribbons series, the works, in contrast to his collaged billboard pieces, consisting of clean paper strips and their calligraphically shaped shadows. This series, which grew out of three-dimensional maquettes, later gave rise to alucobond and aluminum shadow sculptures.
Dogançay is the recipient of many awards. Most notable is the Lifetime Achievement Award, presented in 1995 by the oresident of the Republic of Turkey. His work appears in numerous publications and is represented in the collections of the world's most prestigious museums, including The British Museum, London, The Metropolitan Museum of Art, New York, MoMA, New York and the Centre Georges Pompidou, Paris.
A survey of Dogançay's extensive body of work and artistic evolution is permanently on view at the Dogançay Museum, Turkey's first contemporary art museum, which opened in the Beyoglu section of Istanbul in 2004.
Dogançay divides his time between New York and southern Turkey, where he maintains a second studio and lives with his wife, Angela, and their cat, Rambo.
Nese Erdok
Nese Erdok (1940) is a Turkish female painter, born in Istanbul. Not a lot is known about her.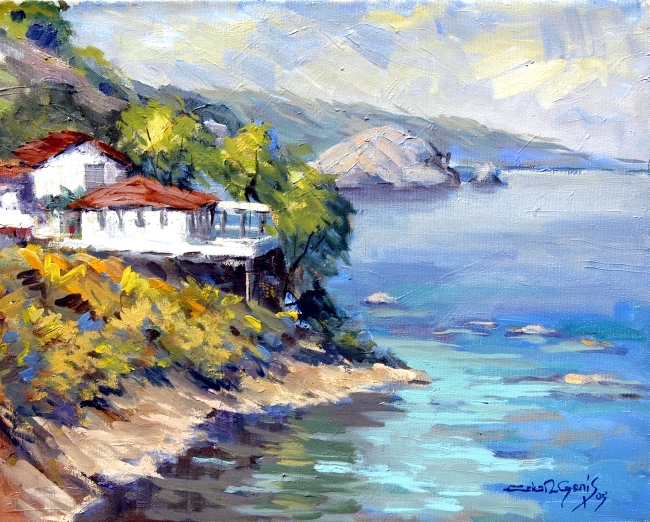 Erkan Genis
Erkan Genis (born February 2, 1943 in Bartin, Turkey) is a famous Turkish impressionist artist, who has been accepted as one of the Greatest 100 Turkish Painters who Ever Lived, announced by the Ministry of Culture of Turkey.
While studying at the Kabatas Erkek Lisesi in Istanbul, his art instructor Ahmet Uzelli, who is also a widely acclaimed artist, was the first to discover his artistic skills. During his college level studies at the Political Science Faculty of Ankara and the succeeding years when he served to Republic of Turkey as a high ranked bureaucrat, he worked at the same studio with his special instructors, Saim Kanra and Hikmet Onat.
Following his retirement as the General Manager of Turkish Machine Industries, he established his own art studio in Ankara, where he is still working and training dozens of new students every year. He is married, has two children and one grand daughter.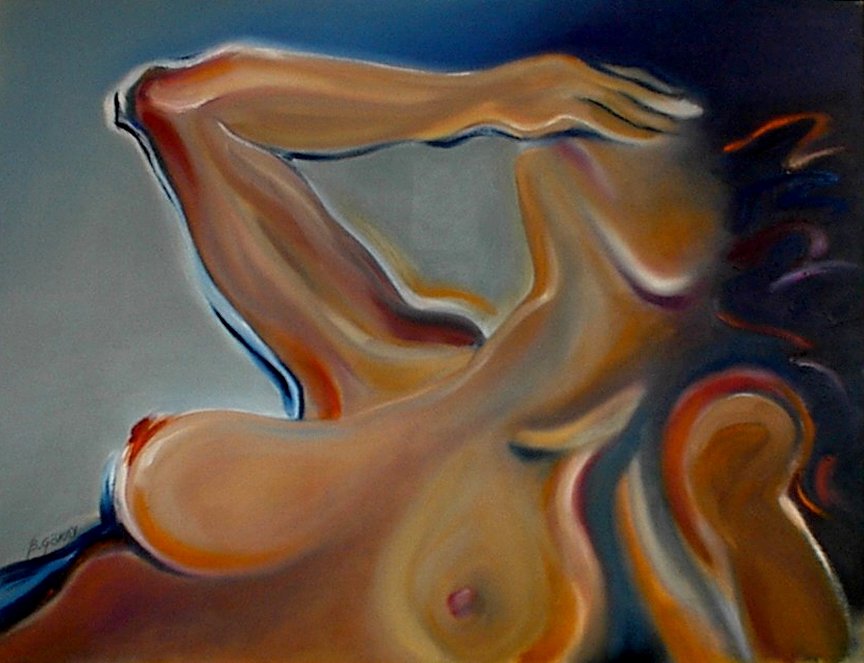 Bahadir Gökay
Bahadir Gökay (b. 1955 in Istanbul) is a Turkish painter. He graduated from the Faculty of Fine Arts, (now known as Marmara University, Graphic Design) in 1982.
During his education he worked as an art director in advertising companies. He established his own company in 1984. He became a creative director of lots of brands. He won many awards in competitions. His unique style consists of strong figures, design anxiety and clear colors. Not being not able to find the time for painting, he decided to retire and started working for the exhibitions.
He still continues to paint in his workshop in Istanbul. At the mean time as a pretty known painting artist, he also gives painting lessons at Erenus Art Gallery.
The important exhibitions he took part in are:

2005 - Biennale Internazionale dell'Arte Contemporanea, Florence, Italy
2006 - The Magic Paths of Art, Ferrara, Italy
2007 - Moderna '07 Mar del Plata, Argentina
He is one of the founders of the Ferrara Collective, which is a group of artists from the 'Magic' exhibition.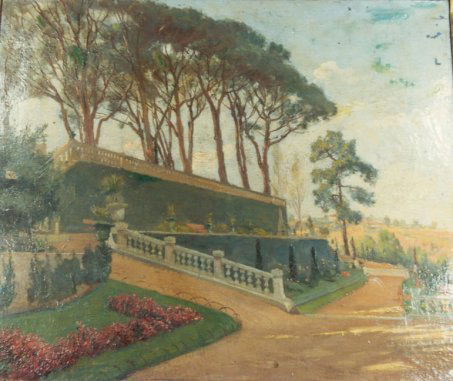 Nazmi Ziya Güran
Nazmi Ziya Güran (1881 – 1937) was a Turkish impressionist painter.
He was born in the Horhor neighborhood of Istanbul, Ottoman Empire. He graduated in 1901 from the School of Political Science, where he had enrolled due to his father's opposition to his ambition to be an artist. With the death of his father in that same year, he entered the Academy of Fine Arts Istanbul, where he studied with Warnia and Valeri.
Preferring to paint from nature, Nazmi Ziya Güran rebelled against the rules of academic art. The visit of the French post-Impressionist painter Paul Signac to Istanbul in 1905 provided him with fresh inspiration. His teacher Warnia disapproved of the direction his painting was taking, and Güran was denied a diploma in 1907, although he received it the following year.
He went to Paris, studying briefly at the Academy Julian and also with Fernand Cormon, with whom Toulouse-Lautrec had studied years earlier. Güran had a successful exhibition in 1912, before traveling to Germany and Austria in 1913. On his return to Turkey he served as both administrator and teacher at the Academy of Fine Arts, in addition to running a private studio. In a manner similar to Claude Monet, he was known to paint the same subject at different times of day in order to study the changing light.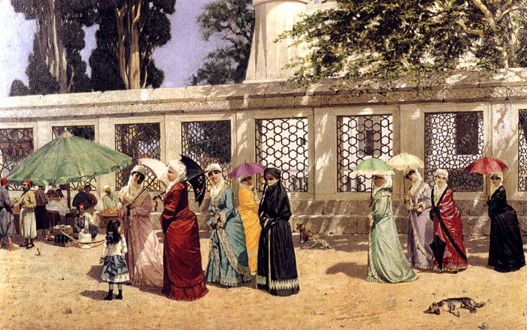 Osman Hamdi Bey
Osman Hamdi Bey, (1842 Istanbul - 24 February 1910 Istanbul) was a prominent and pioneering Turkish painter. He was also an accomplished archaeologist, and is considered as the pioneer of the museum curator's profession in Turkey. He was the founder of Istanbul Archaeology Museum and of Istanbul Academy of Fine Arts (Sanayi-i Nefise Mektebi in Turkish), known today as the Mimar Sinan University of Fine Arts.
Osman Hamdi was born into a family of the ruling class of the Ottoman Empire (He was the son of Ibrahim Edhem Pasha, a former Grand Vizier). He went to primary school in the popular Istanbul quarter of Besiktas, after which he studied Law, first in Istanbul (1856), and then in Paris (1860). However, he decided to pursue his interest in painting instead, left the law program, and trained under French orientalist painters Jean-Leon Gerome and Gustave Boulanger. [1] During his nine-year stay in Paris, the international capital of fine arts in that period, he showed a keen interest for the artistic events of his day. Osman Hamdi married a French woman and had two daughters with her. They accompanied him to Istanbul when he returned in 1869.
Once back in Turkey, he was sent to the Ottoman province of Baghdad, as part of the administrative team of Midhat Pasa, who would later become an important reformer of the Tanzimat.[2] In 1871, he returned to Istanbul, as the vice-director of the Protocol Office of the Palace. During the 1870s, he worked on several assignments in the upper echelons of the Ottoman bureaucracy.
Osman Hamdi exhibited three paintings at the 1867 Paris Exposition Universelle. [3]None seem to have survived today, but their titles were Repose of the Gypsies, Black Sea Soldier Lying in Wait, and Death of the Soldier. An important step in his career was his assignment as the director of the Imperial Museum (Müze-i Hümayun) in 1881. He used his position as museum director to develop the museum and rewrite the antiquities laws and to create nationally sponsored archaeological expeditions. In 1882, he instituted and became director of the Academy of Fine Arts, which provided Otttomans with training in aeshetics and artistic techniques without leaving the empire. [4] In 1884, he oversaw the promulgation of a Regulation prohibiting historical artifacts from being smuggled abroad (Asar-i Atîka Nizamnamesi), a giant step in constituting a legal framework of preservation of the antiquities. Representatives or middlemen of 19th century European Powers routinely smuggled artifacts with historical value from within the boundaries of the Ottoman Empire (which then comprised the geographies of ancient Greek and Mesopotamian civilizations, among others), often resorting to shadily obtained licences or bribes, to enrich museums in European capitals.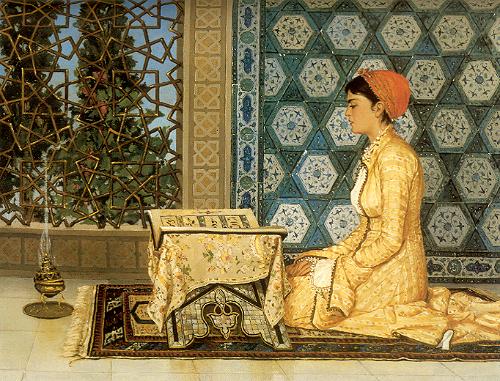 He conducted the first scientific based archaeological researches done by a Turkish team. His digs included sites as varied as the Commagene tomb-sanctuary in Nemrut Dagi in southeastern Anatolia (a top tourist's venue in Turkey and a UNESCO World Heritage Site today, within the Adiyaman Province), the Hekate sanctuary in Lagina in southwestern Anatolia (also much visited, and within the Mugla Province today), and Sidon in Lebanon. The sarcophagi he discovered in Sidon (including the one known as the Sarcophagus of Alexander the Great) are considered among the worldwide jewels of archaeological findings. To lodge these, he started building what is today the Istanbul Archaeology Museum in 1881. The museum officially opened in 1891 under his directorship.
Throughout his professional career as museum and academy director, Osman Hamdi continued to paint in the style of his teachers, Gerome and Boulanger.
In the last decades of his life, he directed his efforts toward improving this museum, and also concentrated on his activities as a painter. He lived in the family mansion in the village of Eskihisar, near Gebze, a district of Kocaeli Province, a short ride from Istanbul, which he had enlarged. His house was restored in 1982 and is open to visitors today as the Osman Hamdi Bey Museum. He also made frequent excursions, highly beneficial for inspiration as reflected in his paintings, to another mansion he had built during the Lagina excavations in the town of Turgut adjacent to the archaeological site (which today is a municipality in the Mugla Province, with Osman Hamdi Bey's centenary house still standing). He died on 24 February 1910 in another family residence, situated in the Kuruçesme quarter of Istanbul.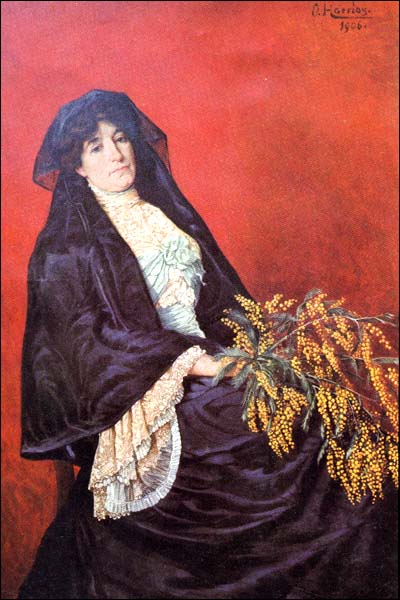 His paintings, in which he wisely and skillfully employed Oriental elements, have since been included in many private or public collections in Turkey and abroad.
He was the granduncle of another famous name in Turkey. The mother of Cemal Resit Rey, one of the five pioneers of classical music in Turkey (termed the 'The Turkish Five') in the first half of the 20th century, was his niece. It is notable indeed that his family produced a considerable number of renowned people. Halil Edhem Eldem (the surname "Eldem" has been adopted by the family with the civil records reform by the nascent Republic of Turkey in 1928) took up the archaeology museum after Osman Hamdi Bey's death and has also been a deputy for ten years under in the Turkish Grand National Assembly. Sedat Hakki Eldem is a remarkable architect who left his imprint on the architectural school of the early years of the Republic. Yet another son, Ismail Galib Bey, is considered as the founder of numismatics as a scientific discipline in Turkey. Later generations of the family also produced illustrious names.
His 1906 painting, "The Tortoise Trainer", recently broke a record in Turkey by being sold for the amount of 3,5 million Dollars in December 2004. The painting expresses a sarcastic innuendo on the painter's own view of his style of work compared to those of his collaborators and apprentices, and is also a reference to the historical fact of tortoises having been employed for illuminative and decorative purposes, by placing candles on the shell, in evening outings during the Tulip Era in the early 18th century. The painting was acquired by the Suna and Inan Kiraç Foundation and is currently on display at the Pera Museum in Istanbul, which was established by this foundation.
Examples of Osman Hamdi Bey's Artwork

Osman Hamdi Bey Example #01
Osman Hamdi Bey Example #02
Osman Hamdi Bey Example #03
Osman Hamdi Bey Example #04
Osman Hamdi Bey Example #05
Osman Hamdi Bey Example #06
Osman Hamdi Bey Example #07
Osman Hamdi Bey Example #08
Osman Hamdi Bey Example #09
Osman Hamdi Bey Example #10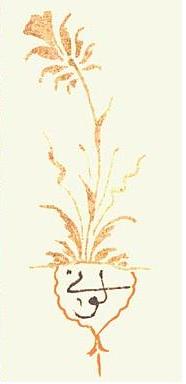 Abdulcelil Levni
Abdulcelil Levni, or shortly known as Levni, (b. Abdulcelil Çelebi, late 17th century, Edirne – d. 1732, Istanbul) was an Ottoman court painter and miniaturist.
He was born in Edirne, Ottoman Empire in the late 17th century. He became the most prominent painter of Turkey, and received the title of court painter under Sultans Mustafa II and Ahmed III, for whom he executed his marvellously composed masterpieces: the Surname-i Sultan Ahmed Han and the Surname-i Vehbi, the Book of Festival. This book, still in the library of the Topkapi Palace, depicts the festivals around the Golden Horn that took place in 1720 to commemorate the cicumcision of four sons of Sultan Ahmed III during the early 18th-century Tulip Era. However Levni's main concern seems to have been to paint single leaved miniatures depicting individuals, drawings of beautiful girls, languishly reclining ladies, and charming young men. The faces of his figures show little expression.
Setenay Özbek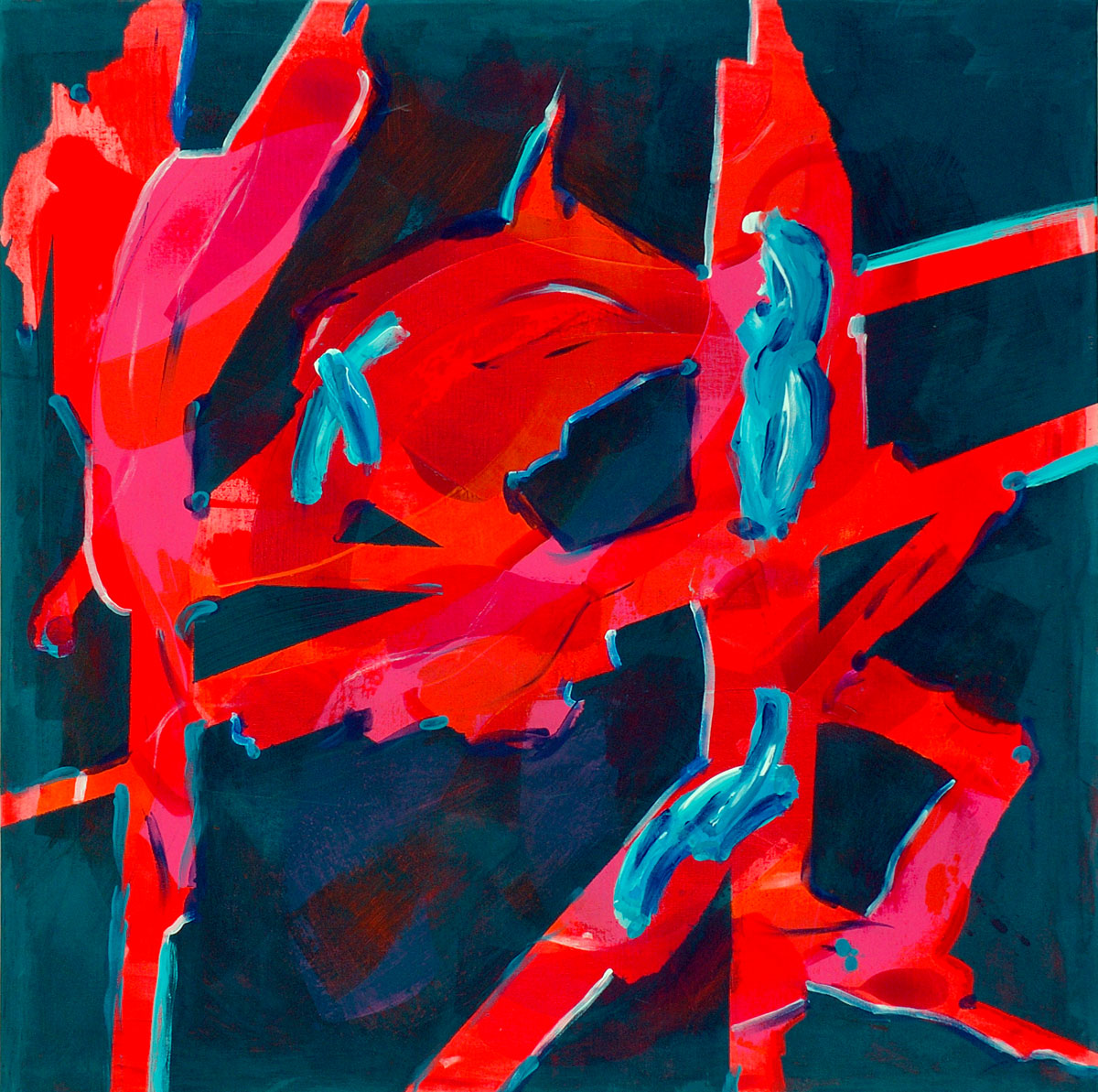 Setenay Özbek (born 1962, Istanbul) Is a Turkish writer, artist and documentary maker.
From 1984 to 1986, Özbek studied art informally at the "Istasyon Art House", under the tutelage of several artists, Sabri Berkel, Hülya Düzenli, Erkan Özdilek and Ergül Özkutan. Her abstract expressionist paintings make frequent use of acrylic and oil techniques, they have a bold appearance due to the contrasting colours and shapes employed. Since 1986, Özbek went on to branch out into documentary film making.
In 1990, she graduated from Marmara University, Faculty of Fine Arts (Department of Performing Arts), and has also embarked on a writing career.
Özbek's paintings hang in several private collections and she continues to produce paintings in her own workshop.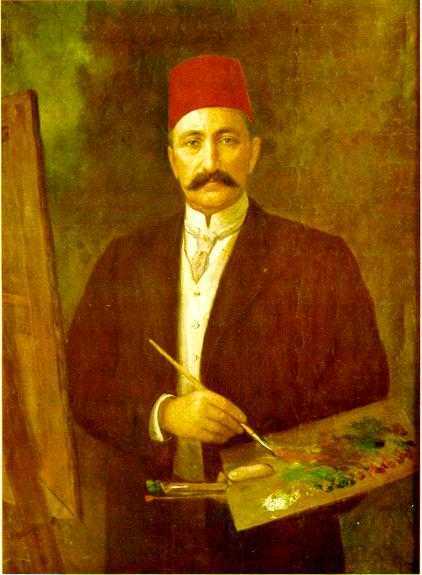 Seker Ahmet Pasa
Seker Ahmet Pasa (1841-1907) was a Turkish painter.
Born in Uskudar, Istanbul he entered medical school in 1855, then transferred to the military academy. Here he showed an interest in painting, and was sent to Paris to study under Boulanger and Gerome. He had an exhibition of his oil paintings in Paris in 1869, and returned to Istanbul in 1971, with a rank of Captain.
In 1873 he organized one of the first Painting exhibits in Istanbul. Seker Ahmet Pasa advanced in the ranks quickly, in 1876 being promoted to Major, in 1877 to Lieutenant Colonel, in 1880 to Colonel, in 1885 to Brigadier General, and in 1890 to Lieutent General. In 1896 he became responsible for Protocol.
Seker Ahmet Pasa is one of the most important examples of the Ottoman military painters. He painted nature-related subjects such as forests, fruits, flowers, and animals with great skill.
He died in 1907 of a heart attack, and is buried in Eyup Sultan, Istanbul.
Fikret Muallâ Saygi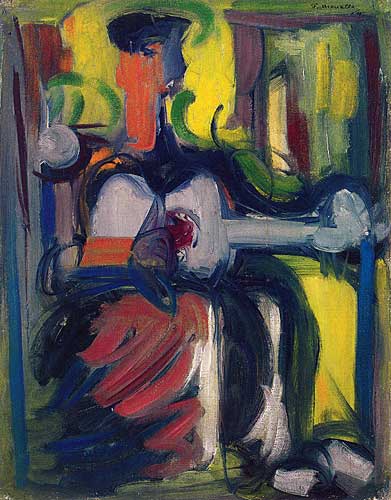 Fikret Muallâ Saygi (1903, Istanbul, Turkey - July 20, 1967, Reillanne, France) is a 20th century avant-garde painter of Turkish descent. His work reflects influences from Expressionism and Fauvism, with subject matter focusing on Paris street life, social gatherings such as cafés and circuses.
He was born in Istanbul, but lived and worked in Paris, a long time since 1939 as an artist.
As his mother desired to have a daughter, she gave him a girl's name "Mualla". Fikret Mualla was very much beloved by his mother. This relationship played an important role in his further life. At his age of 12, he was crippled at his right foot when he kicked hardly to imitate his uncle Hikmet Topuzer, a footballer at Fenerbahçe SK. Not a long time later, he lost his mother to a grippe epidemic. His father made a second marriage with a very young woman, however Fikret Mualla did not accept his stepmother.
After the high school, his father sent him to Zurich, Switzerland to study engineering. Fikret Mualla left Switzerland soon to settle in Berlin, Germany. The childhood accident, leaving Mualla with a bad physical condition, contributed to his erratic personality and mental disorder later in his adult years. He was institutionalized a number of times, from alcohol dependency and extreme paranoia. In 1928, he was hospitaled in Berlin due to delirium. He then went to Paris, to the capital of arts and the center of unlimited freedom for him. However, he was forced to return home since he could not receive any more money from his father.
In Istanbul, he obtained an attest of normal mental health after a three-day stay in Bakirköy Psychiatric Hospital. Fikret Mualla was appointed teacher for drawing to a high school in Ayvalik. However, he quit this post and moved to Beyoglu neighborhood in Istanbul. He tried his hand a while at writing and drawing. He became friends with soprona Semiha Berksoy, writer Nazim Hikmet and painter Abidin Dino. His first exhibition in 1934 with drawings, watercolor paintings and designs did not find much attention. In 1936, he was hospitaled again for about one year. After his release, he decided to leave Turkey, where he felt he was not understood. Before he went 1939 to Paris again, he made around thirty oil paintings for the Turkish pavillion at the New York World's Fair asked by his close friend Abidin Dino.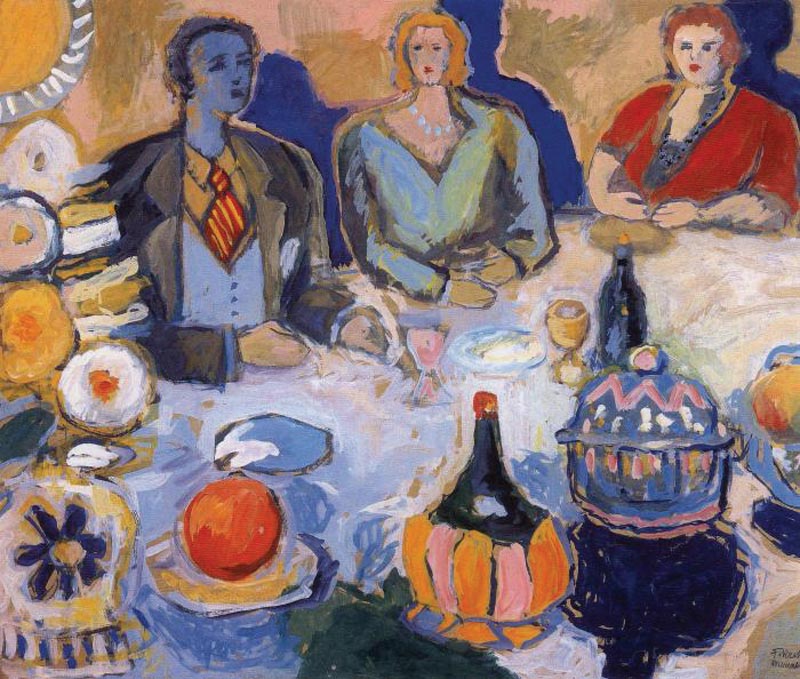 His lifetime in Paris passed with alcohol dependency, mental alienation and cognitive dissonance. He fell in love with the female Turkish painter Hale Asaf without being reciprocated. He was put in hospital again for two months, but during this time he never suspended painting. French model Dina Vierny saved him from being deported. In 1954, Fikret Mualla opened his first exhibition in Paris. He became friends with many renowned artists including Pablo Picasso. He later would sell a signed photo of Picasso for one bottle of wine. Following his second exhibition, he was hospitaled again.
Well-known now as a drinker and mad man, he started to be respected as a painter. During this time, a collectioner, Madame Angles, took him under her patronage. This enabled him to earn his living by painting and selling his works. However, ill-starred, Fikret Mualla paralyzed in 1962. He moved to Reillanne, a village in southeastern France, as cirrhosis supervened. By May 1967, he was put in a clinic after nervous disorders escalated. In the morning of July 20, Fikret Mualla was found dead in his bed. According to his will, his remains were brought to Turkey and were interred at Karacaahmet Cemetery in Istanbul.
Fikret Muallâ Saygi is considered to be one of the representatives of Turkish arts in the 20th century, along with Abidin Dino.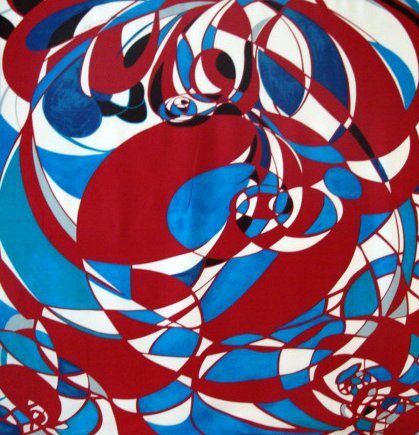 Fahrelnissa Zeid
Princess Fahrelnissa Zeid or Fakhr un-nisa (1901 in Büyükada, Istanbul, Turkey – 5 September 1991 in Amman, Jordan) was an artist whose work blended the elements of Islamic and Byzantine art from the East with abstract and other influences from the West. She worked in a variety of media such as large oil paintings, collages and stained glass panels.
She married into the Hashemite royal family of Iraq and is the mother of Prince Ra'ad, the present claimant to the Iraqi throne.
Fahrelnissa was born in Istanbul on the island of Büyükada, one of the Princes' Islands, (which are part of Istanbul), in 1901 into a prominent Ottoman family. Her father was Sakir Pasha (Kabaagaçli), an Ottoman diplomat, brigadier, photographer, and historian, and also the brother of Grand Vizier Cevat Pasha. Her mother was Sare Ismet Hanim from Crete. She was the sister of writer Cevat Sakir Kabaagaçli (the Fisherman of Halicarnassus/Halikarnas Balikçisi) and painter Aliye Berger. She was also the aunt of artist Cem Kabaagaç and ceramist Fureya Koral.
She was educated at Notre Dame de Sion d'Istanbul and Pansion Bnagiotti. She was then one of the first women to attend the Fine Arts Academy (Guzel Sanatlar Akademisi) in Istanbul, later studying at the Académie Ranson in Paris under Roger Bissiere and Stahlbach.
Her first marriage was to novelist Izzet Melih Devrim, one of Servet-i Fünun writers, in 1920. This union produced two children: artist Nejad Devrim and director/actress Sirin Devrim. In Athens, November 1933, she married Prince Zeid ibn Huseyin, the ambassador of Iraq to Ankara and brother of King Faisal I. With Zeid she had only one child, a son, Prince Ra'ad.
Her first one-woman show was held in Istanbul in 1944, followed by exhibitions in London and Paris. Her New York début came in 1950 when she exhibited a series of large abstract canvases at the Hugo Gallery. She went on to participate in almost 50 exhibitions in Europe, U.S.A. and the Middle East.
Her husband died in 1970, and in 1975 she moved to Amman, Jordan, where her son Raad lived, and where she established the Fahrelnissa Zeid Institute of Fine Arts. She died 5 September 1991 and is buried in the Royal Mausoleum, Raghdan Palace, Amman, Jordan.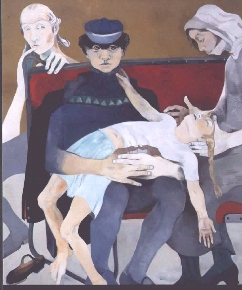 Turkish Feminist Artists
Right: Nese Erdok - Sick Child - 1993.
Since the 1960s women artists in Turkey have seen a cultural renaissance, both stylistically and subject wise. Contemporary issues that effect women every day have become the subject of artwork, indeed this trend is worldwide, and those subjects are constantly being re-evaluated by artists, feminists and art critics. Feminist art has become an important part of Turkey's art scene.
Due to its geography Turkey has always been a bridge between European and Asian culture. We can also compare the history of feminism in Turkey, relative to the arts.
1858 - The founding of the first Secondary School for Girls.
1870 - The first Teacher's College for Girls.
1883 - The founding of the Academy of Fine Arts.
1914 - The founding of an Academy of Fine Arts for girls in Istanbul.
Turkey's primary religion is Islamic but it is very progressive and moderate in its treatment of women (although its record on gays is not so good). Turkey has become increasingly Westernized and the cities especially have become very liberal and chic. Meanwhile the artists in Turkey have likewise evolved, adopting a more western style and delving into more abstraction. Many artists had a tendency towards portraits of people closest to them and studies of interiors showing their rebellious attitude to both Islamic traditions as well as their joy in their newly found ability to portray the society in which they lived.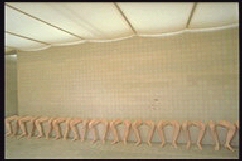 Right: Candeger Furtun - Untitled - 1994.
However, without forgetting the continuation of Western influences in the first half of 20th century, let us dwell on Turkish women artists since the seventies for the sake of picturing the contemporary art scene.
In a society where women are traditionally taught and furthermore encouraged to engage themselves in weaving, embroidery and knitting, learning to paint is already an acceptable accomplishment. More than half of today's Turkish artists are women. Although the University Art Departments all have women as the majority of their students, the number of women artists who survive the professional struggle is few. Even more women artists gain a private training and it is after this that they too join the field. It is also striking that there are very few women educators in the faculties of the art departments while the ratio in other fields such as architecture and sciences is today more evenly balanced.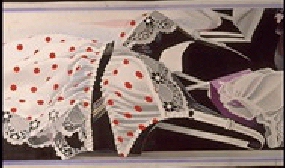 Right: Nur Koçak - Stripes or Special to the Bath with Garden - 1992-93.
Metropolitan Istanbul and Ankora (Turkey's capitol city) has many places for exhibiting works. Amateur artists can promote their art in state galleries, privately run galleries, and many banks also boast art galleries. This rosy image of artistic life isn't so rosy when you realize most of the artists shown are male and there were relatively few women artists in the mainstream of art until the 1960s. After the 1960s there were improvements, and some women even took on leadership roles, but there is still lots of room for women to grow and gain acceptance.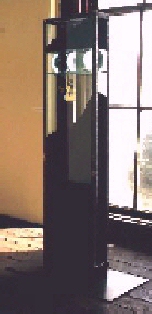 Left: Handan Börüteçene - Between Earth and Sky - 1993.
The result is a new generation of women artists who (generally speaking) are educated, come from middle-class/upper-class families, often bilingual, and have travelled/studied in another country. It is a generation of women who are more liberal-minded, willing to explore new mediums and have a genuine interest in the role women play in Turkish society.
As such they are well able to take up the position of social critic and activist, and to both observe and criticize what is going on about them and question the identity and roles of women in contemporary Turkish society.
Some of these women are also active writers and organizers, taking the role of a feminist activist both on the canvas and off it.
Feminist Artists in Turkey include: Nese Erdok, Candeger Furtun, Isik Tuzuner, Bilge Alkor, Nur Koçak, Tomur Atagök, Inci Eviner, Hale Arpacioglu, Canan Tolon, Gülsün Karamustafa, Nil Yalter, Canan Beykal, Hale Tenger, Füsun Onur, Ayse Erkmen and Handan Börüteçene.