URBAN CACTUS
The Art History Archive - Architecture
---
Urban Cactus is a housing project in the Vuurplaat section of Rotterdam by UCX Architects / Ben Huygen and Jasper Jaegers and done for Vestia Rotterdam Feijenoord/Estrade Projecten.
Due to its siting at the end of harbor, the architects chose to conceptualize the project as belonging to the "green nerve" rather than the surrounding urban structure.
They placed the 98 residential units on 19 floors, using the pattern of outdoor spaces to determine the overall appearance of the project.
The slightly irregular pattern alternates these outdoor spaces to create what are in effect double-height spaces. Each unit then receives more sunlight than a typical stacked composition.
Also the terrace area might be equivalent to a constant depth extended around the perimeter (say two meters), but their configuration creates larger "rooms" for gardening and for enjoying the outdoors and the city views.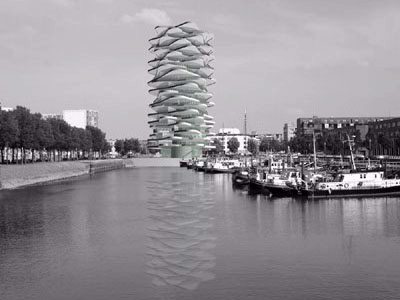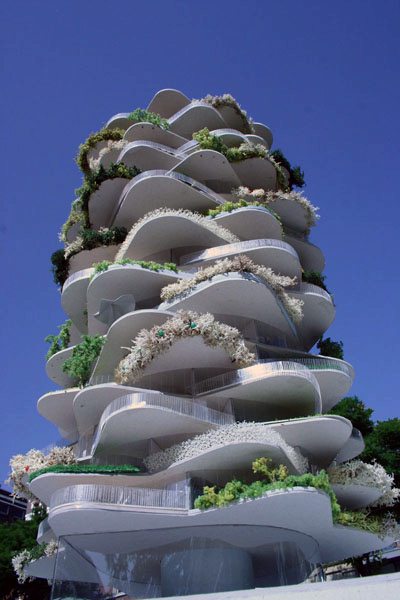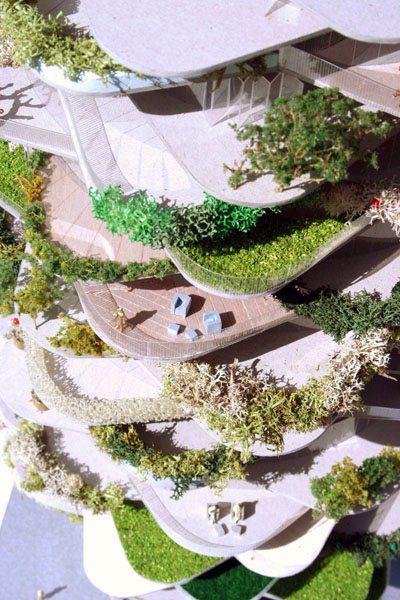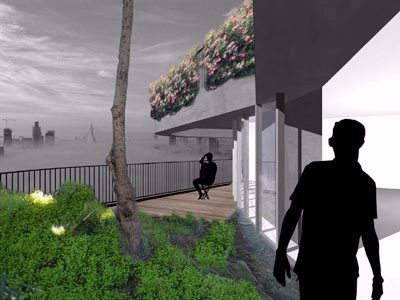 ---
URBAN CACTUS HIGH-RISE
Architectural Review by NK
Living in Texas, we've seen our fair share of cacti. So it goes without saying that we were intrigued to hear of the Urban Cactus, an architectural project in Rotterdam. Designed by UCX Architects, the future housing project will accommodate 98 residential units within its 19 floors. Because it sits on a harbor, the architects decided that the tower needed a natural "green" image – which has manifested itself in a stacked set of rotated, swoopy plates.
The units all seem to have been given an enormous amount of exterior terrace/garden space due to the funky alternating forms. This also affords greater angles of natural sunlight to penetrate into the interior of the units themselves – something which we're sure is greatly appreciated in the northern climate. We aren't exactly sure why this thing has been given the moniker of "Urban Cactus", being only somehwat spiny (and not at all prickly) but its biological undulations and draping gardens offer some refreshing curves to the all-too prevalent Dutch box.
Unfortunately we weren't able to translate the Dutch website, so our critique of the project is admittedly uninformed. We were somewhat disappointed not to find evidence of a fabulous water collection/retention system for the project. Daylight and outside spaces are great, especially when it comes to urban housing projects. But with a name like "Urban Cactus," shouldn't there be a true relation to the essence of the hardy, self-sufficient nature of succulents? We do like to focus on green architecture here, so if any of you readers can fill us in on whether or not this building has any other eco-friendly features, please fill us in!