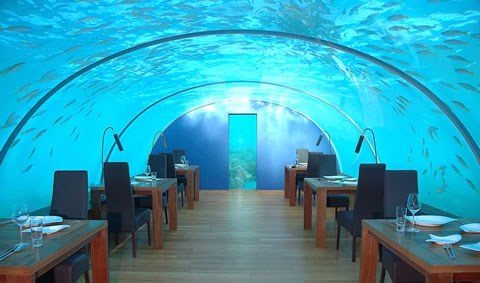 Hadfield, like most other NASA astronauts, has spent time in the Aquarius permanent undersea laboratory, one of the world's few underwater habitats, 20 metres down and five kilometres east of the Florida Keys. The submerged building is owned by the U.S. National Oceanic and Atmospheric Administration and used for a wide range of underwater research projects.
"People live under the water today for very short periods of time – usually a week or less, but sometimes for extended periods of up to two to three weeks," says Florida-based author, explorer and former mission commander for seven NASA underwater missions, Dennis Chamberland (see chamberland.org).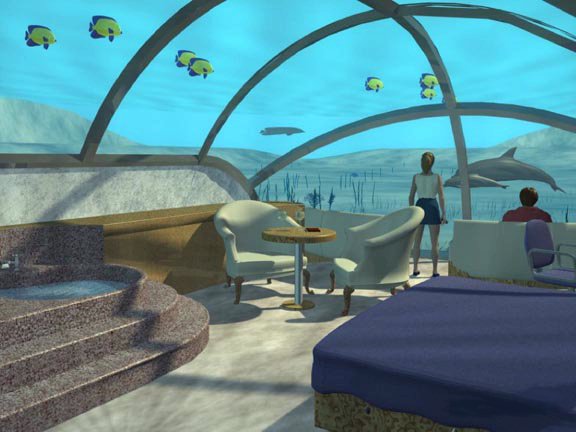 "But no one has ever lived undersea permanently – not one person in all of history. My group is planning to establish the first permanent civilian colony off central Florida in 2012 and for the first time, mankind will have a permanent address undersea. So it will happen in the next few years, not 30!"
Chamberland's Atlantica project will be using a donated submarine (originally built to hunt for the Loch Ness monster) to establish three manned undersea habitats over the next five years. If the construction of the underwater station goes as planned, people will begin living on the bottom beginning in 2012, Chamberland says.
"Humankind is attracted to the beautiful and exotic places of our solar system. Just as man will be attracted to one day living on the cliff sides of the Valley of the Mariners on Mars, mankind will be attracted to live in the beauty of the underwater regions of our own planet," he says.
Schutte agrees.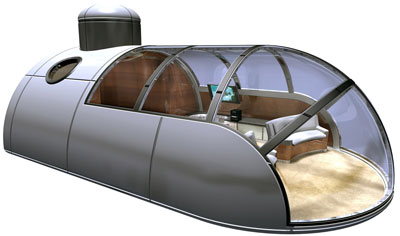 "Living underwater is not a new idea," he says. "Hell, people in their 40s and 50s who are in charge of investment funds and brokerage houses and who grew up on Scientific American and Popular Science know it is doable. And these people have the money to make it happen.''
"The technology is already here," Schutte says. "In essence, I am building a luxury yacht to sink beside a Fijian reef. People are willing to spend $30 million on a boat, so why not an underwater hotel?''
A decade ago a research project involving the Canadian Navy's Cormorant dive tender found little life on the floor of Lake Ontario near Toronto's Harbourfront area.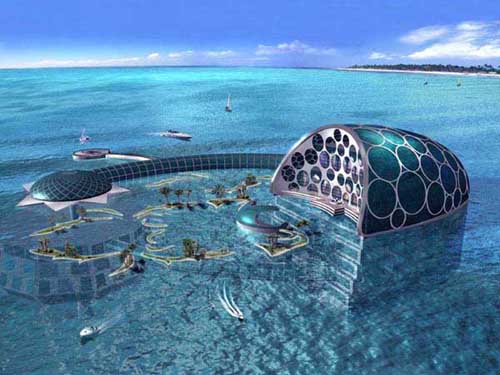 But filling in sections of Lake Ontario, albeit in relatively small blocks, presents more political problems than ecological and construction roadblocks. Would interest in underwater construction persuade politicians to allow building in the same lake that provides Toronto's drinking water?
Blame much of the current interest in underwater projects on Lloyd Godson, a young Australian scientist. Earlier this year Godson, with the backing of the Australian Geographic magazine, spent 12 days living in a yellow steel capsule submerged in a flooded gravel pit. He built and sank "the world's first self-sufficient, self-sustaining underwater habitat."
Using solar power sensors on the surface and riding a stationary bicycle to produce additional electricity to keep his lights and computers working, Godson lived independent of terra firma. The air that he breathed was purified and recycled by algae soaked in his own urine. His algae garden absorbed the carbon dioxide he exhaled, and released oxygen for breathing (he did have to supplement his air supply with air from scuba tanks).
"The demand for information from the media took me by surprise when I was underwater," Godson says. "We were front page from England to Taiwan."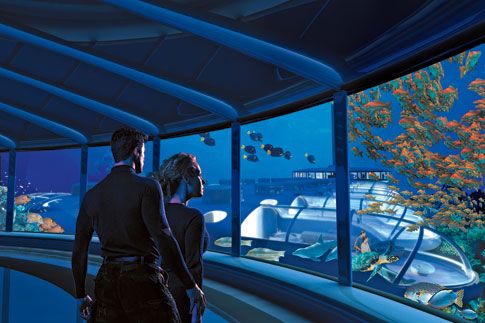 After emerging Godson was besieged with offers from the media to fund and film future extreme adventures. He was in Toronto earlier this summer to shoot a pilot TV show for Canada's Cineflix Productions, which wants to make a 13-part series following Godson's future projects.
"My quarry project was done on a shoestring, but it shows that soon people can live underwater and it can be done cheaply," Godson says.
"My habitat wasn't luxurious and there would have to be a lot of improvements to be usable again. I had a bed, a computer, a phone, email, plants and a fishing rod. I was doing all right, but mate, it was a bit boring.
"There is no noise underwater. If you are a people person, an underwater home is not for you."