Art Informel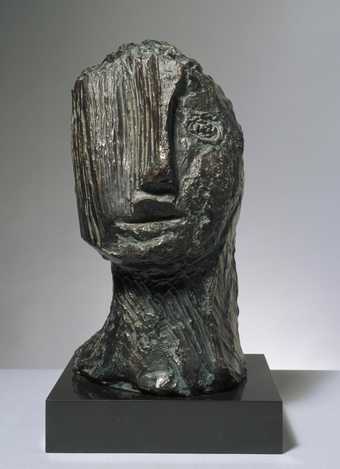 Right: An example of Jean Fautrier's "Hostage Series" from 1943-1945.
Art Informel, also known as "Tachisme" or "Informalism," was an art movement that emerged in the 1940s and 1950s. The art movement emerged in Europe in the aftermath of World War II. It is characterized by its use of spontaneous, gestural, and abstract forms, often created through an intuitive and emotional process.
Art Informel is also known as Tachisme, a term derived from the French word tache, meaning "stain" or "blot," which refers to the movement's emphasis on the spontaneous and accidental marks made during the act of painting.
The term "Art Informel" was coined by the French critic Michel Tapie in 1951, derived from the French word "informe," meaning formless or shapeless. It reflected the movement's emphasis on spontaneous and unstructured artistic expression.
Art Informel artists rejected the rigid formalism and geometric precision of earlier movements such as Cubism and Constructivism, and instead sought to create art that was more expressive and organic. They often worked with non-traditional materials such as sand, tar, and even dirt, and emphasized the physical process of creating the work as much as the final product.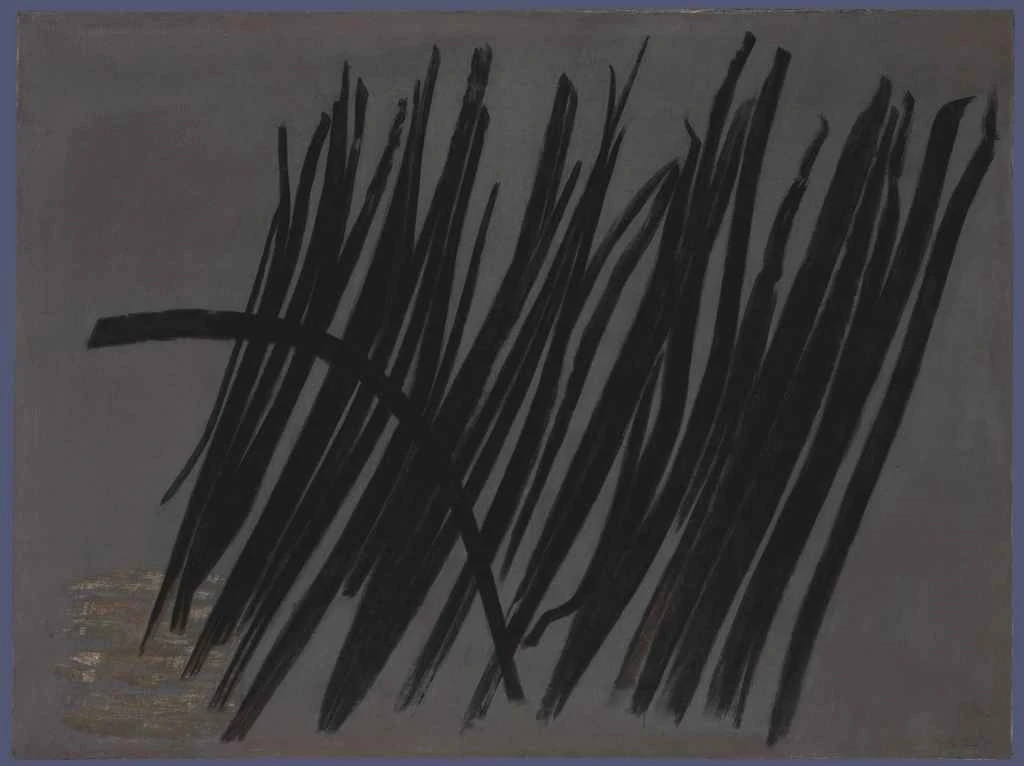 Right: Hans Hartung - "T1954-9" - 1954.
Notable Art Informel Artists
Jean Fautrier
Jean Dubuffet
Pierre Soulages
Hans Hartung
Georges Mathieu
Wols (Alfred Otto Wolfgang Schulze)
Pierre Alechinsky
Alberto Burri
Antoni Tapies
Asger Jorn
Karel Appel
Bram Bogart
Jean-Paul Riopelle
Serge Poliakoff
Emil Schumacher
Fritz Winter
Shozo Shimamoto
Kazuo Shiraga
Takeo Yamaguchi
Toshimitsu Imai
Enrico Baj
Giuseppe Capogrossi
Emilio Vedova
Antonio Tapies
Cy Twombly
Georges Noel
Gerard Schneider
Maria Helena Vieira da Silva
Bernard Schultze
Lucio Fontana

Art Informel was not limited to painting, and artists working in this style also created sculpture, assemblage, and other forms of three-dimensional art. Many of these works featured irregular and organic shapes, and were often created through a process of adding and subtracting materials until the desired form was achieved.

Art Informel had a significant impact on the development of abstract expressionism, which emerged in the United States in the 1950s. Many of the techniques and ideas pioneered by Art Informel artists, such as the use of gestural marks and the emphasis on the physical act of creating art, were later adopted by American artists such as Jackson Pollock and Willem de Kooning.

Today, Art Informel continues to inspire and influence artists around the world, particularly those working in abstract and non-representational styles. Its legacy can be seen in various contemporary art movements, including Neo-Expressionism and postmodernism.

Important Examples of Art Informel
Jean Fautrier - "Hostage Series" - 1943-1945
Jean Dubuffet - "Le Gant a Mains" - 1947
Pierre Soulages - "Painting" (Peinture) - 1948
Hans Hartung - "T1954-9" - 1954
Georges Mathieu - "Battle of Bouvines" - 1954
Wols (Alfred Otto Wolfgang Schulze) - "Untitled" - 1945
Pierre Alechinsky - "The Great Seducer" - 1953
Alberto Burri - "Combustion" (Combustione) - 1952
Antoni Tapies - "Grey and Green Painting" - 1957
Asger Jorn - "The Avant-Garde Won't Give Up!" - 1951
Karel Appel - "Questioning Children" - 1949
Bram Bogart - "Untitled" - 1957
Jean-Paul Riopelle - "Pavane" - 1954
Serge Poliakoff - "Composition abstraite" - 1947
Emil Schumacher - "Painting No. 6" - 1952
Fritz Winter - "Painting No. 2" - 1949
Shozo Shimamoto - "Bottle Crash" - 1956
Kazuo Shiraga - "Challenging Mud" - 1955
Takeo Yamaguchi - "Composition" - 1955
Toshimitsu Imai - "Burned Field" - 1952
Enrico Baj - "The Great Concert" - 1959
Giuseppe Capogrossi - "Superficie 294" - 1958
Emilio Vedova - "Tension" - 1954
Antonio Tapies - "Grey Wall" - 1954
Cy Twombly - "Leda and the Swan" - 1962
Georges Noel - "Composition" - 1953
Gerard Schneider - "Clown" - 1955
Maria Helena Vieira da Silva - "The Square" - 1948
Bernard Schultze - "Manticore" - 1953
Lucio Fontana - "Spatial Concept, Waiting" - 1960