History and Traits of the Art Nouveau Movement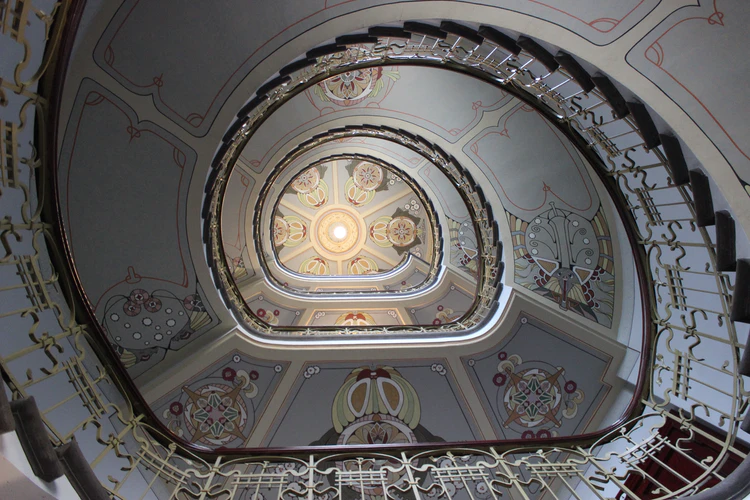 Art Nouveau was a movement in the history of design that emerged in late 19th century France. Art Nouveau translates from French to "new art". The style became popular all across Europe and could be seen in Art Nouveau Jewelry, architecture, furniture, art, posters and textiles.
It was also known as "Jugendstil" or youth style in Germany, "Stile Liberte" in Italy, "Sezessionstil" or secession style in Austria and more. Artists like Alphonse Mucha became popular for creating postcards, paintings, illustrations and advertisements in the Art Nouveau style.
Art Nouveau first emerged from some artists feeling restricted by the academic style of art that had been reigning for decades. Towards the end of the 19th century, artists felt the need to break away from the industrial age of machinery to explore a more stylized and sensual style with organic and highly decorative forms. It was popularized by Maison de l'Art Nouveau, a famous art gallery operated by Siegfried Bing.
The influence of the Art Nouveau style is omnipresent and can still be seen in many places today. Like every other design movement, Art Nouveau had some distinctive traits that made it stand out from other styles. It did not borrow from earlier movements and formed a path inspired by the natural world.
Bold Lines
The Art Nouveau style of art is known for its use of strong lines. The designs can contain anything from conservative linear lines to long, curvy and luxurious lines to the whiplash line.
Plants and Flowers
Another recurring trait is the stylized presence of plants and flowers. The artists took the liberty of being inspired by their surroundings and made it their muse. Stylized plants, flowers, leaves, roots, twigs and buds can all be found in Art Nouveau designs.
The Female Form
An emphasis on the female form can also be seen. Usually, women in Art Nouveau designs were depicted in a traditional manner with long, flowing locks. This type of form can also be considered pre-Raphaelite.
Flourishes and Ornamentation
Furnishings and interior decor saw the incorporation of design flourishes and ornamentation such as exotic wood material, silver, marquetry, iridescent glass and semi-precious stones.
The rebellion of Art Nouveau also spread through architecture that included asymmetrical facades, use of polychrome ceramic tiles, flower, plants or animal shaped ornamentations and parabolas in windows, doors and arches. Similarly, jewelry saw a move past traditionally used diamonds to stones like agate, moonstone and aquamarine. Female faces and bodies were also often featured in the jewelry.
For such a defining movement, it actually lasted only for a short time. It was mostly prominent from its rise in the last decade of the 19th century to about 1910, that is, the first decade of the 20th century. Other powerful movements like Art Deco were influenced by the Art Nouveau movement. It helped usher in modernism in graphic design. The style is being revisited by contemporary designers to introduce a romantic and emotive quality to their work.