Giuseppe Castiglione
The Art History Archive - Chinese Art
---
This Website is Best Viewed Using Firefox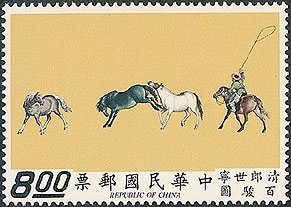 Italian-Chinese Painter Lang Shi地ing
By Brandi Leigh - 2008.
Giuseppe Castiglione (Lang Shi地ing) was born in Milan on July 19th of 1688. He studied painting in Italy with Carlo Cornara at the Botteghe Degli Stampator painting studio. He joined the Society of Jesus in 1707 and became a Jesuit Brother. As a missionary he had worked in Genoa and Lisbon; by 1715 he was sent to Macao, China by the European Catholic Church.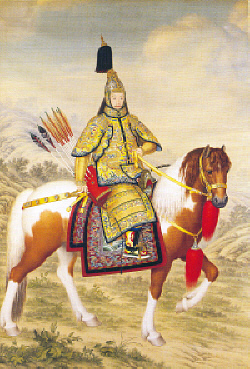 He ended up traveling to Beijing where his artistic ability impressed the Emperor who invited Castiglione to paint for him at his Court. During his time in China he adopted the Chinese name Lang Shi地ing. Castiglione ended up serving as imperial artist to the next three emperors as well: Kang Xi, Yong Zheng and Qian Long.
Castiglione painted in European style, but featured many Chinese themes. During his time in China, he designed the Western-Style Palaces in the imperial gardens of the Old Summer Palace. He stayed in Beijing until his death in 1766; he is buried in the European Missionary Graveyard in Beijing.
Due to Castiglione痴 work, Chinese artists wrote the first book on western painting. He introduced Chinese artists to many western techniques and was known for his portraits and animals. Today, Castigliones paintings are on over 40 Chinese stamps. Most of Castigliones works are housed in museums in either Beijing or Taipei. In 2000, his work 擢ields in the Autumn: was auctioned off for 17.6 million HK dollars.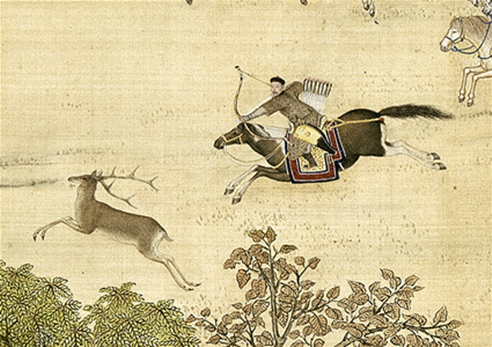 Artwork by Giuseppe Castiglione / Lang Shi地ing
Springs Peaceful Message - c.1736
Portrait of Emperor Qianlong - c.1737
Portrait of Royalty - c.1737
Hunting Journey on Horseback - c.1740
Landscape with Horses - Date Unknown
Peonies - Date Unknown
Qianlong Emperor in Ceremonial Armour - Date Unknown
See also: Chinese Landscape Painting