Daphne Odjig
The Art History Archive - Canadian
---
This Website is Best Viewed Using Firefox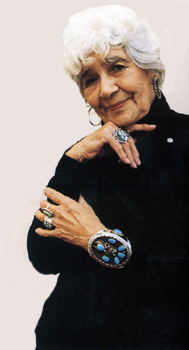 Dreaming of Manitoulin
Biography by Brandi Leigh - November 2007.
Born 1919 - Still Living
Daphne was born in Wikwemikong, on Manitoulin Island, Ontario. Coming from a native background – Potawatomi and Odawa – she was proud of the art and culture of her ancestors. Her artistic side ran in the family, with a grandfather who was into carving, sketching and painting and a father who painted and was a talented musician, the apple did not fall far from the tree.
Daphne grew up on a dairy farm along with three siblings. She had dreams of becoming a teacher, but got sick with rheumatic fever and was forced to miss school. She was upset about this at the time, however it proved fortunate because while at home she was able to get to know her mother and grandfather, who both passed away when she was 18. Soon after her loss, she left Wikiwemikong for Parry Sound, Ontario.
Daphne changed her last name to "fisher" (an old English translation of Odjig) because of some racism she experienced in Parry Sound. Then, during World War II, she relocated to Toronto for work. It was here that she met her first husband, Paul Somerville. Paul was moved to the West Coast for military duty and this is where Daphne raised their two sons.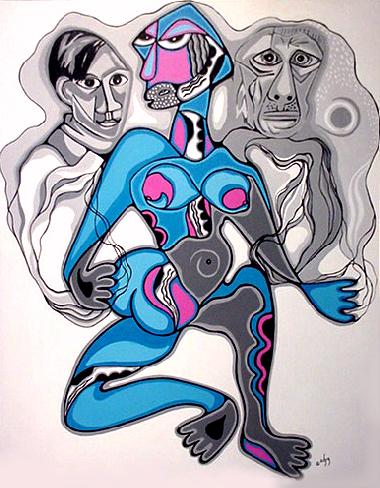 It was only once that her boys were in school that she was able to focus on her painting. Her first works were very realistic due in part to the instruction of her teachers. However she soon began to experiment with other styles of painting including cubism, realism and expressionism. She visited many art galleries and studied art books to study other artists and their work; her paintings dealt with a variety of themes including human suffering, relationships, culture and importance of family.
In the 1960's, Daphne was encouraged by her sister in law to paint scenes from Manitoulin mythology. She also began to focus on writing and illustrating several children's books based on Ojibwa culture. Her work helped bring light to many people who knew little about Native culture at the time.
In the late 1960's, her husband Paul Somerville passed away in a car accident. In 1962 she re-married to Chester Beavon, and the two moved to northern Manitoba. The Beavons opened their own shop, featuring many native arts and crafts. Daphne met many Cree people there, and learned about the hard times they were going through by flooding from man made dams. This became evident in her art work, through a series of drawings.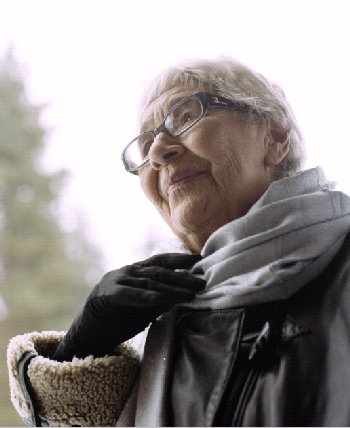 In 1972 Daphne's work was put on display at a Winnipeg art gallery. This exhibition featured her and two other noted artists work. This was a very important exhibition because it was the first time that Native artists were featured in an Art Gallery. By 1973, she co-founded the Professional Native Indian Artists Association – again helping to bring light to Native art and culture.
By 1976, they had moved back to British Columbia, near Lake Shuswap. It was here that she was commissioned to paint a 4 part mural 'The Indian In Transition'. With this piece she was able to express her true emotions and some human truths.
One of her most famous paintings is 'Roots'; created in three parts it is one of her most admired pieces. The first part depicts a very tranquil life on the reserve, the second part shows the back of a female heading for a city in the distance with tree-roots, a headless body and two blue and red floating faces, with the third part showing a complete person.
She currently lives in British Columbia, where she continues to focus on her love of art, despite announcing her official retirement in 1999.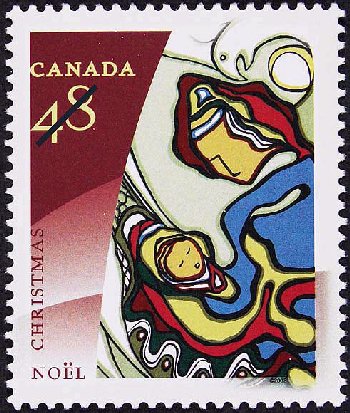 Accomplishments:
Artwork shown on a series of Canadian Stamps.
Received 3 honorary Doctorates from Laurentian University, University of Toronot and Nipissing University.
Served on the Society of Canadian Artists of Native Ancestry as and Adviser and was honored as an elder.
Elected to the Royal Canadian Academy of Art.
Presented with a National Aboriginal Achievement Award for Arts and Culture.
Was one of only 4 artists in the world selected to paint a memorial to Picasso by the Picasso Museum in France
Received the Canadian Silver Jubilee Medal.
Commissioned by Israel Airlines to paint her interpretation of Jerusalem.
Works by Daphne Odjig
Nudes - 1961