THE ARTIST WHO ALMOST BECAME A POSTMAN CAPTURES THE ESSENCE
OF BRITISH COLUMBIA IN HIS STYLIZED REALIST PAINTINGS
BY Brian Brennan - 2006.
E.J. (Edward John) Hughes joined the ranks of Canada's most sought-after painters in 2004 when a painting he had sold for $150 in 1951 fetched $920,000 — $600,000 above the asking price — at a Toronto auction. "Way more than I expected," he told a Vancouver Sun reporter.
That 2004 sale by the Heffel Gallery of Fishboats, Rivers Inlet (1946, oil on canvas) to an unidentified British Columbia buyer capped a landmark year of record prices for landscapes painted by the 92-year-old resident of Duncan, B.C., who once considered giving up painting because he couldn't make a living from it.
The artist has told interviewers that he drew before he could talk, and completed his first landscape at age three. Born in 1913, Hughes spent much of his British Columbia childhood sketching boats and harbour activities around Nanaimo and North Vancouver. By 1929, when he was 16, he was studying at the Vancouver School of Art, with financial support from three uncles. His teachers included Jock Macdonald and Group of Seven founding member, Frederick H. Varley. A couple of years later, Hughes was eking out a livelihood as a freelance commercial artist, producing drypoint and linocut prints for sale, and painting commissioned murals.
After struggling through the Depression, Hughes joined the Canadian army in 1939 and spent the next six years as an official war artist recording images of the military life. Two trips to New York in 1944 gave him a chance to see the quasi-primitive work of Henri Rousseau and the Mexican muralists, and his paintings soon reflected their influence.
Once back home on the coast, Hughes began interpreting the B.C. landscape with a stylized approach to realism. In 1947, he received the first Emily Carr scholarship — a $1,000 prize — with Group of Seven leader Lawren Harris recommending him. This allowed Hughes to spend a year sketching around Vancouver Island.
He had some success selling his landscapes, at prices averaging $200 apiece. By 1950, with the help of Harris — whose own 1920 painting, Algoma Hill, sold for $1.38 million in November 2005 — Hughes had sold paintings to the Vancouver Art Gallery, the University of Toronto and the National Gallery of Canada.
But the sales were hardly enough to pay the rent on the wilderness home that he shared with his wife, Fern, near Shawnigan Lake on Vancouver Island. "I was going to have to give up art and get some other kind of employment."
Then luck intervened in the person of Max Stern, owner of Montreal's Dominion Gallery. By chance, Stern discovered a Hughes painting in a University of British Columbia dormitory while visiting Vancouver in 1951 to organize an exhibition of western artists for his gallery. Deeply impressed by the quality of Hughes's evocative images of coastal life, Stern tracked down the reclusive artist with the help of the RCMP and a Victoria newspaper columnist. For $500, Stern bought everything in Hughes's studio — about 12 paintings and some works on paper — and signed him up to an exclusive dealership contract. That arrangement, which worked well for both parties, lasted until Stern died in 1987. Hughes was able to focus exclusively on his painting while Stern sold his canvases like hot cakes.
Hughes later told Janet Martinez, director of the E. J. Hughes Gallery in Duncan, that Stern came into his life at just the right time. "I was thinking of either going back into the armed forces or becoming a postman," he said. "That money paid my rent for a couple of months and let me keep painting."
Stern was a shrewd dealer. The top prices paid for Hughes's oil paintings went from $1,000 in 1959 to more than $25,000 at the time of Stern's death. The prices continued to increase steadily during the years after that, when Hughes received the Order of Canada and honourary doctorates from three institutions.
Martinez believes that Hughes's consistent approach to painting contributed to his growing popularity: "It seems to me that when an artist sticks with it, and continues to do exactly what he set out to do, eventually he is bound to achieve greater acceptance."
While Stern found buyers for Hughes's landscapes, Hughes's late wife Fern — whom he married in 1940 — provided him with the moral support he needed whenever his career faltered. "I've always painted what I wanted," he explained to writer Lynn Tanod in 2002. "And if you're going to be a realist painter, you're going to have to deal with a lot of rejection."
The Vancouver Art Gallery — which acquired its first Hughes painting in 1949 and now holds the most significant collection of his work in public hands — organized the first major retrospective of his work in 1967. "His private revelation is of a kind to resist the wearing of time," wrote curator Doris Shadbolt in the exhibition catalogue. As if to take its cue from that prescient comment, the VAG organized an even larger retrospective in 2003, spanning 70 years and encompassing Hughes's work as a printmaker and muralist as well as his work as a prolific painter in oils. Critic Sarah Milroy, writing in The Globe and Mail, observed that as a British Columbian she found it hard to resist Hughes's expressive images of fishing boats, passenger ferries crossing the Georgia Straight, gnarly arbutus trees, and snowcapped mountains: "The landscape, inexorably plied by tourism, mediated by industry, transformed by resource extraction — that was his muse."
Today, no longer able to stand at his easel for lengthy periods because he tires easily, Hughes spends about an hour daily painting primarily in watercolour, and has been named the 2005 recipient of the $25,000 Audain prize for lifetime achievement in visual art. His secretary, Pat Salmon, says Hughes feels he is too old for sketching trips so he tends to spend his time revisiting old scenes. "His hand is still steady after years of practice."
Hughes's legacy, according to Ian Thom, senior curator at the VAG, is that of a subtle and complex practitioner who set out to make art out of nature. "He has done so in remarkable images informed by a unique and incisive vision," Thom writes in the catalogue for the 2003 retrospective. "He has made art out of the raw material of the world."
Canada's Greatest Artists
---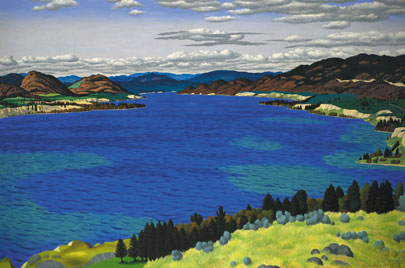 E.J. Hughes painting worth $100,000
May 16th 2007.
Paul Martin, an amateur art collector from Ontario has hit the jackpot after paying $200 at a rural yard sale in southern Ontario for a painting now estimated at more than $100,000.
He bought the work by esteemed British Columbia artist E.J. Hughes six years ago will have his find auctioned at Vancouver's Heffel Fine Art Auction House next Wednesday.
"Lake Okanagan" is one of 50 pieces to be sold that evening expected to fetch more than $100,000.
"It was just a really nice-looking painting," said Martin, who studied illustration at Sheridan College. "The colours were striking; it had quality paint strokes."
Martin said it was his biggest find in 10 years of yard sales, flea markets and estate auctions. He says the entire experience has felt like a dream.
"Excited, pretty much excited," said Martin, who did not want to say where he lived for fear of break-ins.
But it took some time before Martin figured out what he had on his hands. In fact, for three to four years, the painting sat in a spare bedroom until Martin decided to look into the name at the edge of the canvas: E.J. Hughes 1959.
After researching the artist, he discovered E.J. Hughes' paintings had been selling for thousands of dollars. In fact, one sold for more than a million dollars in 2004 in Toronto.
"When I first saw the painting of Okanagan Lake, I smiled too," said David Heffel, president of the Heffel Fine Art Auction House. "You don't often see a Hughes work of this size entering the market, particularly from the desirable period of the '50s."
"There's people that stumble across $20,000 or $30,000 paintings for a few hundred dollars, but with the grandeur of this painting, he was lucky that he saw the opportunity and grasped it," Heffel said.
More than 200 paintings will be auctioned next week for an estimated $12 million to $16 million at Vancouver's Sheraton Wall Centre.