Frank Johnston
The Art History Archive - Canadian Art
---
This Website is Best Viewed Using Firefox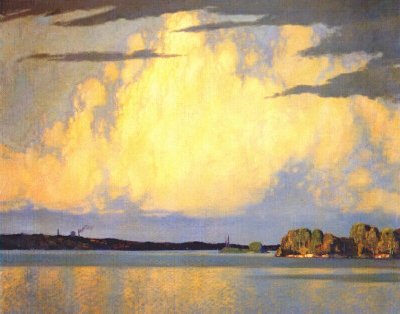 The Group of Seven
Franklin Carmichael
Lawren S. Harris
Alexander Young Jackson
Frank H. Johnston
Arthur Lismer
J.E.H. MacDonald
Frederick H. Varley
Canadian Landscape Artist
Biography by Brandi Leigh - 2008.
Frank Johnston was born June 19th, 1888 in Toronto Ontario. As a young man out of high school he began to work as a commercial artist at Grip Limited. He started working with both MacDonald and Thomson, and later Lismer and Carmichael also signed on. It was here that he met the founding fathers of the Group of Seven.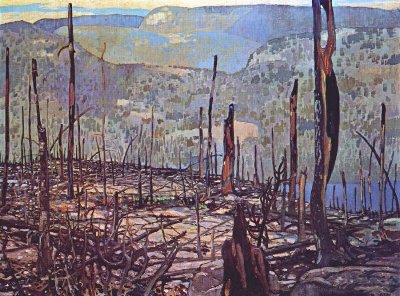 Johnston also was a member of the Arts Letters Club, a group of a hundred men who would meet regularly to discuss conversation and art. The purpose of this group was to create a place where people with different interests could meet and discuss their own artistic creativity in many different arts: Literature, Architecture, Painting, Music, Sculpture, Photography and Acting. It was here at Johnston met Harris, a fellow Group of Seven member, and they became friends.
By 1910, Johnston left for the United States to study art at the Pennsylvania Academy of Fine Arts. During this time he worked in commercial design in both Philadelphia and New York. A couple years later he returned to Toronto where he spent time painting landscapes, and taking painting trips to Algonquin Park and Lake Superior. Johnston painted with Tempera paint, which varied him from the others in the Group of Seven.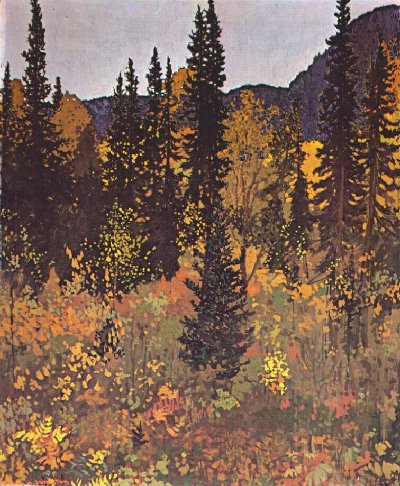 At the end of the war in 1918, he painted pilots training at Beamsville Ontario as part of the Canadian War Memorials. The paintings were to commemorate Canada's contributions to WWI. In 1919 he had a show of over sixty art pieces – more than any artist at this time. During his time with the Group of Seven, he only exhibited his art once at a show with the rest of the Group; a few months later, he had his own personal show of over two hundred paintings. Johnston was able to make sufficient money and lived off of his paintings, this was probably due to the fact that he chose to paint decorative effects could turn out paintings a lot faster than most other artists. His paintings were of both pastoral scenes in Ontario and Quebec as well as scenes in the Northwest Territories.
Johnston spent a year working at the Ontario College of Art in the early 1920's but by the fall of 1921, he left Toronto to work at the Winnipeg School of Art, and officially broke away from the Group of Seven by 1924. In 1927 he changed his name to Franz Johnston and continued to make decent money off of his paintings.
Franz Johnston passed away in 1949, and was buried in the McMichael Canadian Art Collection Burial Grounds in Kleinburg Ontario.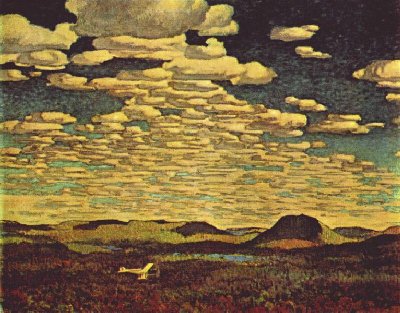 Artworks by Frank Johnston
The Dark Woods Interior - c.1921
Serenity Lake of the Woods - 1922