Franklin Carmichael
The Art History Archive - Canadian Art
---
This Website is Best Viewed Using Firefox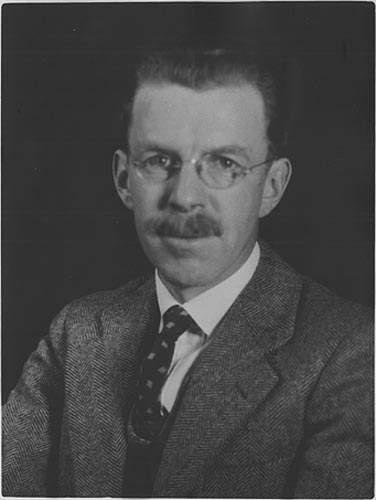 The Group of Seven
Franklin Carmichael
Lawren S. Harris
Alexander Young Jackson
Frank H. Johnston
Arthur Lismer
J.E.H. MacDonald
Frederick H. Varley
Canadian Landscape Artist
Biography by Brandi Leigh - 2008.
Franklin Carmichael was born May 4th, 1890 to Scottish-Canadian parents in Orillia, Ontario. It was here he remained until his 20th birthday when his love of art led him to Toronto and into the Ontario College of Art. It was here that Carmichael studied with two other noted painters: William Cruickshank and George Reid. During this time he took some classes at the Toronto Technical School where he studied alongside Gustav Hahn.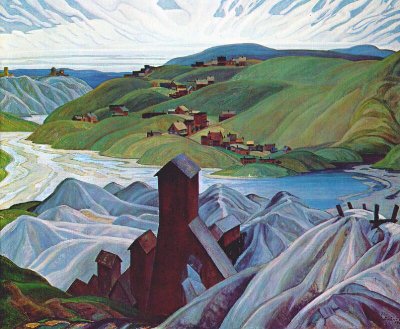 Franklin apprenticed as a commercial artist for Grip Ltd., an advertising agency. It was here that he met Tom Thomson, Arthur Lismer, J. E. MacDonald and Frederick Varley. They joined together to form a group of painters, which included Tom Thomson, and they began to study and work together on their careers as professional artists. On weekends they would travel to the countryside and sketch landscapes.
In 1913 Carmichael took at trip to Belgium to study painting, however he shortly returned to study with the other artists, due in part to the war. His mediums of choice were watercolour and oil which he used to depict scenes of northern Ontario landscapes.
Franklin Carmichael married in 1915 and spent most of his time with his family. By 1924, he was well back into painting and focused solely on watercolours.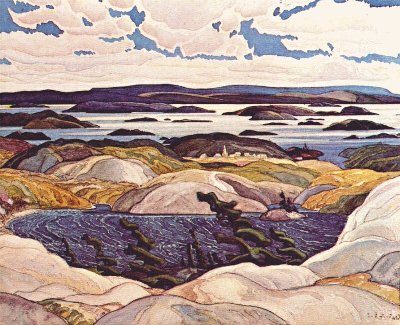 In 1925 he founded the Ontario Society for Painters in Watercolour, along with two other painters: A.J. Casson and F. H. Brigden. Then in 1933 joined the Canadian Group of Painters. Despite being the youngest in the group, he was president of The Group of Seven from 1932 to 1934.During the late 1930s and 1940s, he branched out and worked on wood engravings and linocuts, all with the same precision and rhythmic quality of his paintings.
Franklin Carmichael taught at the Ontario College of Art from 1932 to 1945, and was appointed Head of Graphic and Commercial Art. He passed away suddenly on October 24th of 1945.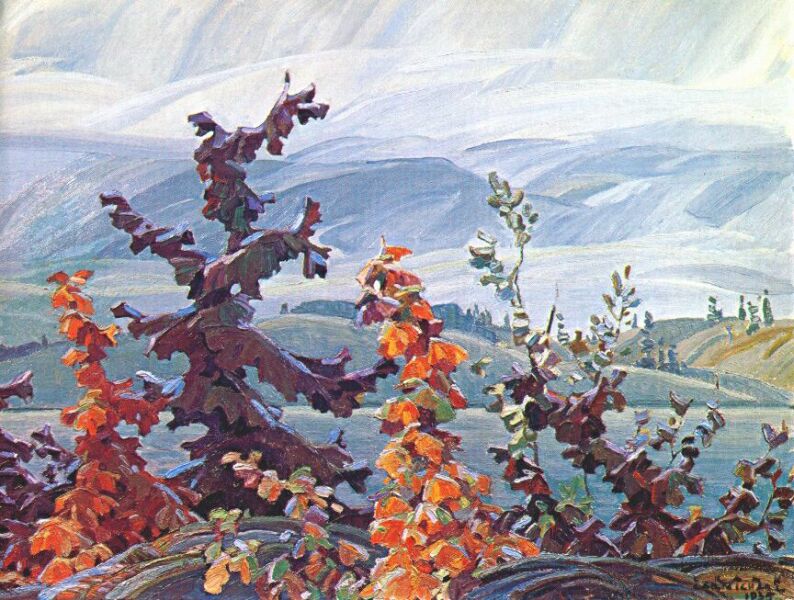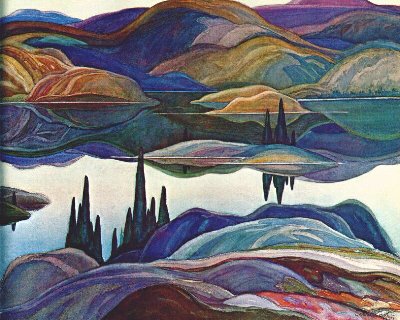 Quotes:
"It is imperative that the artist reveal through the medium in which he is happiest, what he sees, thinks and feels about his surroundings." - Franklin Carmichael.
Paintings by
Franklin Carmichael
Autumn Hillside - 1920
October Gold - 1922
Jackknife Village - 1926
Mirror Lake - 1929
A Northern Silver Mine - 1930
Bay of Islands - 1930
Bisset Farm - 1933
Scrub Oaks and Maples - 1935
La Cloche Panorama - 1939