Toronto Website Design &amp Toronto SEO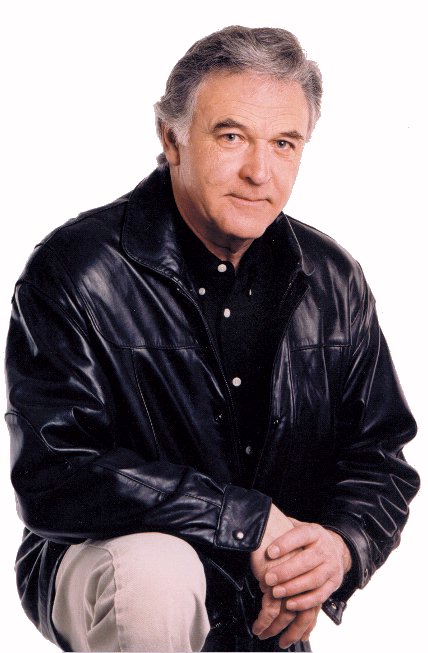 Biography of Ken Danby
Biography by Charles Moffat - September 2007.
Born March 6th 1940 - Died September 23rd 2007.
Early Years
Canadian photorealist artist born in Sault Ste. Marie, Ontario. He knew from an early age that he wanted to be an artist and was support in that dream by his parents, Gertrude and Edison Danby.
His brother, Marvin, four years his senior, displayed natural abilities and interest in creating art as a teenager, which he later set aside. Ken credits Marvin's early interest with inspiring his own. Their parents were very supportive when Ken's artistic skills expanded throughout his elementary years at Cody Public School, Ken Danbywhere he became known as "the school artist", and they soon became aware of the serious degree of his interest. When he was ten years old, in Grade Six, he informed them that he wanted to become an artist, and that a guidance teacher had advised him of a school called the Ontario College of Art, where he could study art. Eight years later, in 1958, he enrolled.
Despite certain anxieties for their son's future, Gertrude and Edison resolved to continue their support for Ken's ambitions as he was unwavering in his determination. Even when he quit the college two years later because of the college's emphasis on abstract art, he did so with a belief that it was the right decision for him. He spent the following three years experimenting with his art before settling on photorealism, inspired by the work of Andrew Wyeth, an American photorealist.
His first one man show in 1964 sold out, setting an example that was often repeated. Private, corporate and museum collectors responded enthusiastically to Danby's work and Danby was recognized as one of the world's foremost photorealist painters. Danby's work has been the subject of several books ranging from reference publications to biographies.
When asked to identify his favourite work, his answer was consistently "my next one."
Danby's photorealism drew the attention of collectors and sustained commercial success throughout his career. Living and working on a sprawling 20-hectare retreat just outside Guelph, a place he called his "sanctuary," Danby cared less about the sale of the work than the process of painting.
His rural property included a grand 1856 stone mill beside the river, overlooked by the original miller's stone house, a horse stable, and a renovated barn building, which served as an office for his publishing company. Together with his wife and favourite model, Gillian, he enjoyed the privacy of his scenic and historic surroundings which have often been reflected in his paintings.
"The fulfilment of that painting is in its completion, not about where it goes. I don't worry about them selling, I don't worry about them finding a home," Danby said.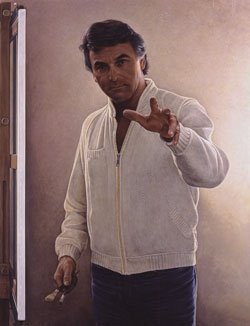 Artwork by Ken Danby
Lake Superior Surf - 1958
Studio Still Life - 1960
Fish and Rocks - 1963
Fur and Bricks - 1963
Boy on Fence - 1965
Early Morning - 1965
From the Summer of '38 - 1966
The Red Wagon - 1966
Towards the Hill - 1967
The Mill Cat - 1968
Boots - 1969
Reflections - 1970
The Boom Hook - 1970
Blowing Up - 1971
Delicious - 1971
Snooker - 1971
The Shell - 1971
At The Crease - 1972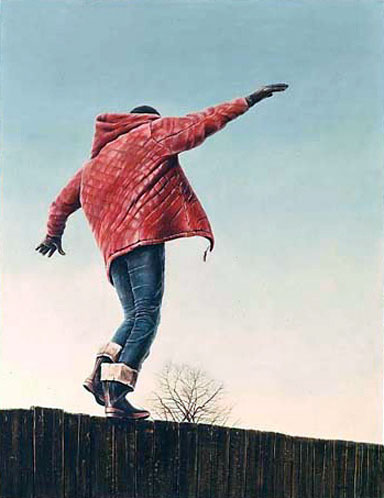 Sunbather - 1972
Sunbather Drawing - 1972
Trillium - 1972
First Edition - 1973
Lacing Up - 1973
Pancho - 1973
Partners - 1973
Leather Hat - 1974
Opening the Gates - 1975
The Visitor - 1975
Early Evening - 1977
Charter - 1978
Cedars in the Sun - 1982
Canada 1 - 1983
Morning Tide - 1983
Acapulco - 1985
Edge of Spring - 1986
Autumn Lane - 1986
Channel Rider - 1986
Mask - 1986-88
Bali Mist - 1987-88
Caribbean - 1987-88
Kimono - 1987-88
Spirit of Bali - 1987-88
Breakers - 1988
Portrait of Gordon Lightfoot - 1988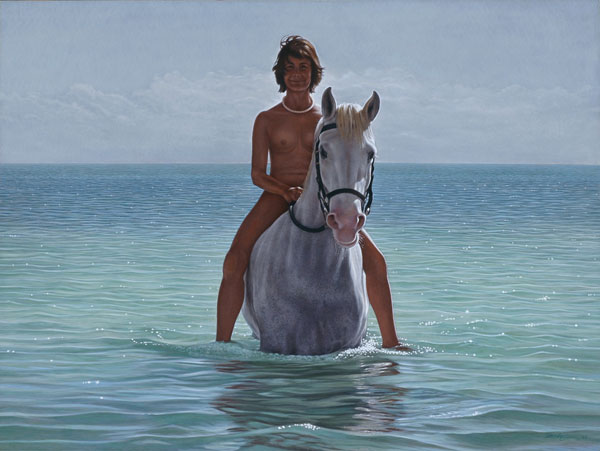 The Offering - 1988
Catching the Sun - 1989
Portrait of Tim-Horton - 1992
Tethered Dory - 1993
Above Hawksville - 1994
The Fisherman - 1994
Northland - 1995
At the Edge - 1996
Helliwell - 1996
Algonquin (Homage to Tom Thomson) - 1997
Autumn Equinox - 1997
Face Off - 1997
Voyageur - 1997
Within the Willows - 1997
Reflecting (Self-Portrait) - 1988-98
Ice Wine - 1998
Into the Sun (The Crystal Skull) - 1998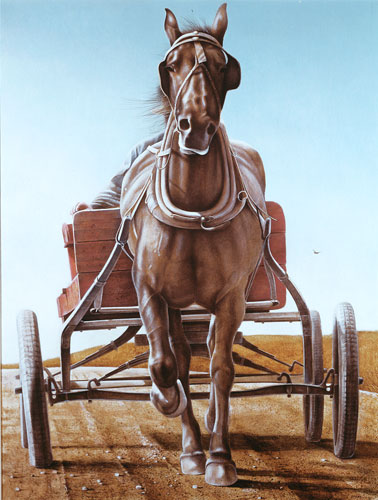 Niagara - 1998
Spirit Seeker - 1998
Trail - 2000
Near Dusk - 2001
Dawn-Beach - 2002
Flashpoint - 2002
Hockey Night in Canada - 2002
Lake Louise - 2002
Island Reach - 2003
Summer Solstice - 2003
Above Lands End - 2004
Approaching Breakers - 2004
Chippewa - 2004
Lake Superior - 2004
Renaissance - 2004
Vintage Tuscany - 2004
Ponte Santa Trinita - 2005
Scavengers Roost - 2005
Cavalier du Soleil - 2006
Free Spirit - 2006
Stampede - 2006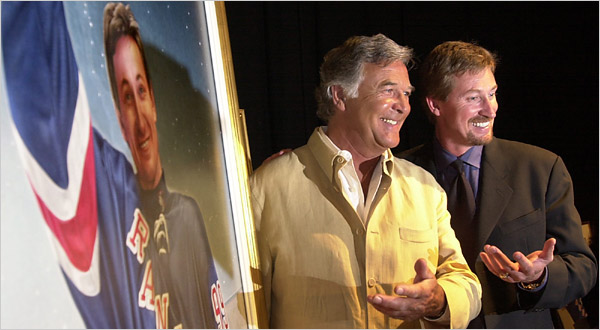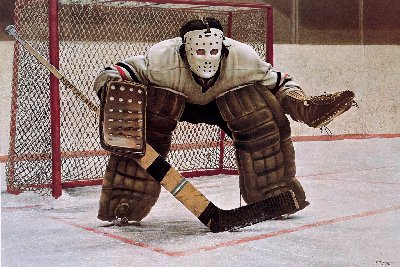 Famous Works
Danby was best known for creating unique visual images that study everyday life. In his 1972 painting "At the Crease", the masked ice-hockey goalie is so iconic it has been referred to as "something of a national symbol." The egg tempera work hangs in reproduction in countless homes of Canadian hockey lovers.
"One day a woman complimented me on my painting, "At the Crease", which she referred to as, `that painting you did of the goalie, Ken Dryden.' She said that she had long had a print of it in her home and really enjoyed it. I thanked her, but also explained that, `It isn't an image of Ken Dryden.' Looking puzzled she replied, `Yes it is.' I responded, `No it isn't.' After a long pause, she loudly explained, `Yes it is!' I quickly apologized, with the realization that she was right. It's really whoever one wants it to be.'" - Ken Danby.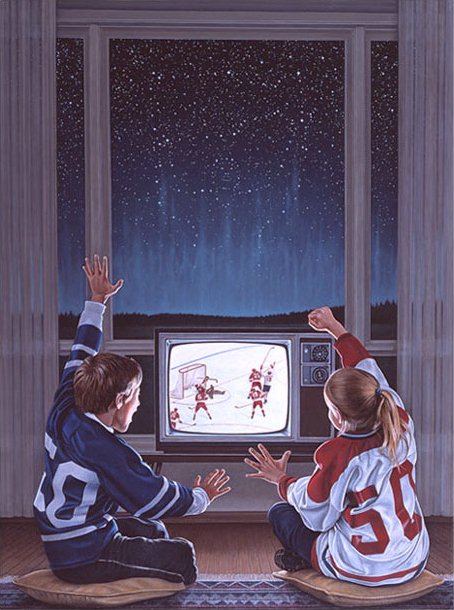 "Growing up in Northern Ontario provided me with a strong affinity for the natural environment that was so eloquently responded to by Tom Thomson and his colleagues. The concept of this painting grew out of a number of forays into Algonquin over the years. From its conception I intended Algonquin to be a subtle tribute to Tom Thomson. But I also wanted it to be a response to the natural beauty that so typifies the grandeur of Ontario's first provincial park." - Ken Danby.
Danby's sports paintings are among his best-loved images, among them "Lacing Up" and "Hockey Night in Canada", a tribute to 50 years of CBC coverage of the game.
He was also sought after for commissions, painting both Gordie Howe and Tim Horton, and designing an Olympic coin for the Royal Mint in 1975. Both his 1968 painting of Trudeau and his 1973 painting of Robert Stanfield graced the covers of Time magazine. Another of his famous works is "Sunbather", also done in 1972.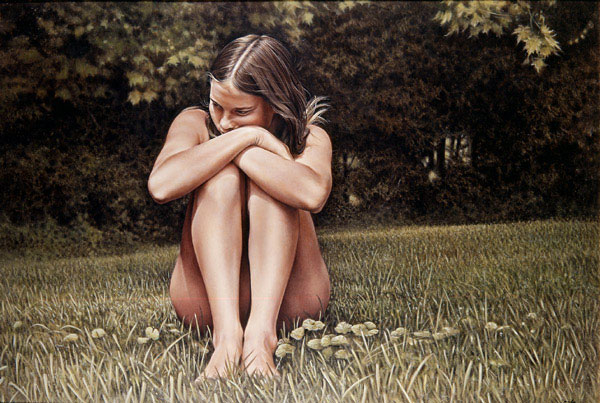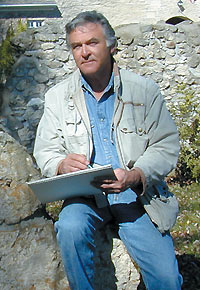 Later Years
In 1975 Danby was elected a member of the Royal Canadian Academy of Arts. He has also been a recipient of the Jessie Dow Prize, the 125th Anniversary Commemorative Medal of Canada, the City of Sault Ste. Marie's Award of Merit and both the Queen's Silver and Golden Jubilee Medals.
Taking his success in stride, in the 1980s Ken Danby prepared a series of watercolours on the Americas Cup and the Canadian athletes at the 1984 Winter Olympics in Sarajevo. Danby has served on the governing board of the Canada Council and as a member of the Board of Trustees of the National Gallery of Canada.
In 1997 Danby received an Honorary Doctorate of Fine Arts from Laurentian University in Sudbury, Ontario.
In 2001 he was vested in both the Order of Ontario and the Order of Canada and on September 30th 2006 Ken Danby became one of the first ten inductees into Sault Ste. Marie's Walk of Fame.
Wayne Gretzky appears with artist Ken Danby at the unveiling of The Great Farewell, Gretzky's official retirement portrait by Danby in May 2001.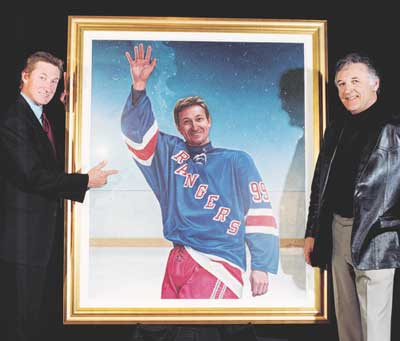 Ken Danby is one of only a few contemporary artists who have created paintings that make the transition from artwork to cultural icon. While the popularity of his work and his contributions to the arts make him a celebrity in Canada, it is his outstanding timeless images that have earned him international recognition as one of the foremost photorealist artists. Danby was frequently compared with fellow Canadian photorealists Christopher and Mary Pratt.
While many Canadians connect Danby with hockey images, Ken Danby himself points out they make up only a dozen images in a long painting career.
"I still love the game," he said in a 2002 interview. "I respond to it, so there's that appeal. That there has been such a focus on them in Canada shows that I've tapped into something that has to do with Canada's soul and spirit."
He also has done portraits of Canadian icons such as singer Gordon Lightfoot and former prime minister Pierre Trudeau and he is renowned for his landscapes, including the 1997 painting "Niagara". A retrospective at the Joseph Carrier Gallery in 2004 featured 60 paintings by Ken Danby, many capturing Canadian scenes such as Lake Louise.
He didn't deliberately set out to become a Canadian icon. "I didn't set out to try and do that," he said in a 2007 interview with the Guelph Mercury. "I am Canadian … but I just respond to things I experience."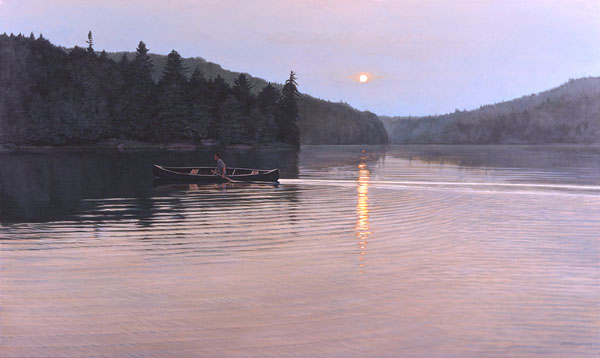 Heart Attack in Algonquin Park
On September 23, 2007, Danby collapsed from a heart attack while on a canoe trip in Algonquin Park near North Tea Lake with his wife Gillian Danby and friends. Friends phoned for help, but emergency workers were unable to revive him. He left behind a wife Gillian and three sons.
Danby is the second famous Canadian artist to die in Algonquin Park. Tom Thomson died on Canoe Lake at the park in July 1917.
Many public institutions hold Ken Danby's originals in their collections, including The Museum of Modern Art and the Brooklyn Museum in New York, The National Gallery of Canada in Ottawa, The Art Institute of Chicago, the Montreal Museum of Fine Art, Oklahoma Art Centre, The Governor General of Canada, Vancouver Art Gallery, University of California Art Gallery, The City of Jerusalem, Israel and the Bradford City Art Gallery in England.
Ken Danby's work has been the subject of several popular books, including Ken Danby, published by Clarke Irwin, Danby: Images of Sport published by MacMillan of Canada, and Ken Danby: The New Decade published by Stoddart. He is listed in numerous reference publications such as.Who's Who in Canada, Who's Who in America, Dictionary of International Biography, Who's Who in American Art, Canadian Encyclopedia, and Contemporary Artists.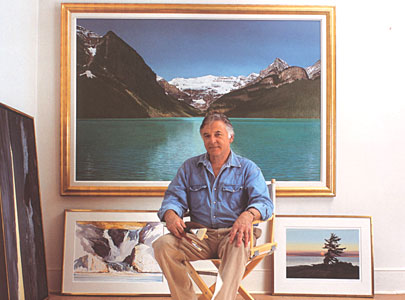 More Quotes by Ken Danby
"The work has to be given its fullest opportunity to be right. I often set pieces aside for months at a time, come back and see them with fresh eyes."
"(Success) is very gratifying. But that's not the reason I do it. I don't recycle a theme just because it has been popular. But it's gratifying to be able to reach out to an audience. To have an audience is important to every artist."