Lawren Harris
The Art History Archive - Canadian Art
---
This Website is Best Viewed Using Firefox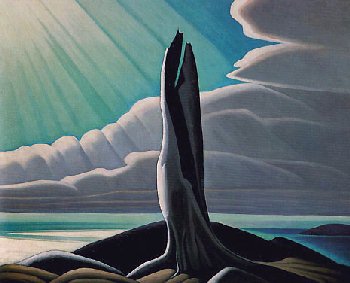 The Group of Seven
Franklin Carmichael
Lawren S. Harris
Alexander Young Jackson
Frank H. Johnston
Arthur Lismer
J.E.H. MacDonald
Frederick H. Varley
Lawren Harris Biography:
Lawren Stewart Harris (October 23, 1885 – January 29, 1970) was a Canadian painter born in Brantford, Ontario, who was one of the best known landscape painters of the Group of Seven, a group of artists who set out to create a distinctly Canadian art. He pioneered a distinctly Canadian painting style in the early twentieth century.
Lawren Harris was born into a wealthy family on October 23rd 1885. He was the first born of two sons. He attended St. Andrew's College in Toronto, and then from age 19 (1904 to 1908) he studied in Berlin. He was interested in philosophy and eastern thought. Later, he became involved in Theosophy and joined the Toronto Lodge of the International Theosophical Society.
In his youth Lawren Harris moved to Toronto, Ontario. He first studied art in Berlin, Germany, from 1904 to 1908. He then returned to Toronto, where he began painting post-impressionist street scenes of the older and poorer areas of Toronto. He continued to paint similar subjects, both of Toronto and of small Ontario towns, into the 1920s.
Harris married Beatrice (Trixie) Phillips on January 20th 1910 and together had had three children born in the first decade of their marriage (his son Lawren P. Harris also became an artist). Soon after meeting and becoming friends with J. E. H. MacDonald in 1911, they would later together formed the Group of Seven.
In 1913 Harris and J. E. H. MacDonald, another Toronto painter who would later also form the Group of Seven, saw an exhibition in Buffalo, New York, of Scandinavian art. Under this influence, Harris began painting decorative landscape oil paintings. Several Toronto painters joined Harris on outings to northern Ontario, from which they produced landscape oil paintings that represented a new, distinctly Canadian art. He financed the construction of a studio building in Toronto with friend Dr. James MacCallum. The Studio provided artists with cheap or free space where they could live and work.
His school-time friend F.B. Housser was married in 1914 to a woman named Bess. Harris and Bess fell in love, but saw no action that could be made. For the two to divorce their spouses and marry would cause an outrage.
Later in 1918 and 1919, Lawren Harris with J. E. H. MacDonald financed boxcar trips for the artists of the group of seven to the Algoma region. Another painting trip after Algoma was to Lake Superior North Shore with A.Y. Jackson (A. Y. Jackson later claimed that Lawren Harris provided the stimulus for the Group of Seven).
By 1919 Harris's landscapes had become increasingly sombre and his brush stroke more expressive. During this period, Harris's landscapes, of Lake Superior (from 1921), the Rocky Mountains (from 1924), and the Arctic (1930), became more stylized. For example, in North Shore, Lake Superior (1926, National Gallery of Canada, Ottawa), forms lose texture, while color and light symbolize the interplay between the spiritual and material.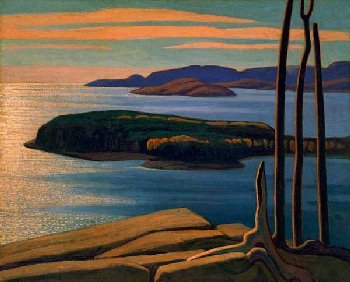 Harris was so passionate about the North Shore and fascinated by the theosophical concept of nature, he returned annually for the next seven years. There he developed the style he is best known for. Harris's paintings in the early 1920's were characterized by rich, decorative colours that were applied thick, in painterly impasto. He painted landscapes around Toronto, Georgian Bay and Algoma.
During the 1920s, Harris' works became more abstract and simplified, especially his stark landscapes of the Canadian north and Arctic. He also stopped signing and dating his works so that people would judge his works on their own merit and not by the artist or when they were painted.
In 1920 the Group of Seven was formed and began holding almost annual exhibitions of their work in Toronto. The most intellectual of the group, Harris was a great nationalist and an enthusiast who inspired others.
His first trip to the Rockies in 1924 soon became annual, too, for the next three years.
In 1930, Harris's landscape paintings became simplified as he sailed with A.Y. Jackson aboard a supply ship.
In 1934 Harris moved to Hanover, New Hampshire, then in 1938 to Santa Fe, New Mexico, where he and other artists formed the Transcendental Painting Group. Harris finally left his wife of 24 years, Trixie and his three children and married Bess Housser. Harris was threatened to be charged with bigamy by Trixie's family because of his actions. Later that year he and Bess left their home and moved to the United States.
In 1940 they moved Vancouver, British Columbia and Harris started his abstract paintings.
In 1969 he was made a Companion of the Order of Canada.
Throughout his life, he never had to support himself initially as a teacher or commercial artist (as all the other Group of Seven members had to do), but could support him self as a full-time painter.
Lawren Harris died in Vancouver on January 29th 1970 as a well-known Canadian artist. To Harris art was "a realm of life between our mundane world and the world of the spirit."
---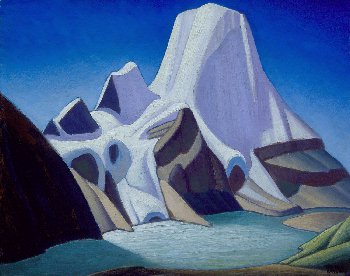 Details from the life of Lawren Harris:
One of the pivotal figures in the development of landscape painting in this country and a founding member of the Group of Seven, Harris was also a leading abstractionist who believed that colour and form were capable of expressing spiritual truths.
Although he studied in Europe and was solidly based in its painting traditions, Harris felt that the realities of the Canadian landscape required something different—something less academic than the British style and more substantial than that of the French impressionists. Around 1915, he and his colleagues found resolve in the example of Scandinavian artists such as Gustav Fjestad, who combined an awareness of issues of verisimilitude with a strong sense of design.
While the artists who became the Group of Seven are most renowned for their depictions of the landscapes of rural Ontario, they were essentially city dwellers, as is reflected in Harris' early images of Toronto. Red House, Yellow Sleigh, c. 1920, is a fine example of Harris' early treatment of colour and light, and the almost visceral quality of his paint. However, Harris came to believe that the landscape outside the city was more spiritually rewarding and began to work farther afield. Beginning in 1918, he sponsored sketching trips for himself and his colleagues, such as A.Y. Jackson, to the Algoma region of Ontario and, later, to the northern shores of Lake Superior.
The Lake Superior landscape was admirably suited to Harris' purpose; although foreboding physically, it was, by virtue of its isolation, a "pure" and "spiritual" place. In representing it, Harris began to simplify his palette and forms to create images which have an iconic quality. First Snow, North Shore of Lake Superior, 1923, is one of the finest of these works. A stark image, it is animated by an exceptional, revelatory light which pours over the foreground and silhouettes the background hills. The use of a reduced colour palette and the elimination of a place of purchase for the viewer give the image an unworldly quality, a distance and purity which Harris felt were lacking in the urban situation.
Harris' belief in the purity of the northern landscape derived from his lifelong commitment to theosophy and from his readings of Blavatsky, Ouspensky and others. Throughout the late 1920s, Harris' work has less and less direct relation to the human world, culminating in austerely reductive landscapes of the Rocky Mountains and the Arctic. The reductive nature of these works led inevitably to abstraction.
In 1937, Harris moved from Toronto to the United States, becoming involved with the Transcendentalist group in Taos, New Mexico. The abstract paintings he executed there have a coolness and intelligence which is entirely divorced from the romantic connotations of landscape. Their rigour and lucidity are unique in Canadian painting, and had a profound influence on the practice of abstraction in this country.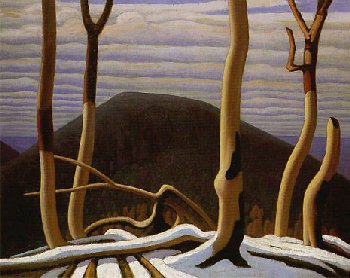 Harris moved to British Columbia in 1940 and became a leading figure in the Vancouver arts community. He was a strong supporter of younger artists and of the Vancouver Art Gallery, and was instrumental in the gallery's acquisition of its important collection of works by Emily Carr. In his later years, Harris' abstractions became more organic in form but continued to express his belief
Throughout his career as an artist Lawren held fast to his dedication to the native Canadian outlook, he first stated in the catalogue of the 1920 Group of Seven exhibition—"The Group of Seven artists whose pictures are here exhibited have for several years held a like vision concerning art in Canada. They are all imbued with the idea that an art must grow and flower in the land before the country will be a real home for its people."
Lawren Harris was one of the major leaders of Canadian art for many decades. His life spanned eighty-five years and in that time his philosophy constantly moved him to explore new approaches towards his existence, and his art.
His was the main driving force that brought together and joined the varying talents and temperaments which formed the Group of Seven. He was also the founder of the now famous Canadian Group of Painters which succeeded the Group of Seven in 1933.
Throughout a long lifetime of searching his work passed through five major periods; ranging from the impressionistic Toronto "House" paintings of the early 1900's, through richly pigmented landscapes of Algoma, dramatically designed compositions of the North Shore of Lake Superior, the blue and white mystical compositions of the Arctic and Rockies to his last phase of total abstraction.
Harris's canvases from his voyage in 1930 to the Arctic on the government supply ship "Beothic" were largely symbolic or complex pictorial designs.
He was influenced by the Russian Kandinsky's CONCERNING THE SPIRITUAL IN ART and he subsequently incorporated symbolic color into facets of his work. The yellows and blues held a mystical significance; yellow for intelligence and blue for conveying spiritual illumination.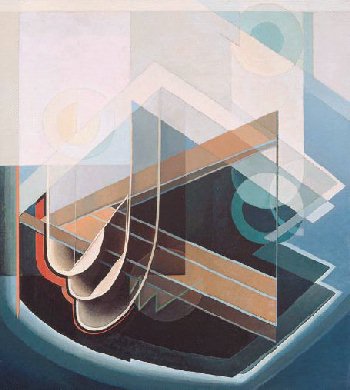 Paintings by Lawren Harris