Tom Thomson
The Art History Archive - Canadian Art
---
This Website is Best Viewed Using Firefox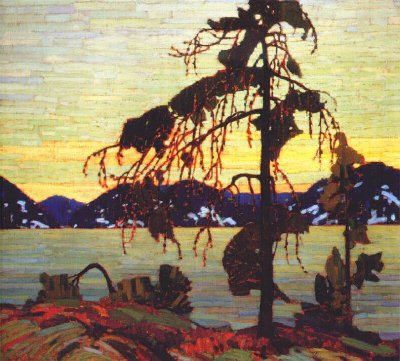 The Group of Seven
Franklin Carmichael
Lawren S. Harris
Alexander Young Jackson
Frank H. Johnston
J.E.H. MacDonald
Arthur Lismer
Frederick H. Varley
Canadian Landscape Artist
Biography by Brandi Leigh - 2008.
Special Note: Tom Thomson was not a member of the Group of Seven, although he was closely associated with the artists in the group before he died.
Thomas John Thomson was born on August 5th, 1877 in Claremont Ontario. The youngest of six children, he was always artistically inclined growing up. Not only was he interested in drawing and painting, but he played both the violin and the mandolin.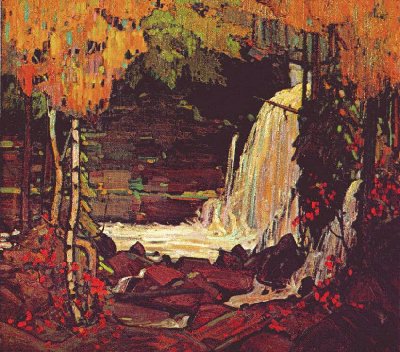 Thomson played both the violin and the mandolin.
Thomson grew up in the town of Leith, near Owen Sound. When Thomson was 21, he apprenticed at a machine shop which was owned by a friend of his father but was fired for always being late to work. Later that year he volunteered to fight in the second Boer War. After the war, Thomson enrolled in a business college in Chatham, but dropped out only eight months later to follow his older brother George who lived and operated his own business school in Seattle Washington.
In 1904, Thomson returned to Canada and had commenced work at Grip Limited by 1907; it was at Grip that Thomson became experienced as a draftsman. It was here that he also met members of the Group of Seven and together they took trips around Canada and through the Ontario wilderness. Although Thomson had always been interested in the arts, it wasn't until his mid-thirties that he began to paint for a living. Thomson began working with the Group of Seven at Rous and Mann Press, but left only a year later to focus solely on art.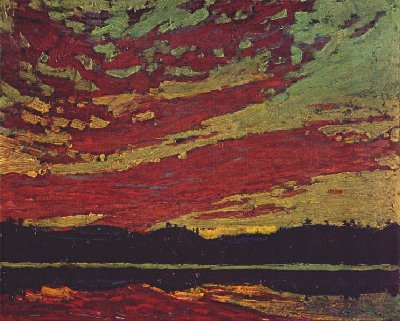 When Thomson took his first visit to Algonquin Park in 1912, he fell in love with the beauty of the nature around him. He began to paint scenes from the park, and would often disappear for days into the park to paint a beautiful scene he had found. He produced many small oil sketches in the park, as they were easy to carry around; many of these sketches can still be seen at the Art Gallery of Ontario. Dr James MacCallum supported Tomsons work and helped him transition into a professional painter.
In 1913 he exhibited at the Ontario Society of Artists and became a member in 1914 when the National Gallery of Canada purchased one of his paintings. Thomson had lived in apartments and shared homes with other artists over the years, but in 1914 he moved into his own shack on Canoe Lake in Algonquin Park. To make ends meet, he worked as a firefighter, a ranger and a guide in the park, however this left him little time for painting. It was in these years that he produced three of his most famous works – Jack Pine, West Wind and Northern River.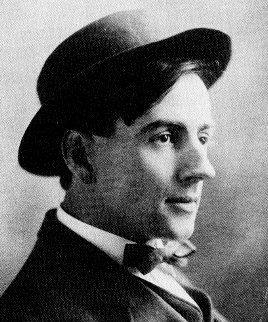 Thomson was an avid fisherman and often took canoe trips on Canoe Lake. It was on one such fishing trip in 1917 that he disappeared. His body was discovered eight days later and the cause of death was listed as accidental drowning; however there is a lot of speculation as to whether it was truly an accident or not. During his life he sold few paintings, however those he did sell paved the way for future exhibitions after his death. One such exhibition in London England helped to bring international attention to Thomson's work. Today his work continues to grow even more valuable; in 2002 the National Gallery of Canada had a major exhibition of his work.
Several memorials to Tom Thomson have been erected since his death. Both Artists James MacDonald and John Beatty erected a memorial on Canoe lake where Thomson died. Then in 1967 the Tom Thomson Memorial Art Gallery opened in Owen Sound as a tribute to the great artist.
Pop Culture: A movie – The Far Shore by Joyce Wieland was based on the life and death of Thomson.
Artworks by Tom Thomson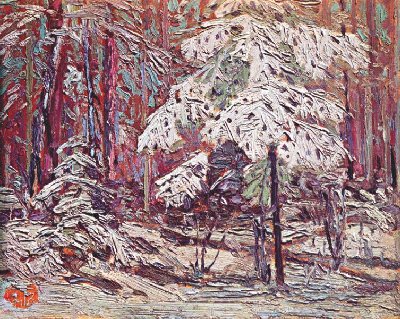 A Northern Lake - 1913
Little Falls - 1913
Frost Laden Cedars Big Cauchon Lake - 1914-15
Algonquin October - 1915
Evening Canoe Lake - 1915
Lightning Canoe Lake - 1915
Northern River - 1915
Sunset - 1915
The Pool - c.1915
Phantom Tent - 1915-16
Summer Day 1915-16
Autumn Birches - 1916
Snow in the Woods - 1916
Sombre Day - 1916
Spring Breakup - 1916
Tamaracks - 1916
Woodland Waterfall - 1916
Moonlight and Birches - 1916-17
Sunrise - 1916-17
The Jack Pine - 1916-17
The West Wind - 1917
Wildflowers - 1917
Autumn Foliage - Date Unknown
Black Spruce in Autumn - Date Unknown
Byng Inlet Georgian Bay - Date Unknown
Opulent October - Date Unknown
The Pointers - Date Unknown
The Woodland Stream - Date Unknown