DADA
The Art History Archive - Art Movements
---
Toronto Website Design &amp Toronto SEO
The Anti-War Art Movement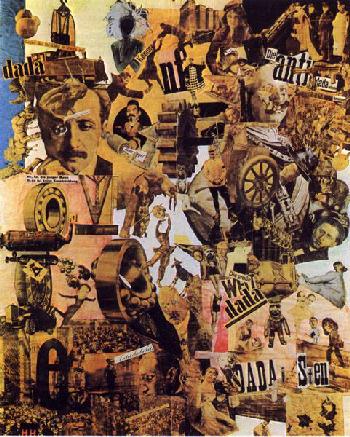 Right: Hannah Hoch - Cut with the Kitchen Knife Through the First Epoch of the Weimar Beer-Belly Culture, 1919.
The piece on the right by Hannah Hoch epitomizes the Dada attitude towards war: That it is chaos. That the world has gone mad. That war itself is craziness incarnate destroying humanity.
Dada was many things, but it was essentially an anti-war movement in Europe and New York from 1915 to 1923. It was an artistic revolt and protest against traditional beliefs of a pro-war society, and also fought against sexism/racism to a lesser degree. The word "dada" was picked at random out of a dictionary, and is actually the French word for "hobbyhorse".
The most widely accepted account of the movement's naming concerns a meeting held in 1916 at Hugo Ball's Cabaret (Café) Voltaire in Zürich, during which a paper knife inserted into a French-German dictionary pointed to the word "dada".
The European movement was started in 1915 in Zurich by sculptor Hans Arp, film-maker Hans Richter, and poet Tristan Tzara.
By the end of World War I, Dada was very popular in the German cities Berlin, Cologne and Hanover, expressing the view of many Germans at the time that the war was folly. The artists included: Raoul Hausmann, John Heartfield, Max Ernst, Kurt Schwitters, Otto Dix, and George Grosz (Dix and Grosz later became part of the Neue Sachlichkeit movement). The German artists released the issued Dada publications: Club Dada, Der Dada, Jedermann sein eigner Fussball ("Everyman His Own Football"), and Dada Almanach.
The New York art movement arose almost independently. The movement was centered at Alfred Stieglitz's gallery, "291," and at the studio of the Walter Arensbergs. Its leaders were: Marcel Duchamp, Man Ray, and Francis Picabia. The New York counterpart tended to be more whimsical and less about the violence that was happening overseas.
Picabia founded a Dada periodical called "391" in Barcelona and introduced the Dada movement to Paris in 1919. Most notable among the French Dada pamphlets and reviews was 'Littérature' (published 1919-24), which contained writings by André Breton, Louis Aragon, Philippe Soupault, and Paul Éluard. The Paris Dada movement later evolved into Surrealism by 1924.
For a listing of major artists, artworks and dates of the Dada and Surrealist Periods, click here.
---
Louis Aragon
Born 3 October 1897 in Paris. Poet and Writer. Active participant in the DaDa movement, and later became a surrealist.
---
Hans Arp
Born 16 September 1887 in Straßburg (or Strasbourg), died 1966. Sculptor, painter and poet. Visited Paris in 1904 and was deeply impressed by the modern paintings. Went to Weimar and attended courses at the academy under Professor Ludwig von Hoffmann from 1905 to 1907. Spent some time at the Julian Academy of Paris in 1908. After that, he went to Weggis, Switzerland, where he worked for some years in solitude. Met the painters W. Gimmi, W. Helbig and Oskar Lüthy with whom he founded the "Moderner Bund" ("Modern League") in 1911. Was one of the organizers of the first exhibition of "Der moderne Bund" in Lucerne, showing works by Amiet, Arp, Friesz, Gauguin, Gimmi, Helbig, Hodler, Lüthy, Matisse, and Picasso. Visited Kandinsky in Munich in 1911, who requested his (Arp's) collaboration on the book "Der blaue Reiter" ("The Blue Rider"). Took part in the second "Blauer Reiter" exhibition in Munich in 1912, and at the second "Moderner Bund" exhibition in Zurich in 1913. Contributed drawings to the Berlin periodical "Der Sturm" ("The Storm"). Took part in the "First German Autumn Saloon" at "Der Sturm" gallery in Berlin in 1913. Met Apollinaire, Arthur Cravan, Max Jacob, Picasso, and Modigliani in Paris, in 1914, the latter drawing his portrait.
After the declaration of war, he returned to Switzerland. Exhibited his first abstract works (rectangular forms), collages, and tapestries, together with worrks by Otto and Mme. van Rees, at the Tanner Gallery, Zürich, in November 1915. During this exhibition he met Sophie Taeuber, whom he later married.
Co-founder of the Zürich DaDa movement in 1916. Illustrated Tristan Tzara's "25 Poems" and Huelsenbeck's "Fantastic Prayers," the latter with woodcuts which he called "Studies in Symmetry." In his reminiscenes, "Dadaland," Arp writes, "I met Tzara and Serner at the 'Odeon' and the 'Café Terasse' in Zürich, where we were writing a cycle of poems called 'Hyperbole of the Crocodile-Hairdresser and the Walking-Stick.' This kind of poem was later called 'Automatic Poetry.'" In 1917 he created his first abstract wooden reliefs. Exhibited at the first Zürich DaDa exhibition.
In the Zürich DaDa-publications "Cabaret Voltaire," "Dada" (issues 1-3), and "391" (issue #8), he published illustrations; in "Dada" (issue 4/5) and "Der Zeltweg" he published illustrations and poems.
In 1919 he travelled to Cologne (Köln), and founded the Cologne DaDa group with Max Ernst and Johannes Baargeld. Contributed to the publication "Schammade," and created the "Fatagaga" pictures with Ernst. Short stay in Berlin, where he met El Lissitzky, Kurt Schwitters and other DaDaists. Published "Die Wolkenpumpe" ("The Cloud Pump"), a series of poems, and "Der Vogel Selbdritt" ("The Bird Thrice with Itself"), a collection of poems and woodcuts. Collective publication of "Dada in Tyrol, Au Grand Air, Der Sängerkrieg."
In 1922 he married Sophie Taeuber. Collaboration with Kurt Schwitters on the latter's periodical "Merz" in 1923. Published, with El Lissitzky, "Isms in Art," in which he defined DaDa: "Dadaism has launched an attack on the fine arts. It has declared art to be a magic opening of the bowels, administered an enema to the Venus of Milo, and finally enabled 'Laocoon and Sons' to ease themselves after a thousand-year struggle with the rattlesnake. Dadaism has reduced positive and negative to utter nonsense. It has been destructive in order to achieve indifference." Participated at the first collective exhibition of surrealists at the Pierre Gallery, Paris, with de Chirico, Ernst, Klee, Man Ray, Masson, Miro, and Picasso.
---
Johannes Baader
Took an active part in the Berlin DaDa movement from 1918 to 1920. Was also known as the "Chief Dada" ("Oberdada") and "Dada Prophet."
---
Johannes Theodor Baargeld (Pseudonym for Alfred Grünwald)

German painter and poet. Founded the Cologne DaDa group together with Max Ernst. Gave up painting in 1921. Lost his life in an avalanche in 1927. Editor of the periodical "Der Ventilator" ("The Fan") and collaborator on a great number of DaDa publications ("Bulletin D," "Dada W/3," and others).
---
Hugo Ball
Born 22 February 1886 in Pirmasens, Germany, died 14 September 1927 in San Abbondio, Switzerland. Author, co-founder of the Zürich DaDa movement; joined the Max Reinhardt School of Dramatic Art in 1910, and was employed as stage director. The "Café des Westens" in Berlin became his meeting place with young poets: Johannes R. Becher, Georg Heym, Richard Huelsenbeck, Klabund, and others. Stage director at the Munich Chamber Theater in 1913, and at the same time collaborator on the periodical "Revolution" (Published by F.S. Bachmair, 1913) together with Seewald, J.R. Becher, Erich Mühsam. Soon after the outbreak of the war he emigrated with his wife, Emmy Hennings, to Switzerland. Both took employments - Ball as a pianist, his wife as a recitationist - in a variety group in the Niederdorf, the amusement quarter of Zürich. In February 1916 he founded the "Cabaret Voltaire" in the Spiegelgasse in Zürich. Met Arp, Janco, Tzara, and later Huelsenbeck and Serner. His intentions with regard to the "Cabaret Voltaire" he defined in the following words: "It is necessary to clarify the intentions of this cabaret. It is its aim to remind the world that there are people of independent minds - beyond war and nationalism - who live for different ideals." (from the contribution entitled "Lorsque je fondis le Cabaret Voltaire" ["Why I founded the Cabaret Voltaire"], in the publication "Cabaret Voltaire," Zürich, 1916)
Ball protested several times "against the humiliating fact of a world war in the 20th century." In light of this, all static values of culture appeared to him to be questionable. He composed sound-poems, or "verses without words." In 1917 he ceased to take an active part in the DaDa movement. Became co-editor of the newspaper "Freie Zeitung," in Bern, which demanded, editorially, a republic for Germany. Later he retired and went to live in the Ticino, where he was employed on a biography of Bakunin. From his DaDa period an unpublished novel exists, "Tenderenda, der Phantast." In his "Criticism of German Intelligence" (1919), he tried to present a profound analysis of the German state of mind (which may have foreshadowed Hitlerism).
One of his other significant works are the diary excerpts of his DaDa period published as "Die Flucht aus der Zeit" ("Flight out of Time"). This is highly recommended reading for anyone interested in 'documentation' of the DaDa movement in Zürich.
---
André Breton
Born 18 February 1896 in Tinchebray, France. French critic, writer, and poet. At the beginning of World War I, he was a student of medicine and particularly interested in psychiatry. In 1916 he met Jacques Vaché, a legendary predecessor of dadaism. His first publications were influenced by Rimbaud. When Tristan Tzara came to Paris from Zürich in 1916, Breton joined the Paris DaDa movement together with his friends Paul Eluard and Phillipe Soupalt. The periodical "Littérature," of which Breton was co-founder, served the cause of the dadaists. Breton played an important part in the earlier DaDa publications in Paris. In 1921 he broke with Tzara and the Parisian dadaists. Published his "Manifeste du Surréaliste." Somewhat later, he was co-editor of the periodical "La Révolution surréaliste" (1924-29), and thus founded the school of literary surrealism, of which he became the most important theorist.
---
Duchamp, Marcel (1887-1968)

Born on 28 July 1887, in Blainville, near Rouen, France. French painter, poet, experimentator in films and chess player. He is the brother of Raymond Duchamp-Villon, the sculptor, and of Suzanne Duchamp, the poetess and a half brother of Jacques Villon. In 1911 he was a member in the painters' circle known as the "Golden Section", together with La Fresnaye, Léger, Metzinger, Picabia, and others. Influenced by cubism he painted the picture "The Chess Players" and the first studies for his "Nudes descending a Staircase". In the same year he created "The Coffee-Mill", important as regards to form and the part it played in the general development. Many problems of dadaism (mechanical drawings by Picabia, Max Ernst, etc.) and of surrealism were anticipated in it. In 1912 he painted one of his main works, "Nudes descending a Staircase", shown for the first time in October of that year at the exhibition of the "Golden Section". In 1913 it was the hit of the New York "Armory Show". In 1914—15 he confused the public with a series of works which he called center In 1914 he put his signature to a second-rate landscape reproduction by an unknown artist after adding a green and a red patch, calling the whole work "Pharmacy". "Ready-Mades" were banal objects of every-day use such as a bottle holder, a snow-shovel, etc., which he signed with his name after giving them titles totally unconnected with their functional use. In 1915 he went to the United States for the first time and soon became the center of the circle of painters round the "Stieglitz" gallery. That group had adopted an "anti-art" attitude and was thus a movement parallel to Zurich dadaism. In 1917 Duchamp sent a "work" called "Fountain" to the New York "Independent Show", signed with the name "R. Mutt", it was nothing but a common urinal. The "Ready-Mades" demonstrated his profound contempt for the bourgeois conception of art. Their descendants were in later years the "surrealist objects". In 1917 Duchamp edited the periodicals, "The Blind Man" and "Rongwrong", which had an unmistakably dadaist character. "La vierge", "Mariée", "Passage de la vierge à la mariée", etc., pictures painted in 1912 - some on glass and others on canvas - were the points of departure for his monumental work; (painted on glass): "La mariée mise à nu par ses cèlibataires" ("The married woman stripped nude by her bachelors"), at which he worked from 1915 to 1923 and finally left unfinished, to devote himself to chess-playing and to mechanical and optical experiments (films) etc. In 1934 he published 93 facsimile drawings etc. preparatory studies to his unfinished monumental work, a fascinating insight into the structure and evolution of this unique creation. In 1920 he published, under the pen name of Rrose Sélavy (arroser, c'est la vie), puns in No. 5 of the periodical "Littérature". With the same pseudonym he still signed lesser works. Together with Katherina Dreier he founded the "Société anonyme" for the propagation of modern art in America. Preference was given to anti-traditional, cubist, futurist and dadaist works. From 1942 to 1944, together with Max Ernst and André Breton, he edited the surrealist periodical "VVV", in New York. Through the charm of his personality and his works Duchamp has exerted great influence on young American artists.
---
Paul Eluard (14 Dec. 1895 - 18 Nov. 1952)

French poet. At the beginning of his creative work he was linked with the Paris dada movement, later with surrealism. Editor of the periodical "Proverbe". Collaborated in numerous dadaist publications.
---
Max Ernst (1891-1976)

Born on 2 April 1891 in Brühl, near Cologne. Painter, poet. Studied philosophy at the Bonn university (1909 - 1911). Never had any formal artistic training. Exhibited at the First German Autumn Saloon "Sturm", Berlin, 1913 and in the same year went to Paris for the first time. There he came to know the work of Picasso and de Chirico. In 1914 he met Arp at the "Werkbund" exhibition, Cologne. Further exhibition at the "Storm" gallery, Berlin, in 1916. In 1919 he founded, together with Arp and Baargeld, the Cologne dada group and collaborated with Arp in the creation of the "Fatagaga" collages ("Fatagaga" = "Fabrication de tableaux garantis gazométriques" = "Manufacture of guaranteed gasometric pictures"). Co-editor of "Dada W3" and "Schammade". Organized the dada-exhibition in the "Brauhaus Winter", which was closed by the police as contrary to "morals". In 1920 first exhibition of collages at the "Sans Pareil" gallery, Paris. Took part in the dada-meeting in Tyrol 1921, together with Arp, Breton and Tzara. Contribution to "Dada in Tirol, Au Grand Air, Der Sängerkrieg". Went to Paris in 1922. Contributor to many dadaist publications. Took an active part in the founding of surrealism and became one of the leading surrealist painters. Moved to New York in 1942 and lived both there and in Sedona, Arizona, until his return to France in 1954.
---
George Grosz (1893-1959)

Born 26 July 1893 Berlin. Painter, writer and caricaturist. Studied at the Dresden and Berlin academies. Contributed to satirical periodicals. Came to the Berlin dada movement in 1918. Edited the periodicals "Die Pleite" ("Bankruptcy") together with Wieland Herzfelde; "Jeder sein eigener Fussball" ("Everyman his own Football") with Franz Jung; and "Der blutige Ernst" ("In Bloody Earnest"), with Carl Einstein. On his dada period he wrote in his book "Art In Danger": "Civilian again, I experienced in Berlin the rudimentary beginnings of the dada movement, the start of which coincided with the 'swede' period of malnutrition. The roots of this German dada movement were to be found in the recognation that it was perfectly crazy to believe that the spirit, or anything spiritual ruled the world. Dadaism was the only significant artistic movement in Germany for decades. Dadaism was no artificially fostered movement but an organic product, at its origin a reaction to the cloudlike ramblings of so-called sacred art. Dadaism forced artists to declare openly their position .. . What did the dadaists do? They said that it did not matter whether a man blew a 'raspberry' or recited a sonnet by Petrarca or Shakespeare or Rilke, whether he gilded jack-boot heels or carved statues of the Virgin. Shooting went on regardless, profiteering went on regardless, people would go on starving regardless, lies would always be told regardless—what was the good of art anyway? In those days we saw the mad final excrescences of the ruling order of society, and burst out laughing. We did not yet see that there was a system behind all this madness." George Grosz was the most pitiless caricaturist of the German bourgeoisie and of German militarism. In 1925 he approached that type of realism designated as "new matter-of-factness". In the U. S. A., where he went in 1932, his pictures assumed romantic, idyllic overtones. Looking back on it all, he wrote in his autobiography "A Little Yes And A Big No": "Artistically speaking we were 'dadaists' in those days. If that meant anything it was a disquiet, a dissatisfaction, a delight in mockery, that had all been fermenting a long time already. Every defeat, every upheaval gives birth to such movements. In another period we might have been flagellants . . . Huelsenbeck imported dada to Berlin, and it assumed immediately political features. The aesthetical side was preserved, but got more and more supplanted by a kind of anarchist-nihilistic politics, chiefly propounded by the writer, Franz Jung."
---
Raoul Hausmann (1886-1971)

Born on 12 July 1886 in Vienna. Painter, sculptor and writer. One of the founders of the Berlin dada movement, he was also called "Dada-sopher". Author of a number of dada publications, poetical whimsies, experimented also upon photo-montages. Editor of the periodical "Der Dada" in Berlin.
---
John Heartfield
Took part in the dada movement in Berlin. Also known under the name of "Dada-Monteur" ("Dada-Fitter"). Considerable expert of photo-montages. One of the editors of the Berlin periodical "Der Dada." Was the main organizer of the "First International Dada Fair" in Berlin in 1920.
Do you love Canadian art? Can't get enough of contemporary Canadian artists like Charles Moffat?

Charles Moffat is well known for his figurative and portraiture work and is considered one of the top ten living artists in Canada today.
Do you love reading fantasy or horror stories on Amazon Kindle? How about Harry Potter and Buffy the Vampire Slayer? Chances are likely that you will like the stories and novels of fantasy author Charles Moffat, the creator of The Lilith Bloodstone Series. Download them today for zombie-killing necromantic action!
Emmy Hennings
Born 17 February 1885 in Flensburg, Schleswig, Germany, died in 1948 in Magliaso, Ticino, Switzerland. Wife of Hugo Ball. Made his acquaintance in 1913 and went to Zurich with him in 1915, where she helped to found the "Cabaret Voltaire" and took part in its performances. The "Zürcher Post" wrote of her on 7 May 1916:
"The star of the cabaret however, is Mrs. Emmy Hennings. The star of who knows how many nights and poems. Just as she stood before the billowing yellow curtain of a Berlin cabaret, her arms rounded up over her hips, rich like a blooming bush, so today she is lending her body with an ever-brave front to the same songs, that body of hers which has since been ravaged but little by pain."
Emmy Hennings also published some poems and books.
Some of her poems include: 'Ätherstrophen', 'Gesang zur Dämmerung', 'Nach dem Cabaret', 'Morfin', 'Tänzerin'.
---
Wieland Herzfelde (1896-1988)

Brother of John Heartfield. Founded the "Malik" publishing house in Berlin, which brought out a number of dadaist publications.
---
Hannah Höch (1889-1978)

1889 - Born 1 Nov, as Johanne Hoch in Gotha. Her mother an amateur painter, her father a manager for an insurance company.
1904 - Left high school to care for her younger sibling.
1912 - Enrolled in Kunstgewerbeschule, Berlin Charlottenbourg studied glass design.
1914 -Outbreak of World War 1 - traveled to Cologne to see the Werkbund Exhibition.
1915 - Moved to Berlin to study graphics with Emil Orlik at the Staatlichen Lehnranstalt des Kunsgewerbemuseum. Met and became lovers with Raul Hausmann.
1916/1926 - Worked for Ullstein Verlag designing handiwork patterns for Illustrierte, and other magazines.
1917 - Became involved in the Berlin Dada circle through Hausmann.
1920 - First exhibited in the Novembergruppe annual exhibitions, subsequently participating for the next 10 years.
1921 - Traveled to Prague with Hausmann.
1922 - Separation from Hausmann and exhibited in Berlin.
1924 - First Parisian visit Hoch met Mondrian and exhibited in the Soviet Union.
1925 - Exhibited in Deutschen Kunstgemeinschaft Berlin. Second trip to Paris.
1926 - Met Til Brugman and lived with her in the Hague through 1929.
1928 - Exhibited in the Netherlands and other cities in Germany.
1929 - First one person exhibition: Kunsthuis de Bron in the Hagues, Rotterdam.
1930/1931 - Moved back to Berlin with Brugman and exhibited in the Grosse Berliner Kunstausstellung and the Berlin Fotomontage exhibition.
1932/1932 - Exhibited in America and Brussels.
1934 - One person exhibition at Kunstzaal d'Audretsch in the Hague. One person exhibition in Czechoslovakia.
1935/37 - Separation from Brugman.
1938 - Married Kurt Matthies.
1942 - Separated from Kurt Matthies.
1945 - Exhibited in Berlin and at the Museum of Modern Art, New York.
1978 - Died in Berlin

Works by Hannah Höch: 'On Photomontages', 'Cut with the Kitchen Knife', 'Die Journalisten' (The Journalists).
---
Richard Huelsenbeck (1892-1974)

Born on 23 April 1892 in Frankenau, Hessen, Germany, died 1974. Late in his life he lived in New York under the name of Charles R. Hulbeck and practised Jungian psycho-analysis. Took a prominent part in the foundation of the Zürich and Berlin dada movements. He had been an expressionist poet and writer. Came to Zürich in February 1916 as a ware-resistor and immediately came into contact with the "Cabaret Voltaire." He returned to Berlin in January, 1917, initiating the Dada group there. Hugo Ball wrote of him, in his "Escape from Time," on 11 February 1916:

"Huelsenbeck has arrived. He pleads for an intensification of rhythm (Negro rhythm). He would best love to drum literature and to perdition."

Edited the "Dada Almanach" in Berlin in 1920 and wrote "En Avant Dada," a history of dadaism. in the same year. The author of numerous other dada publications. He claimed throughout his life that "dada is still existing," thus placing himself in direct opposition to the other founders of dadaism.
---
Francis Picabia (1879-1959)

Born and died in Paris. Painter, drawer and poet, of Spanish descent. He studied at the Ecole des Beaux-Arts and at the Ecole des Arts décoratifs of Paris. Up to 1908 he painted impressionist pictures in the manner of Sisley. In 1909 he came under the influence of the Cubists. Between 1911 and 1912 he took part in the Sunday meetings at Jacques Villon's studio at the village of Puteaux, together with Apollinaire, Gleizes, La Fresnaye, Léger, Metzinger, among others, which led to the foundation of the "Golden Section." He exibited at Metzinger's show. Was a close friend of Apollinaire. In February, 1913, he went to the United States for the first time and exhibited at the "Armory Show." Stieglitz arranged an exhibition of his water-colours at his gallery. In 1914 he was mobilized in France. In 1915 he went to the United States for the second time and collaborated with Marcel Duchamp. The periodical "291" of the Stieglitz group published proto-dada-works by Picabia, Catherine Rhoades and others. Towards the end of 1916 he turned up in Barcelona, where he met Cravan, Gleizes and Marie Laurencin. On January 25th, 1917, he published the first number of his periodical, which he named "391" to recall the Stieglitz group's "291". In it he published his first "Mechanical Drawings" and false informations about friend and enemy. In the same year he went to America once more and there published further numbers of his periodical, assisted by Marcel Duchamp. In 1918 he made his appearance at Lausanne, where he published a book entitled "Poèmes et dessins de la fille née sans mère" ("Poems and drawings of the girl born without a mother"). In February he took connection with the Zürich Dada group and contributed to "Dada" Issue Number 3. In 1919 he published issue number 8 of his periodical "391" which was printed by Jul. Heuberger, also the printer of the Zürich dadaists. He was represented in "Dada" Issue 4/5. He returned to Paris, published further issues of "391", and took part in dada demonstrations. In 1920 he published a periodical, "Cannibale", and in 1921, together with Breton and others, he dissociated himself from "orthodox" dadaists (i.e. the major dadaists). Later he contributed to the periodicals and exhibitions of the surrealists. In 1949 a big retrospective exhibition was organized at the Drouin Gallery, Paris. The catalogue for the exhibition, titled "491", came out in the size of a newspaper. It contained articles by Bott, Breton, Cocteau, Desnos, Seuphor, Tapié and others.
---
Roger Planchon (born 1931)

Regisseur und Theaterleiter, Gründer des "Théâtre de la Cité de Villeurbanne" bei Lyon. Planchon will dem Theater neue Publikumsschichten (Arbeiter) gewinnen. Als Regisseur entwickelte er ebensosehr die komödiantischen Mittel ("Die drei Muketiere") wie unter dem Einfluß von B. Brecht die dialektisch-kritische Deutung (Molieres "Georges Dandin").
---
Georges Ribemont-Dessaignes (1884-1974)

French painter and writer. Was very active in the Paris dada movement, occasionally serving as its secretary. His dadaist works were exhibited in Paris in 1920. Contributed to a number of dada publications.
---
Hans Richter (1888-1976)

Painter, graphic artist, avant-gardist, film-experimenter and producer. First contacts with modern art in 1912 through the "Blauen Reiter" and in 1913 through the "Erster Deutsche Herbstsalon" gallery "Der Sturm", Berlin. In 1914 he was influenced by cubism. Contributed to the periodical "Die Aktion" in Berlin. First exhibition in Munich, 1916. "Die Aktion" published as a special edition about Hans Richter. In the same year he went to Zürich and joined the Dada movement. Richter propounded the thesis that the artist's duty was to be actively political, opposing war and supporting the revolution. First abstract works in 1917. Friendship with Viking Eggeling in 1918, the two experimented together in Film. Was co-founder, in 1919, of the Association of Revolutionary Artists ("Artistes Radicaux") at Zürich. In the same year he created his first "Prélude" (orchestration of a theme developed in eleven drawings). In 1920 he was a member of the November group in Berlin and contributed to the Dutch periodical "De Stijl." In 1921 he made the first abstract film, "Rhythme 21," which today is considered a classic among avant-garde films. About Richter's woodcuts and drawings Michel Seuphor wrote: "Richter's black-and-whites together with those of Arp and Janco, are the most typical works of the Zürich period of Dada." From 1923 to 1926, Richter edited, together with Werner Gräff and Mies von der Rohe, the periodical "G. Material zur elementaren Gestaltung." Hans Richter wrote of his own attitude of films: "I conceive of the film as a modern art form particularly interesting to the sense of sight. Painting has its own pecular problems and specific sensations, and so has the film. But there are also problems in which the dividing line is obliterated, or where the two infringe upon each other. More especially, the cinema can fufill certain promises made by the ancient arts, in the realization of which painting and film become close neighbors and work together."

In 1957, Hans Richter finished a film named "Dadascope" with original poems and prosa spoken by their creators: Hans Arp, Marcel Duchamp, Raoul Hausmann, Richard Huelsenbeck, and Kurt Schwitters.
---
Kurt Schwitters (1887-1948)

Kurt Schwitters was an artist, graphic designer, typographer, set designer and poet who moved to Hannover in 1919 after completing his studies at the Berlin Akademie. It was there that he started his own specific flavor of DaDaism, which he called "Merz" (allegedly from the name 'ComMERZ Bank'). From 1923-1932 he published a magazine called "Merz" in which he published his poems and art. In 1926, after a trip to Prague, he began work on his Ursonate which he performed throughout Europe for years afterward.

One of his poems, "An Anna Blume", the first line of which is "Oh Du, Geliebte meiner 27 Sinne" (Oh, thou most beloved of my 27 senses) became the title work in the collage I was involved in in Leverkusen, Germany, in 1992-93.
---
Philippe Soupault (1897 - ????)

Born 2 September 1897 at Chaville, near Paris. French poet and writer. Was influenced by Lautréamont, Rimbaud and Apollinaire. Took a leading part in the Paris dada movement and contributed to numerous Dada publications. Was co-editor of the periodical "Littérature." He later became a surrealist.
---
Sophie Taeuber-Arp
Born 19 January 1889 in Davos, Switzerland. Attended the School of Applied Arts in St. Gallen from 1908 to 1910, then transferred to Wilhelm von Debschitz's Teaching and Experimental Studio for Applied and Liberal Arts in München. Broke off her studies there in 1912 to take up an apprenticeship at the School of Applied Arts in Hamburg. Became a member of the Swiss Werkbund in 1915. Taught textile design at the School of Applied Arts in Zürich from 1916-1929. Also started an independent artistic career in 1916, which leads her to contacts with the Dadaists in Zürich. Married Hans Arp in 1921. In 1926, she receives the assignment to design the interior of the Café Aubette in Straßburg - a task she eventually shares with Hans Arp and Theo van Doesburg. Of her art, she is best known for paintings, graphic designs and drafts in abstract, geometrical forms. Moved to Meudon with Hans Arp in 1926, but is forced to flee to southern France (due to German advances) in 1940. Died in Zürich, 13 January 1943.
Works by Taeuber-Arp: Draft for the tearoom on the ground floor of the Café Aubette, Black & white photograph of the completed tearoom.
---
Tzara, Tristan (b. 1896, Moinesti, Romania - d. December 1963, Paris, France)

Romanian-born French poet and essayist known mainly as a founder of Dada, a nihilistic revolutionary movement in the arts.

The Dadaist movement originated in Zürich during World War I; Tzara wrote the first Dada texts - La Premiére Aventure cèleste de Monsieur Antipyrine (1916; "The First Heavenly Adventure of Mr. Antipyrine") and Vingt-cinq poémes (1918; "Twenty-Five Poems") - and the movement's manifestos, Sept manifestes Dada (1924; "Seven Dada Manifestos"). In Paris he engaged in tumultuous activities with André Breton, Philippe Soupault, and Louis Aragon to shock the public and to disintegrate the structures of language. About 1930, weary of nihilism and destruction, he joined his friends in the more constructive activities of Surrealism. He devoted much of his time to the reconciliation of Surrealism and Marxism and joined the Communist Party in 1936 and the French Resistance movement during World War II. These political commitments brought him closer to his fellow human beings, and he gradually matured into a lyrical poet. His poems revealed the anguish of his soul, caught between revolt and wonderment at the daily tragedy of the human condition. His mature works started with L'Homme approximatif (1931; "The Approximate Man") and continued with Parler seul (1950; "Speaking Alone") and La Face intèrieure (1953; "The Inner Face"). In these, the anarchically scrambled words of Dada were replaced with a difficult but humanized language.

Works by Tzara: Manifest des Herrn Antipyrine, Manifesto of Mr. Antipyrine, Proclamation without Pretension.