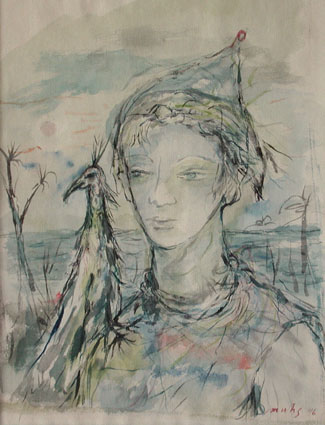 Juhan Muks
Born in 1899 Tuhalaane, Viljandi County, Estonia - Died on November 23rd 1983, Viljandi County, Estonia.
Juhan Jaagu Muks was an Estonian artist and painter who acquired a higher education abroad.
He later returned to his native Estonia and following his fellow countrymen Adamson-Eric, Eduard Wiiralt, Lydia Mei, Kristjan Teder, Eduard Ole, and Felix Randel in popularizing the Neue Sachlichkeit (New Objectivity) art movement throughout Estonia in the 1920s.
The group also initiated the tradition of art exhibitions throughout the country. Muks is best known for his paintings of rural Estonian landscapes.
Muks is a previous winner of The Estonian Artists' Association Konrad Mägi Award; A medal and a cash award that are given yearly to an artist whose art piece, series of pieces or exhibition has "enriched Estonian painting".
Muks died on November 23, 1983 and was buried in the Viljandi Metsakalmistu cemetery.
Evald Okas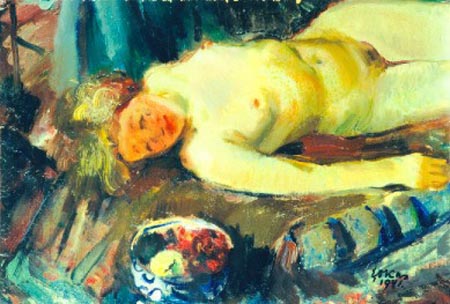 Born November 28th 1915 in Tallinn, Estonia.
Evald Okas is an Estonian painter, best known for his nude paintings of women.
Okas began his artistic career while studying at the State Art School in Tallinn, Estonia but with the advent of World War II and the Soviet invasion and occupation of Estonia was subsequently arrested by Soviet officials and deported to a prison camp in Jaroslavl, Russia. While imprisoned at the camp in Jaroslavl, Okas befriended the rather well-known Estonian painters Aino Bach and Rihard Sagrits who mentored Okas and helped him hone his skills as an artist. By Soviet regulations, however, all artists were expected to paint in the Social Realism genre.
After his prison sentence was completed, Okas was accepted to study at the Academy of Moscow. By the late 1950s, Evald Okas was working mainly in the medium of charcoals and earning his living by sketching ex libris - graphic designs that identify the author of a book, usually pasted onto the inside cover. Around this time Okas was even given permission to travel; first, within the Soviet Republics, then later worldwide and exhibit works as far afield as Asia and Western Europe.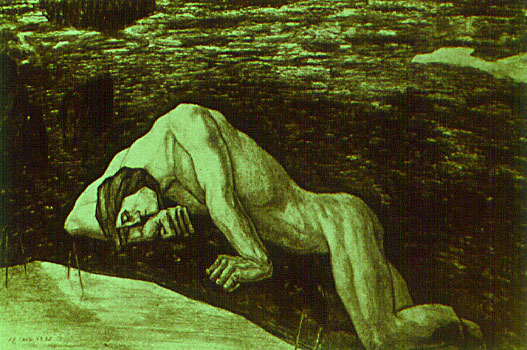 Evald Okas lives in Tallinn and is an active member of the Estonian Artists' Association, which annually gives the Konrad Mägi Award to Estonian artists whose art piece, series of pieces or exhibition has "enriched Estonian painting."
Kristjan Raud
Born October 22nd 1865 in Kirikuküla, Viru-Jaagupi Parish - Died May 19th 1943 in Tallinn.
Kristjan Raud was an Estonian painter and illustrator.
His parents were Jaan Raud and his wife Henriette Loviisa Raud. Kristian had a twin brother Paulus who was born on October 23 and would become a painter as well.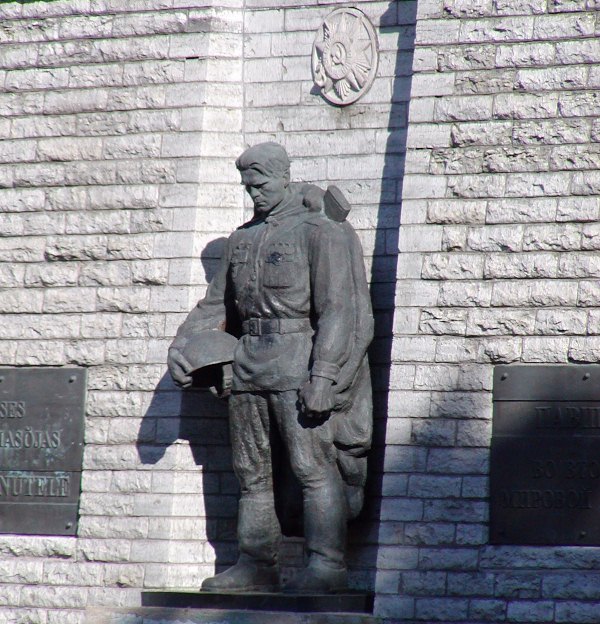 Enn Roos
Born September 20th 1908 – Died July 15th 1990.
Enn Roos was an Estonian sculptor most notable work of his is the bronze sculpture from 1947 that is part of the World War II memorial ensemble in Tallinn, Estonia.
The memorial is now usually called the Bronze Soldier, whose accompanying monumental stone structure was designed by the architect Arnold Alas.
The monument consists of a stonewall structure made of dolomite and a two meter (6.5 ft) bronze statue of a soldier in a WWII-era Red Army military uniform. It was originally located in a small park (during the Soviet years called the Liberators' Square) on Tõnismägi in central Tallinn, above a small burial site of Soviet soldiers' remains reburied in April 1945.
In April 2007, the Estonian government relocated the Bronze Soldier and, after exhumation and identification, the remains of the Soviet soldiers, to the Defence Forces Cemetery of Tallinn. Differences between Russophone and ethnic Estonian communities, as well as between the Russian Federation and Estonia, over the interpretation of events in the war had already led to a controversy. The disputes surrounding the relocation peaked with two nights of riots in Tallinn and besieging of the Estonian embassy in Moscow for a week. The events caught international attention and caused a multitude of political reactions.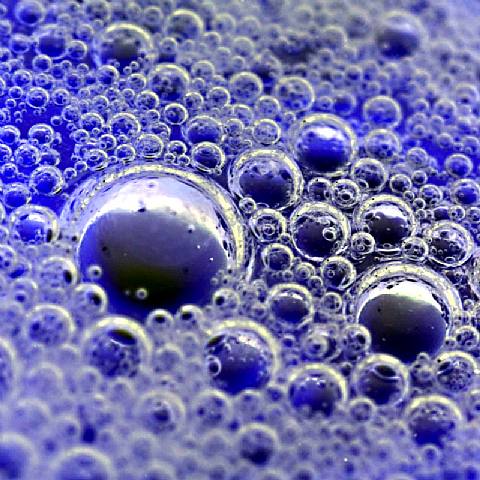 Martin Saar
Born April 30th 1980 in Tallinn, Estonia.
Martin Saar is an artist in New York. He is notable for making mosaic portraits of the New York celebrities and has been featured in the New York Times. His first group exhibition was in 2005 in the Charles Cowles Gallery on 26th street where he showed large abstract paintings.
He was born in Tallinn, Estonia under the Soviet Union and spent the first 10 years of his life there.
His current series of paintings centers around Saar's memories of his family life before Estonia became independent in 1991. The single-colored hue images were assembled from family photographs, showing moments of life and depicting family, friends and simple pleasures.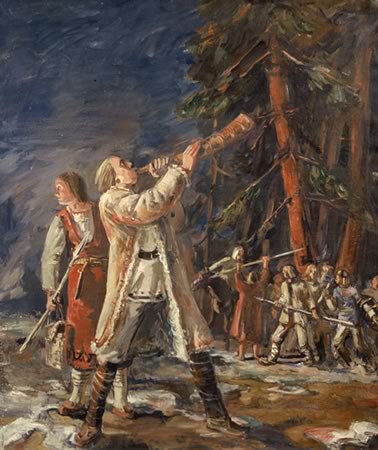 Richard Sagrits
Right: Richard Sagrits - Signal of the St George's Night - 1943.
Born December 12th 1910 — Died December 11th 1968.
Richard Sagrits was an Estonian painter most notable for his Cold War era nudes.
Sagrits (with Elmar Kits and Evalt Okas) was an author (1947) of the ceiling painting (tempera) of the Estonian National Opera in the style of Socialist Realism.
Sagrits also did a series of pseudo-heroic depictions that were utilised for Soviet propaganda during WWII. His works can be seen in the Karepa Kalame Farm Museum, Karepa, Vihula Parish, Lääne-Viru County, Estonia.
Below: Richard Sagrits - Nude / Akt - 1964.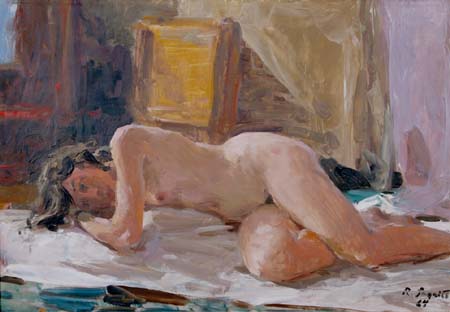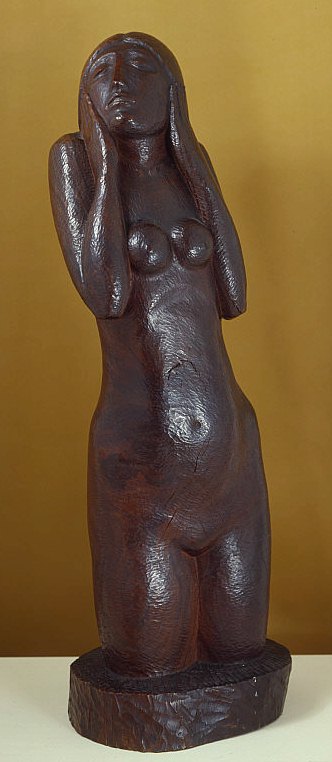 Benno Schotz
Born August 28th 1891 Arensburg - Died October 11th 1984 Glasgow, Scotland.
Benno Schotz was an Estonian-born Scottish artist, and was the youngest of six children of Jewish parents, Jacob Schotz, a watchmaker, and Cherna Tischa Abramovitch. He was educated at the Gymnasium, Pärnu, Estonia, then at the Grossherzogliche Technische Hochschule in Darmstadt, Germany.
In 1912, he emigrated to Glasgow, where he gained an engineering diploma from the Royal Technical College. From 1914-1923 he worked in the drawing office of Messrs John Brown, a Clydebank shipbuilders, while attending evening classes in sculpture at the Glasgow School of Art.
Schotz became a full time sculptor in 1923. From this point onwards his reputation grew and he became a full member of the Royal Scottish Academy, head of sculpture at the Glasgow School of Art (a post he held from 1938 until his retirement in 1961), and eventually was appointed the Sculptor in Ordinary for Scotland in 1963. His pupils included the artists Hannah Frank and Inge King.
His homes at West Campbell Street and later Kirklee Road were a focus for meetings of artists, writers, actors, and politicians. He also helped refugees such as Jankel Adler and Josef Herman.
He was a committed Zionist, and also proud of his adopted Scotland. He worked until a few weeks before his death at the age of 93. He was buried in Jerusalem.
He was made a Freeman of the City of Glasgow in 1981. In that same year, he published his autobiography, Bronze In My Blood.
During his career, Schotz produced several hundred portraits and compositions including figure compositions, religious sculptures, semi-abstracts and modelled portraits. His bust of James Maxton is on public display at the Maxton remembrance garden in Barrhead near Paisley. Other publicly-accessible work includes The Psalmist (1974) in the JT Honeyman Memorial Garden of Kelvingrove Park, the Joseph Black Memorial (1953) at the University of Glasgow , the Painting and Sculpture reliefs on the Mercat Building (1928-9) and the Stations of the Cross sculptures in St. Charles' Parish Church North Kelvinside, all in Glasgow. He was responsible for the repair on the bridge sculpture at Kelvingrove Park beside the now refurbished art gallery and museum.
The Lament one of several stylised wood carvings Schotz produced during the 1940s, different in style from the roughly-finished bronzes with which he is normally associated. Although the sculpture is modernist in style, Schotz worked in the classical tradition of modelling and carving a nude without the support of drapery. 'The Lament' was made in response to the Second World War. As an influential figure in the Glasgow Jewish community, Schotz organised exhibitions of Jewish art and helped war refugees. He described the sculpture as 'an expression of my feelings for my fellow Jews of Europe.' Carved as if curving away from the viewer and with her hands raised to her face, the figure appears to be withdrawing in horror.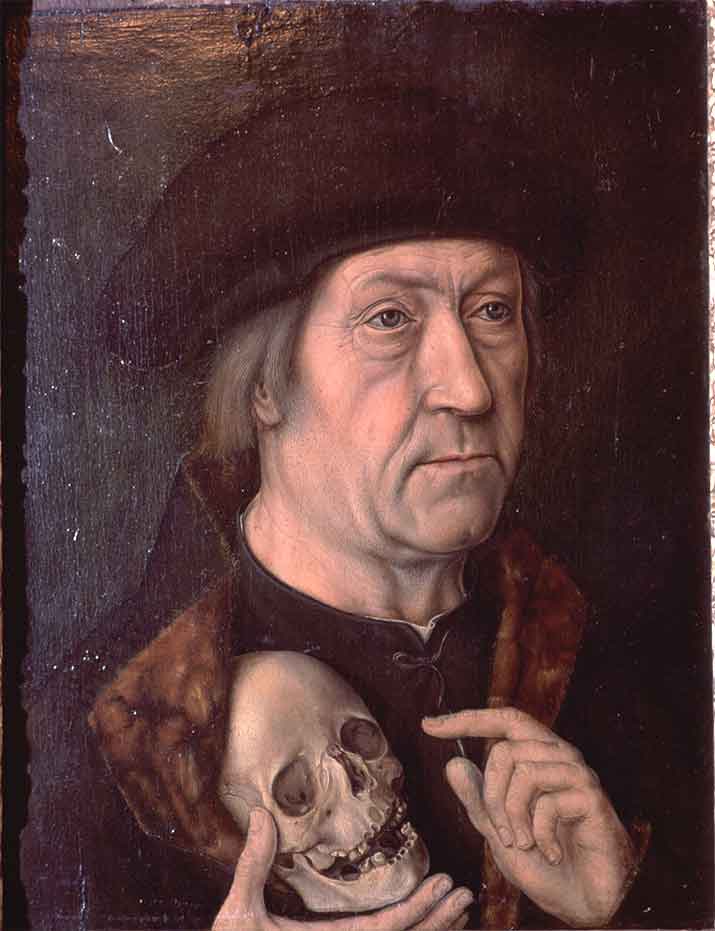 Michael Sittow
Born circa 1469 – Died approx. 1525/1526 in Reval, now known as Tallinn.
Michael Sittow was a painter from modern Estonia who was trained in the tradition of Early Netherlandish painting, perhaps by Hans Memling, and worked for Isabella of Castille and the Habsburgs and others in Spain and the Netherlands.
He may have visited London in about 1503-05, although this cannot be documented. The theory is based purely on the portraits of Henry VII (National Portrait Gallery, London) and that thought to be Catherine of Aragon (Vienna), though it may well not be of her. He was especially notable as a portrait painter, though he also did religious and other subjects. Few works certainly by him survive, and there are many problems of attribution around his work.
Though his biography is well documented, the only works that can be certainly attributed to him are two rather untypical very small panels from a large series mostly by Juan de Flandes for Queen Isabella. The Guevara portrait, and the Virgin which was once the other half of a diptych with it (Berlin), are nearly certain, as Diego's son writes of his father's portrait by Sittow.
He returned to Reval in 1506 to settle his inheritance, joined the local painters' guild in 1507, and married there in 1508. In 1514 he appears to have been called away to visit Denmark, following which he worked again for the Habsburgs in the Netherlands. He married for a second time in Reval in 1518, and appears to have remained there until his death in 1525/6.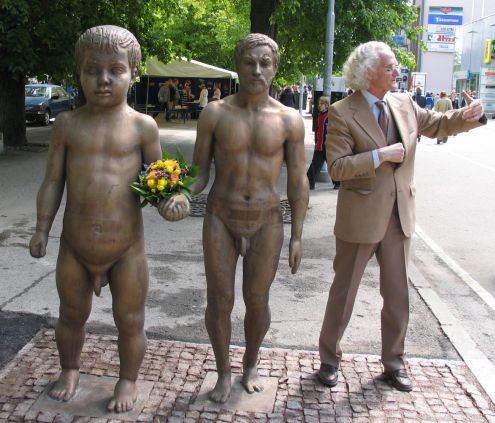 Endel Taniloo
Born January 5th 1923 in Tartu, Estonia.
Born Danilov, Endel Taniloo is known mostly for his nude sculptures and his long Einstein-like hair.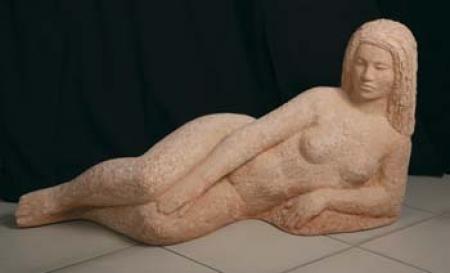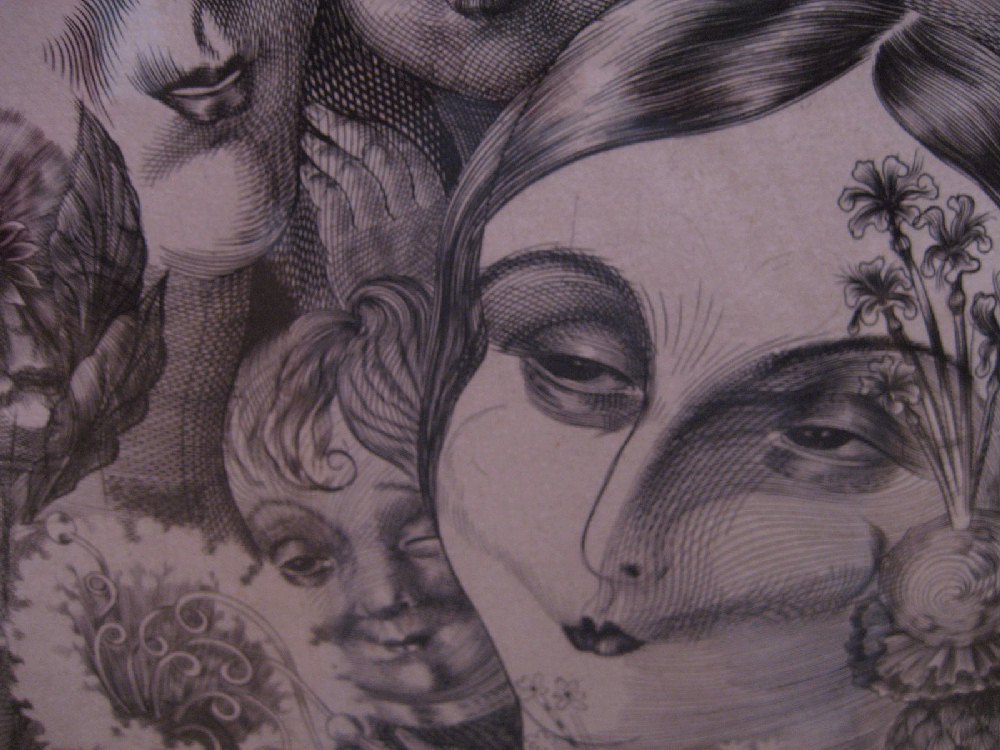 Eduard Wiiralt
Born March 20th 1898, Russia – Died January 8th 1954, Paris.
Eduard Wiiralt was born near St. Petersburg as the son of Estonian parents who worked on a Russian country estate. In the year 1909 the family moved to Estonia and lived during World War I in Tallinn where the young artist was educated in the Tallinn Arts and Crafts school.
After finishing school in 1919 he continued his studies in the Pallas art school in Tartu under Anton Starkopf. From the year 1916 originate his first woodcuts and linocuts and from 1917 first etchings. In 1922–1923 Wiiralt visited the Dresden Academy of Art, Germany, under professor Selmar Werner. In autumn 1923 Wiiralt returned to Tartu. In this period he was mostly concerned with book illustration.
During the period 1925–1939 he lived in Paris. After that he spent some years in Estonia but from 1946 he moved permanently to France. He died there aged 55 and was buried in the Père Lachaise Cemetery.
In Paris he created his best-known works "Hell" (1930–1932), "Cabaret" (1931), "Preacher" (1932), "Negro heads" (1933), "Claude" (1936).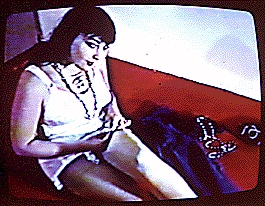 Estonian Feminist Art
Right: Mare Tralla - A Toy - 1995.
Since 1995 feminist art has become an important aspect of Estonian art. The first Estonian Feminist exhibition (known as "Est.Fem") was held in 1995 and held in the galleries Vaal, City Gallery and Mustpeade Maja in Tallinn. The shows were organized by artists Eha Komissarov, Reet Varblane and Mare Tralla. Overall 21 artists showed their work and took part in feminist discussions and wrote down their thoughts on feminism in Estonia.
"My first experiences with feminism soon became conviction, that the questions of gender and identity are completely alienated in Estonia and dealing with feminism would mean voluntarily banishing oneself from society." - Eha Komissarov.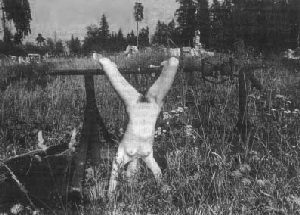 Right: Peeter Tooming - After Army Has Gone - 1989.
Komissarov spearheaded the exhibition and it was well needed. Despite the advances communism made to raise women up with education and communist propaganda that portrayed women as heroes the women's liberation movement in Estonia had stagnated and was well-nigh non-existent. And feminist art? Don't make me laugh.
Prior to "Est.Fem" the mainstay of art in Estonia was still-lives, landscapes, portraits of dignitaries and one of the most successful artists was Peeter Tooming, who makes nude photographs that look like he spends too much time at a nudist resort. In other words Estonian art wasn't very liberal and about as controversial as a Playboy Magazine.
Estonia's women's liberation movement dates back to the 19th century, a time when feminist poet Lydia Koidula and women like her were political organisers and educators. During the 20th century however progress slowed to a crawl under the Soviet Union and high-unemployment which left most women without work and in the role of the stay-at-home mother.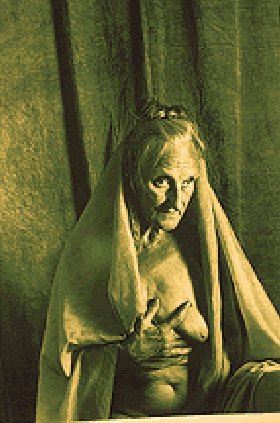 Right: Ly Lestberg - Pieta, Altar II - 1997.
"While I was organising Est.Fem and talking with artists and critics I saw how many of them took it only as an opportunity to be in a show, which may have some points of scandal in it, and may be liked by the media. Feminism was often seen merely as a fashion - a trend. And I remember my co-curator telling me how in the West they are waiting for the feminist art from post-soviet countries to emerge. As an artist I needed to react against this. So I made a video mixing hard-porn and old photos of my mother as a flower-girl and the local news. I added the text from my own pioneer-diaries and from the beginning of eighties all the wonderful backgrounds I have developed. Sometimes the lights were turned off and you saw on the wall light letters: 'So we gave birth to Estonian Feminism'." - Mare Tralla.
Artists like Mare Tralla and Margot Kask inspired a generation of artists who followed, including Ly Lestberg, Ene-Liis Semper, Anu Juurak and Toomas Volkmann.
Below: Ene-Liis Semper - Natural Law - 1998.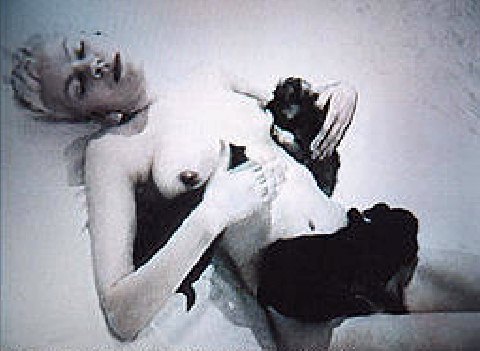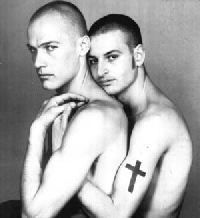 Estonian Homosexual Art
The focus of Est.Fem may have been feminism, but it is also featured the works of three male artists including gay artist Toomas Volkmann.
"Reducing the social hints in my portraits to a minimum and freeing models from the 19th century ironic "man" and "woman" body-language attitudes, I have tried to attain a state where the image on the picture is not only assurance of which should be patriarchal "virile man" or "womanly woman" at the end of 20th century. It is on the contrary." - Toomas Volkmann.
Right: Toomas Volkmann - David and Warren - 1994.