Books about Women Artists
The Art History Archive
---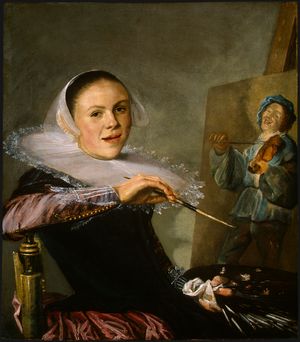 General Reference
Dictionary of Women Artists
Delia Gaze (Editor). Fitzroy Dearborn, 1997.
From Booklist: "DWA includes excellent introductory surveys and exceptionally insightful, scholarly articles on 600 women who worked as professional or amateur artists in a variety of media. The selection of biographees and the point of view reflect the redefinition of standards for art-historical significance that has occurred over the last 25 years. The introductory surveys and biographical essays note challenges and impediments women faced when attempting to obtain training and professional recognition, including prohibition from studying live models, the necessity of male protection or patronage, exclusion from academies, and overshadowing by the artist's spouse or partner. The purpose of DWA is to consolidate and make available to researchers and students the wealth of information that has been uncovered and recovered, as scholars have attempted to write women artists back into history."
A Dictionary of Women Artists of Australia
Max Germaine. Craftsman House, 1997.
North American Women Artists of the Twentieth Century: A Biographical Dictionary
Jules Heller (Editor), Nancy G. Heller (Editor). Garland Pub Trade, 1997.
From Booknews: "An illustrated reference that provides accurate, concise, and accessible biographical and bibliographic information on women artists from Canada, Mexico, and the US. Some 1,500 alphabetical entries cover widely recognized professional artists born before 1960 who work in a broad range of fields: painting, sculpture, printmaking, photography, ceramics, fibers, metals, and performance art. A particularly noteworthy feature is the inclusion of Mexican and Inuit artists."
Voices of Women Artists
Wendy Slatkin. Prentice Hall, 1992.
Wendy Slatkin offers readers a unique and absorbing anthology of thirty edited, excerpted texts by women painters and sculptors from the nineteenth and twentieth centuries. These selected segments distill the essence of the authors' attitudes towards their creative activities, both visual and literary, and their identities as women in a given historical context.
Women, Art and Society
Whitney Chadwick. Thames & Hudson, 1997.
The place of women in the history of Western art--as the producers of major paintings, sculptures, and craft items, and as the subjects of the work of others--remains controversial. In this extensively revised edition of her brilliant study, Chadwick re-frames and re-presents the issues relating to the conditions under which women have worked as artists from the Middle Ages to the present.
Women Artists: Works from the National Museum of Women in the Arts
Nancy G. Heller. Rizzoli International Publications, 2000.
This book spotlights 86 influential women, including the Italian Renaissance painter Lavinia Fontana, England's 18th-century silversmith Louisa Courtauld, and such modern masters as Mary Cassatt, Georgia O'Keeffe, and Frida Kahlo. Women Artists is the definitive volume on the history of women in art. Spanning over 500 years, from the Renaissance through the present, this beautifully designed volume features portraits, biographical backgrounds, and discussions of the work of eighty-six artists, exploring their art within the historical context in which it was created.
Women Artists in History: From Antiquity to the Present
Wendy Slatkin. Prentice Hall, 1996.
This Third Edition of the book has been substantially revised to reflect the wealth of recent feminist research in the history of art. Slatkin's goal is to offer students a genuine insight into all phases of women's contributions to visual culture. The text incorporates the most current research and scholarship, featuring completely expanded chapters on prehistory, Egypt, Greece, Rome and the Middle Ages.
---
Collections of Women Artists
Africa Through the Eyes of Women Artists
Betty La Duke. African World Press, Inc., 1991.
African Canvas: The Art of West African Women
Margaret Courtney-Clarke (Photographer), Maya Angelou. Rizzoli Bookstore, 1990.
Seeing Ourselves: Women's Self-Portraits
Frances Borzello. Harry N. Abrams, 1998.
From Kirkus Reviews: "Borzello traces women's self-portraits across eight centuries, deftly weaving together art and social history, the biographies of many women artists, and a wide selection of paintings, prints, and photographs by women. While some of the pieces are primarily of historical interest, there are some stunning works here, including period works by such accomplished painters as Artemisia Gentileschi and Rosalba Carriera and modern works by such little known but talented painters as Zinaida Serebryakova and Lotte Laserstein, and paintings by such familiar figures as Frida Kahlo and Paula Modersohn-Racker. A fascinating monograph, and a particularly useful contribution to both women's studies and art history."
Women Artists: An Illustrated History
Nancy Heller, Nancy Grubb. Abbeville Press, 1997.
Strikingly beautiful and a pleasure to read, Women Artists surveys female painters and sculptors from the Renaissance to the present, illuminating both the obstacles the artists encountered and the contributions they made. 179 illustrations, 132 in full color.
---
Individual Artists
Alice Neel
Richard Flood, Susan Rosenberg, Ann Temkin, Alice Neel. Harry Abrams, 2000.
This book is part of the celebration of the centennial of Alice Neel's (1900-84) birth. It reviews the full range of Neel's paintings, from her early watercolors to the late work for which she finally achieved renown. Included are three essays which examine Neel's indirect presence in her paintings, the roots of her work in the culture of the 1930s, and her portrayal of the contemporary art world. New York Times critic Suzanne Ramljak says, "What emerges from this study is the image of a colorful woman who unflinchingly bore witness to her age."
Boundaries
Maya Ying Lin. Simon & Schuster Trade, 2000.
Maya Lin was an undergraduate student at Yale when she entered and won the competition to design the Vietnam Veterans Memorial in Washington, D.C. She's responsible for some of the most movingly memorable artworks and structures in the world, including the Civil Rights Memorial in Montgomery, Alabama, and the Women's Table at Yale University. She even inspired an Academy Award-winning documentary, Maya Lin: A Strong Clear Vision. With Boundaries, Lin offers her first book, a visual/verbal sketchbook that opens a window into the mind of this uniquely creative artist. One critic says this book is "as much about her thoughtful creative process as it is about the end product."
Hildegard of Bingen: Inspired Conscience of the Twelfth Century
Regine Pernoud, Paul Duggan (Translator). Marlow & Company, 1998.
Hildegard of Bingen was a German nun, mystic, and cultural figure, known as the Sibyl of the Rhine. An aristocrat and child visionary, she entered religious life and became abbess in 1136. She is most well-known for her musical composition, but she also did manuscript illumination, wrote a medical encyclopedia, and works of natural history.
Nell Blaine: Her Art and Life
Martica Sawin, Nell Blaine. Hudson Hills Press, 1998.
From the publisher: Nell Blaine was an important member of the second generation of the New York School, her work representing a dialogue between abstract principles and her sensory responses to the visible world. Her oils and watercolors of gardens, landscapes, and flower-filled still lifes display her commitment to the pleasure principle, her delight in vision, combined with a gift for improvisation and rhythm learned from the jazz greats of the 1940s. This joyous volume, illustrating more than fifty years of work, also recounts - often in Blaine's own words - the artist's life history, from her excitement when a pair of eyeglasses suddenly allowed her to see the world around her at the age of two; to the thrill of her escape to New York at the age of nineteen; to the inspiring story of Blaine's heroic victory over the polio that almost killed her in 1959. It is also invaluable as a history of the postwar community of artists, writers, and musicians with whom Blaine lived, worked, and traveled.
Portrait of an Artist: A Biography of Georgia O'Keeffe
Laurie Lisle. Washington Square Press, 1997.
O'Keeffe's personal mystique is as intriguing and enduring as her bold, brilliant canvases. Here is the first full account of her exceptional life -- from her girlhood and early days as a controversial art teacher...to her discovery by the pioneering photographer of the New York avant-garde, Alfred Stieglitz... to her seclusion in the New Mexico desert, where she lived until her death.
Shadows, Fire, Snow: The Life of Tina Modotti
Patricia Albers. Clarkson Potter, 1999.
From Kirkus Reviews: "A finely detailed portrait, full of shadows and highlights, of the mysterious woman who was actress, well-regarded photographer, Communist secret agent and compassionate humanitarian."
Suzanne Valadon: The Mistress of Montmartre
June Rose. St. Martin's Press, 1999.
From the Net: "She posed for Renoir and Toulouse-Lautrec; Degas was so impressed by her drawings that he became the first to purchase a work by this self-taught female artist. But though Suzanne Valadon (1865-1938) gloried in the carefree, bohemian artistic scene of Paris's Montmartre neighborhood in the 1880s and '90s, she really came into her own during the early years of the 20th century, when a passionate love for a man 20 years her junior led her to abandon a bourgeois husband and devote herself anew to art. She set to work with a renewed serenity but the same "unfeminine" boldness of line and earthy sexuality that had dismayed tradition-minded viewers from the beginning. It was she who taught her illegitimate son, Maurice Utrillo, to paint in a desperate attempt to wean him from his addiction to alcohol. His fame surpasses hers today in part because male art historians preferred salacious tales of Valadon's many loves and scandalous exploits to sober assessments of her artistic gifts."
Tamara De Lempicka: A Life of Deco and Decadence
Laurie Claridge. Clarkson Potter, 1999.
From the Net: "With her couture clothes and movie-star good looks (she was frequently mistaken for Greta Garbo), Tamara de Lempicka seemed too glamorous to be a serious painter. Even in the years of her greatest success, 1925 to 1935, the luscious colors and highly wrought finishes of her portraits--a suspect genre in any case to high modernists-- linked Lempicka more closely to the Italian Renaissance painters she revered than to her cubist contemporaries. She was labeled an 'Art Deco artist,' someone whose work was more decorative than substantive."