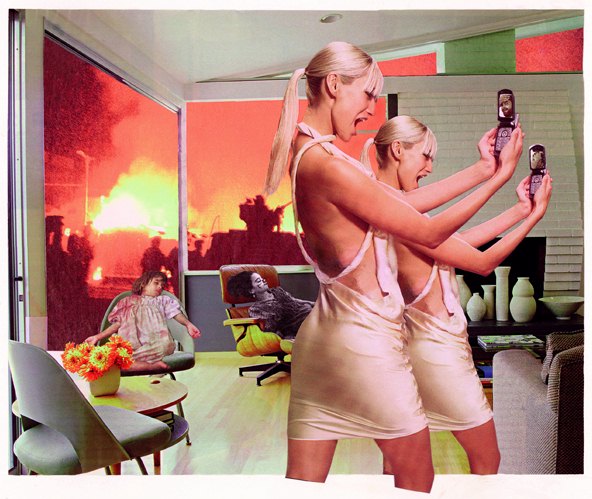 Martha Rosler uses a variety of mediums, but her most recognizable medium is photo-collage and photo-text. She also works creates video installations and performance art. Her work frequently contrasts the domestic lives of women with international war, repression and politics, and pays close attention to the mass media and architectural structures.
In the example shown here she contrasts America's consumer culture with our overseas agenda of war and extortion. Her goal is to push home the realities of war while pushing at the same time against the domestic lives of women.
Below: Martha Rosler - Saddam's Palace (Febreze) - 2004.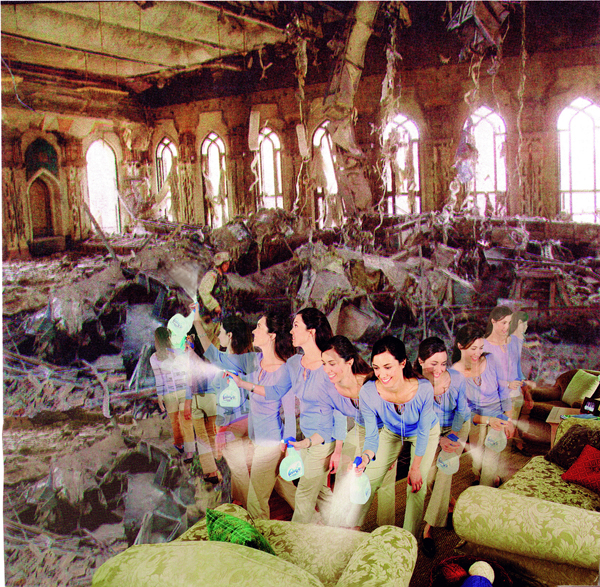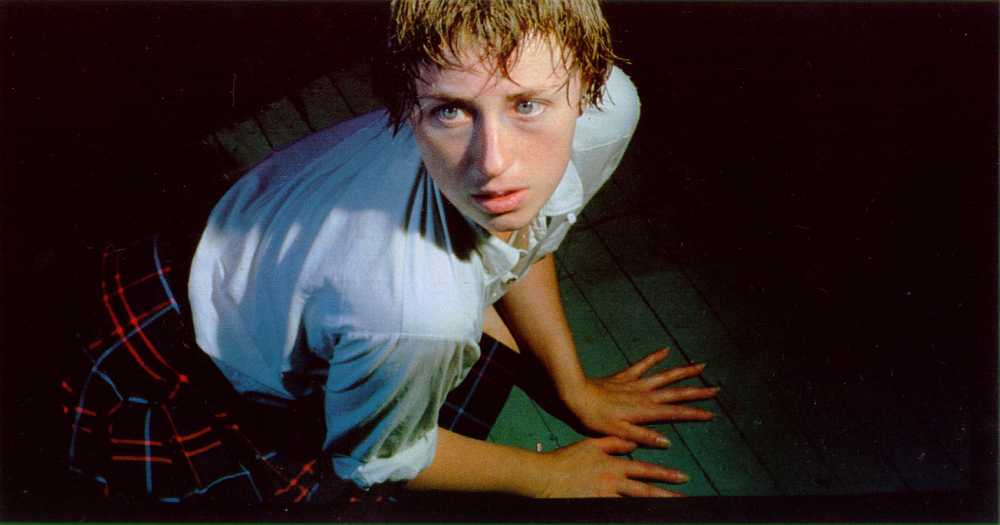 Photographer Cindy Sherman uses a combination of self-portraits, dolls, fake body parts and make up to create a variety of strange and often obscene images. Her modern work attempts to shock the viewer with strange imagery while her older works from the 1970s was a mockery of Hollywood film stills.
Cindy Sherman frequently uses, distorts and messes with archetypes and stereotypes of women and their portrayal in mass media and art. Untitled #92 (right) is a mockery of how women are portrayed in men's magazines.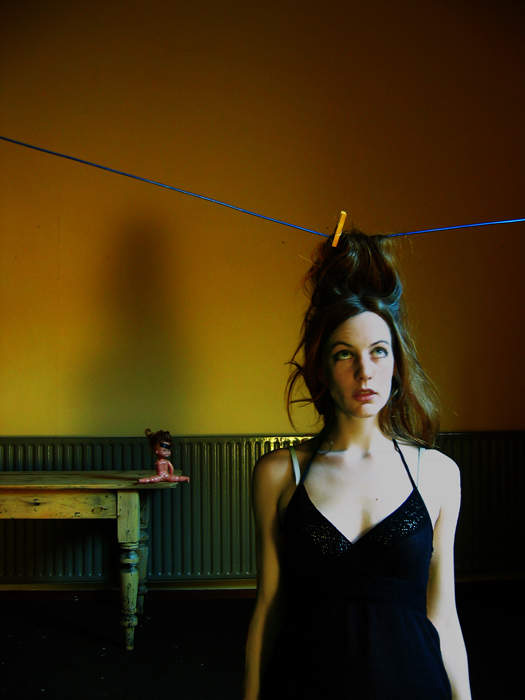 Photographer Rachel Stone also works with similar methods to Cindy Sherman, using both self-portraiture and dolls. Stone's work is more distinctly feminist however as it frequently deals with the domestic lives of women, pregnancy and motherhood. She frequently uses props such as phones, dolls, tea pots, clothing pins and other items identified with the domestic lives of women.
Her collection of plastic dolls frequently makes an appearance in her work either in the foreground like in her 2006 piece "Drain Me" or cleverly hidden in the background. In Rachel Stone's 2006 piece "Hanged Self" for example a doll is seen in the background doing the splits on the wooden table while Rachel Stone contemplates hanging herself with a clothing pin.
Surrealism plays a major role in Rachel Stone's work as she uses nightmares and dreamscapes to create images that are unusual. Unlike Cindy Sherman who uses pure photography to create her images, Rachel Stone will also sometimes photoshop her work to create strange images not possible with a camera.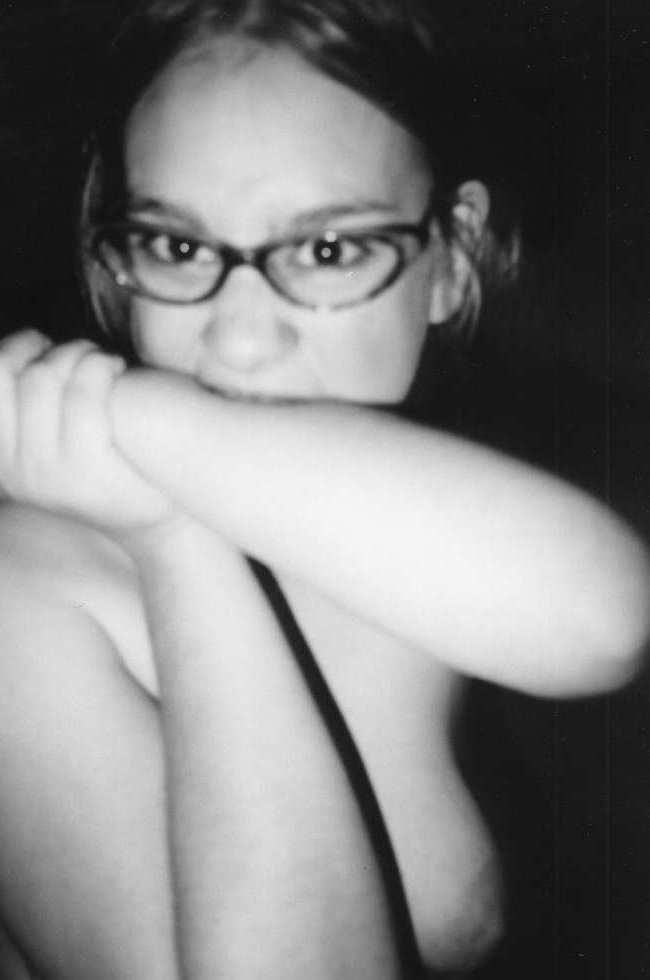 Photographer and collage artist Victoria Van Dyke takes weirdness and obscenity to a whole new level.
Sexually abused and raped while still in her youth Van Dyke has taken her past and transformed her work over time into a sarcastic and biting shot at the status quo. She combines religion, violence, guns, sexuality and humour in images (sometimes with text) in order to poke fun at society, society's obsession with sex, and the patriarchal treatment of young underage women as sex objects.
Her older work is rather bizarre, combining an unusual belief in cannibalism, amazonism and raw sexuality in works like her 2001 pieces Cannibal #2 and I Want to be an Amazon.
During 2006 Van Dyke started creating digital collages using vintage erotica, old postcards, pornography, photos of guns, flags, etc to create a new series called "Guns, Sex and Jesus". In the work she pokes fun at American patriotism, gun culture, obsession with sex symbols and homophobia.
Below: Victoria Van Dyke - Marriage - 2007.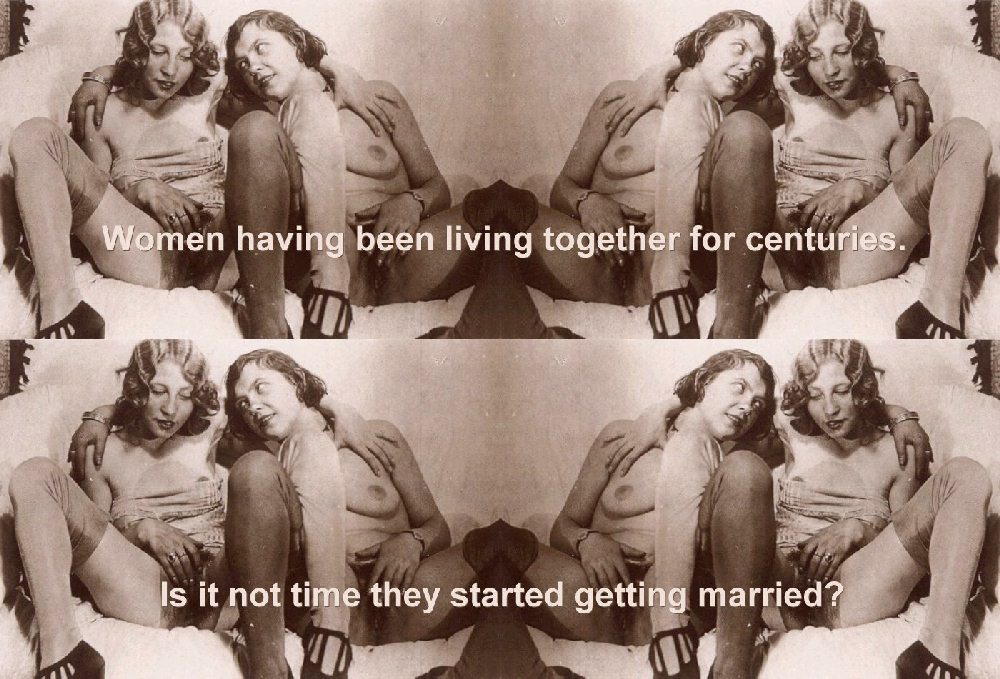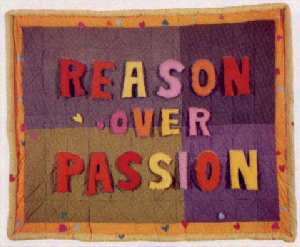 Mixed media artist and painter Joyce Wieland pioneered women's crafts like quilting at art pieces like in her 1968 piece "Reason Over Passion" (which hung in former Canadian Prime Minister Pierre Trudeau's 24 Sussex home while he was in office). Unlike Judy Chicago above Joyce Wieland always paid her workers and created a whole series of quilts as art pieces, frequently using text to get a broader message across.
Joyce Wieland's paintings were more an expression of her relationships and her sexuality, with one piece showing a female kicking her male assailant in the crotch (see her 1984 piece Paint Phantom).
Joyce Wieland also directed the 1976 film "The Far Shore", which depicts an allegorical story of the death of Canadian painter Tom Thomson (whose body was never found and presumed drowned).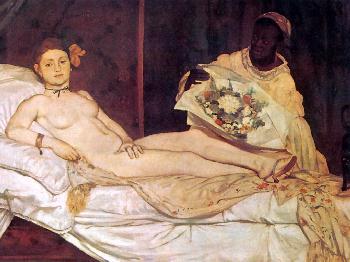 The Male Gaze and the Female Gaze
The male gaze is all about looking through the eyes of the heterosexual man. The theory was first talked about in Laura Mulvey's essay "Visual Pleasure and Narrative Cinema" in which she looks at the portrayal of women and how they are viewed in film, with the camera lingering on a female's physical curves and attributes. The same concept has since been applied by many feminists with respect to women in art, sexuality in advertising and the treatment of women in male-dominated pornography.
Part of the idea is about how the viewer is treated as superior, as the viewer has the power to look and see everything. Women in paintings and art rarely look straight back at the viewer unless it is a portrait, and even so numerous portraits show women looking to the side or down in a demure fashion.
Paintings like Edouard Manet's "Olympia" in 1865 and "The Bar at the Folies-Bergčre" in 1881 break from that mould, and during that time period sparked controversy. Prior to Manet most images of women looked away from the viewer and thus had an unequal power relationship.
Other examples of the Female Gaze in art is Pierre Auguste Renoir's The Loge in 1874 and Mary Cassatt's At the Opera in 1879, because in both cases the women are actively looking at something and thus have an equal power with the viewer.