Art Glossary of Terms
The Art History Archive
---
This Website is Best Viewed Using Firefox
INDEX - A - B - C - D - E - F - G - H - I - J - K - L - M - N - O - P - Q - R - S - T - U - V - W - X - Y - Z
Art Glossary of Terms - Art Lexicon OA to OZ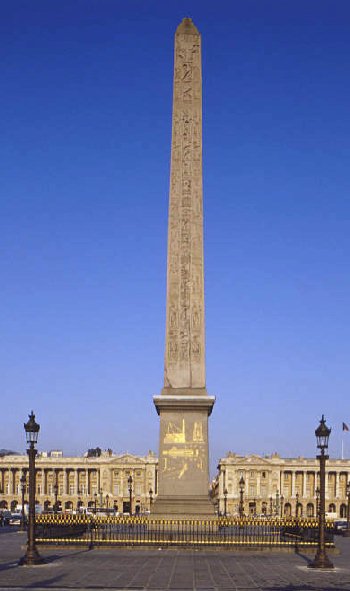 oaktag - A thin but stiff card or cardboard, the kind used in the typical manilla file-folder. Also see bristol board, illustration board, paper, and vellum.
oban - In Japanese tradition, a size of paper used for prints, measuring about 15 x 10 inches. Also see chuban.
obelisk - A tall, four-sided shaft of stone, usually tapering, that rises to a pyramidal point. A monolith is sometimes an obelisk. Often placed at the entrances of Egyptian temples in ancient times, obelisks continue to be favored as a shape for monuments in the Western world. (pr. ah"beh-lisk')
object - A material thing. Something to which attention, feeling, thought, or action is directed, therefore usually conceived as subhuman, unreflective and passive, in contrast to the active subject. It is common, for example, for feminist criticism to describe a female nude as the object of the male gaze. Such figures are thus oppressed (see oppression). When the female figure exhibits a less passive personality, as in the painting by Edouard Manet (French, 1832-1883) of Olympia, 1863, oil on canvas, 51 3/8 x 74 3/4 inches (130.5 x 190 cm) Musée d'Orsay, Paris; she is sometimes described as a subject, at least with respect to the single issue of her gaze.
objectify and objectification - To depersonalize; turning something or someone into an object. The term is very commonly used to describe the dehumanizing oppression of women, non-whites, and the dispossessed. To do the opposite is to subjectify.
objectivity - Being influenced by facts instead of by emotions or personal prejudices. The opposite of objectification and subjectivity.
objet d'art - A French term meaning art object; it is often used by English speakers to mean a work of art which is small in size, such as a miniature painting, netsuke, a statuette, or vase. Also see bibelot and masterpiece. (pr. ohb'jay dahr)
oblique - Having a slanting or sloping position or direction; inclined, diagonal. May refer to a style of type that slants to the left, as opposed to the italic style, which slants to the right. Obliques are rarely used in printing except for special effects. (pr. o-bleek') Also see bevel, bias, declivity, font, and projection.
oblong - A shape stretched out from a circle or square shape so that it is longer than it is wide. Also see curve, ellipse, oval, ovoid, and pestle.
obscene - Offensive to accepted standards of decency or modesty. Lewd. Or, more broadly, repulsive or offensive to the senses. Obscenity is the state or quality of being obscene. Also see bad art, coarse, erotica and erotic art, feminism and feminist art, First Amendment rights, fig leaf, beauty, grotesque, love, nude, pain, pornography, sensuality, sex, sybaritic, and voyeurism.
obsession - Excessive preoccupation with a fixed idea or an unwanted feeling or emotion. A compulsive, often unreasonable idea or emotion. Whenever an artist works on a piece or a body of work that involves an impressive accumulation or production of material, marks, or gestures, a critic might characterize the artist or the work as obsessive. A psychologist might call this obsessive-compulsive behavior. Anything that involves highly repetitive movements, takes a long time, is highly stylized, took stupendous energy or craftsmanship to produce could be interpreted as having been the product of obsessive behavior. Many of the greatest works of art took a long time to produce. Unless it is truly deranged or mindless (monotonous), such work might also be described as showing the extent to which the artist can focus his energy. Consider animated filmmaking and art lexicography, for instance. Nevertheless, works by folk, self-taught, mentally ill, and other outsider artists have often been noted as resulting from obsessive behaviors such as seen in horror vacui, and many critics have made powerful cases in support of such work. Also see Aboriginal art, achievement, art brut, attention, attitude, bias, Collyers' Mansion, effort, expression, expressive qualities, focus, gestalt, meaning, memory, monotony, motivation, naive, paint-by-number, pattern, perception, pique assiette (also called picassiette), point of view, primitive, rhythm, Stendhal syndrome, and stylize.
obtuse angle - An angle greater than 90° but less than 180°. The first two of the angles below are obtuse. The third one is 90°, also called a right angle. The last of the four is an acute angle.
obverse - The principal side of any object, especially any two-sided object, such as a coin, a medal, a seal, or a panel which has a painting on each side. The opposite of obverse is reverse. The front and rear sides of works on paper are more often referred to as recto and verso. Also see numismatics.
occlude - To close to a tight enough fit, as do the pieces of a puzzle, or a lid onto a jar or box. Needs for occlusion might include preventing light, air, liquids, or other things from passing through. Dentists are concerned that the teeth of the upper and lower jaw occlude when brought together. Also see adhesives and join.
ocher or ochre - Natural earths used to make pigments, especially yellowish tan. Adjectival forms are ochery and ocherous.
octagon - A closed two-dimensional polygon bounded by eight straight-line segments.
octahedron - A polyhedron with eight triangular faces. The sides of a right octahedron are identical isosceles triangles. The regular octahedron is one of the five Platonic solids (along with the tetrahedron, hexahedron (cube), dodecahedron, and icosahedron). Also see polygon and vertex.
octavo - A book or manuscript of the third largest standard size, usually measuring 20-25 cm (8-9 1/2 inches) in height, and 13-15 cm (5-6 inches) in width, which is composed of sheets of paper folded into eight leaves ("oct-" is from Latin for eight). The plural form is octavos. Abbreviated o, O, O., oct., Oct., and 8vo. Also called eightvo. Also see bookbinding, duodecimo, folio, quarto, rotulus, sextodecimo, signature, text, tricesimo-segundo, and vicesimo-quarto.
oculus - A round, central opening or "eye" in a dome.
oenochoe - An ancient Greek wine pitcher. (pr. eh-nuk'oh-ee)
oeuvre - The collected works of an artist. Literally, this is the French word for work. (pr. oo'vre) Also see catalogue raisonné and collection.
offset printing - The printing process in which an inked image on a metal or paper plate is transferred to a smooth rubber cylinder and then to the paper. Also see lithography and planography.
ogee - An edge or molding having in profile (as seen in the cross-section views seen here) a recessed or an S-shaped curve, the latter is also known as a Roman ogee. Also, an arch, each side of which has this form. (pr. oh'jee) Also see bevel, chamfer, and flute.
ogive, ogival - An ogive is a diagonal rib of a Gothic vault, or it's a Gothic (pointed or lancet) arch. Ogival is the adjectival form of the word, often used in reference to arches of this style. (pr. oh"ji:v') The adjectival form is ogival. (pr. oh-gi:'vuhl)
oil - See ink, linseed oil, machine oil, oil gilding, oil paint, oilstone, paraffin, and wax.
oil gilding - Also known as mordant gilding, this is attaching gold leaf to a non-absorbent surface which has been coated with a mordant size (an adhesive) — either a slow-drying type containing linseed oil, or a quick-drying type sometimes called japan gold size. The leaf must be applied only when the mordant size is no longer wet, but is somewhat sticky or tacky. If the surface is absorbent, it must first be sized with some kind of shellac, varnish, or paint. Oil gilding is generally easier than water gilding. One advantage is that oil gilding can be applied to wood or stone without first coating them with gesso. However, it cannot be burnished (water gilding can be), and it is not so long-lasting (the oil likely to darken or to show some other decay). Also see fire gilding and gilt.
oil paint - Slow drying paint made when pigments are mixed with an oil, linseed oil being most traditional. The oil dries with a hard film, and the brightness of the colors is protected. Oil paints are usually opaque and traditionally used on canvas. They can have a matte, semi-gloss, or glossy finish. To look at examples of works in oil paints, see the articles under the names of every period from the Renaissance onward.
oilstone - A stone used for sharpening and honing metal cutting tools. Also see carving and chisel.
oinochoe - A Greek vessel or vase in the form of a one-handled wine jug. Among the various types of Greek vases are the alabastron, amphora, hydria, kantharos, volute and calyx krater, kyathos, kylix, lekythos, oinochoe, pelike, pithos, pyxis, and rhyton.
old master - Traditionally, a distinguished maker of pictures or sculptures who was active before 1700 — during the Renaissance, Mannerist and Baroque periods, especially Italian, Dutch and Flemish artists. Today the term is also being used to refer to recognized masters of the eighteenth century. Also see canon, Dutch art, and master.
omphalos - A central point, a hub or focal point, or the center of activity. "Omphalos" originally meant navel or umbilicus (bellybutton) in ancient Greece. When placed as a boss at the center of a vessel or of a shield, an omphalos symbolized the center of the world. The ancients also used it to designate a circular altar at Delphi, which was considered the center of the earth. (pr. ahm'fuh-lahss)
oneiric - Of or pertaining to dreams. Also see cryptic, fanciful, fantastic, fantasy, gestalt, mystery, Rorschach test, Surrealism, and Symbolism.
one-point perspective - A form of linear perspective in which all lines (describing straight edges that go from points nearer to points farther) appear to meet at a single point on the horizon. Also see depth and two-point perspective.
online art or online-art - A type of new media, art created solely or principally to be seen on the World Wide Web (WWW). Typically, these works are dependent upon the latest Internet languages, plugins, etc., many interactive, with motion and sound components, and sometimes involving telephones, cameras, and all sorts of other peripheral devices. See links at new media.
ontbijt - A type of still life painting, Dutch for "breakfast piece."
ontology - The branch of philosophy that studies the nature of being, the area of metaphysics relating to the being or essence of things, or to being in the abstract.
opacity - The quality of being opaque. In painting, the power of a pigment to cover or obscure the surface to which it is applied. When opacity is not complete, it can be described as translucence, or as opaque from 99% down to 1%. The equivalent of 0% opacity is transparency. Also see white lead.
opalescence - A white surface having iridescence. In opal gemstones this "play of color" is caused by tiny spherical formations of silicon inherent in this stone's structure. These spheres, and the spaces in between, refract white light much as a diffraction grating spectroscope, separating wavelengths of the various spectral colors. The colors seen depend on the size and distance between the spheres in the opal's structure.
opaque - Something that cannot be seen through; the opposite of transparent, although something through which some light passes would be described as translucent. (pr. oh-pake') Also see opacity.
opaque projector - A device using a bright lamp, lens and mirrors to project an enlarged image of an opaque image or object onto a flat surface, usually so that its image may be traced. At the end of the nineteenth century, it replaced a somewhat similar device called a camera lucida, which had earlier replaced another called camera obscura. There are various other sorts of projectors also in use today. Digital versions are rapidly overtaking opaque projectors in popularity.
open edition - A set of prints made in an unspecified or unlimited number of impressions. The opposite of open edition is a limited edition.
opening - An event which celebrates the beginning of an art exhibition. Also see gallery, museum, vernissage.
open shape - In an artwork, space that is not completely enclosed by a line. A mass penetrated or treated in such a way that space acts as its environment rather than as its limit. For example, a doughnut having a hole in its middle has an open shape in its middle. See also closed shape and empty shape.
openwork - Openwork is what many call any object or architectural construction produced in such a way that it shows a pattern of openings (perforations, piercings, gaps, holes), typically to decorative effect. Such works can be in cloth, metal, or wood. When referring to work in fabric, it likely to be embroidery with decorated holes either the embroidery technique or the embroidery itself in which holes are formed in a fabric by either cutting or pulling threads and then embellishing with various stitches. "Openwork" might also be used to refer to a quarry. The earliest known use of this term in English is 1598.
ophthalmology, ophthalmologist - Ophthalmology is the branch of medicine that deals with the anatomy, functions, pathology, and treatment of the eye. An ophthalmologist is a doctor whose specialty is this branch of medicine. See aqueous humor, colorblind, interdisciplinary, iris, lens, light, optical, perception, photoreceptors, pupil, refraction, retina, rods and cones, science and art, seeing, sight, and vitreous humor.
oppression - The act of oppressing; unjust and arbitrary use of power. Or, the state of being oppressed. In art, oppression may be observed in any representation of any one people as inferior to others. Also see censorship, different, ethnocentrism, First Amendment rights, multiculturalism, objectification, politically correct (PC), and xenophobia.
optics and optical - Of or relating to sight; visual. Optics can more specifically refer to instruments designed to assist sight, or uses of light-sensitive devices, such as eyes, cameras, photo-electric cells, etc.
optical mixing - The process by wich the eyes blend bits of pure color placed next to each other in an image.
order - A condition of logical or coherent arrangement among the separate elements of a group. The opposite of disorder or chaos. Order and chaos can exist in both analog and digital forms. Types of order: abecedarian, chronology, by color, numerical, periodicity, sequence, by shape, by size, superimposed order, taxonomy, and typology.
organic - An irregular shape, or one that might be found in nature, rather than a regular, mechanical shape. Also see amorphous, concretion, curve, oblong, and regular.
orichalcum - A yellow bronze, an alloy of copper and zinc, resembling gold when new. Its name comes from two Greek words: oros meaning mountain, and chalkos, brass. The Romans made two coins made of orichalcum: the sestertius and the dupondius. Also see numismatics.
origami - The craft or technique of folding paper into shapes, representing animals, plants, and lots of other subjects. A decorative object made by folding paper. Instructions for origami designs are generally called diagrams. Numerous collections of diagrams have been published in book form, but a great many clearly presented diagrams can be found online too. (pr. o-ri-gah'me)
original - Any work considered to be an authentic example of the works of an artist, rather than a reproduction or imitation. The term excludes works produced "in the studio of" an artist, because that usually means that it was made by others, even if under the artist's influence or at his direction. This attribution must be qualified further, however, for workshop paintings in which there is evidence of the master's hand. Although they are less valued for various reasons, copies and reproductions have had tremendous impact on our experience, reaching greater audience than originals ever could, and they act as a tonic to commodification. Original may also mean the first, preceding all others. In that sense, it may refer to a prototype, a model after which other works are made, each bears great similarity to the first.
originality - The quality of being original. Used to describe works which were not derived from other works. It has strongly influenced art historians' identification of what artists and artworks are most highly regarded. It is important to understand originality's influence as an ideal amongst the modernist avant-garde. Originality has come to be de-emphasized with increased uses of photography, video, and appropriation, along with ever-improving reproductive techniques. Indeed the "myth of originality" is a central principle of postmodernism.
ormolu - Bronze or brass which has been gold leafed and used in decorating certain styles of furniture, clock-cases, chandeliers, and jewelry. Ormolu is cast and chiseled, then finished with gold leaf. The height of its use was as part of Empire style furnishings in the early nineteenth century.
ornament, ornamentation, ornamental - An ornament is something that decorates, adorns, or embellishes. Ornamentation is the class of things ornamental.
ornate - Elaborately, even excessively ornamental; showy. In typography, highly ornamental characters, usually letters. In the Middle Ages, such letters were used as decorative initial letters on pages of manuscripts and books. Today ornate letters are used as novel, decorrative elements employed very selectively in graphic design. Ornate is sometimes used to mean baroque or complex.
Orphism - A style of painting related to Cubism, sometimes called Orphic Cubism, that employed overlapping planes of bright, contrasting colors. It was generally both more abstract and more colorful than other forms of Cubism. The name, chosen by the poet Guillaume Apollinaire (French, 1880-1918) in 1913, harkened back to Orpheus, the singer and poet of Greek mythology. Painter Robert Delaunay (French, 1885-1941) and his wife Sonia Delaunay-Terk (French, 1885-1979) were its chief exponents, beginning in 1912. He preferred the name Simultaneism. Other artists at times associated with this style were Frantisek [Franz or Frank] Kupka (Czech, 1871-1957), Francis Picabia (French, 1879-1953), Fernand Leger (French, 1881-1955), and Marcel Duchamp (French, 1887-1968).
orpiment - A particular yellow pigment.
orthodox and orthodoxy - Adhering to or agreeing with the accepted, traditional and established doctrine, an acknowledged standard, a traditional form, or an established religion; conventional. Or, holding orthodox opinions or doctrines. The opposite of orthodox is heterodox. Also see academic, p.c., and popular culture.
orthogonal line - A straight line imagined to be behind and perpendicular to the picture plane. The orthagonals in a painting appear to converge on each other as they recede toward one or more vanishing points on the horizon. See linear perspective.
ostentatious - Given to showing off, pretentious, meant to impress others. A person or thing that is ostentatious is boastfully showy. Some of the many interesting synomyms: flashy, flaunting, florid, pompous, turgid, bombastic, swaggering, strutting, peacockish, gaudy, grandiose, grandiloquent, highfalutin, orotund, and orchidaceous (an ostentatious word in itself!).
ostraca or ostraka - Plural form of ostracon or ostrakon.
ostracon or ostrakon - Shards of limestone or broken pottery used for sketching by an Egyptian and Greek artists. The Greek word ostracon literally meant oystershell.
ottocento - Italian, literally "eight hundred," it refers to the 1800s — the nineteenth century, and is often used to refer to Italian art of the period. It was the age of nationalism throughout Europe. Italy during the ottocento, after centuries of regional fragmentation and foreign domination, became a united political entity. The political struggle for unification was known as the Risorgimento, meaning to rise up again (evoking similarly powerful alliterative words like renaissance and resurrection). The term was chosen because Italians hoped that their land might overcome internal political divisions and regionalism to regain the prominent place in Western Civilization it had enjoyed during the Roman and Renaissance times, when the Italic peninsula had been a rich and vital center.
ounce - A unit of dry as well as liquid weight measurement (in the US). To convert ounces (US dry) into grams, multiply by 28.3495; into pound, divide by 16. To convert ounces (US fluid) into cubic inches, multiply by 1.80469; into liters, x 0.02957; into pint, x 0.0625; into tablespoons, x 2. Abbreviated oz.
outline drawing - A diagram or silhouette, made with one line defining the perimeter of a form, flat and two-dimensional.
outsider art or Outsider art and outsiders or Outsiders - Strictly interpreted, outsider art refers to works by those outside of mainstream society. In the United States, outsider art broadly includes folk and ethnic art as well as by prisoners, the mentally ill, children, and others neither trained in art nor making their works to sell them. In Europe, outsider art is more narrowly interpreted as art by the mentally disturbed. The term naive art was once applied to this work, but is no longer considered current. Because fewer and fewer people are sufficiently isolated to be truly outsiders, most are either mentally ill or working far from urban art scenes. Also see art brut, artworld, folk art, and obsession.
oval - An egg-like two-dimensional shape that looks like a circle that has been stretched to make it longer. The two ends of an oval may or may not be the same size and shape. Oval can be either a noun or an adjective. A three-dimensional form with oval shape is an ovoid. (pr. oh'vl)
overglaze - A decoration applied to a ceramic piece after glazing.
overlap - When one thing lies over, partly covering something else. Depicting this is one of the most important means of conveying an illusion of depth. (Other means include varying sizes and placement on a receding plane, along with linear and aerial perspective.)
overpainting - A finishing layer of paint applied over another layer of paint, or underlayer, once it has dried. Also see fat over lean, glaze, pentimento, scumble, and dragging.
ovoid - A three-dimensional form shaped like an egg -- oval from some points of view, and circular from others. The adjectival form can be either ovoid or ovate, although ovate can refer to something either two- or three-dimensional. (pr. oh'voyd)
ox gall, oxgall or ox-gall - A waterless, oil- and water-soluble, translucent, nearly transparent brown liquid, ox gall is the bile taken from the gall bladder of a cow. It is used with watercolors, in engraving, in marbling, and in lithography as a wetting agent — reducing what's called the "surface tension" of liquids, improving water's ability to penetrate and be absorbed. It is also used in the marbling of paper to more smoothly disperse oil color on the size. Ox gall has a long history of use, but often replacing them today are modern synthetic wetting agents available from art supply dealers (photographic and general chemical supply dealers too) in bottle, dropper-bottle, and aerosol forms. Ox gall and other wetting agents are also employed to eliminate pin-holes in gesso surfaces, by mixing it into the gesso before the gesso is applied. Also see absorption, binder, marbling, and medium.
oxidation firing - A glazing technique in which additional oxygen is introduced into a kiln while firing.
oxide - Any element combined with oxygen. Common rust is iron oxide, one of the most widely used colorants — making red bricks red for example. Silver's oxide is more often referred to as tarnish. Bronze's is more often referred to as a patina. Pure gold cannot oxidize. There are several ways to remove oxides from metals, and one is by pickling. Also see antimony and pigment.
oxygen - A colorless, odorless, tasteless, non-explosive gas, it is the most abundant element on earth, constituting about half of the surface material. It makes up about 9/10 of water, two-thirds of the human body, and 1/5 (by volume) of air. Normal atmospheric oxygen is O2. Oxygen forms compounds with almost all of the elements except the inert gases. The common reaction in which it unites with another substance is called oxidation. The burning of substances in air is rapid oxidation, or combustion, oxygen being required for nearly all combustion. Among its chief uses by artists is supporting the combustion of the oxyacetylene torch in welding. Tank sizes available: 20, 40, 80, 122, and 244 cubic feet. Atomic symbol O, atomic number 8. Also see acetylene, argon, carbon dioxide, helium, hydrogen, nitrogen, oxidation firing, and oxide.
oz. - Abbreviation for ounce. Also see measure.