Georgia O'Keeffe
The Art History Archive - Biography, Quotations & Art
---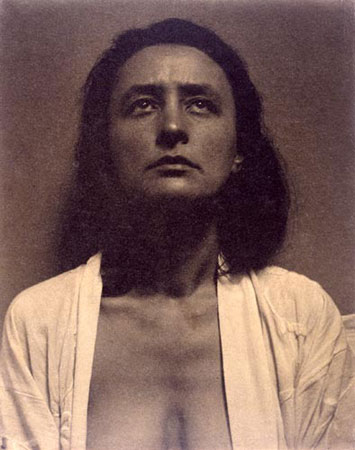 Georgia O'Keeffe gained worldwide fame for her austere minimalist paintings of the US Southwest. Born in Sun Prairie, Wisconsin, on 15 November 1887, O'Keefe grew up in Virginia and first studied painting at the Art Institute of Chicago. Initially, she embraced a highly abstracted, urban style of art. She later moved to New York where she thrived within the growing community of abstract expressionists. Beginning in 1912, though, she began spending time in Texas and she became the head of the art department at the West Texas State Normal College in 1916. O'Keeffe's time in Texas sparked her enduring fascination with the stark and powerful western landscape. She began to paint more representational images that drew on the natural forms of the canyons and plains that surrounded her. O'Keeffe's paintings of cow skulls and calla lilies gained particular attention and won her an enthusiastic audience.
Her marriage to the New York art dealer and photographer Alfred Stieglitz brought O'Keeffe back to the northeast. For a decade, she divided her time between New York City and the couple's home in Lake George, New York. In 1919, O'Keeffe made a brief visit to the small New Mexican village of Taos, and she returned for a longer stay in 1929. Attracted to the clear desert light and snow-capped mountains, she began returning to New Mexico every summer to paint. O'Keeffe found a vibrant and supportive community among the artists that had been flocking to Taos and Santa Fe since the 1890s.
After Stieglitz died in 1949, O'Keeffe permanently relocated to Abiquiu, New Mexico. There she continued to produce her hauntingly simple images of the southwestern land she loved. By the time she died in 1986, O'Keeffe was considered one of the preeminent artists of the American West and had inspired legions of imitators.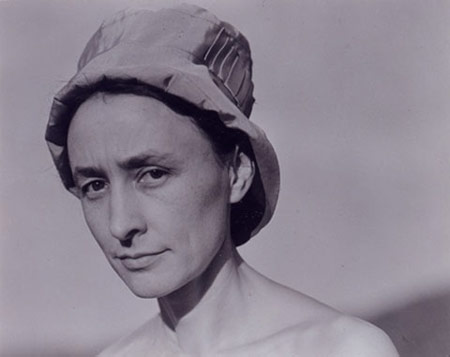 Georgia O'Keeffe was an abstract painter, famous for the purity and lucidity of her still-life compositions. She was born in Sun Prairie, Wisconsin, and studied at the school of the Art Institute of Chicago and at the Art Students League of New York. She taught art in Texas from 1913 to 1918. In 1916 the US photographer and art gallery director Alfred Stieglitz (whom she married in 1924) became interested in her abstract drawings and exhibited them at "291," his gallery in New York City. Her work was shown annually in Stieglitz's galleries until his death and was widely exhibited in other important institutions.
O'Keeffe, who moved to New Mexico in 1949, is best known for her large paintings of desert flowers and scenery, in which single blossoms or objects such as a cow's skull are presented in close-up views. Although O'Keeffe handles her subject matter representationally, the starkly linear quality, the thin, clear coloring, and the boldly patterned compositions produce abstract designs. A number of her works have an abstracted effect, the flower paintings in particular — such as Black Iris (1926)—in which the details of the flower are so enlarged that they become unfamiliar and surprising. In the 1960s, inspired by a series of airplane flights, O'Keeffe introduced motifs of sky and clouds, as seen from the air, into her paintings. One of her largest works is the mural Sky above Clouds (1965), which is 7.3 m wide.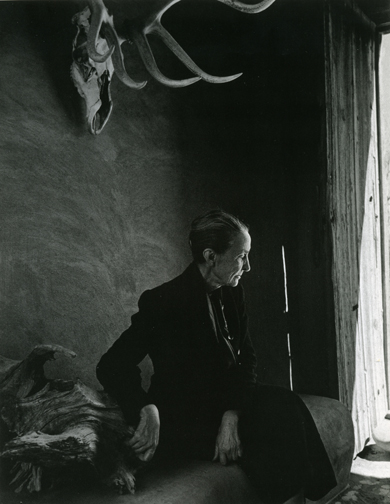 Georgia O'Keeffe Quotations:
• To create one's own world, in any of the arts, takes courage.
• Making your unknown known is the important thing.
• Where I was born and where and how I have lived is unimportant. It is what I have done with where I have been that should be of interest.
• I said to myself, I have things in my head that are not like what anyone has taught me -- shapes and ideas so near to me -- so natural to my way of being and thinking that it hasn't occurred to me to put them down. I decided to start anew, to strip away what I had been taught.
• I know I cannot paint a flower. I cannot paint the sun on the desert on a bright summer morning, but maybe in terms of paint color I can convey to you my experience of the flower or the experience that makes the flower of significance to me at that particular time.
\ • When you take a flower in your hand and really look at it, it's your world for the moment. I want to give that world to someone else. Most people in the city rush around so, they have no time to look at a flower. I want them to see it whether they want to or not.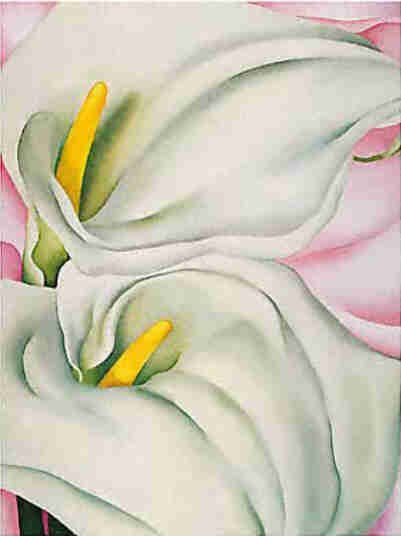 • I decided that if I could paint that flower in a huge scale, you could not ignore its beauty.
• I'll paint it big and they will be surprised into taking the time to look at it – I will make even busy New Yorkers take time to see what I see of flowers.
• Whether the flower or the color is the focus I do not know. I do know the flower is painted large to convey my experience with the flower -- and what is my experience if it is not the color?
• I think I am one of the few who gives our country any voice of its own.
• One can not be an American by going about saying that one is an American. It is necessary to feel America, like America, love America and then work.
• One can't paint New York as it is, but rather as it is felt.
• Now and then when I get an idea for a picture, I think, how ordinary. Why paint that old rock? Why not go for a walk instead? But then I realise that to someone else it may not seem so ordinary.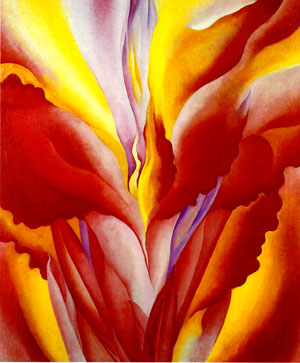 • Sun-bleached bones were most wonderful against the blue - that blue that will always be there as it is now after all man's destruction is finished.
• I found I could say things with colors that I couldn't say in any other way -- things that I had no words for.
• I don't much enjoy looking at paintings in general. I know too much about them. I take them apart.
• I don't see why we ever think of what others think of what we do -- no matter who they are. Isn't it enough just to express yourself?
• Wise men say it isn't art! But what of it, if it is children and love in paint?
• I feel there is something unexplored about women that only a woman can explore.
• I have had to go to men as sources in my painting because the past has left us so small an inheritance of woman's painting that had widened life.... Before I put a brush to canvas I question, "Is this mine? Is it all intrinsically of myself? Is it influenced by some idea or some photograph of an idea which I have acquired from some man?"
• Objective painting is not good painting unless it is good in the abstract sense. A hill or tree cannot make a good painting just because it is a hill or tree. It is lines and colors put together so that they may say something.
• Slits in nothingness are not very easy to paint.
• I've been absolutely terrified every moment of my life -- and I've never let it keep me from doing a single thing I wanted to do.
• The days you work are the best days.
• You get whatever accomplishment you are willing to declare.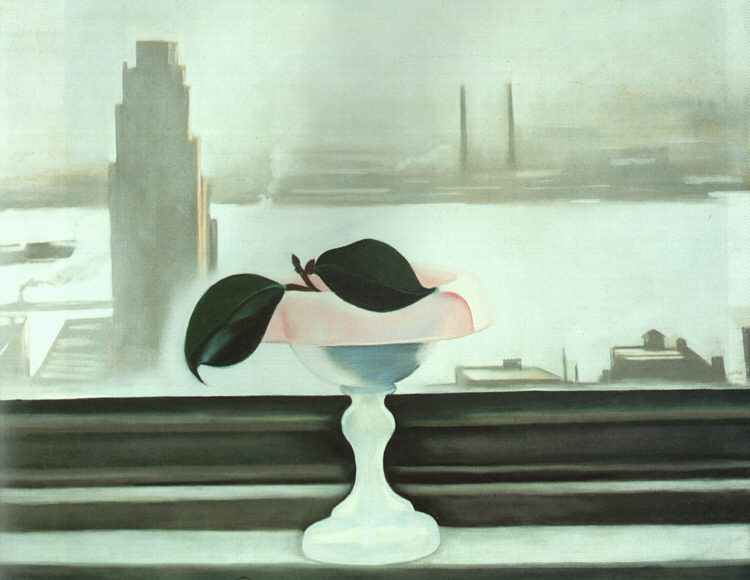 Chronlogical List of Paintings by Georgia O'Keeffe

Music: Pink and Blue II - 1919

Grey Line with Black, Blue and Yellow - 1923

The Shelton with Sunspots - 1926

Radiator Building, Night New York - 1927

Pink Dish and Green Leaves - 1928

Two Calla Lilies on Pink - 1928

Cow Skull with Calico Roses - 1931

The Lawrence Tree - DateUnknown
---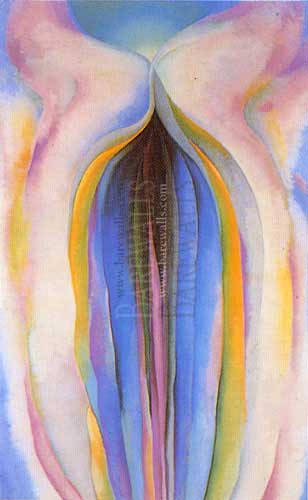 Expanded Biography
Georgia Totto O'Keeffe (November 15, 1887—March 6, 1986)
O'Keeffe was born on November 15, 1887 in a farmhouse on a large dairy farm in Sun Prairie, Wisconsin. Her parents, Francis Calyxtus O'Keeffe and Ida Totto O'Keeffe, were dairy farmers. Ida Totto O'Keeffe's father, George, for whom Georgia was named, was a Hungarian immigrant. She was the first girl and the second of seven O'Keeffe children. She attended Town Hall School in Wisconsin and received art instruction from local watercolorist, Sara Mann. She attended high school at Sacred Heart Academy in Madison, Wisconsin as a boarder between 1901 and 1902. In fall 1902 the O'Keeffes moved from Wisconsin to Williamsburg, Virginia, Georgia stayed in Wisconsin with her aunt and attended Madison High School, and joined her family in Williamsburg in 1903. She completed high school as a boarder at Chatham Episcopal Institute in Virginia (now Chatham Hall), graduating in 1905.
In 1905, O'Keeffe enrolled at the Art Institute of Chicago. In 1907 she attended the Art Students League in New York City, where she studied with William Merritt Chase. In 1908, she won the League's William Merritt Chase still-life prize for her oil painting mona shehab (Dead Rabbit with Copper Pot). Her prize was a scholarship to attend the League's outdoor summer school at Lake George, New York. While in the city in 1908, she had attended an exhibition of Rodin's watercolors at the 291, owned by her future husband, photographer Alfred Stieglitz.
In fall 1908 O'Keeffe returned to Chicago, where she worked as an illustrator, and in 1910 she is thought to have fallen ill with measles and moved home to Virginia. She had stopped painting in 1908 when her family was having financial trouble and she realized she could not support herself financially through painting. Since she couldn't devote herself entirely to it, she didn't paint at all. But she was inspired to paint again in 1912, when she attended a class at the University of Virginia Summer School, where she was introduced to the cutting edge ideas of Arthur Wesley Dow by Alon Bement. Dow's teachings encouraged artists to express themselves through harmonious designs of line, color, and shape, and they strongly influenced O'Keeffe's thinking about the process of making art. She then remained at the University of Virginia as a Teaching Assistant for several years after.
Stieglitz arranged for O'Keeffe to live in his niece's unoccupied studio apartment, and by July, he and O'Keeffe had fallen deeply in love, and he left his wife Emmeline Obermeyer Stieglitz to live with O'Keeffe. In 1924, O'Keeffe and Stieglitz married, following the finalization of his divorce, and they spent winter and spring in Manhattan and summer and fall at the Stieglitz family house at Lake George in upstate New York. He had started making photographs of O'Keeffe when she visited him in New York to see her 1917 exhibition. He continued making photographs of her, and in February, 1921, forty-five of his photographs, including many of O'Keeffe, some of which presented her in the nude, were exhibited in a retrospective exhibition of his work held at the Anderson Galleries. The photographs of O'Keeffe created a public sensation.
During O'Keeffe's early years in New York she got to know the many early American modernists who were part of Stieglitz's circle of friends, including Charles Demuth, Arthur Dove, Marsden Hartley, Paul Strand and Edward Steichen. Strand's photography, as well as that of Stieglitz and his many photographer friends, inspired O'Keeffe's work. Soon after she moved to New York, she began working primarily in oil, which represented a shift away from her having worked mainly in watercolor in the 1910s, and by the mid-1920s, she began making large scale paintings of natural forms from close up, as if seen through a magnifying lens.
During the 1920s, O'Keeffe made both natural and architectural forms the subject of her work. She painted her first large-scale flower painting in 1924, Petunia, No. 2,, which was first exhibited in 1925, and completed a significant body of paintings of New York buildings, such as City Night, and New York--Night, 1926, and Radiator Bldg--Night, New York, 1927.
Beginning in 1923, Stieglitz organized exhibitions of O'Keeffe's work annually, and by the mid-1920s, she had become known as one of America's most important artists. Her work commanded high prices; in 1928 six of her calla lily paintings sold for $25,000 US dollars, which was at the time the largest sum ever paid for a group of paintings by a living American artist.
In the summer of 1929 O'Keeffe went to New Mexico with Rebecca Strand, wife of Paul Strand. They went to Santa Fe and then to Albuquerque. O'Keeffe had first visited New Mexico in 1917, where she spent several days on her return to Texas from vacationing in Colorado. Between 1929 and 1949 she spent part of almost every year working in New Mexico. During her second summer there, she began collecting and painting bones, and she started painting the area's distinctive architectural and landscape forms, returning to New York every fall. O'Keeffe became ill late in 1932 and was hospitalized for psychoneurosis in early 1933. She did not paint again until January 1934. She recuperated in Bermuda in the spring of 1933 and 1934, and returned to New Mexico in the summer of 1934. That fall, she discovered Ghost Ranch, an area north of Abiquiu, whose painted desert of dramatically colored, enormous cliffs and hills inspired some of her most famous landscapes.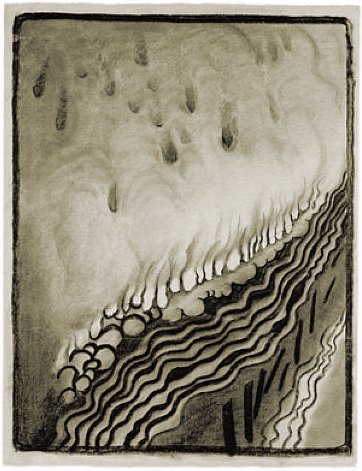 In the 1930s and 1940s O'Keeffe's reputation and popularity continued to grow, and she received numerous commissions. Her work was included in exhibitions in and around New York, and in the 1940s, and she was given two one-woman retrospectives, the first at the Art Institute of Chicago in 1943 and another in 1946 at the Museum of Modern Art in New York, the first ever given by that museum to a woman. She was also awarded honorary degrees by numerous universities, the first by the College of William and Mary in 1938, and in the mid-1940s, the Whitney Museum of American Art sponsored a project to establish the first catalogue of her work.
In 1945, she bought a second home, an abandoned hacienda in Abiquiu (renovated through 1948), some 16 miles (26 km) south of Ghost Ranch. The Abiquiu home was the setting for many later paintings.
After Stieglitz's death in 1946, O'Keeffe spent the next three years mostly in New York settling his estate, and in 1949 she moved to New Mexico permanently. During the 1950s, O'Keeffe produced a series of paintings featuring the architectural forms --patio wall and door--of her adobe house in Abiquiu. Another distinctive painting of the decade is Ladder to the Moon, 1958, and as a result of her first world travels in the late 1950s, she produced an extensive series of paintings of clouds, such as Above the Clouds I, 1962/1963, inspired by what she saw from the windows of airplanes. Below is an external link to a color image of one of these aerial cloudscape canvases.
In 1962, she was elected to the fifty-member American Academy of Arts and Letters. The Georgia O'Keeffe Retrospective Exhibition at the Whitney Museum of American Art in the fall of 1970 -- the first major showing of her work since 1946, the year Stieglitz died -- did much to revive her public career, bringing her to the attention of a new generation of women raised on the principles of feminism.
But by the early 1970s, O'Keeffe's eyesight began to be compromised by macular degeneration. O'Keeffe met potter Juan Hamilton in 1973, who began doing household jobs for the artist and soon became her friend and close companion. He taught her to work with clay and helped her complete her book, Georgia O'Keeffe, published in 1976, as well as the Perry Miller Adato video project, Georgia O'Keeffe, which aired on national television in 1977. She completed her last unassisted work in oil in 1972, The Beyond, and worked unassisted in watercolor and charcoal until 1978 and in graphite until 1984.
In 1984 O'Keeffe moved to Santa Fe to be closer to medical facilities. She died at St. Vincent's Hospital, Santa Fe on March 6, 1986 at the age of 98. She was cremated and her ashes scattered around the Pedernal, the mountain that she could see from the patio of her Ghost Ranch house. She had painted it many times and called it her own.