Ansel Adams (1902 – April 22, 1984) was an American photographer and environmentalist, best known for his black-and-white photographs of the American West, especially in Yosemite National Park. Ansel Adams masterpieces include: Storm in Yosemite Valley (1935), Moonrise, Hernandez, New Mexico (1941), and The Tetons and the Snake River (1942).
Below: Ansel Adams - The Tetons and the Snake River - 1942.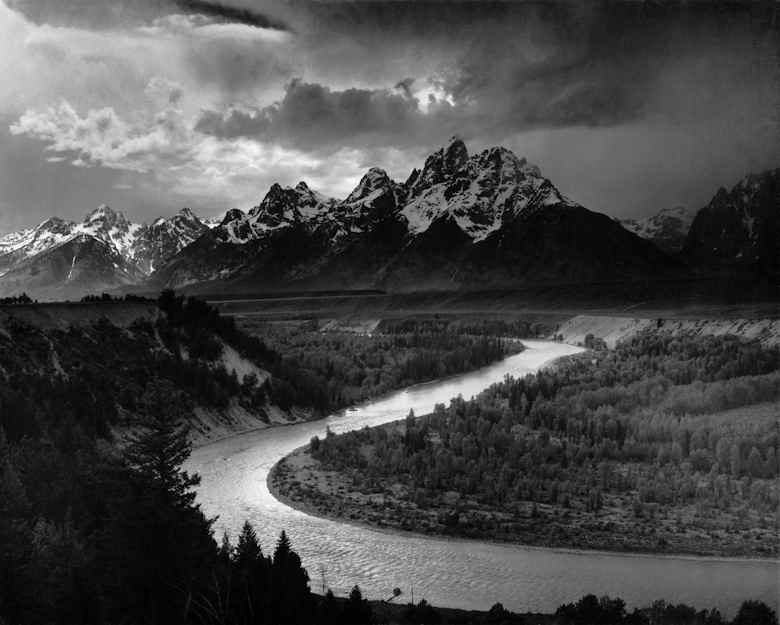 Wynn Bullock (1902-1975) is recognized as an American master photographer of the 20th Century and mostly known for his "Color Light Abstractions" and nudes utilizing both power and beauty.
Wynn Bullock - Navigation Without Numbers - 1957
Hugh Edwards (1903–1986) was an influential American curator of photography and a photography artist in his own right. Edwards was one of the handful of key curators who struggled to win the acceptance of fine art photography as an art form.
Walker Evans (1903–1975) an American noted for his photographic work for the Farm Security Administration.
John Gutmann (1905–1998) was a Jewish photography artist born in Germany. He later immigrated to the USA where he became a highly successful photographer and painter. He is mostly known for his work concerning the Jazz music scene and his "worm's-eye view" camera angle.
John Gutmann - The Artist Lives Dangerously San Francisco - 1938
Anton Stankowski (1906-1998) was a German graphic designer, photographer and painter. He developed an original Theory of Design and pioneered Constructive Graphic Art, experimental photography processes and fractal-like structures.
Anton Stankowski - Eye Montage - 1927
Henri Cartier-Bresson (1908–2004) another great French photographer, considered by many to be the greatest "street-photographer" of the 20th century.
Irving Penn (b.1917) noted for his portraiture and fashion work.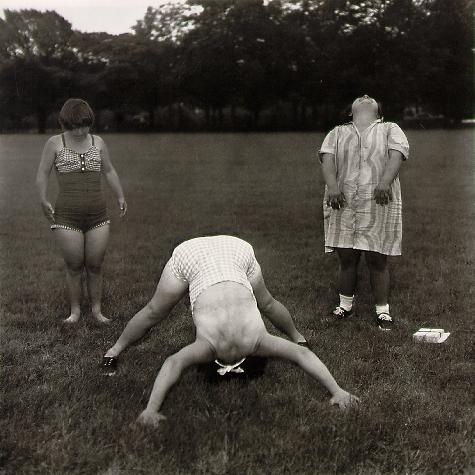 Diane Arbus (1923-1971) was an American photography artist and writer noted for black-and-white square photographs of showing dwarfs, giants, transvestites, nudists, circus performers and anyone considered ugly or surreal. According to friends she was afraid of being typecasted as 'the photographer of freaks'. She committed suicide.
Right: Diane Arbus - Untitled - 1970-71.
Robert Frank (b.1924) author of the influential book "The Americans" giving an outsider's view of American society. Highly innovative in compositing and manipulating photographs.
John Szarkowski (1925-2007) was a photographer, curator, historian, and critic.
Garry Winogrand (1928–1984) known for his mid 20th century street photos of America.
Leonard Simon Nimoy (b.1931) is a Jewish American actor, film director, poet, musician and photographer. Nimoy's most famous role is that of Spock in the original Star Trek series (1966–1969). His photography work deals mostly with female nudes.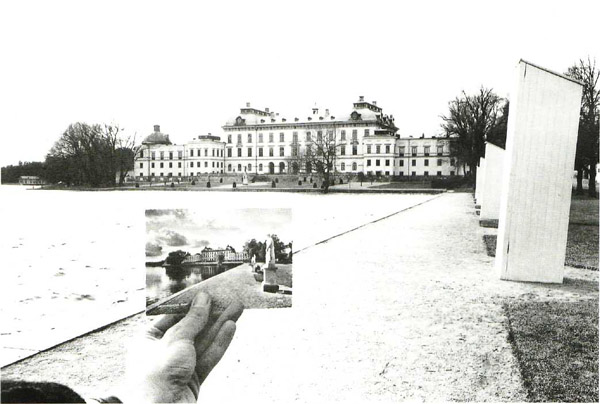 Kenneth Josephson (b.1932) is an American photographer known for advancing the field of conceptual photography.
Right: Kenneth Josephson - Drottningholm Sweden - 1967.
Duane Michals (b.1932) is an American photography artist who uses photo-sequences, often incorporating text to examine emotion, philosophy, gay rights and civil rights.
William Eggleston (b.1939) an important pioneer in helping to raise the artistic status of colour photgraphy.
"Gilbert and George" is the collaborative duo of Gilbert Proesch (b.1943) and George Passmore (b.1942) known for their distinctive, formal appearance and their brightly coloured graphic-style photography artworks.
Gilbert and George - Eye - 1992
Barbara Kruger (b.1945) is an American conceptual artist, sculptor and photographer. Much of her work consists of black-and-white photographs overlaid with declarative captions in white-on-red. The phrases in her works often include use of pronouns such as "you", "your", "I", "we", and "they". Much of her work has a political or feminist slant designed to make the viewer think.
Below: Barbara Kruger - You Get Away with Murder - 1987.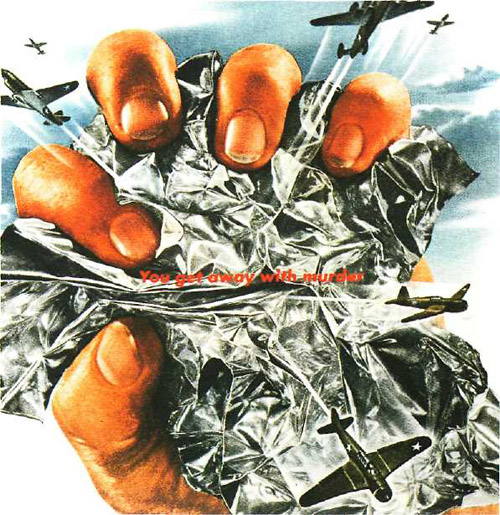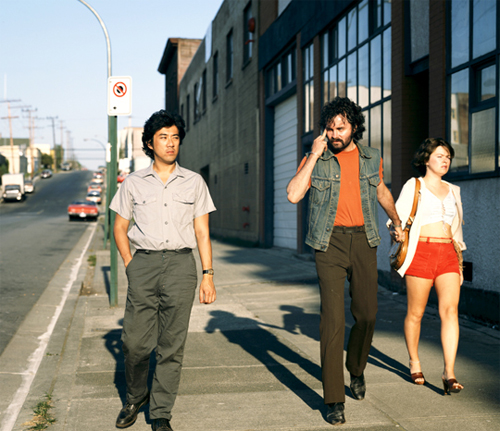 Jeff Wall (b.1946) is a Canadian artist best known for his large-scale back-lit cibachrome photographs and art-historical writing. Wall has been a key figure in Vancouver's art scene since the early-1970s. He helped define the Vancouver School. His photographic art uses Vancouver's mixture of natural beauty and industrial urban decay as a backdrop for scenes of people.
Right: Jeff Wall - Mimic - 1982.
Robert Mapplethorpe (1946-1989), American art photographer, - one of the first postmodernist photography artists - was noted for his large-scale, monochrome portraits of celebrities - including Andy Warhol, Deborah Harry, Richard Gere, Peter Gabriel, Grace Jones, and Patti Smith - statuesque male and female nudes, and delicate flower still life compositions, although he was best known for his controversial Portfolio X series of photographs, which brought him instant notoriety due to its explicit content.
Richard Pare (b.1948) is a British photography artist known for his work documenting Soviet modernist architecture and sculptures.
Richard Pare - Pluto and Proserpine - 1991
John Goto (b.1949) Professor of Fine Art at the University of Derby in England, is a British artist specializing in montage colour photography, who is noted in particular for the "High Summer" pictures in his Ukadia series of photos. His photo digital art has been shown widely in Europe, as well as at solo exhibitions at the Tate Gallery, the National Portrait Gallery, and the Photographers' Gallery in London.
Laurie Simmons (b.1949) is an American artist and photographer from New York. Her photographic work mostly uses dolls, dummies, dollhouses, etc.
Laurie Simmons - Pink Bathroom - 1984
Sally Mann (b.1951) is an American photographer, best known for her large black-and-white photographs of young children and landscapes suggesting decay and death.
Right: Sally Mann - Jessie at 9 - 1991.
Carrie Mae Weems (b.1953) is an African-American photography artist. Her photographs, films, and videos focus racism, gender relations, politics, and personal identity. She says, "Let me say that my primary concern in art, as in politics, is with the status and place of Afro-Americans in our country."
Carrie Mae Weems - Jim, if you Choose to Accept, the Mission is to Land on Your Own Two Feet - 1987
Nan Goldin (b.1953), the taboo-breaking American camera artist, whose works include Nan One Month after being Battered (1984, Tate Museum London), and Siobhan in my Bathtub (1992, Winterthur Fotomuseum, Switzerland).
Cindy Sherman (b.1954) best known for her conceptual portraits. Often considered to be the greatest photography artist of the 20th century and one of the top 10 artists of the 20th century.
Andreas Gursky (b.1955), noted for his works Schipol (1994, Metropolitan Museum of Art New York), Singapore Stock Exchange (1997, Guggenheim Museum, New York), and Parliament (1998, Tate Museum London).
Andreas Gursky - Shanghai - 2000
Gregory Crewdson (b. 1962) is an American photographer who is best known for elaborately staged scenes of American homes and neighborhoods.
Victoria Van Dyke (b.1979), Canadian artist, best known for her Cannibal / Amazon series.
The Faces of Cindy Sherman
The Queen of 20th Century Photography