Cindy Sherman's Photography
---
This Website is Best Viewed Using Firefox
See also: The History of Photography as a Fine Art
Written by Charles Moffat.
I am re-writing this website. It was first written over 4 years ago (October 1999) when it was first written. It is now November 1st, 2003. The site has been moved and updated. Call it my renewed interest in Cindy Sherman's work. Oh yes, I've been an adamant fan of her work the entire time... but this is more like a re-birth of my admiration for her work.
I also think I've put some personal history behind me too. When I first learned about Cindy Sherman I was still getting over the break-up with my ex-fiancee Cynthia. The name bothered me at the time.
Nevertheless, Cindy Sherman, as an artist and also as a photographer she is amongst the best. She is widely regarded as one of the top ten most influential artists of the 20th Century. Her work is in many cases provocative, has a tendency to tell a story or depict a particular scene, and in her later work, tends to be quite graphic, grotesque and just plain disgusting. Thankfully, for the small number of photos that I shall display here, I have chosen those that I personally like, and those that would be suitable even for children.
As far as feminist artists go, Cindy Sherman is certainly the most famous of them all. Surpassing even Frida Kahlo who is only becoming famous NOW... after the fact. Others you may be interested in are Kiki Smith, Lorna Simpson and Joyce Wieland.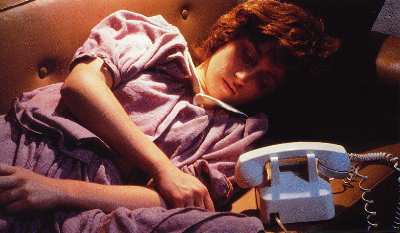 Untitled #90, 1981.
If I could pick a name for this, I'd probably call it "waiting".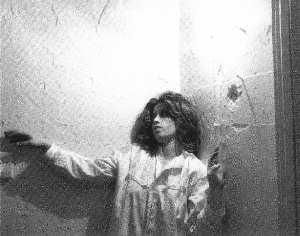 Untitled Film Still #29, 1979.
This used to be my favourite. Not anymore. Still interesting though.
I like this one. I'm not sure why, but I think its because of the simple clothes. I could almost invision her pulling out a beretta and turning out to be in some kind of secret service/military type group... I've watched WAY too many 007 movies...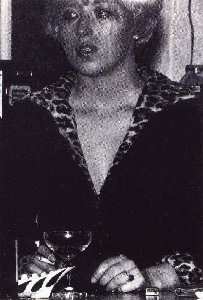 Untitled Film Still #27, 1979.
To best see the detail of this photograph, click the picture to see a larger version. For reference, most of Cindy's works are self-portraits, similar to Freda Kahlo's work.
The breast, in case you family oriented squeeky wheel type people are reading this, is fake. In comparison with the more grotesque pieces, this one is pretty soft. If you look at the larger version, you can actually see the milk squirting.
Every piece she does, she creates some form of persona around the character she is portraying. Whether the character is actually thinking of killing herself or joking about it is up to you.
Cindy also uses a lot of dolls (including sex-dolls), especially in her recent works. Combined with the wigs, the make-up and the costumes, some of the works are very interesting and exotic. This is one of the few that doesn't have some form of sexual attribute. This one is my new favourite.