Olivia De Berardinis
The Art History Archive - Pinup Art
---
This Website is Best Viewed Using Firefox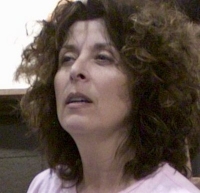 American Pinup Artist
Olivia De Berardinis was born in 1948 in California.
De Berardinis spent most of her childhood on the East Coast because her father moved from town to town for work. Her father (Sante De Berardinis) was a freelance aeronautical engineer, and his work kept the small family constantly on the move. The only child, Olivia had almost no friends and spent much of her time drawing. De Berardinis' mother Connie had a bohemian personality and would pose nude for her daughter.
In 1967 she attended the New York School of Visual Arts, and became involved in the minimalist art movement while there. Over the next few years she took odd jobs to pay the rent but continued to paint and began to show her work, primarily minimalist oils on canvas.
By 1974 financial pressures induced Olivia De Berardinis to seek out commercial art work, and she began drawing and painting pin-up art for men's magazines and paperback novels. In a short time De Berardinis secured regular work painting primarily for men's magazines.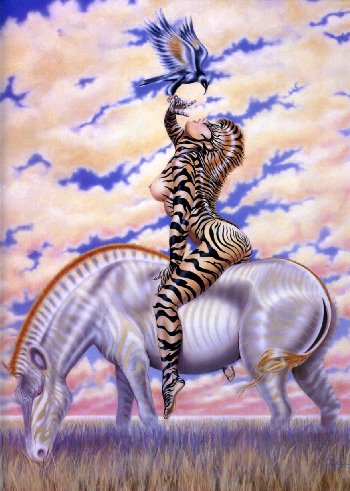 In 1975 Olivia met Joel Beren and they married in 1979. They moved to Manhattan's Upper West Side where they developed a small publishing business, O Cards, primarily printing De Berardinis' work as greeting cards. They created another company, Ozone Productions, Ltd. to license Olivia's artwork.
In 1984 Olivia De Berardinis met Robert and Tamara Bane and signed her first fine art publishing agreement with Robert Bane Publishing. Over 200 limited editions have since been published. In 1987 the Tamara Bane Gallery in Los Angeles opened its doors with a gala one-woman show of Olivia's artwork. Later that year Olivia and Joel Beren moved to the ritzy Los Angeles neighbourhood of Malibu where they still reside today.
Professionally known as just "Olivia", she has since had shows throughout the United States and Japan and her work is collected by fans worldwide. Her work became a regular feature in Hugh Hefner's Playboy Magazine.
Olivia De Berardinis' exclusive representation and print publishing relationship with Robert Bane Editions came to an end in 2003 and, beginning in 2005, Olivia and Joel took all fine art representation and print publishing "in-house", under the banner of Ozone Productions, Ltd. eOlivia remains the online outlet for books, catalogues, greeting cards, postcards, and collectables featuring Olivia's art.
De Berardinishas also become a part of a group of artist at C.I.L.M. who provide their works at a cost for PSP fanatics to purchase and use in their Signature work.
Olivia De Berardinis' artwork is Sexy, sultry, wildly erotic, full of in-your-face sexuality and plenty of fetishism, often employing a surrealist touch to her work.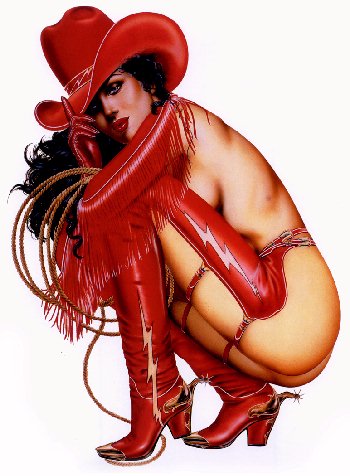 Artwork by Olivia De Berardinis
Zebra Lady - 1980
Tattoo One - 1980
Bettie's Shoes - 1980
Zebra Lady Two - 1981
Cowgirl - 1982
Redhead - 1982
Study For Piano Lady - 1982
Anna - 1983
Cherry Blossoms - 1984
Memories - 1984
Antherium - 1984
Avoid Temptation - 1984
Tattoo Two - 1984
Bermuda Triangle - 1985
Kitty - 1985
Sheer Magic - 1985
Untouchables - 1985
Winged Lady - 1985
Untitled Study - 1985
Friday Night At The Movies - 1985
Moondance - 1985
Edge of Night - 1985
Walking the Dog - 1985
Cheers - 1986
Tingler - 1986
Gunsmoke - 1986
Night Stalker - 1986
Boulevard Vamp - 1986
Between the Lines - 1986
Breathless - 1986
Pop goes the Weasel - 1986
Belle Du Jour - 1987
Basin Street - 1987
Firecrackers - 1988
Isabella - 1988
Sparklers - 1988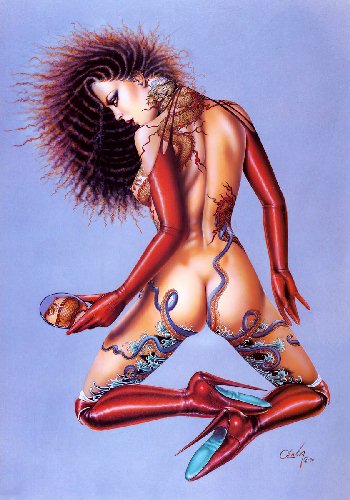 Puss 'N Boots - 1988
Whiplash - 1988
Diana Slip - 1988
Boomerang / Licorice Whips - 1988
Licorice Sticks / Licorice Licks - 1988
Cloud Nine - 1988
Bella Donna - 1988
Exotique - 1988
Isabella - 1988
Rosebud - 1989
Heat Seeker - 1989
Cupcake - 1989
Cotton Candy - 1989
Dollface - 1989
The Invitation - 1989
Smoothies - 1989
Sea Of Satin - 1989
Buttercup - 1989
Auto Gyro - 1989
Silk Stockings - 1989
Catnip - 1989
Jelly Roll - 1989
A Tail and Two Titties - 1990
Don't Bother to Knock - 1990
Cat and Mouse - 1991
Champagne Truffles - 1991
Dark Angel - 1991
Devil's Food - 1991
English Muffins - 1991
Fatou - 1991
Crackers in Bed - 1992