Pop Art
The Art History Archive - Movements
---
This Website is Best Viewed Using Firefox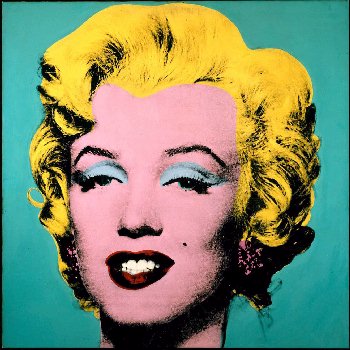 Art based on Popular Culture
By Charles Moffat - November 2007.
Pop Art was a visual art movement that emerged in the 1950s in Britain and the United States. The origin of the term Pop Art is unknown but is often credited to British art critic Lawrence Alloway in an essay titled "The Arts and the Mass Media", although he uses the words "popular mass culture" instead of "pop art". Alloway was one of the leading critics to defend Pop Art as a legitimate art form.
It was one of the biggest art movements of the twentieth century and is characterized by themes and techniques drawn from popular mass culture, such as television, movies, advertising and comic books. Pop art is widely interpreted as either a reversal or reaction to Abstract Expressionism or an expansion upon it.
Pop Art aimed to employ images of popular culture as opposed to elitist culture in art, often emphasizing kitsch and thus targeted a broad audience. It was easy to understand, easy to recognize because it was iconic and accessible to the mass public. Pop art is sometimes considered to be very academic and unconventional, but it was always easy to interpret.
Pop Art and Minimalism (which is difficult to interpret in comparison) are considered to be the last modern art movements and are on the cusp of postmodern art.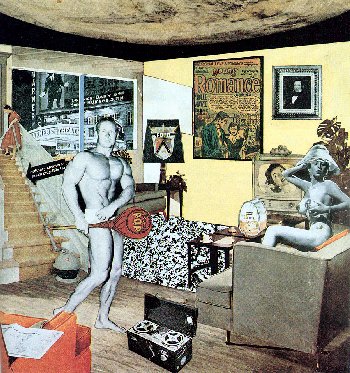 The movement was marked by clear lines, sharp paintwork and clear representations of symbols, objects and people commonly found in popular culture. It allowed for large scale artworks like Abstract Expressionism, but drew upon more DADAist elements. DADAism explored some of the same topics, but pop art replaced the destructive, satirical, and anarchic elements of the Dada movement with a reverence for mass culture and consumerism.
Pop artists also liked to satirize objects, sometimes enlarging those objects to gigantic porportions (see the giant spoon and cherry at the bottom of this page). Food was a common theme, but so were household objects such as chairs and toilets being made of squishy plastic instead of the materials you would normally expect. See Claes Oldenburg's "Soft Toilet".
The 1950s were a period of optimism and a consumer boom as more and more products were mass marketed and advertised. Influenced by American artists such as Jasper Johns and Robert Rauschenberg, British artists such as Richard Hamilton and the Independent Group aimed at creating art that drew upon symbols and images found in the media. Hamilton helped organize the 'Man, Machine, and Motion' exhibition in 1955, and 'This is Tomorrow' with its landmark image "Just What is it that makes today's home so different, so appealing?" in 1956 is considered by some historians to be the first example of Pop Art.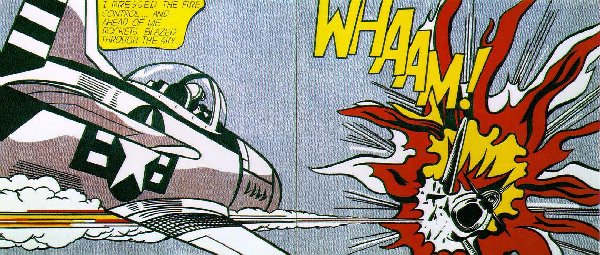 Pop Art coincided with the youth and pop music phenomenon of the 1950s and 1960s, frequently appearing in advertisements for musical bands and on record covers, becoming very fashionable. Afterwards Pop Art came in a number of waves, but all its adherents shared some interest in the urban, consumer, modern experience.
See also: Neo-Pop Art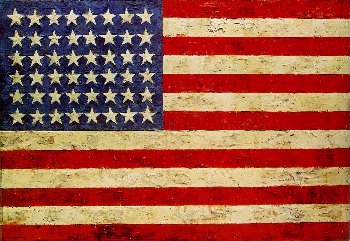 Important Pop Artists and their Influences
David Hockney
Jasper Johns
Roy Lichtenstein
Claes Oldenburg
Robert Rauschenberg
Tom Wesselmann
Important Works
Richard Hamilton - Just What Is It that Makes Today's Homes So Different, So Appealing? - 1956
Lesser Known Pop Artists:
Billy Apple
Sir Peter Blake
Derek Boshier
Patrick Caulfield
Alan D'Arcangelo
Jim Dine
Erró
William Eggleston
Marisol Escobar
Alfred Gockel
Red Grooms
Richard Hamilton
Robert Indiana
Allen Jones
Alex Katz
Corita Kent
Yayoi Kusama
Richard Lindner
Peter Max
John McHale
Takashi Murakami
Julian Opie
Eduardo Paolozzi
Peter Phillips
Sigmar Polke
Pietro Psaier
Hariton Pushwagner
George Segal
Mel Ramos
Larry Rivers
James Rizzi
James Rosenquist
Ed Ruscha
Aya Takano
Wayne Thiebaud
John Wesley
Ashley Bickerton
Rah Crawford
Keith Haring
Damien Hirst
Gary Hume
Mark Kostabi
Yngvar Larsen
Allan McCollum
Komar and Melamid
Cady Noland
Charles Ray
Kenny Scharf
Haim Steinbach
Gavin Turk