1970s
After this assassination attempt the pop artist made a radical turn in his process of producing art. The philosopher of art mass production now spent most of his time making individual portraits of the rich and affluent of his time like Mick Jagger, Michael Jackson or Brigitte Bardot.
Warhol's activities became more and more entrepreneurial. He started the magazine Interview and even a night-club. In 1974 the Factory was moved to 860 Broadway. In 1975 Warhol published "The philosophy of Andy Warhol (from A to B and Back Again)".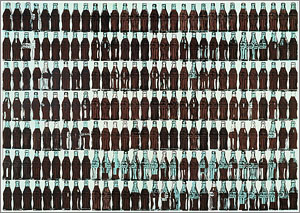 Warhol renewed his focus on painting and worked extensively on a commissioned basis both for corporations and for individuals whose portrait he painted. Works created in this decade include Skulls, Hammer and Sickles, Torsos, Maos and Shadows.
In 1975, Warhol said: "What's great about this country is that America started the tradition where the richest consumers buy essentially the same things as the poorest. You can be watching TV and see Coca-Cola, and you can know that the President drinks Coke, Liz Taylor drinks Coke, and just think, you can drink Coke, too. A Coke is a Coke and no amount of money can get you a better Coke than the one the bum on the corner is drinking. All the Cokes are good, Liz Taylor knows it, the President knows it, the bum knows it."
Firmly established as a major 20th-century artist and international celebrity, Warhol was given a major retrospective of his work at the Pasadena Art Museum which traveled to museums around the world. In the late seventies Warhol began dictating an oral diary to his colleague Pat Hackett, which became the basis for the best-selling Andy Warhol Diaries. He also frequented Studio 54 along with other members of the international jet-set saying, "I have a social disease. I have to go out every night."
Warhol sometimes socialized at Serendipity 3 and, later in the 70s, Studio 54, nightspots in New York City. He was generally regarded as quiet, shy, and as a meticulous observer. Art critic Robert Hughes called him "the white mole of Union Square".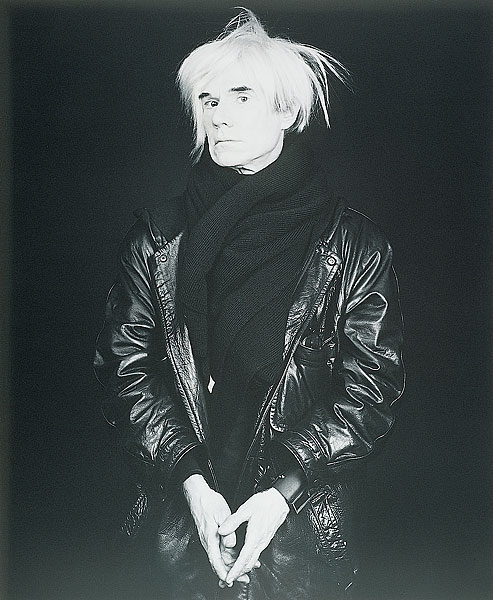 1980s
Warhol had a re-emergence of critical and financial success in the 1980s, partially due to his affiliation and friendships with a number of prolific younger artists, who were dominating the "bull market" of '80s New York art: Jean-Michel Basquiat, Julian Schnabel, David Salle and the so-called Neo-Expressionists, as well as Francesco Clemente, Enzo Cucchi and members of the Transavanguardia movement, which had become influential.
Warhol also had an appreciation for intense Hollywood glamour. He once said: "I love Los Angeles. I love Hollywood. They're so beautiful. Everything's plastic, but I love plastic. I want to be plastic."
He began the 1980's with the publication of POPism: The Warhol '60s. He also began work on Andy Warhol's TV, a series of half hour of video programs patterned after Interview magazine. In 1985, "Andy Warhol's Fifteen Minutes" appeared on MTV, half hour programs featuring celebrities, artists, musicians, and designers, with Warhol as the host.
The paintings he created during this time included Dollar Signs, Guns and Last Suppers. He also produced several paintings in collaboration with other artists including Keith Haring, Jean-Michel Basquiat and Francesco Clemente.
In his last years Warhol promoted other artists like Keith Haring or Robert Mapplethorpe.
Following routine gall bladder surgery, Andy Warhol died of complications during his recovery on February 22nd 1987.
The pop art icon was also a religious man (a little known fact). The funeral liturgy was held at the Holy Ghost Byzantine Catholic Church on Pittsburgh's North Side. The eulogy was given by Monsignor Peter Tay. Fellow artist Yoko Ono also made an appearance. The coffin was covered with white roses and asparagus ferns.
After the liturgy, the coffin was driven to St. John the Baptist Byzantine Catholic Cemetery in Bethel Park, a south suburb of Pittsburgh. At the grave, the priest said a brief prayer and sprinkled holy water on the casket. Before the coffin was lowered, Paige Powell dropped a copy of Interview magazine, an Interview t-shirt, and a bottle of the Estee Lauder perfume "Beautiful" into the grave. Warhol was buried next to his mother and father.
A second memorial was organized in New York: More than 2000 people attended the memorial mass at St. Patrick's Cathedral on April 1st.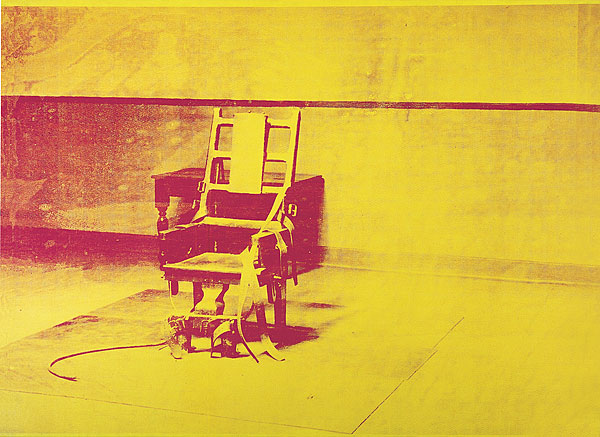 After Life
In 1989, the Museum of Modern Art in New York had a major retrospective of his works. In 2001 Heiner Bastian curated a Warhol retrospective that began in Berlin and traveled to the Tate in London and finally to the Museum of Contemporary Art in Los Angeles.
In May 1994 the Andy Warhol Museum opened in his home town Pittsburgh in Pennsylvania.
Warhol had so many possessions that it took Sotheby's nine days to auction his estate after his death; the auction grossed more than US$20 million. His total estate was worth considerably more, in no small part due to shrewd investments over the years.
On the twentieth anniversary of his death The Gershwin Hotel in New York City held a week-long series of events commemorating Warhol's art and his superstars.
Warhol's Personality
Warhol had a bizarre personality and was extremely eccentric as he grew older. During the 1950s he dyed his hair straw-blond and by the 1980s had shaved off his real hair and replaced it with a silver-grey wig.
The pop artist loved cats and he sometimes made images of them in his artworks for his personal collection.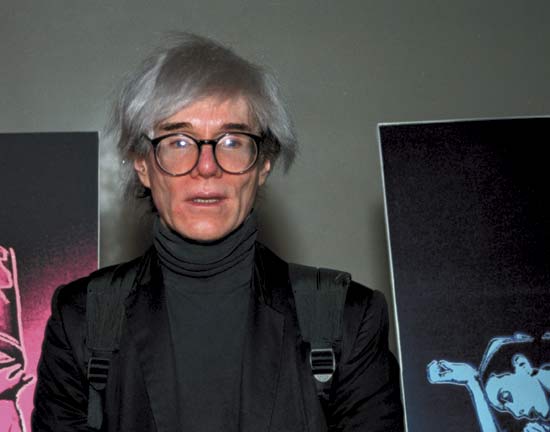 One of Andy's friends described him as a true workaholic. Warhol was obsessed by the ambition to become famous and wealthy and he knew he could achieve the American Dream only by hard work.
Many people think Warhol was asexual later in life because he was afraid of people touching him after the shooting. He was not asexual however because that theory has been debunked by biographers (such as Victor Bockris, Richard Meyer and Bob Colacello) who spoke to his friends and lovers and determined that he was indeed intimate with people. The question of how his sexuality influenced Warhol's work and shaped his relationship to the art world is a major subject of scholarship, and is an issue that Warhol himself sometimes addressed in interviews, in conversation with his contemporaries, and in his publications (e.g. Popism).
During his lifetime Warhol also produced erotic photography and drawings of male nudes, contributing to the idea that he was homosexual or at least bisexual. Many of his most famous works (portraits of Liza Minnelli, Judy Garland, Elizabeth Taylor, and films like Blow Job, My Hustler, and Lonesome Cowboys) draw from gay underground culture and/or openly explore the complexity of sexuality and desire. Many of his films premiered in gay porn theaters.
The first works that he submitted to a gallery in the pursuit of a career as an artist were homoerotic drawings of male nudes. They were rejected for being too openly gay. In the book "Popism" Warhol recalls a conversation with the filmmaker Emile de Antonio about the difficulty Warhol had being accepted socially by the then more famous (but closeted) gay artists Jasper Johns and Robert Rauschenberg, who were also Pop artists. De Antonio explained that Warhol was "too swish and that upsets them." In response to this, Warhol writes, "There was nothing I could say to that. It was all too true. So I decided I just wasn't going to care, because those were all the things that I didn't want to change anyway, that I didn't think I 'should' want to change ... Other people could change their attitudes but not me".
Warhol frequently refused to comment on his work or explain it. He confined himself to responses like "Um, No" and "Um, Yes" and often allowed others to answer for him.
Warhol was a practicing Byzantine Rite Catholic, attended Mass weekly and he regularly volunteered at homeless shelters in New York, particularly during the busier times of the year. Many of his later works contain almost-hidden religious themes or subjects, and a body of religious-themed works was found posthumously in his estate. The priest at Warhol's church, Saint Vincent's, said that the artist visited there almost daily. Some of his art is noticeably influenced by the eastern Christian iconographic tradition which was so evident in his places of worship.
---
Andy Warhol Quotes:
"Making money is art, and working is art and good business is the best art." - Andy Warhol
"An artist is somebody who produces things that people don't need to have." - Andy Warhol
"An artist is someone who produces things that people don't need to have but that he - for some reason - thinks it would be a good idea to give them." - Andy Warhol
"Before I was shot, I always thought that I was more half-there than all-there - I always suspected that I was watching TV instead of living life. Right when I was being shot and ever since, I knew that I was watching television." - Andy Warhol
"Being born is like being kidnapped. And then sold into slavery." - Andy Warhol
"Being good in business is the most fascinating kind of art. Making money is art and working is art and good business is the best art." - Andy Warhol
"Don't pay any attention to what they write about you. Just measure it in inches." - Andy Warhol
"During the 1960s, I think, people forgot what emotions were supposed to be. And I don't think they've ever remembered." - Andy Warhol
"Dying is the most embarrassing thing that can ever happen to you, because someone's got to take care of all your details." - Andy Warhol
"Employees make the best dates. You don't have to pick them up and they're always tax-deductible." - Andy Warhol
"Everyone will be famous for 15 minutes." - Andy Warhol
"I'm bored with that line. I never use it anymore. My new line is "In 15 minutes everybody will be famous." - Andy Warhol
"Fantasy love is much better than reality love. Never doing it is very exciting. The most exciting attractions are between two opposites that never meet." - Andy Warhol
"I always thought I'd like my own tombstone to be blank. No epitaph, and no name. Well, actually, I'd like it to say "figment." - Andy Warhol
"I always wished I had died, and I still wish that, because I could have gotten the whole thing over with." - Andy Warhol
"I am a deeply superficial person." - Andy Warhol
"I had a lot of dates but I decided to stay home and dye my eyebrows." - Andy Warhol
"I have Social Disease. I have to go out every night. If I stay home one night I start spreading rumors to my dogs." - Andy Warhol
"I like boring things." - Andy Warhol
"I love him, I worship him. I masturbate to Duran Duran videos." - Andy Warhol
"I love Los Angeles. I love Hollywood. They're beautiful. Everybody's plastic, but I love plastic. I want to be plastic." - Andy Warhol
"I never think that people die. They just go to department stores." - Andy Warhol
"I never understood why when you died, you didn't just vanish, everything could just keep going on the way it was only you just wouldn't be there. I always thought I'd like my own tombstone to be blank. No epitaph, and no name. Well, actually, I'd like it to say 'figment.'" - Andy Warhol
"I suppose I have a really loose interpretation of ''work,'' because I think that just being alive is so much work at something you don't always want to do. The machinery is always going. Even when you sleep." - Andy Warhol
"I think having land and not ruining it is the most beautiful art that anybody could ever want to own." - Andy Warhol
"I used to think that everything was just being funny but now I don't know. I mean, how can you tell?" - Andy Warhol
"I'd asked around 10 or 15 people for suggestions. Finally one lady friend asked the right question, 'Well, what do you love most?' That's how I started painting money." - Andy Warhol
"I'm afraid that if you look at a thing long enough, it loses all of its meaning." - Andy Warhol
"I'm the type who'd be happy not going anywhere as long as I was sure I knew exactly what was happening at the places I wasn't going to. I'm the type who'd like to sit home and watch every party that I'm invited to on a monitor in my bedroom." - Andy Warhol
"I've decided something: Commercial things really do stink. As soon as it becomes commercial for a mass market it really stinks." - Andy Warhol
"If you want to know all about Andy Warhol, just look at the surface of my paintings and films and me, and there I am. There's nothing behind it." - Andy Warhol
"In the future everyone will be famous for 15 minutes." - Andy Warhol
"Isn't life a series of images that change as they repeat themselves?" - Andy Warhol
"It would be very glamorous to be reincarnated as a great big ring on Liz Taylor's finger." - Andy Warhol
"It's the movies that have really been running things in America ever since they were invented. They show you what to do, how to do it, when to do it, how to feel about it, and how to look how you feel about it." - Andy Warhol
"Land really is the best art." - Andy Warhol
"Making money is art and working is art and good business is the best art." - Andy Warhol
"My idea of a good picture is one that's in focus and of a famous person." - Andy Warhol
"Once you 'got' Pop, you could never see a sign again the same way again. And once you thought Pop, you could never see America the same way again." - Andy Warhol
"People need to be made more aware of the need to work at learning how to live because life is so quick and sometimes it goes away too quickly." - Andy Warhol
"Sex is more exciting on the screen and between the pages than between the sheets." - Andy Warhol
"Since people are going to be living longer and getting older, they'll just have to learn how to be babies longer." - Andy Warhol
"The most exciting attractions are between two opposites that never meet." - Andy Warhol
"The most exciting thing is not doing it. If you fall in love with someone and never do it, it's much more exciting." - Andy Warhol
"They always say time changes things, but you actually have to change them yourself." - Andy Warhol
"What's great about this country is that America started the tradition where the richest consumers buy essentially the same things as the poorest." - Andy Warhol
"When I got my first television set, I stopped caring so much about having close relationships." - Andy Warhol