Charles Demuth
The Art History Archive - Biography & Paintings
---
This Website is Best Viewed Using Firefox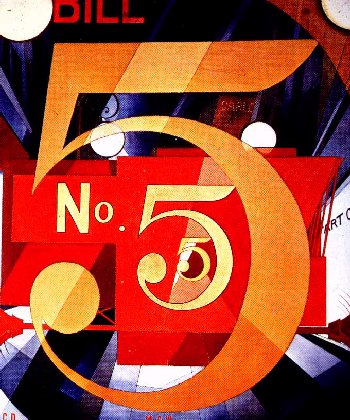 Biography of Charles Demuth:
American Precisionist painter, Born in Lancaster Pennsylvania, November 9th 1883 - Died in Lancaster Pennsylvania, October 23, 1935.
Charles Demuth was born in Lancaster, Pennsylvania and studied at Philadelphia's Pennsylvania Academy of Fine Arts. While he was a student there he met William Carlos Williams at his boarding house. The two were fast friends and remained close for the rest of their lives.
He later studied at Académie Colarossi and Académie Julian in Paris, where he became a part of the avant garde art scene. The Parisian artistic community was accepting of Demuth's homosexuality.
While he was in Paris he met Marsden Hartley by walking up to a table of American artists and asking if he could join them. He had a great sense of humor, rich in double entendres and they asked him to be a regular member of their group. Through Hartley he met Alfred Stieglitz and became a member of the Stieglitz group. In 1926, he had a one-man show at a New York gallery run by his friend Alfred Stieglitz.
Demuth frankly depicted the evolving "gay scene" in watercolors for his closest friends: sexual encounters in baths, sailors fondling one another while urinating, public sex at Coney Island. Historically, these works have great significance, for they visualize the emergence of a culture very differently organized than "straight" society.
His most famous painting, The Figure 5 in Gold (also sometimes called I Saw the Figure 5 in Gold), was inspired by his friend William Carlos Williams's poem The Great Figure. This is one of nine poster portraits Demuth created to honor his creative friends.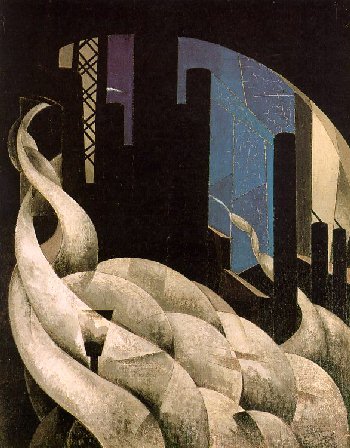 He painted poster portraits for artists Georgia O'Keeffe, Arthur Dove, Charles Duncan, Marsden Hartley, John Marin and for the writers Gertrude Stein, Eugene O'Neill, Wallace Stevens and Williams.
Demuth suffered either an injury when he was four years old or may have had polio or tuberculosis of the hip that left him with a marked limp and required him to use a cane. He later developed diabetes and was one of the first people in the United States to receive insulin. He spent most of his life in frail health, and he died in Lancaster at age 51 of complications from diabetes.
Charles used the Lafayette Baths as his favorite haunt. His 1918 homoerotic self portrait set in a Turkish Bathhouse is likely to be set there.
Paintings by Charles Demuth: