George Ault
The Art History Archive - Biography & Paintings
---
This Website is Best Viewed Using Firefox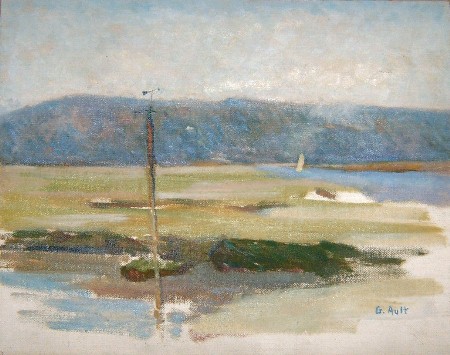 Biography of George Ault
By Charles Moffat.
George Copeland Ault (Born in Cleveland Ohio, October 11, 1891 – Died in WoodStock New York, December 30, 1948) was an American painter.
He was loosely grouped with the Precisionist Movement and was also influenced by Cubism and Surrealism.
Ault was born in Cleveland, Ohio, and spent much of his youth in London, England, where his father was engaged in ink manufacturing. He studied at the Slade School of Art and St. John's Wood School of Art (where his painting style was described as an Anglicized version of Impressionism).
In 1911 he returned to the United States where he would spend the rest of his life in New York and New Jersey. He began to paint New York night scenes and architectural subjects in a spare, modernist style (similar to those of Joseph Pennell). He became interested in night effects, a major theme in many of his later works. His shift towards a modern painting style caused his father (an academic painter) to stop supporting him. His financial and personal life became troubled; he became alcoholic during the 1920s, after the death of his mother in a mental institution, and the suicides of his three brothers.
By the mid-1920s, personal problems began to interfere with Ault's artistic progress. The home in which he had grown up was emotionally troubled; his mother died in a mental institution and three of his brothers committed suicide. By the time of his father's death in 1929, the family fortune was largely dissipated. These unfortunate circumstances may explain the increasing turbulence and unhappiness of Ault's personal life. Whatever the exact cause, during the 1920s, Ault grew neurotic and reclusive. He developed a severe case of alcoholism, almost blinding himself drinking poisonous bathtub gin. His behavior became so strange that his artist and dealer friends began to avoid him.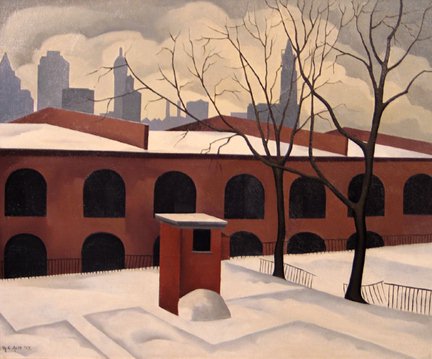 In 1937, Ault moved to Woodstock, New York and tried to put his difficulties in the past. Depending on his wife for income, he created some of his finest paintings during this time, but had difficulty selling them. A nearby barn, which he painted three times, was a favorite subject, symbolizing for hire a dying, agrarian way of life in the Catskills.
Although Ault is often grouped with Precisionists Charles Demuth, Ralston Crawford and Charles Sheeler, he did not idealize modern life and machinery as they generally did. Rather, his urban landscapes, filled with a sense of disquiet and psychic distress, echo both Giorgio de Chirico, the Italian Surrealist, and Albert Pinkham Ryder, the American romantic visionary.
In the winter of 1948, he apparently committed suicide by drowning but exact cause is uncertain because it could have been accidental. He was on one of his reputed late night drinking binges and while returning home on foot slipped on the icy banks of Woodstock Creek which at the time was treacherously overflowing. In his lifetime, his works were displayed at the Whitney Museum of American Art and the Addison Gallery of American Art (in Andover, Massachusetts), among others.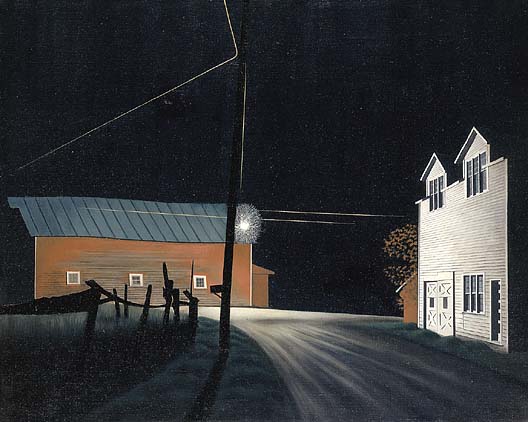 Ault worked in oil, watercolor, and pencil. He is often grouped with Precisionist painters such as Charles Sheeler and Ralston Crawford because of his unadorned representations of architecture and urban landscapes.
However, the idealist and Futurist aspects of Precisionism are not so apparent in his work—in fact, he once referred to skyscrapers as the "tombstones of capitalism". He employed flat shapes and portrayed the underlying geometric patterns of the manmade structures that found homes on his canvases.
An analytical painter, he was especially noted for his realistic portrayal of light—especially the light of darkness—for he commonly painted nighttime scenes. Ault's neighbor Henry Mattson was sharing ideas with him on painting nocturnes, considered a Romantic tradition and a technical challenge for landscape painters. Of his later paintings, such as January, Full Moon; Black Night; August Night; and Bright Light at Russell's Corners (pictured), The New York Times (December 16, 1973) wrote:
"The setting is the same in each case—a solitary streetlight, the same bend in the road, the same collection of barns and sheds—but seen from different vantage points. In them, Ault has summoned up the poetry of darkness in an unforgettable way—the implacable solitude and strangeness that night bestows upon once-familiar forms and places."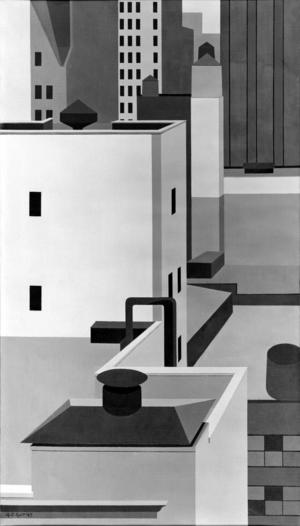 Paintings by George Ault