Franz Pforr

Born Frankfurt am Main, 5 April 1788 - Died Albano, Albano Laziale near Rome, 16 June 1812.

Franz Pforr was a German painter and draughtsman. His work evokes a fairy-tale type of medievalism, with bright colours and picturesque details. It is best represented in the Städelsches Kunstinstitut of his native Frankfort. He received his earliest training from his father, the painter Johann Georg Pforr (1745–98), and his uncle, the art professor and first inspector of the painting gallery in Kassel, Johann Heinrich Tischbein the younger (1742–1808).

In 1805 he became a student at the Akademie der Bildenden Künste in Vienna, which was dominated by the severe Neo-classicism of its director, Heinrich Füger; he was taught by Hubert Maurer (1738–1818), Franz Cauzig (1762–1828) and Johann Martin Fischer.

During the war with France in 1805, Pforr volunteered as a guard in the Vienna militia. He suffered a nervous breakdown, brought on by the conflict between his passionate longing for a contemplative life and a desire to see military action. He probably turned to religion to help sustain his mental equilibrium.

In 1806 he resumed his academic studies and, believing himself destined to become a battle painter, made numerous drawings of historical battles, for example his still schoolish and baroquely composed Wallenstein in the Battle of Lützen (1806; Frankfurt am Main, Städel. Kstinst. & Städt. Gal.).

However, it was not until 1807, with Drawing with Twelve Travel Sketches (Frankfurt am Main, Stadt- & Ubib.), that he first began to overcome his beginner's style and to develop his own. This resulted in reduced detail, simplified continuous contours, a structuring by means of planar rather than illusionistic criteria, a new clarity of vision and a chastened balance between nature and artistic conception.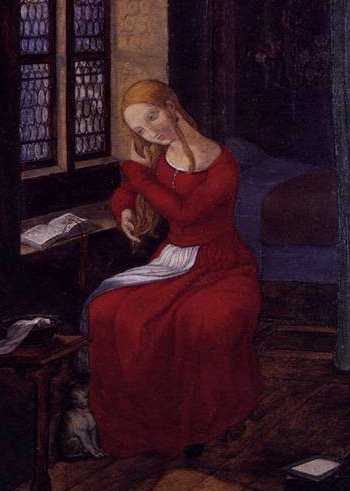 "The Entry of Emperor Rudolf of Habsburg into Basle, 1273" is the first large medieval subject painted in a deliberately historicist manner. Its flattened perspectives, awkward figures and bright colours are all calculated to achieve an effect of child-like innocence and naiveté. The work reflects the artist's nostalgia for a proud period of Germanic unity under the Holy Roman Empire and his admiration for the first monarch of the Habsburg dynasty to be elected Emperor.
Pforr's short life was overshadowed by illness and depression and this is evident in "St George and the Dragon". The combatants are self-sufficient, in a way that is quite out of keeping with a struggle; only the large and penetrating eye of the horse takes up contact with the viewer. This is a fight without effort, as if the knight were dreaming his own experience in a lethargy remote from time.
In the painting "Shulamit and Maria" Pforr separates the Italian and the German worlds, the Old and the New Testament. Pforr also wrote a novel on this theme.
Pforr didn't have the chance to live long enough to see his art acknowledged. He died of tuberculosis at age 24.
Paintings by Franz Pforr