Friedrich Overbeck
The Art History Archive - Biography & Paintings
---
This Website is Best Viewed Using Firefox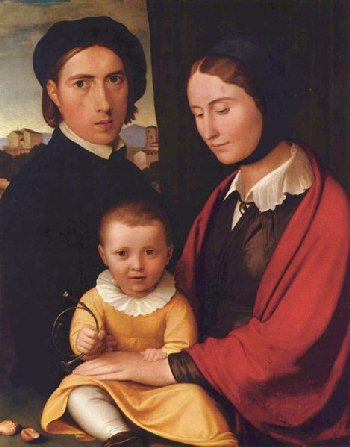 Johann Friedrich Overbeck
Neo-Classical/Romanticist Painter
Born July 3, 1789, Lübeck - Died Nov. 12, 1869, Rome.
Friedrich Overbeck was one of the founders of the Lukasbund (The Brotherhood of St. Luke), from which the Nazarenes were later to emerge. Stemming from a prominent Lübeck family he was born into wealth and prestige and was able to pursue more leisurely activities such as painting. His father was Christian Adolph Overbeck (1755-1821), a doctor of law, poet and burgomaster (mayor) of Lubeck. His grandfather was Georg Christian Overbeck (1713-1786), a lawyer at Lübeck
In 1806 Overbeck entered the Academy of Vienna, where, disappointed in the academic approach to teaching, he and Franz Pforr in 1809 founded theLucas Brotherhood. They sought to revive the medieval artists' guilds and to renew the arts through Christian faith (in 1813 Overbeck joined the Roman Catholic Church). For artistic inspiration they turned to Albrecht Dürer and to Italian Renaissance art, particularly the works of Perugino and early Raphael.
In 1809, a group of young artists formed a group that included Franz Pforr as well as Overbeck. Influenced by Wackenroder's, Tieck's and Schlegel's written work they put together a romantic agenda aimed against the Academy's classical dogma, breaking for the first time from official art objectives.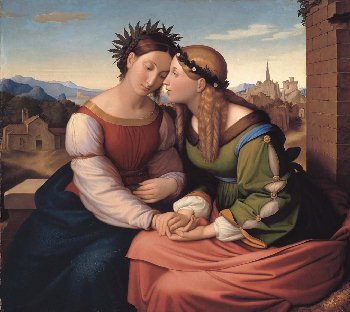 In 1810 Overbeck and Pforr went to Rome with a few friends settling at the former San Isidoro cloister, where they followed their ideals and lived quasi as monks in seclusion. Other artists, including Peter Cornelius and Wilhelm Schadow, soon joined them. Their style wascharacterized by precise outlines; clear, bright colours; and an emphasis on Christian symbolism. Communally, the brotherhood executed the frescoes of "Joseph Sold by His Brethren" at the Casa Bartholdy (1816) and the interior pavilion (1817–29) at the Villa Massimo in Rome. In the Portiuncula Chapel at Assisi, Overbeck painted "Rose Miracle of St. Francis" (1829), usually considered his major work.
Their motivation, to once again relate art to the church and state and their own budding interest in the effect of art on the public, made the artists of this circle a good match for King Ludwig I and his recruitment; the king summoned the leading Nazarenes, including Cornelius and Julius Schnorr von Carolsfeld, to Munich in order to work on his art program. Overbeck, however, was one of the few Nazarenes who turned down this offer and remained in Rome for the rest of his life.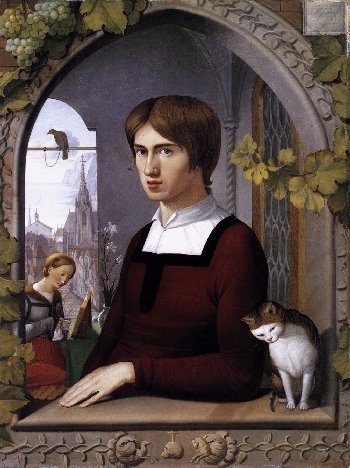 As he advanced in years, Overbeck's painting became pallid and stereotyped. Yet these late works greatly influenced Christian devotional art of the 19th century and the paintings of the Pre-Raphaelite Brotherhood. His more vital early pictures and drawings, however, were rediscovered and appreciated early in the 20th century.
He died in Rome in 1869. He was interred in the church of San Bernardo alle Terme.
NOTE: Many of Overbeck's artworks were eventually destroyed/lost in World War I and World War II. Its presumed that many of his works are now in private collections.
Paintings by Friedrich Overbeck: