George Stubbs, British Equestrian Artist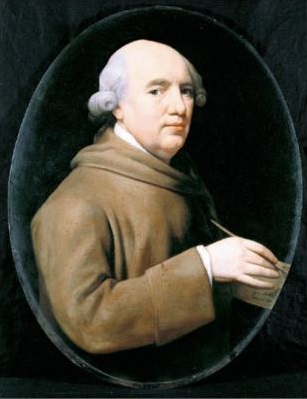 George Stubbs was a self-taught naturalist / romanticist artist who painted horses for aristocrats in the 1700s. This was an important century in the development of the thoroughbred horse in the United Kingdom and this Liverpool-born artist was present to record the breed prototypes for posterity. George Stubbs was not just a great horse painter; today he's recognized as being among the world's foremost equine artists.
The horses George Stubbs painted are celebrated today for being anatomically correct which in turn makes his work historically significant, and scientifically important. His paintings are like photographs as they relate to breed-conformation and animal traits in the lineages of the world's most expensive racehorses. Many of Stubb's paintings show the prototype animals that were winning races in the 1700s and which became the foundation sires for Thoroughbred and Quarter Horse breeds.
The Thoroughbred breed page on Horse Canada actually shows George Stubbs' oil painting of the Godolphin Arabian, known in racing circles as 'Sham'. Take a look at that horse and note its thick neck and long legs. A contemporary veterinarian wrote, "there never was a horse (at least, that I have seen) so well entitled to get racers as the Godolphin Arabian... his shoulders were deeper, and lay farther into his back than those of any horse ever yet seen." This famous foundation sire beget so many champions and one glance at the homepage of Canadian Thoroughbred magazine evidences all the horses that derived from Sham and other important breed stock which the English aristocracy developed and which George Stubbs painted from 1750-1800.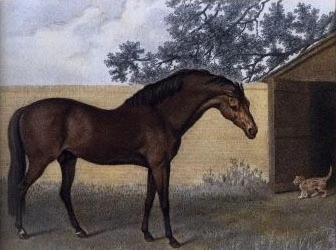 George Stubbs was born in Liverpool England in 1724 and he lived until July 1806. The artist's early life and training, everything before the age of thirty four are his own recollections as related through Ozias Humphry, a fellow artist and friend who made notes after having conversations with George in 1794, when the master was seventy years old. He told of how he argued with his parents, his father, to be allowed to pursue his love of art and painting.
It's significant that George's father was a leather dresser and indeed a leather currier. This craftsperson, obsolete today, stood at a currier's table which had a marble surface and used a currier's drum to infuse leather surfaces with oil by which to make the material more pliable for processing. The oil could be either linseed, lanolin or pine oil, but was probably 'hand oil' which is what they called sulfated castor oil. This commonly available vegetable oil was pressed from castor beans. It's colourless or pale yellow liquid and was a prime component of oil paint in the 1700s. With this in mind, it's easy to imagine that George was finger painting horses on leather at very early age.
George needed an older painter Hamlet Winstanley (1694-1756) to help convince his father to let him pursue his passion for art. The ploy succeeded and his father relented, but the student didn't study at the feet of his new master for very long. George only stayed with Winstanley for a few weeks because he found his teacher reluctant to share his knowledge regarding his techniques. George went off by himself and spent twelve years in the north of England where he kept himself chiefly as a portraitist and his first ever medical illustrations were published in Dr John Burton's treatise on midwifery in 1751.
In 1754, at age thirty, Stubbs made the pilgrimage to Rome to behold the greatest artworks of his era. Inspired, or perhaps convinced there was no greater beauty than what's found in Nature, he returned to England and shut himself away on a small farm in Lincolnshire. The middle-aged, unmarried man disappeared from social circles and spent eighteen months working alone practicing dissecting and drawing horse body parts for his soon to be released and now famous book, The Anatomy of a Horse.
In 1759, the 3rd Duke of Richmond commissioned three large pictures from George Stubbs and his career had begun. Six years later he found the courage to release his book. First published in 1766, Stubbs illustrations showed how he'd cut apart horse cadavers and sketched their individual components, a medical practice not generally accepted in this time period. This is probably why he chose to work in isolation. Stubbs' horse pictures in this book are memorable for their uncanny life-like quality, nobility, and extreme anatomical precision. The book helped secure George's future as the most coveted equine artist in England at the height of the British Imperial Age when horseracing was truly the Sport of Kings.
Stubbs's drawings were praised and his accuracy highly acclaimed by England's wealthiest patrons. Equestrians, there was artists' community and George rose to outrank others such as James Seymour, Peter Tillemans and John Wootton. We can see all their works today, and we can see why George Stubbs was the best.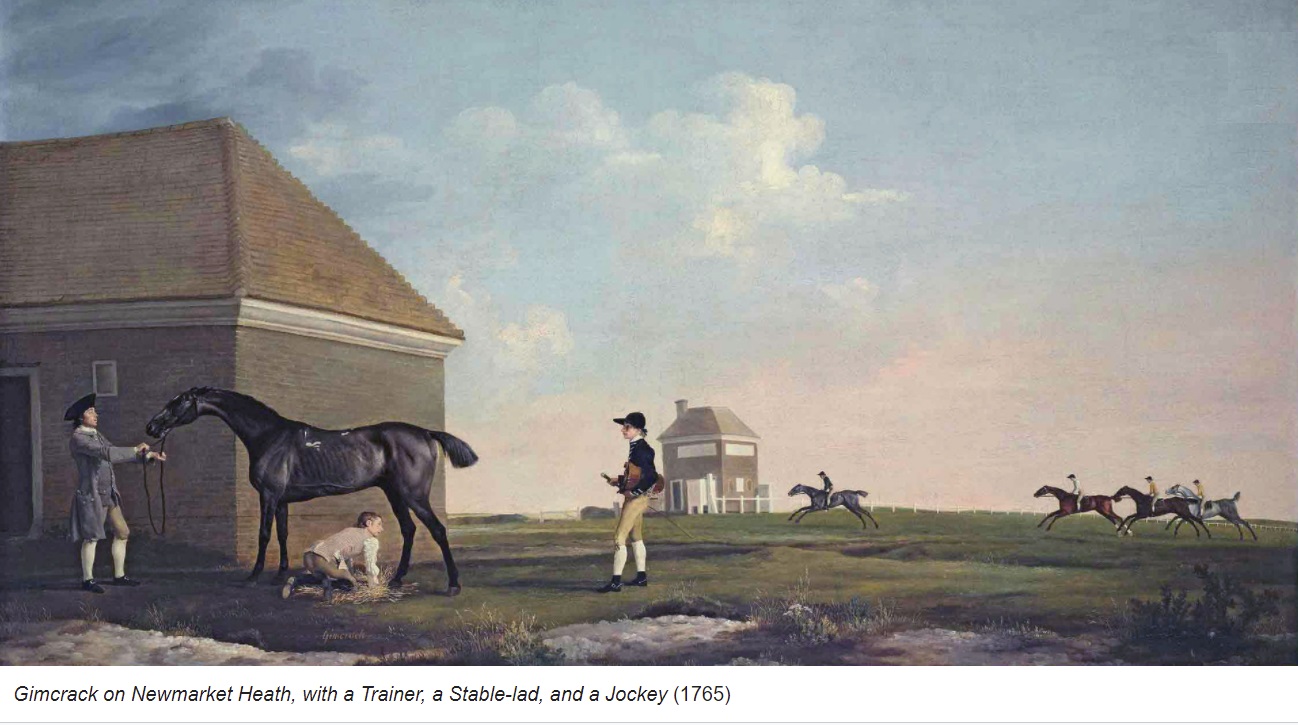 Gimcrack on Newmarket Heath, with a Trainer, a Stable-Lad, and a Jockey (1765) has heretofore set the record price for a Stubbs painting. The piece was auctioned at Christie's in London in July 2011 for £22.4 million to an anonymous buyer. The record price is because this painting is historically significant. Gimcrack, grandson of Sham, was another incredibly successful horse that won 27 of 36 races in a turf career spanning seven years. Gimcrack won his last race in 1771, at age eleven and retired to the Grosvenor stud where he sired dozens more future racers.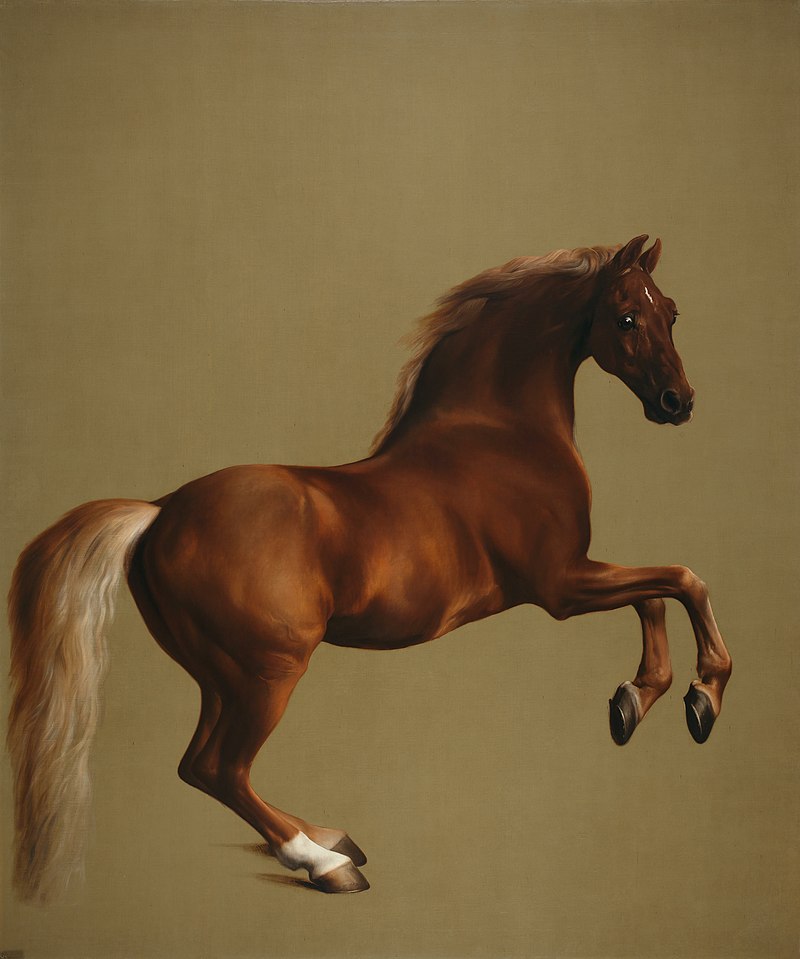 George Stubb's most famous work is an oil painting on canvas called Whistlejacket, 1761 which depicts a thoroughbred race horse rising on his hind legs. The piece was commissioned, along with two other paintings, by the 2nd Marquess of Rockingham. Whistlejacket was the name of a contemporary cough remedy that combined gin and molasses. The Arabian chestnut thoroughbred had at least one win at the time of the painting but that's not what makes the piece so remarkable. The canvas is large and lacks any other content except some discreet shadows; Stubbs has paid precise attention to the intricate details of the horse, exclusively. It has been described as "a paradigm of the flawless beauty".
All three of the Rockingham horse paintings hang in the National Gallery in London and they're important because they break with convention in that they have no backgrounds other than just a plain colour. This shows how George Stubbs valued the horse and wasn't afraid to showcase its form. He made the animal the centermost item of interest and anything else must have seemed unnecessary and distracting from the animal's beauty. This was the first time such work, which many felt was incomplete, was presented to a patron and the result was transformative.
By 1763 George Stubbs had produced other great works for several more dukes and lords and he was flush with cash and able to buy a house in Marylebone, a fashionable part of London, where he lived for the rest of his life.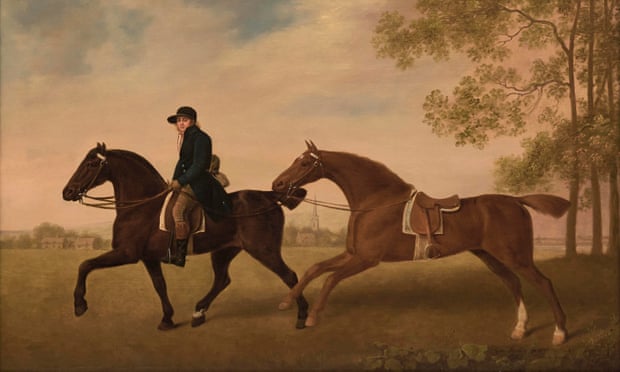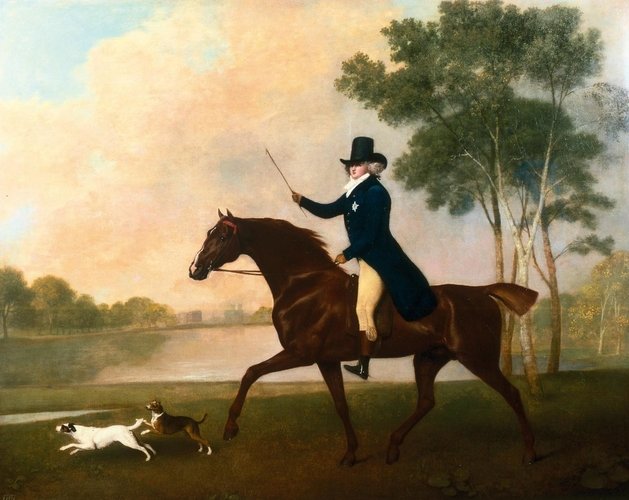 At the height of his career, in the early 1790s the artist enjoyed the patronage of the king himself, George IV who was still the Prince of Wales. Stubbs painted the future king on horseback with his dogs in 1791.
In his old age, George Stubbs explored pastoral subjects and themes, but today the artist is considered a Romanticism painter. The big sky formats and general layout of his paintings owe much to his Dutch predecessors, and knowledge of equine physiology acquired through dissections requires that also be considered a link to Naturalism and Realism art movements.