Salon de la Rose-Croix
The Art History Archive - French Art
---
Toronto Website Design &amp Toronto SEO
Art Movement or Art Cult?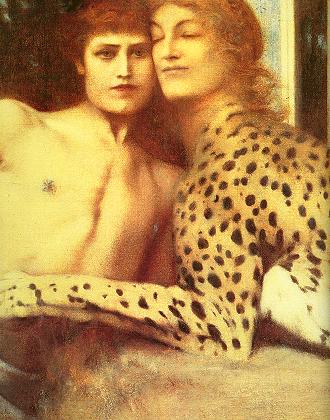 Right: Fernand Khnopff - Art Sphinx
A resurgence of Catholicism in France amongst painters and writers caused some artists to form religious cults. One such cultic group was the Mystic Order of the Rose+Croix. Founded by Josephin Peladan (1859-1918) the Salon aspect of Rosicrucianism promotes the arts, has an esoteric flavour and combines communist beliefs. Peladan "ordered" that only subjects inspired by religion, mysticism, legend and myth, dream, allegory and poetry was worthy to be in his Salons. Scenes of landscapes, modern life, were prohibited in his art galleries.
His followers included: Edmon Aman-Jean, Jean Delville, Charles Filiger, Armand Point, Carlos Schwabe and Alexandre Seon. From Delville's satanic imagery to Schwabe's Catholicism, the group covered a broad religious/gothic genre, and could be considered to be a predecessor for the Neo-Gothic Art Movement.
The group hosted six salons from 1892 to 1897. The first show contained a performance from one of Peladan's plays and music by Erik Satie, Giovanni Pierluigi da Palestrina and Wagner. The shows were considered to be spectacles and thus attracted a wide audience.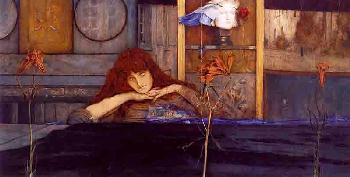 Right: Fernand Khnopff - Unknown
Peladan eventually went bankrupt and disbanded the group, but during his brief fame the salons showed the work of 230 different artists. The group is often considered to be part of the Symbolist movement, despite the fact that some of the pieces aren't really symbolist.
Rosicrucianism is still around today, but it is basically a cult/scam to suck money out of artists. The original Rosicrucianism was founded by Christian Rosenkrutz (a person some historians claim never existed but is himself a fictional creation). Traditionally and historically, the Rosicrucian movement has always fought for the establishment and perpetuation of freedom – the freedom of mind, spirit, and soul, but these are simply words to suck in gullible artists. Today more emphasis is being put into attracting scientists to the group.
THE AUTHOR OF THIS WEBSITE WOULD LIKE TO WARN PEOPLE TO STAY AWAY FROM ROSICRUCIANISM AND PEOPLE WHO CLAIM TO BE ROSICRUCIANS. IT IS A DANGEROUS CULT.
But regardless of its current danger, the group did create quite a few art pieces of note during the late 1800s.
I have included ELIHU VEDDER below because of his similarity to the group, but stress that he is not actually a member of the Salon de la Rose-Croix.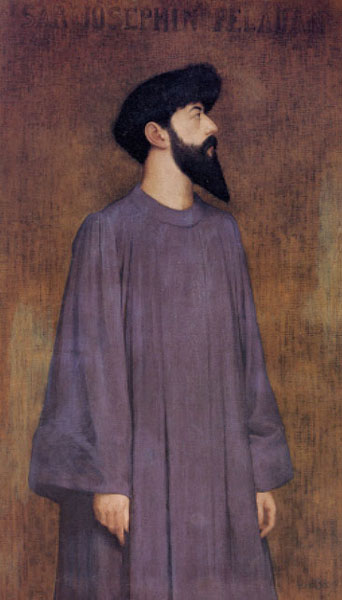 Alexandre Seon - Portrait of Josephin Peladan, 1891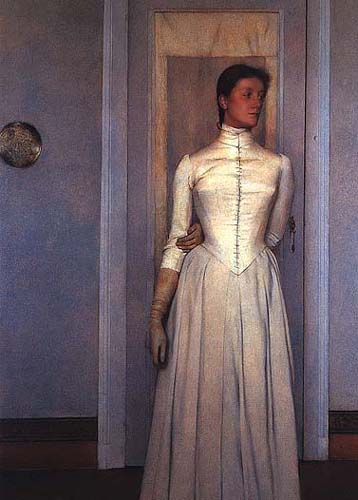 Fernand Khnopff - Portrait of Marguerite Khnopff, 1887
---
ALEXANDRE SEON (1855-1917)
French illustrator and decorator and one of the major disciples of Puvis de Chavannes. After studying at the Beaux-Arts of Lyon and Paris (where he studied with Lehmann), Séon in 1891 became Puvis de Chavanne's student and then his collaborator. With Péladan and Antoine de la Rochefoucauld, he was one of the founders of the Rose+Croix Salon, where he often exhibited to considerable praise from the Symbolist critics.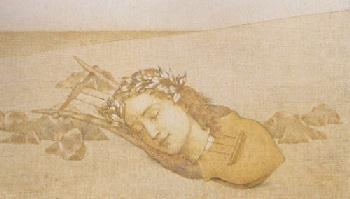 Alexandre Seon - The Lyre of Orpheus, 1898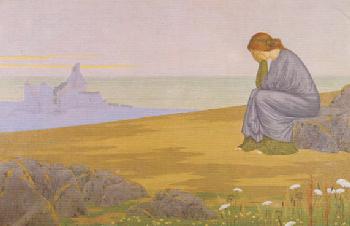 Alexandre Seon - The Return, 1900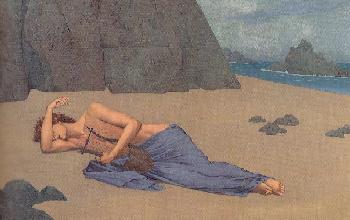 Alexandre Seon - Untitled
CARLOS SCHWABE (1866-1926)
Carlos Schwabe was born in Germany in 1866 and raised in Geneva, Switzerland. In 1890 he visited Paris and met Joseph Péladan, who noticed one of his first paintings, The Evening Bells. Péladan entrusted Schwabe with the task of designing the poster for the first Salon de la Rose+Croix. The poster, which shows two women climbing stairs that lead to the ideal, while a third figure, mired in materialism, looks on helplessly, contributed significantly to the success of the show. Although Schwabe exhibited at only one of Péladan's salons, he placed his considerable gifts as a draftsman in the service of Symbolist literature and composed remarkable drawings; many of them enhanced with watercolors, for volumes of poetry by Baudelaire (Flowers of Evil), Stéphane Mallarmé (The Afternoon of a Faun) and many other poets of the Symbolist era. He was described by critics as " the most astonishing designer for books, whose decorative work is like a piece of embroidery; he hems it with an appropriate motif and covers the entire page with random design".
Schwabe is best known for his masterpiece "The Death of the Grave-Digger" (1895), depicting an angel of death with long green scythe-like wings who comes to claim the life of an old man who is digging a grave in a snowy cemetery. Death is portrayed as a beautiful woman (his own wife) who sits like a great bird aside the grave. The wings appear to caress and soothe the old man, while she holds a dim glow in the palm of her hand, representing the life transcending to the other world. The painting is a Symbolist movement classic, as it uses the entire Symbolist repertory of signs and plants. The critic for Art et Décoration compared Schwabe to Durer and wrote: 'In the reverberation of his faculties, all of which are excited at the same time, the reflections of tragic, bizarre and mysterious dreams are mixed under the artist's fingers, in which one deciphers the symbolic signs of confused destinies and, at the same time, infinitely touching refinements of feeling'.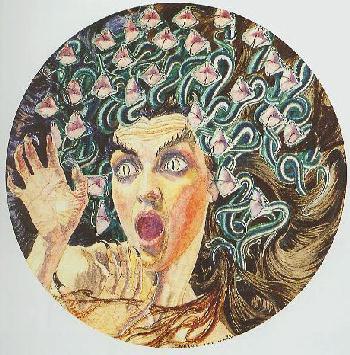 Carlos Schwabe - Medusa, 1895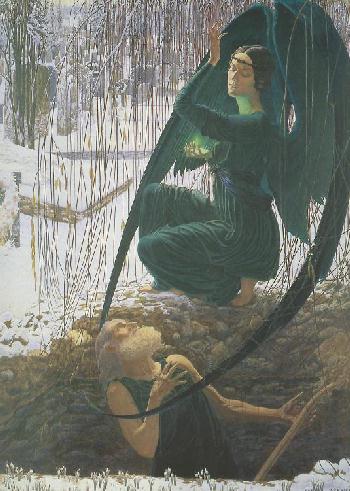 Carlos Schwabe - The Gravediggers Death, 1895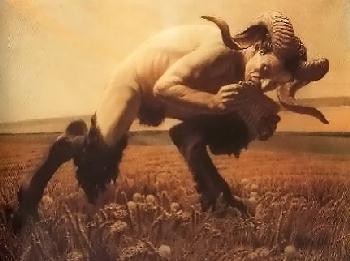 Carlos Schwabe - The Afternoon of a Faun, 1923
OTHER WORKS BY CARLOS SCHWABE: