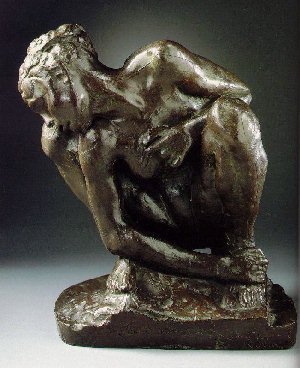 The Pinnacle of Success 1900-1917
By 1900 Rodin had achieved the pinnacle of success. European nobility paid him tribute and an entire pavilion was devoted to his work at the Paris World Exposition. One hundred sixty-eight works were displayed in bronze, marble, and plaster. Drawings and photos also adorned the walls and lectures were given explaining Rodin's techniques. People came from all over the world to visit the Exhibition, which made Rodin a success on an international scale. His work became immensely popular as requests for exhibitions began to surface from Montreal to Tokyo.
Rodin's incredible popularity did not slow his production. He revisited old figures, modeled portrait busts of well known people, and completed several long term projects, such as the Monument to Victor Hugo and a large scale version of The Thinker. During these later years he also took a great interest in the study of dancers as part of his desire to capture natural, spontaneous movement. With commissions continuing to flood in, it has been speculated that Rodin had as many as fifty assistants working for him during this busy period.
In 1908 Rodin moved to the Hôtel Biron outside Paris. The Hôtel Biron had previously been home to a religious community before the separation of church and state. The rent was very low and Rodin was able to occupy much of the ground floor. Several famous or soon to be famous tenants also lived there such as writer Jean Cocteau, painter Henri Matisse, and dancer Isadora Duncan.
In 1912, the state scheduled the Hôtel Biron for demolition and ordered the tenants to vacate. After persuading state officials, Rodin was allowed to stay. As an exchange, Rodin offered to bequeath his entire estate to the French government if he could reside at the Hôtel Biron for the remainder of his days and if they would convert the Hotel to a musuem for his work after he died. After much debate the state finally accepted the terms and he was allowed to live and work there for the remainder of his life. The final seal of the agreement, however, was not actually settled until one year before his death.
During his last year Rodin married his lifetime companion Rose Beuret on January 29, 1917. Rose died three weeks later and Rodin followed shortly, passing away on November 17, 1917. Friends and dignitaries came to Rodin's funeral to see him laid to rest beside Rose at Meudon with The Thinker at the base of his tomb.