Sound Art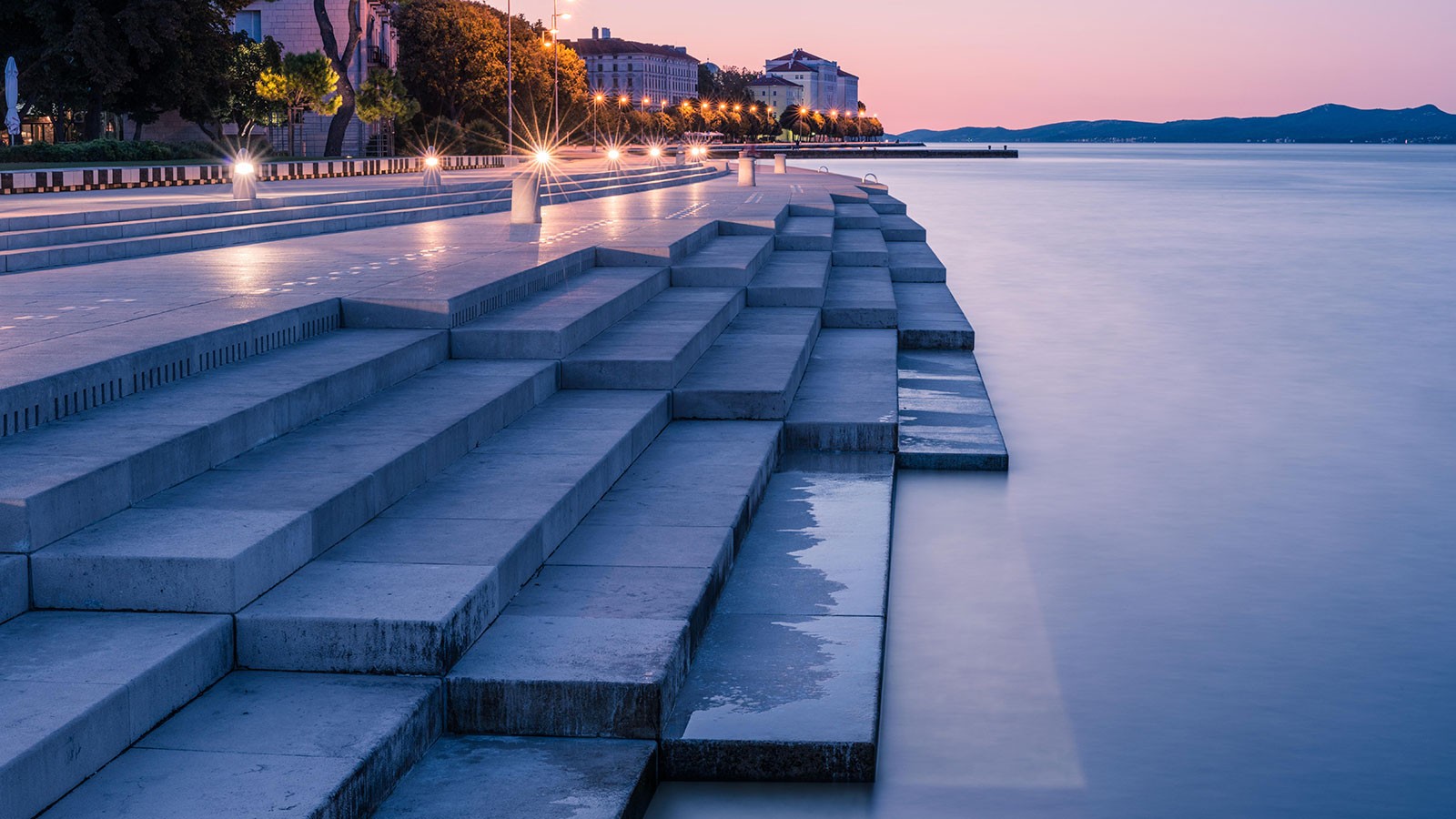 [Right: "The Sea Organ" in Zadar, Croatia uses a series of pipes and a resonating cavity under large marble and concrete steps which plays harmonic sounds using waves to power the pipes. Created by architect Nikola Basic and opened in 2005.]
"Musical Sculptures" is an apt description for Sound Art, but it is not limited to sculpture. Paintings, ceramics, installation art and various other mediums can also be Sound Art. The art movement should not be confused with experimental musicians and the work they do, especially if there is nothing sculptural for the audience to interact with. This is another common theme with Sound Art, it is often designed to interact with something: The audience, the wind, the waves, a water wheel or some other method of producing energy to create the musical notes. eg. A sculptural piano-like monstrosity that is played by waves on the beach, using wave power to create the music, that is a good example of Sound Art.
Sound Art represents a diverse variety of art mediums ranging from sculptures to ceramics to paintings to installations, and is often interdisciplinary or a hybrid of different mediums. No physical medium is in theory off limits for these artists who concern themselves with wider notions of sound, listening and hearing. Some musicians like to call themselves "Sound Artists", but this is often based on a flawed understanding of the artistic discipline. Experimental Music should not be equated with Sound Art. As such real Sound Artists like to differentiate themselves from the musicians by using words like:
Sound Installation
Sound Sculpture
Builder of Sculptural Musical Instruments
Acoustic Installations
Soundscape Artist
To give a proper definition "Sound Art is a singular unique work of art with physical substance and a visual element that employs sounds for a viewing and listening audience."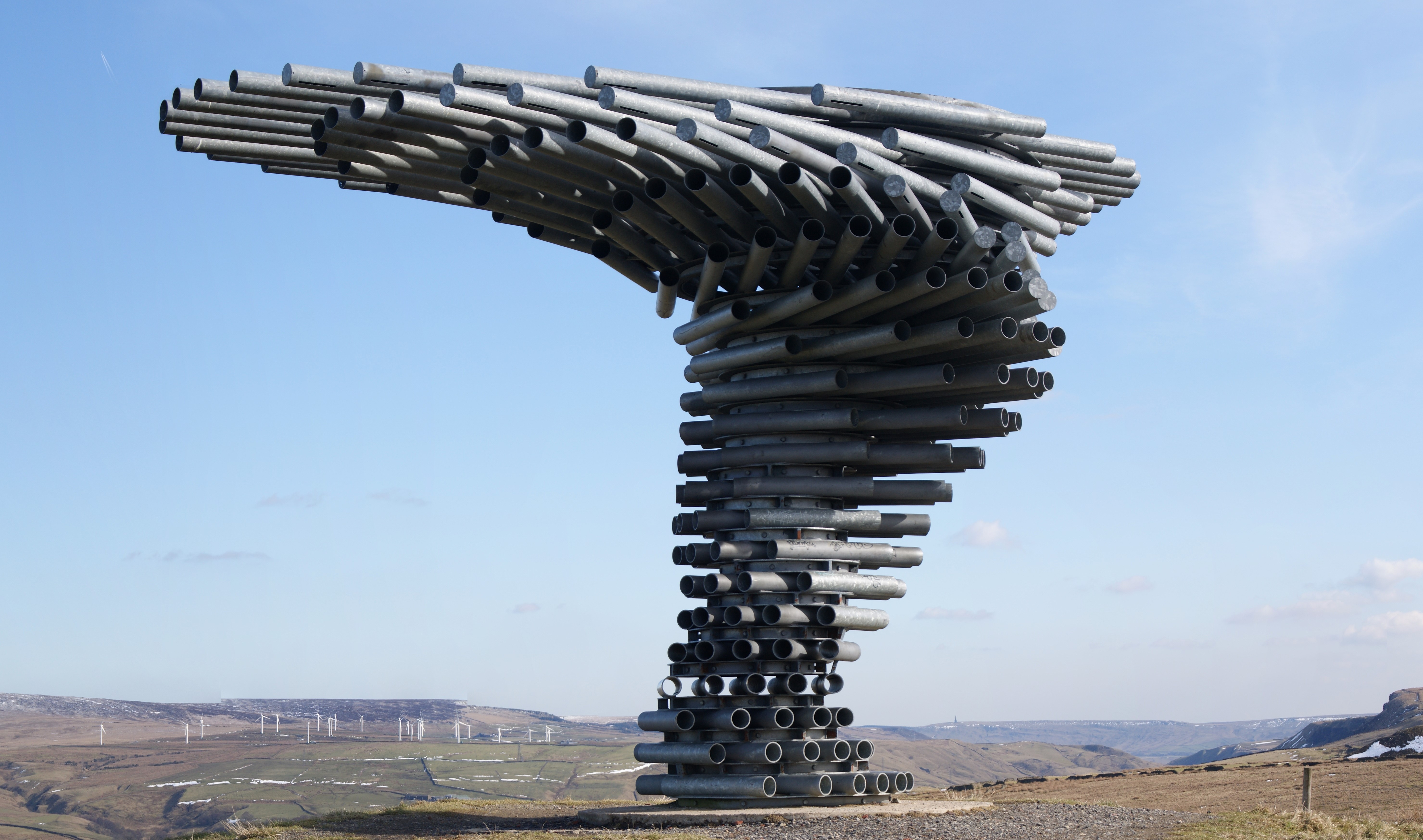 [Right: Mike Tonkin and Anna Liu's "Panopticon: The Singing Ringing Tree" - 2006]
In other words there must be an overlap of visual and audio elements, it can not be easily mass produced, and it must be a physical object or installation. This tangible quality is an important aspect of what differentiates Sound Art from Experimental Music. Experimental Music can be packaged on a CD and then sold, but it is not Sound Art. A funny looking mass produced whistle is not sound art, whereas a five meter tall sculpture of a heaing aid that emits music when the wind blows through tiny holes in the sculpture, that is definitely Sound Art.
If, for example, a performer must be present in order to make the sounds and there is no physical art piece that can make sounds by itself then it is actually Performance Art and not Sound Art. A recording of the performance also would not constitute Sound Art, as that is simply a recording of Performance Art. Thus "sound poetry", "speaking in tongues", and similar types of experimental music and performance poetry is not actually Sound Art and should not confused as such.
Sound Art is a recent development in contemporary art, with some of the oldest examples of Sound Sculptures dating back to the 1910s. It began when visual artists began to use sound (as opposed to normal definitions of music) and listening as a important element in their art. It is unclear who the first Sound Artists were, as there may be older example of artists we are simply unaware of.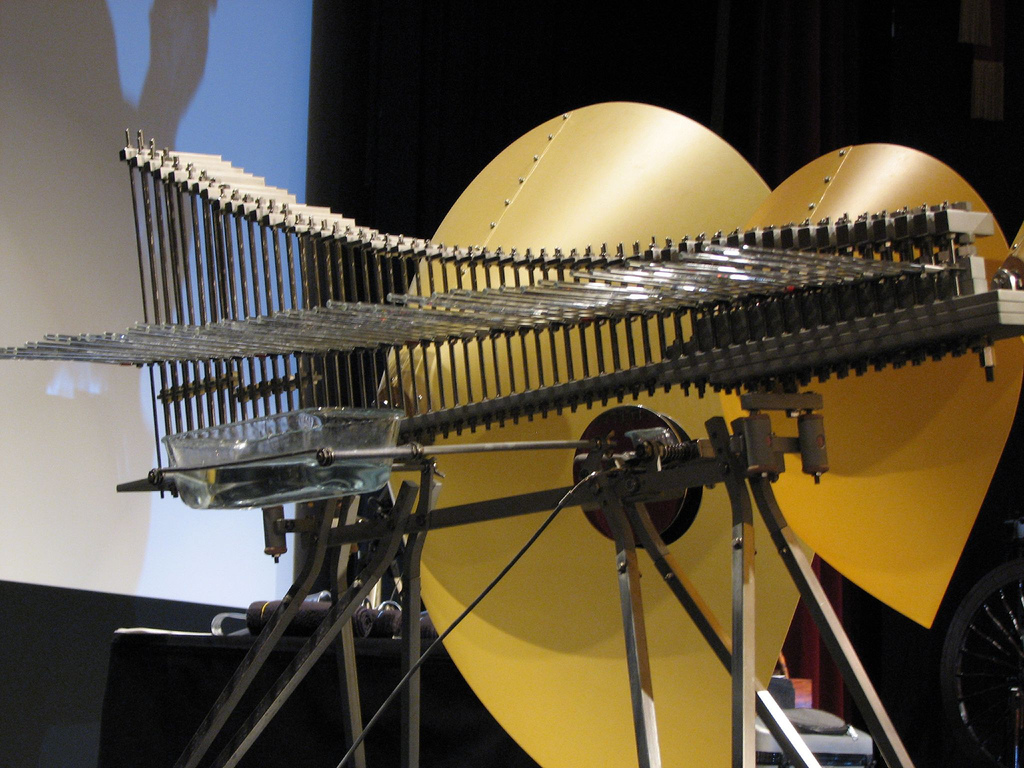 [Above: Bernard and François Baschet's "The Cristal Baschet" - 1952]
One of the earliest examples is Luigi Russolo's "Intonarumori" (noise intoners) from 1913. Similar works were created by Dadaists, Surrealists, the Situationist International, and during Fluxus happenings. Conceptual art, minimalism, site-specific art also sometimes employs Sound Art. Installations of Sound Art often rely on the acoustics of the spaces and reproduction technologies employed by the artist.
The earliest known use of the term "Sound Art" was in the USA in 1983, where the term was used in a catalogue for a show called "Sound/Art" at the Sculpture Center in New York City, created by William Hellermann. The show was sponsored by "The SoundArt Foundation", which Hellerman founded in 1982.
"It may be that sound art adheres to curator Hellermann's perception that "hearing is another form of seeing,' that sound has meaning only when its connection with an image is understood... The conjunction of sound and image insists on the engagement of the viewer, forcing participation in real space and concrete, responsive thought rather than illusionary space and thought."

- Excerpt from the catalogue essay by art historian Don Goddard.
The artists featured in the 1983 Sound/Art show were:
Vito Acconci
Connie Beckley
Bill and Mary Buchen
Nicolas Collins
Sari Dienes and Pauline Oliveros
Richard Dunlap
Terry Fox
William Hellermann
Jim Hobart
Richard Lerman
Les Levine
Joe Lewis
Tom Marioni
Jim Pomeroy
Alan Scarritt
Carolee Schneeman
Bonnie Sherk
Keith Sonnier
Norman Tuck
Hannah Wilke
Yom Gagatzi
Even though Sound Art contains an auditory component it can in theory still be enjoyed by people who are deaf or suffer from hearing loss because it still contains a physical and visual aspect which they can enjoy. For example "The Klankenbos" (Sound Forest) in Belgium is a collection of 15 sound installation pieces by various artists, which is quite sculptural and can still be enjoyed without the sounds that they make. [No photos shown here, but feel free to Google it.]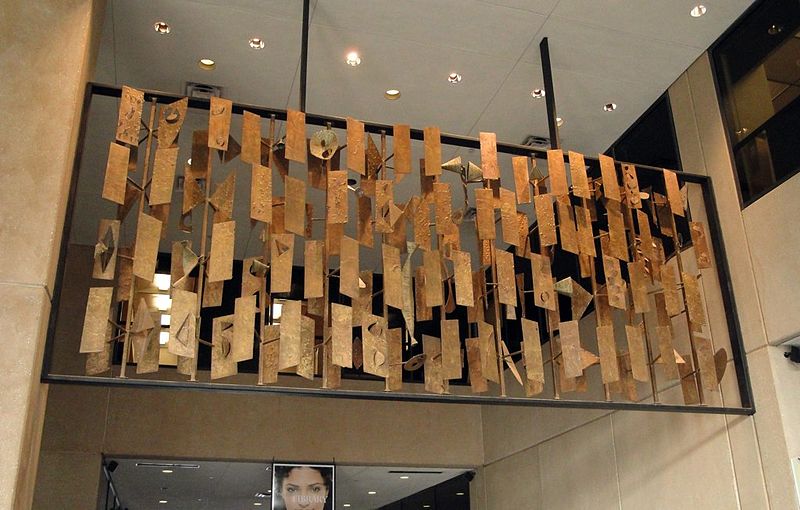 [Above: Harry Bertoia's "Textured Screen" - 1954]