Stuckism
The Art History Archive - Stuckist
---
This Website is Best Viewed Using Firefox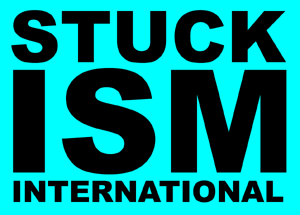 Summary of Stuckism:
Stuckism is a radical and controversial art group that was co-founded in 1999 by Charles Thomson and Billy Childish (who left in 2001) along with eleven other artists. The name was derived by Thomson from an insult to Childish from his ex-girlfriend, British artist Tracey Emin, who had told him that his art was 'Stuck' doing nothing but painting.
Stuckists are pro-contemporary figurative painting with ideas and anti-conceptual art, mainly because of its lack of concepts. Stuckists have regularly demonstrated dressed as clowns against the Turner Prize. Several Stuckist Manifestos have been issued. One of the Stuckist Manifestos 'Remodernism' inaugurates a renewal of spiritual values for art, culture and society to replace the emptiness of current Postmodernism.
Other manifestos include 'An Open Letter to Sir Nicholas Serota', 'The Turner Prize, The Decrepitude of the Critic', and 'Handy Hints'.
Stuckism has grown to an international art movement with over 100 groups round the world. These groups are independent and self-directed.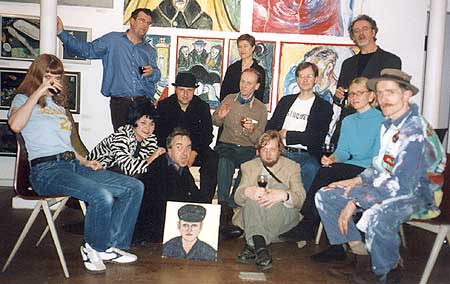 Origins of Stuckism:
Stuckism started with an insult, in which the conceptual artist Tracey Emin accused her artist boyfriend Billy Childish of being stuck (presumably because he was still painting, instead of producing installations, performances and videos). Childish must have decided he was happy being stuck because, together with Charles Thomson, he founded the Stuckists. The term Stuckism was coined by Thomson from a reference to the insult in Childish's poem.
Stuckists are for Painting and against Conceptual Art. They believe that self-discovery and the sharing of experience are more important than cleverness and career advancement and are prepared to risk failure in their effort to express themselves. The creation of a work of art involves all possible aspects of art, with a finished product that is radically different from the materials employed. The Stuckist believes that Modern Art has lost its way and needs to recapture its original spiritual meaning.
Stuckism began in the mid 70's in North Kent. Various people had constellated via Medway College in Chatham (Billy Childish, Bill Lewis, Philip Absolon, Sanchia Lewis, Sheila Clarke) and Maidstone College of Art (Charles Thomson, later Charles Williams also).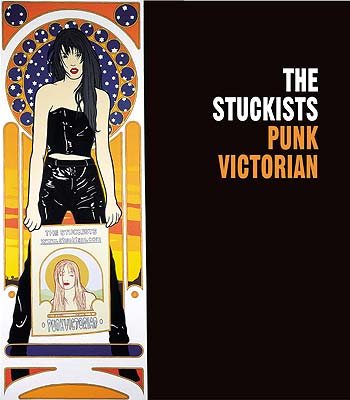 Although painting shows were staged, poetry took more prominence at this stage. Bill Lewis with his friend Rob Earl arranged some readings called 'Outcrowd' in Maidstone. Alan Denman, a tutor at Medway, arranged some in the York pub, Chatham.
A group called 'The Medway Poets' was formed. Alan Denman was a member for the first two readings. Thereafter the group consisted of Billy Childish, Charles Thomson, Bill Lewis, Sexton Ming, Rob Earl and Miriam Carney. They were ambitious, fulminating and dynamic, performed with punk groups, featured in a TV South documentary, read at the International Cambridge Poetry Festival and can be found on the Medway Poets LP (Hangman Records).
Sexton Ming was saved from throwing himself out of a speeding car. Alan Denman finally punched Billy Childish. Billy and Sexton heckled Charles Thomson's poetry readings - the latter then became the first person in eight years to be failed by the Painting Department of Maidstone Art College. Billy started Hangman Books and Records. Bill Lewis started Lazerwolf Press. Charles started the Cheapo Press. John Wilson (Principal of Gravesend AEC, known as the Victoria Centre) hosted events and Victoria Centre Writer-in-Residence, Richard Burns, started the Victoria Press (later taken over by Charles Thomson) funded by John Wilson.

Tracey Emin was a fashion student at Medway College and took part in some of the later readings. One evening at the Victoria Centre she sat on stage in a grubby mac and, after a tedious and embarrassing period of indecision, finally took it off to reveal a pink basque and stockings. This was a great let-down to the audience who were expecting bosums at the least. She then read Billy's poems out (by which time he had fled from the hall). Later she became a student at Maidstone Art College and got a first class degree. Charles Williams went on to the Royal Academy winning the Silver Award for best student of the year.
Evolutions of Stuckism:
From the mid-eighties to the mid-nineties the personnel went their separate ways, with occasional reforming for particular occasions.
At Christmas 1996 Billy Childish and Charles Thomson (with respective partners) bumped into each other in the Odeon, Leicester Square, after a screening of 'Dumb and Dumber'. Two years later there were phone conversations betwen Childish, Lewis and Thomson about a possible Medway Poets anthology, which everyone said everyone else was taking care of, with the result that nothing happened.
It had brought Thomson and Childish in conversation again, after the earlier period of clashes, and they found to their surprise their interests had matured and converged over the interval. They had adopted parallel spiritual interests in, respectively, Kabbalah and Buddhism, and had both formed embryonic art groups.
On 28 January 1999, before a poetry reading, Thomson suggested to Childish in the latter's kitchen in Chatham that they join forces under the title 'Stuckism' which he had derived from Childish's poem quoting Emin's diatribe to her ex-boyfriend that he was "Stuck! Stuck! Stuck!" for his commitment to painting (and his style of music and poetry).
All the essential policies and practices of the Stuckist group were stated at the same time.
See also A Stuckist on Stuckism, The History of Stuckism
Nudes in Stuckism
As a figurative movement Stuckism revolves around portraits of people, narrative scenes, and frequently nudes. The frequency of nudes (including homoerotic imagery) in Stuckism suggests Stuckist artists also have an interest in representing sexuality and homosexuality.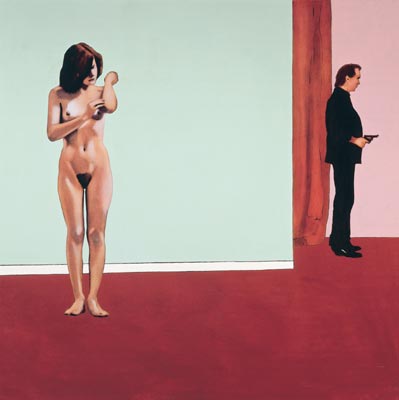 THE FIRST STUCKISTS
Philip Absolon
Frances Castle
Sheila Clark
Eamon Everall
Ella Guru
Bill Lewis
Sanchia Lewis
Joe Machine
Charles Thomson
Charles Williams

OTHER IMPORTANT STUCKISTS
Mandy McCartin
Jonathan Coudrille
Larry Dunstan
Wolf Howard
Paul Harvey
Peter McArdle
Dave Beesley
S.P. Howarth
Jane Kelly
Naive John
Daniel Pincham-Phipps
John Bourne
Dan Belton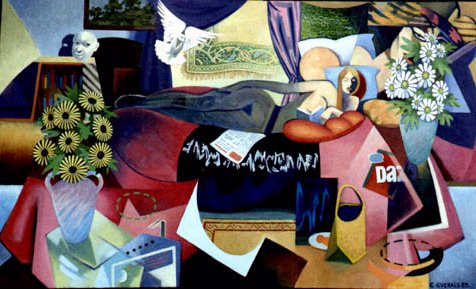 Godfrey Blow
Jesse Todd Dockery
Jesse Richards
Terry Marks
Tony Juliano
Elsa Dax