Toronto Website Design &amp Toronto SEO
Cassius Marcellus Coolidge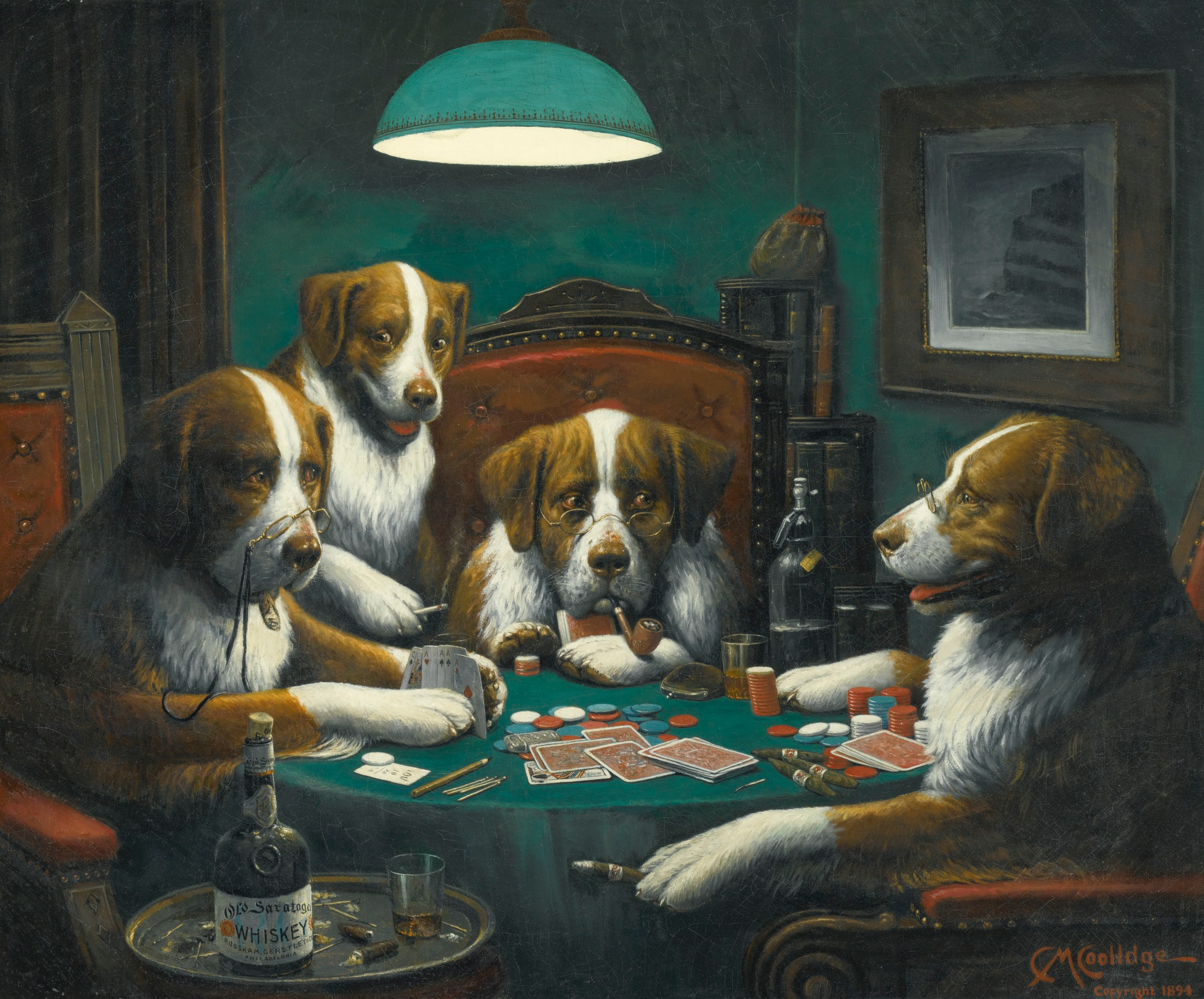 Born September 18th, 1844 in Antwerp, New York and died January 13th, 1934, Coolidge (aka Kash Koolidge) was an American artist, best known for his series of paintings "Dogs Playing Poker". He often signed his work Kash Koolidge in the 20th century for comic effect. Coolidge was born to abolitionist Quaker farmers, and was raised near Philadelphia, New York. Like many American painters, he had almost no formal training as an artist.
Coolidge left the family farm in the early 1860s and struggled to find permanent work. Between 1868 and 1872 he worked as a druggist and a sign painter, at one point founded a bank and also a newspaper, before eventually moving to Rochester, NY, where he started painting dogs in human situations. His art career began during the 1860s/70s with a small gig making cartoons for a local newspaper.
Coolidge is credited with creating "comic foregrounds," which are novelty photographs wherein the sitter held a canvas in front of them and Coolidge drew or painted a caricature version of their body on the canvas. This was then photographed to create the final portrait. This later morphed into pre-painted foregrounds on wood with holes that people could place their heads in to create the illusion that they are the caricatures, which became a popular thing to do at midways, carnivals and amusement parks.
His most famous paintings are "Poker Game", an oil on canvas work done in 1894 depicting dogs playing poker, and a series of similar paintings he made afterwards due to the initial success of the first painting.
The advertising firm Brown & Bigelow liked his 1894 painting so much they hired him in 1903 to produce a series of paintings featuring dogs playing poker and other activities, which they used for printing comical calendars and similar items. From 1903 to the mid-1910s, Coolidge created a series of sixteen oil paintings for the advertising firm, all featuring anthropomorphic dogs, including nine paintings of Dogs Playing Poker, a motif that Coolidge is credited with inventing.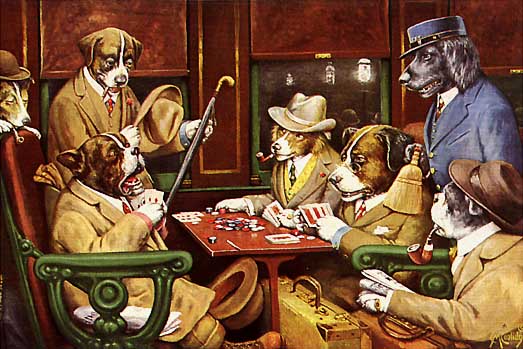 One of the first paintings he did for the advertising firm was His Station and Four Aces by C. M. Coolidge, painted in 1903.
The 16 commissioned paintings are:
A Bachelor's Dog (dog reading the mail)
A Bold Bluff (dogs playing poker)
Breach of Promise Suit (dog testifying in court)
A Friend in Need (dog cheating at poker)
His Station and Four Aces (dogs playing poker)
New Year's Eve in Dogville (dogs ballroom dancing)
One to Tie Two to Win (dogs playing baseball)
Pinched with Four Aces (dogs playing illegal poker)
Poker Sympathy (dogs playing poker)
Post Mortem (dogs playing poker)
The Reunion (dogs smoking and drinking)
Riding the Goat (dogs joining the Free Masons)
Sitting up with a Sick Friend (dogs playing poker)
Stranger in Camp (dogs playing poker while camping)
Ten Miles to a Garage (dogs having car trouble)
Waterloo (dogs playing poker)

Not included in this series there is also a 17th painting: Kelly Pool, painted circa 1909, which features dogs playing pool. It is unclear why this wasn't part of the series of 16 paintings for the advertising agency. This painting later spawned many copies of "dogs playing pool" by other artists.

Coolidge's paintings are sometimes known to sell for extraordinary sums. In February 2006 two paintings, A Bold Bluff and Waterloo, sold together on the auction block at Doyle New York for a total sum of $590,400. They were only expected fetch between $30,000 and $50,000, but went for considerably more. The previous record for a Coolidge dogs painting was $74,000. In November 2015 Coolidge's 1894 painting Poker Game sold for $658,000 at a Sotheby's New York.

Today Coolidge's original paintings are expected to sell for between $400,000 to $750,000 each.

Coolidge's paintings are widely referenced in popular culture in everything from television cartoons to films, but his name is rarely mentioned as the original creator of "Dogs Playing Poker". The popularity of his paintings has spawned many copies by lesser artists.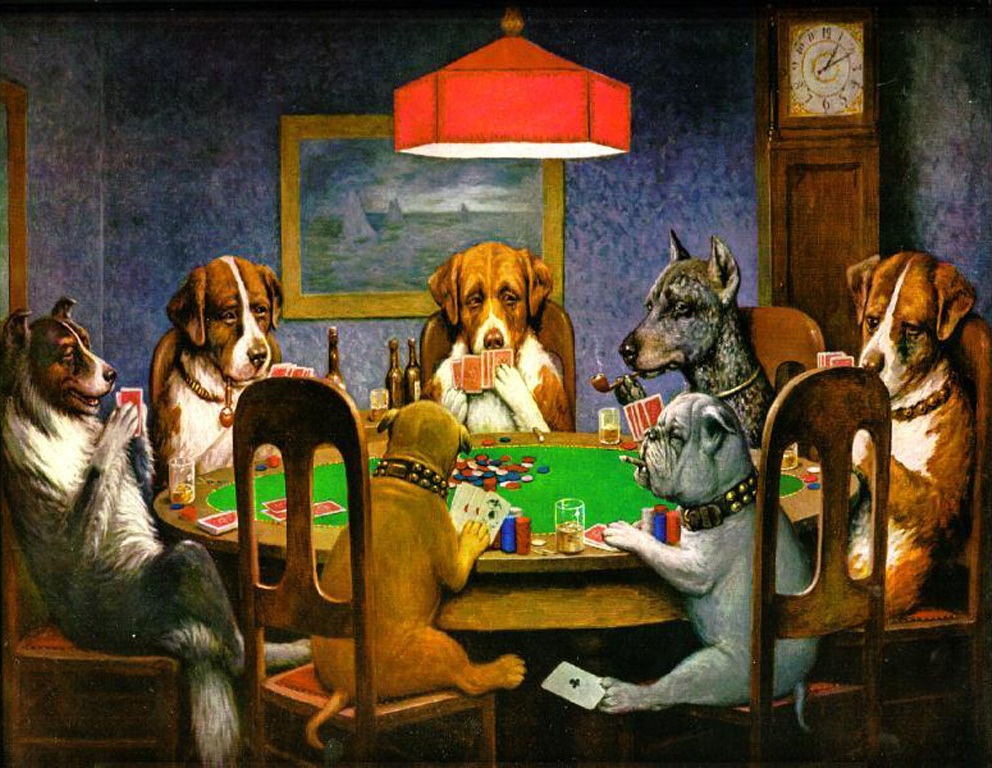 A Friend in Need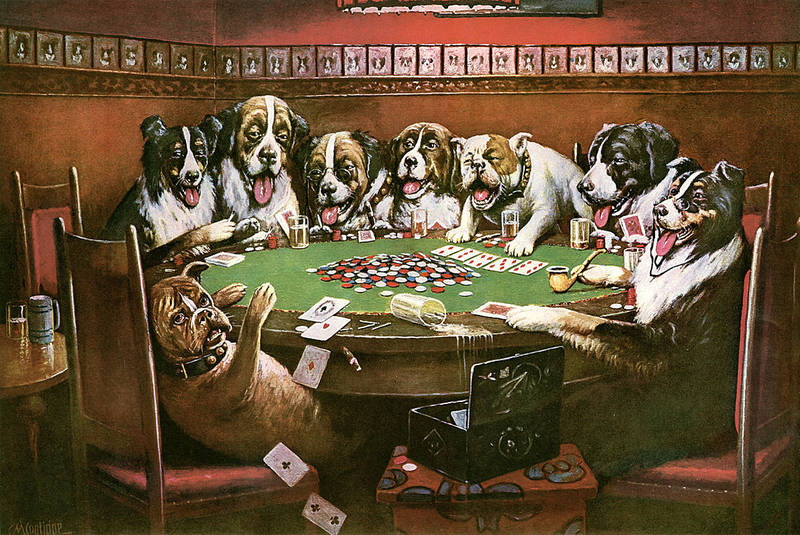 Poker Sympathy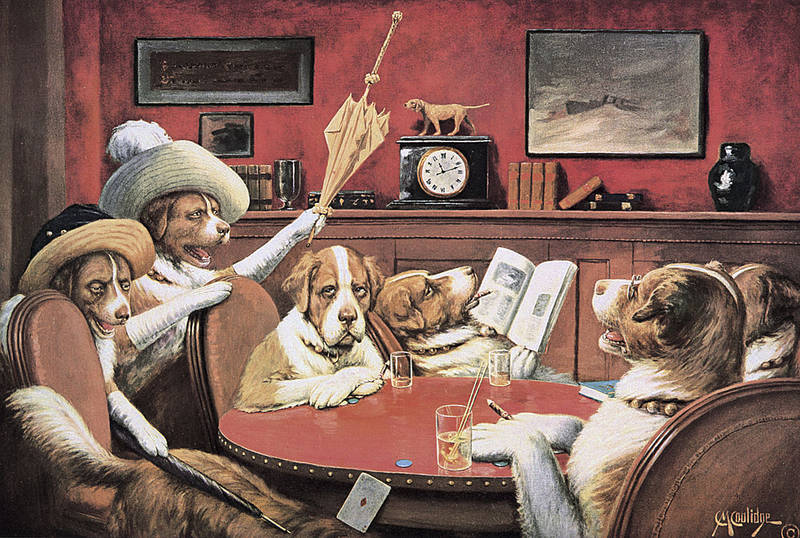 Sitting up with a Sick Friend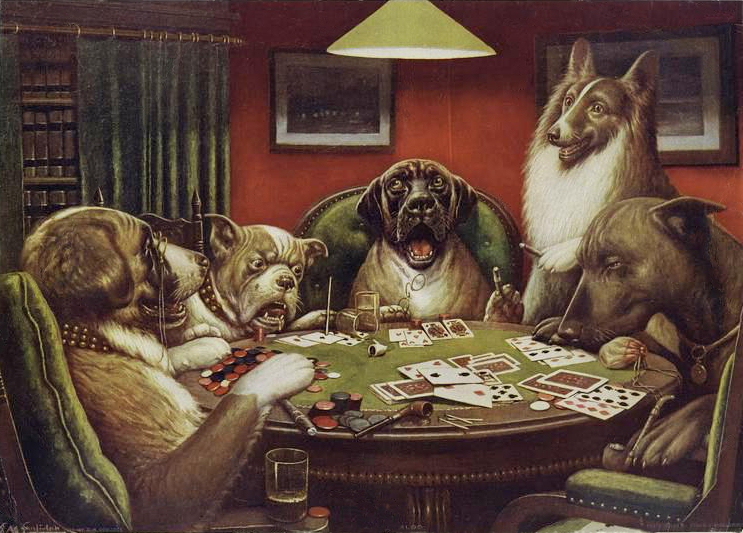 Waterloo