Timeline of Frida Kahlo's Life
1907 - Frida is born July 6 to Guillermo Kahlo (German/Austro/Hungarian, photographer, Jewish) and Matilde Calderon y Gonzalez, (Mestiza-Spanish/Indigenous, Catholic) in Coyoacan, near Mexico City.
1910 - Mexican Revolution begins.
1914 - At the age of 7 Frida contracts polio leaving right leg shorter and weaker.
1922 - Frida matriculates at National Preparatory School (NPS), Mexico's most prestigious high school. Frida is one of 35 females in a class of 2000 males, in a pre med program, indicating her brilliant mind and ambitious life plan.
1923 - At the age of 17 Frida meets Diego Rivera (36 yrs old), who is painting a mural at NPS.
1925 - On Sep 17, returning home from school with her boy friend Alejandro Gomez Arias, a streetcar smashes into the bus and Frida sustains multiple severe injuries (a steel rod enters her left side and exits through her vagina; her pelvis, spinal column, collarbone, and two ribs are broken; her right leg has 11 fractures; her right foot is dislocated and crushed). During convalescence, Frida begins to paint.
1927 - Frida joins Young Communist League.
1929 - At the age of 22 Frida marries Diego (who is 42 at the time) Aug 21. They begin three year trip mainly in US (San Francisco, New York, Detroit).
1931 - First public showing of Frida's paintings.
1932 - Frida miscarries in Detroit.
1933 - Frida and Diego return to Mexico to live in a Juan O'Gorman designed double house in San Angel near Coyoacan.
1934 - At the age of 27 Frida has an appendectomy, an abortion, and a foot operation. Frida and Diego separate briefly because Diego is having an affair with Frida's sister Cristina.
1937 - Four of Frida's paintings are included in a group exhibition at the National Autonomous University of Mexico (UNAM).
1938 - Actor Edward G. Robinson buys four paintings, her first major sale. Frida has first major exhibition (25 paintings) at Julien Levy gallery in NY. Andre Breton, leading Surrealist observer, writes the preface of the catalogue.
1939 - Frida is in France. Frida writes a postcard to Alejandro, but does not mail it. Marcel Duchamp arranges "Mexique" exhibition with Frida's paintings. Frida and Diego separate again, and Frida moves into Casa Azul (Blue House, where she was raised). Divorce from Diego is final in December.
1940 - Frida's paintings are featured at many exhibitions in Paris, San Francisco and NYC. Frida and Diego remarry on Dec 8, his 53rd birthday.
1941 - Frida is featured in an exhibition at Boston's Institute of Modern Art.
1942 - Frida has two exhibitions in NY, including MOMA.
1943 - Exhibition at Guggenheim's Gallery in NYC. Frida joins the faculty of the Education Ministry's School of Painting and Sculpture (aka "La Esmeralda"). Poor health prevents her from traveling to Mexico City so she teaches at her Coyoacan home to her four students (Los Fridos), including Arturo Garcia Bustos, who authenticated this collection of drawings and letters in 2006.
1944 - Frida has many medical complications; she starts her diary, which was first published in Spanish in 1995 and in English in 2005.
1946 - Frida is awarded National Prize of Arts and Sciences by Mexico's Ministry of Education. Morphine is prescribed for pain from NYC bone graft operation.
1947 - Frida asks Carlos Chavez, director of Mexico's National Institute of Fine Arts to assist three of the four Los Fridos, including Arturo Garcia Bustos, the authenticator of this collection.
1948 - Frida is reaccepted in Mexico's Communist Party. Diego begins a two year public affair with Maria Felix, Mexico's most famous movie star.
1949 - At the age of 42 Frida writes "Portrait of Diego" for her husband's 50 year retrospective at Mexico City's Palace of Fine Arts. Her right foot is diagnosed as gangrene.
1950 - Frida has six operations on her spine, and is hospitalized most of the year.
1951 - At the age of 44 Frida is confined to a wheel chair. Full time nurses relieve her pain with drug injections.
1952 - Frida starts a series of 13 still-lifes.
1953 - Frida's first one person show is exhibited at Galeria de Arte Contemporáneo in Mexico City. In August Frida's right leg is amputated to prevent the spread of gangrene.
1954 - At the age of 47 Frida completes her last still life, "Viva la Vida" (Hooray for Life). On July 2, F attends a demonstration accompanied by Diego protesting the CIA's intervention in Guatemala. Frida dies on July 13 of "pulmonary embolism" but suicide is suspected. Arturo Garcia Bustos is one of her pallbearers.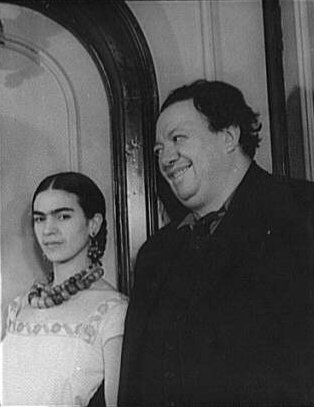 The Life of Frida Kahlo
Biography by Charles Moffat - 2007.
Born July 6th 1907 – Died July 13th 1954.
For most of her life Frida Kahlo was eclipsed by the fame of her lover and husband Diego Rivera, an incredibly influential Mexican muralist. Her life was intrinsically interwoven with the life of Diego Rivera and he was a major theme in her artwork.
To better understand Frida we must also stop and try to understand Diego. He was larger than life, both in personality and in girth, and associated with famous figures in art and politics. Rivera's large wall works in fresco established the Mexican Mural Renaissance Man and gained him a commission from Nelson Rockefeller at the Crossroads at Rockefeller Center. Rivera included an image of famed Communist Lenin, Rockefeller demanded the image be removed from the mural, Diego refused and Rockefeller fired him and destroyed the mural.
That said, Diego Rivera was a dramatic and stubborn man. His personality flaws, and Frida Kahlo's obsession with maintaining his attention, made their lives the stuff of soap operas.
Public awareness of Frida Kahlo's art was limited to art historians until a sudden interest in her work in the 1970s when feminists started paying more attention to her work. Since then her fame has outpaced Diego's and even spawned a feature film starring Salma Hayek and Alfred Molina.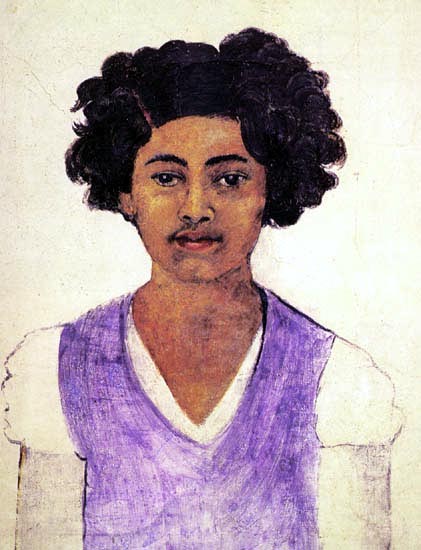 Childhood
Magdalena Carmen Frida Kahlo y Calderón was born on July 6th 1907 in her parents' house, known in Spanish as La Casa Azul (The Blue House), in Coyoacán.
Her father Guillermo Kahlo (1872-1941) was born Carl Wilhelm Kahlo in Pforzheim, Germany was the son of painter and goldsmith Jakob Heinrich Kahlo and Henriett E. Kaufmann. Wilhelm Kahlo had sailed to Mexico in 1891 at the age of 19 and, upon his arrival, changed his German forename Wilhelm to its Spanish equivalent Guillermo. She was reputably closest to her father who shared her interest in art and she was a fearless tomboy.
Frida was the second youngest of four girls born by her mother Matilde Calderón y Gonzalez. She also had two older half-sisters from her father's previous marriage. Frida's mother was a devout Catholic of Spanish descent. Thus Frida grew up surrounded by women and a strong interest in Spanish Catholicism.
The Mexican Revolution began in 1910 and Frida recalled that her mother would usher her and her sisters inside as gunfire echoed in the streets of her hometown. Her mother would sometimes prepare a meal for the hungry revolutionaries hiding in their backyard. Kahlo would sometimes claim that she was born in 1910 so people would associate her with the revolution.
Kahlo contracted polio at age six and left her right leg looking thinner and deformed. She hid this by wearing long skirts frequently. Despite this she was a tomboy and participated in sports like boxing.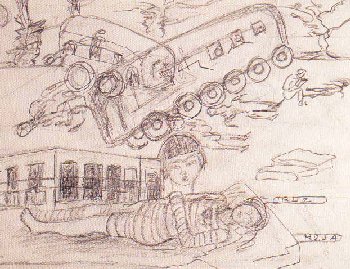 The 1920s
In 1922 her parents enrolled her in the Preparatoria, a prestigious school. Fond of getting in to trouble she later joined a revolutionary gang and fell in love with the gang leader, Alejandro Gomez Arias. During this period she witnessed violent armed struggles as the Mexican Revolution continued.
On September 17th 1925 Frida and her friend Alex was riding in a bus when it crashed into a street trolley car and was practically crushed and pulverized. She suffered a broken spinal column, a broken collarbone, broken ribs, a broken pelvis, eleven fractures in her right leg, a crushed and dislocated right foot, and a dislocated shoulder. The bus handrail also impaled her abdomen, pierced her uterus, which permanently damaged her reproductive ability.
She eventually regained her ability to walk, but she periods of extreme pain for the rest of her life. The pain was so intense she had to be confined to a hospital or bedridden for months at a time. She would undergo as many as 35 operations in her life as a result of the accident, mainly on her back and her right leg and foot.
Before the accident Frida Kahlo had been interested in medicine, but after that accident she started taking painting more seriously. She went through recovery in a full body cast and tried to occupy her time during her temporary state of immobilization by painting and drawing. During this period of time she painted numerous self-portraits:
"I paint myself because I am often alone and I am the subject I know best." - Frida Kahlo.
She drew herself using a mirror across from her bed, including a sketch of what she remembered of the crash. Her mother had a special easel made so Frida could paint in bed and her father lent her his box of oil paints and some brushes. Little did they know how much those paints would get used. During her lifetime she made over 140 paintings, including over 50 self-portraits, many of them in a Surrealist style using symbolism to express her pain and anguish. Unlike most Surrealists however she was not interested in the dream world and psychology.
She sometimes included Catholic and Jewish themes in her art, and claimed that her father was of German-Jewish descent (although historically his family was Lutheran).
In the late 1920s Kahlo approached the famous Mexican Diego Rivera who had earlier painted a mural at her school and whom she had previously admired through her friend Tina Modotti, who modelled for Diego Rivera. She asked him for his advice on pursuing art as a career.
Her method of courtship included teasing him, playing practical jokes and by trying to excite the jealousy of the painter's wife, Lupe Marin.
Diego immediately became interested in her, her talent and he encouraged her development as an artist. They soon became intimate and were married August 21st 1929, despite her mother's disapproval. People often referred to the couple as "The Elephant and the Dove." The nickname started when Kahlo's father noticed their extreme difference in size.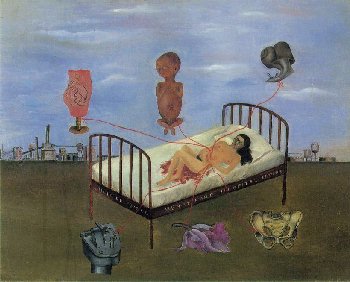 The 1930s
In the Autumn of 1930 Frida traveled with Diego to San Francisco, where Diego worked on murals at the Pacific Stock Exchange and the California School of Fine Arts, and in the summer of 1931 they went to New York where Diego had a major exhibition of his work.
In the spring of 1932 they moved to Detroit where Diego worked on a series of murals at the Detroit Institute of Arts. At this time Frida had become pregnant, however because of her injuries complications arose and she had to have an abortion to save her own life.
Both Kahlo and Rivera had notoriously fiery tempers and both had numerous extramarital affairs, and thus their relationship was rocky at best. Kahlo had affairs with both men and women (including Leon Trotsky). Rivera knew of and tolerated her Bohemian-style relationships with women, but her relationships with men made him jealous.
In early 1937 Diego helped Leon Trotsky move to Mexico. Kahlo and Diego had befriended Trotsky as he sought political sanctuary from Joseph Stalin's authoritarian regime in the Soviet Union and allowed him to stay in their home. After Trotsky and Frida reportedly had an affair he moved out and Trotsky and his wife Natalia moved to another house in Coyoacán where he was later assassinated. For Leon's November 7th birthday Frida painted the "Between the Curtains" self-portrait for him.
Despite her own affairs, Kahlo became outraged when she learned that Rivera had an affair with her younger sister Cristina.
Diego had a claim to a title in Spain which he sold to a cousin for funds to continue his painting in Europe.
During the late 1930s and well into the 1940s she frequently included the monkey (a symbol of lust in Mexican mythology) in her art. Kahlo used them as tender and protective, even nurturing symbols, like children sometimes.
In 1939, at the invitation of Surrealist André Breton, she went to Paris, France and had an exhibition of her paintings. Her paintings were held in customs for six weeks, but the problem was smoothed over a charismatic Marcel Duchamp. The show was not financially successful, but the Louvre bought one of her paintings, The Frame, its first work by a 20th-century Mexican artist, and started the ball rolling for her fame.
She developed a violent dislike for what she called "this bunch of cuckoo lunatic sons of bitches of surrealists." She did not denounce Surrealism, but obviously disliked their ideas about the dream world and psychology. in January 1940 she was a participant (with Diego Rivera) in the International Exhibition of Surrealism held in Mexico City. She was later vehement in her denials that she had ever been a true Surrealist, and didn't like to be compared to them.
"They thought I was a Surrealist, but I wasn't. I never painted dreams. I painted my own reality." - Frida Kahlo.
She divorced Diego at his request in December of 1939, but they remarried in 1940. Despite an excellent reception to her art both in Mexico and abroad, she felt she was nothing without Diego and reportedly drank a lot of liquor.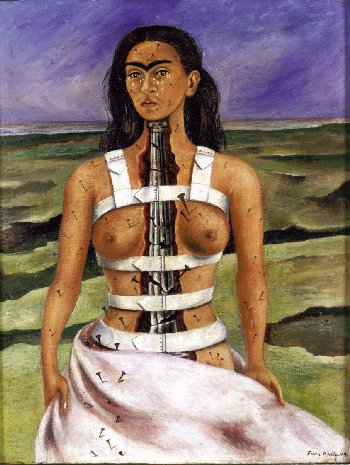 The 1940s
Despite their divorce in the latter of 1939 Frida and Diego continued to make public appearances together as a couple.
After the remarriage her artistic reputation grew more, at first more rapidly in the United States than in Mexico itself. She was included in prestigious group shows in the Museum of Modern Art, the Boston Institute of Contemporary Arts and the Philadelphia Museum of Art.
After the first attempt on Trotsky's life in May 1940, an assassination led by the painter Siqueiros, Rivera decided to leave for San Francisco. The second try was successful and Kahlo who was friends with both Trotsky and the assassin was questioned by police. In September she decided to leave Mexico and joined her ex-husband in San Francisco. Less than two months later they remarried on December 8th while still in the United States.
Kahlo's health was deteriorating rapidly and it is believed Diego wanted to be there to look after her.
Her 1944 piece "The Broken Column" may be the one painting that best shows her pain. The Broken Column depicts nails in her body as a metaphor for the physical pain she was enduring and the tears in Frida's eyes show her excruciating pain. Her nudity belies her sense of helplessness and sexual angst.
Some of her paintings during the 1940s appear clumsy and chaotic thanks to the joint effects of pain medications and alcohol.
In 1946 she received a Mexican government fellowship and an official prize from the Annual National Exhibition. She took up teaching at the new experimental art school 'La Esmeralda' and despite her unconventional methods proved an inspiration to her students.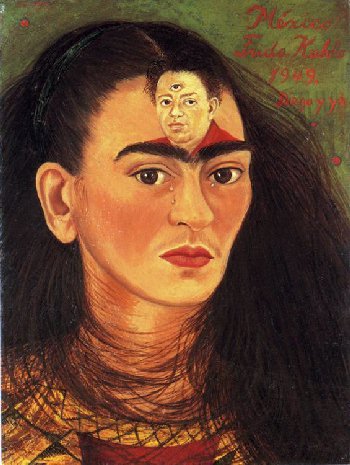 The 1950s
In early 1950 her physical state reached a crisis and she went to stay in a Mexico City hospital, she remained there for a year.
Frida became an increasingly fervent and impassioned Communist. Rivera had been expelled from the Party for his financial links with the Mexican government which commissioned murals and because of his association with the renegade Trotsky. Frida however maintained her membership and was devoted to the party.
"I was a member of the Party before I met Diego and I think I am a better Communist than he is or ever will be." - Frida Kahlo.
In 1953 Frida Kahlo had her first solo exhibition in Mexico (the only one held in Mexico during her lifetime). A local critic wrote: "It is impossible to separate the life and work of this extraordinary person. Her paintings are her biography."
At first it seemed that Kahlo would be too ill to attend her own show, but she sent her richly decorated fourposter bed ahead of her, arrived by ambulance, and was carried into the gallery on a stretcher. The private view was a triumphal occasion.
In July 1954 shortly before her death she made her last public appearance when she participated in a Communist demonstration against the overthrow of the left-wing Guatemalan president Jacobo Arbenz.
Her last still life was "Viva la Vida", a metaphorical depiction of watermelons. A few days before she died on July 13th she wrote in her diary:
"I hope the exit is joyful - and I hope never to return - Frida."
The official cause of death was given as pulmonary embolism, though some suspected an overdose. An autopsy was never performed. She had been very ill throughout the previous year and she had her right leg amputated at the knee due to gangrene. She had a bout of bronchopneumonia that had left her quite frail and helpless.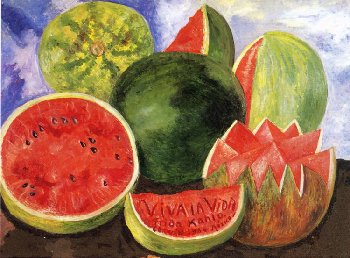 After Her Death
Her ashes were place in a pre-Columbian urn and placed on display in her "La Casa Azul" home in Coyoacán. Diego Rivera later donated the "Blue House" to Mexico City in 1957 and is now a popular museum which houses a number of her works of art and numerous relics from her personal life.
In Diego Rivera's autobiography he wrote that the day Frida died was the most tragic day of his life. He added that he had realized too late that the most wonderful part of his life had been his love for Frida.
Since the 1970s and 1980s numerous articles, books and documentaries have been made about the life and art of Frida Kahlo. She was a central historical figure of the Neomexicanismo Art Movement in Mexico and the 1983 movie "Frida, Naturaleza Viva" directed by Pablo Leduc starred Ofelia Medina and Juan Jose Gurrola as Frida & Diego was a huge success. The combined result of her resounding media attention both in Mexico and the United States has made her a household name. Haydeen Herrera's "Frida: The Biography of Frida Kahlo" became a worldwide bestseller.
The most recent addition to this list of accolades is the 2002 film "Frida" starring Salma Hayek and Alfred Molina.
---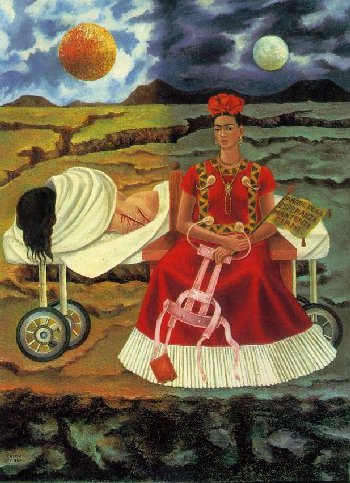 Quotes by Frida Kahlo
"Feet, what do I need you for when I have wings to fly?" - Frida Kahlo.
"I leave you my portrait so that you will have my presence all the days and nights that I am away from you." - Frida Kahlo.
"I love you more than my own skin." - Frida Kahlo.
"I never paint dreams or nightmares. I paint my own reality." - Frida Kahlo.
"I paint my own reality. The only thing I know is that I paint because I need to, and I paint whatever passes through my head without any other consideration." - Frida Kahlo.
"I paint self-portraits because I am so often alone, because I am the person I know best." - Frida Kahlo.
"I tried to drown my sorrows, but the bastards learned how to swim, and now I am overwhelmed by this decent and good feeling." - Frida Kahlo.
"My painting carries with it the message of pain." - Frida Kahlo.
"Painting completed my life." - Frida Kahlo.
"The only thing I know is that I paint because I need to, and I paint whatever passes through my head without any other consideration." - Frida Kahlo.
"There have been two great accidents in my life. One was the trolley, and the other was Diego. Diego was by far the worst." - Frida Kahlo.
"I hope the departue is joyful and I hope never to return." - Frida Kahlo.
"I am not sick. I am broken. But I am happy as long as I can paint." - Frida Kahlo.
"I drank to drown my pain, but the damned pain learned how to swim, and now I am overwhelmed by this decent and good behavior." - Frida Kahlo.
"They are so damn 'intellectual' and rotten that I can't stand them anymore....I [would] rather sit on the floor in the market of Toluca and sell tortillas, than have anything to do with those 'artistic' bitches of Paris." - Frida Kahlo. (on Andre Breton and the European surrealists) letter to Nickolas Muray, 02-16-1939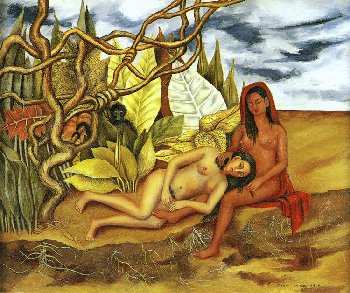 "People in general are scared to death of the war and all the exhibition have been a failure, because the rich - don't want to buy anything." - Frida Kahlo.
"I think that little by little I'll be able to solve my problems and survive." - Frida Kahlo.
The Diary of Frida Kahlo