Man Ray
The Art History Archive - Surrealism
---
This Website is Best Viewed Using Firefox
The Pioneering Surrealist Photographer
Biography by Brandi Leigh - 2007.
Born August 27, 1890 - Died November 18, 1976.
"Of course, there will always be those who look only at technique, who ask 'how', while others of a more curious nature will ask 'why'. Personally, I have always preferred inspiration to information." – Man Ray
Emmanuel Radnitzky born in Philadelphia and raised in Brooklyn New York by newly immigrated Russian-Jewish parents, his name slowly evolved to Man Ray – due in part to ethnic discrimination at that time. Man Ray's creative side came out very early in life and was eventually offered a scholarship to study architecture in 1908. To his parents' disappointment, he turned down the offer to focus on a career as an artist. Although his parents were not thrilled by his initial decision, they supported his passion for the arts, and even allowed him to convert a room in the house into a studio.
Man Ray began work in several mediums: sculpture, film, painting and photography were just some of his many passions. His earliest works were fairly static, inspired mostly by cubism and expressionism. It was only when Marcel Duchamp befriended him that he began to add movement to his works; his focus changed to Surrealism and Dadaism. Together the two founded the Society of Independent Artists in 1916, and published a single issue of New York Dada. During this time he married his first wife, Adon Lacroix in 1914. The marriage was short lived and they separated in 1919.
In 1915, Ray held his first solo art show at the Daniel Gallery which featured many paintings and drawings. It was around this time that he also began to get into photography. By 1918 he had produced some incredible work, photographs of art that he had created himself. His paintings were impressive, but Dada style was not popular in the States at that time, and he was not making any money with his art. Due to his failed marriage, lack of money and the weak enthusiasm for Dada art in the States, Ray moved to France where he spent the next 18 years of his life.
Ray could be called a "Jack of all Arts" because he constantly worked in many artistic mediums, from photography and painting to writing and film. He even referred to himself as a "practical dreamer", because of all the different art forms he chose to work in. Man Ray had many mentors and inspirations through-out his life, one of the most notable being Marquis de Sade – a man imprisoned for writing about sexual exploits involving women. Man Ray was inspired by his obsession with women and also began to explore female eroticism, evident in many of his photographs. Man Ray tried to create a Surrealist vision of the female form, and utilized solarization, cropping, over development (various photographic techniques) to create a surreal effect in his photographs.
During his time in France, he produced unique art pieces which came to be known as 'Rayogrammes' – pictures produced on photographic paper without the use of a camera; the subject is lain directly on the paper, light is exposed to it and then the paper is developed. The shadow of the subject is what creates the image, which stressed the influence of light and shadow rather than the importance of the image itself. One of Rays most famous 'Rayogrammes' being: 'Electricity' (1931).
While in France, Ray was involved in the Dada art movement and the only American member of the Paris surrealist movement. In 1925, at the Galerie Pierre in Paris, Ray was represented in the first surrealist exhibition along with Jean Arp, Max Ernst, Andre Masson and Pablo Picasso. Ray made a series of short films between the years 1923 and 1929. Some of his most well known being Retour a la raison, Emak Bakia, E'Etoile de mer, and Les Mysteres du chateau de de. He also collaborated with Paul Eluard, to create the books: "Facile" and "Les Mains Libres".
Rays true passion was painting, and yet he never made money off of his paintings. His photography was what paid the bills, working freelance for magazines such as Vogue, Bazaar and Vanity Fair. However he was noted as an exceptionally skilled painter, and did portraits for Pablo Picasso, Henri Matisse, Gertrude Stein and Ernest Hemmingway.
Ray was forced out of Paris in 1940 due to the war, so he headed to Hollywood to continue his art. Only a few days after arriving in Hollywood, he met and began to date Juliet Browner; after 5 years of courting, the two married in 1946.
Ray was a successful photographer in Hollywood and New York, but missed France and finally returned to Paris in 1951. He continued to work on his paintings, and published his auto-biography in 1963 – titled 'Self-Portrait'.
Man Ray passed away in his studio in France at the age of 86. Some major exhibitions which showcased Ray's art during the last two decades of his life include: Paris in 1962 and 1972, Los Angeles in 1966, Rotterdam in 1971, and New York in 1974. The Metropolitan Museum of Art in New York showcased 125 of his photographic works in 1973.
Once Ray had passed away, the French government honored Ray by constructing a replica of his studio to commemorate his life.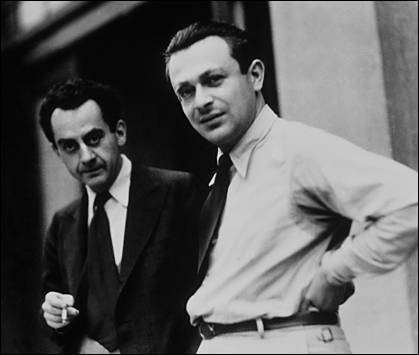 Man Ray in Popular Culture:
[Right: Tristan Tzara with Man Ray.]
Andy Warhol devoted a series of paintings to Ray.
His work "the lips" were used for the Rocky Horror Picture Show's adverts.
Sponge Bob, a popular children's cartoon features a character named Man Ray.
PBS ran a program in the American Masters series entitled 'Man Ray: Prophet of the Avant-Garde'.
Many musicians including R.E.M. and the Red Hot Chili Peppers used his art as inspiration in either lyrics or album covers.
Works by Man Ray
Barbette - 1926