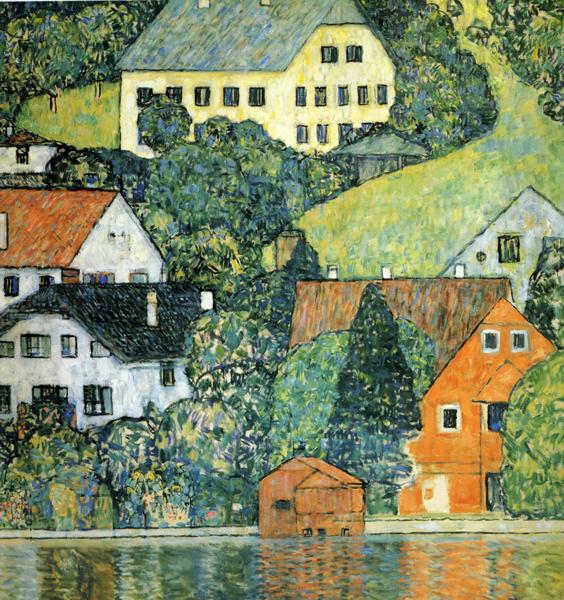 The Vienna Secession
Gustav Klimt was one of the founding members and president of the Vienna Secession (Wiener Sezession) in 1897 and of the group's periodical Ver Sacrum (Sacred Spring). The group's goals were to provide exhibitions for unconventional young artists and to bring the best foreign artists works to Vienna. Klimt remained with the Secession group until 1908.
The group had no manifesto and did not encourage any particular style and thus Naturalists, Realists, and Symbolists all coexisted. The government supported their efforts and gave them a lease on public land to erect an exhibition hall. The group's symbol was Pallas Athena, the Greek goddess of wisdom and the arts (Klimt painted his version of Pallas Athena in 1898).
The creation of the Vienna Secession however was not without controversy. Klimt and several other Vienna Secession artists were also members of KÄnstlerhausgenossenschaft (Association of Viennese Artists), which previously had maintained a near monopoly on the exhibition and dealing in local art and disliked the idea of immigrant competition. In May 1897 the KÄnstlerhausgenossenschaft committee passed a motion of censure against the Vienna Secession. Gustav Klimt, Carl Moll, Josef Engelhart and eight others walked out of the meeting, leaving the Association for good.
The Vienna Secession building was designed by member Joseph-Maria Olbrich. Above the main entrance, the following words appeared: Der Zeit ihre Kunst, der Kunst ihre Freiheit (`To every age its art, to art its freedom'). The building was essentially a historicist work, with much style and ornament: "Everything had to be clothed in earnest dignity. Pure dignity of the sort which came over me and made me tremble as I stood in solitude before the uncompleted temple at Segesta."
The first large exhibition of foreign work organised by the Secession occurred in 1898. With 57,000 visitors, and over a third of the exhibits sold, the exhibition was a great success: Modern art had been introduced to Vienna. By 1900, the Secession had replaced KÄnstlerhausgenossenschaft both as the receiver of international requests for exhibits and as the premier artist association in Vienna.
As a selector of material for exhibits, producing graphics for and being a member of the editorial staff of Ver Sacrum, Klimt remained at the centre of Secession activity until 1905 when internal strains between factions caused Klimt and several close associates to resign. The Secession never recovered. Klimt and others went on to form a new association, Kunstschau (`Art Show'), taking the motto from the Secession building with them.
In the late 1890s Klimt took annual summer holidays with the Flöge family on the shores of Attersee and painted many of his landscapes there. These works constitute the only genre aside from the figure that seriously interested Gustav Klimt, and are of a number and quality so as to merit a separate appreciation. Klimt's landscapes are characterized by the same refinement of design and emphatic patterning as the figural pieces. Deep space in the Attersee works is so efficiently flattened to a single plane, some believe that Klimt painted them while looking through a telescope.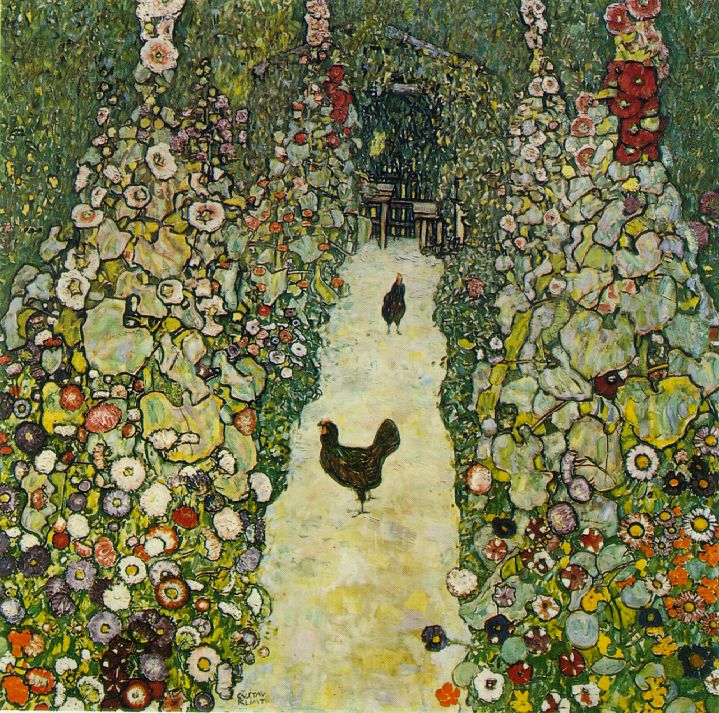 Controversy and Shotguns
In 1893 the Klimt brothers and Matsch were commissioned for the production of decorations for the Kunsthistorisches Hofmuseum for the decoration of a hall in the new University of Vienna. This commission was different from previous ones in that the work was to be entirely their own and they were allowed to do what they wanted. As the University commission progressed, a rift appeared between Gustav Klimt and Matsch, which deepened to the point where they would no longer work in the same studio. The commission dragged on, and it was some years before the exhibition of the commission finally opened.
In 1894 Gustav Klimt was commissioned to create three paintings to decorate the ceiling of the Great Hall in the University of Vienna. Not completed until the turn of the century, his three paintings Philosophy, Medicine, and Jurisprudence were criticized for their radical themes and material and even called "pornographic".
Klimt had transformed traditional allegory with overtly sexual symbolism and this made the pieces more disturbing. The public outcry came from various political, religious and artistic groups was intense. As a result they were not displayed on the ceiling of the Great Hall. This would be the last public commission accepted by the artist. All three paintings were eventually destroyed by retreating NAZI forces in May 1945.
"Within days of the exhibition opening, eighty-seven members of the University ... had publicly protested about Klimt's picture and petitioned the Ministry of Education to cancel the commission. They accused Klimt of presenting 'unclear ideas through unclear forms' : instead of making an unambiguous statement about the virtues of philosophy he had produced a puzzle which seemed to suggest that the mysteries of life were ultimately impenetrable and that human existence consisted of nothing more than the infinitely repeated cycle of birth, copulation and death."
Vienna journalist Karl Kraus accusing Gustav Klimt of being too simple to consider the issues involved in the commission. The academics found the symbolism too vague and the Catholics took exception to the nudity in Medicine which they considered "pornographic". To the scientific community Philosophy seemed to be attacking the ideas of "reality and facts". Despite the controversy the commission remained intact through the support of Dr Ritter von Hartel, the Austrian Minister of Education.
The paintings did not however go to the University, but instead to the State Gallery of Modern Art. The story did not end however as the gallery refused to allow the paintings to be shown internationally, fearful of tarnishing Austria's artistic and intellectual reputation. By 1904 Gustav Klimt was so annoyed he returned the money for the commission (he still had 10 more paintings to do for them) and demanded the three paintings back, claiming they were unfinished.
The Ministry replied that the paintings already belonged to the State and Klimt was not entitled to keep them. After further correspondence and a dramatic episode during which (according to rumor) Gustav Klimt kept the Ministry's removal men at bay with a shotgun, the Ministry finally relinquished its rights to the paintings and Klimt repaid his advance.
His Nuda Veritas in 1899 also shook up the establishment. The starkly naked red-headed woman holds the mirror of truth and above it is a quote by Schiller in stylized lettering: "If you cannot please everyone with your deeds and your art, please a few. To please many is bad."
In 1902 Gustav Klimt finished the Beethoven Frieze for the 14th Vienna Secessionist exhibition, which was intended to be a celebration of the composer and featured a monumental, polychromed sculpture by Max Klinger. Meant for the exhibition only, the frieze was painted directly on the walls with light materials. After the exhibition the painting was preserved, although it did not go on display until 1986.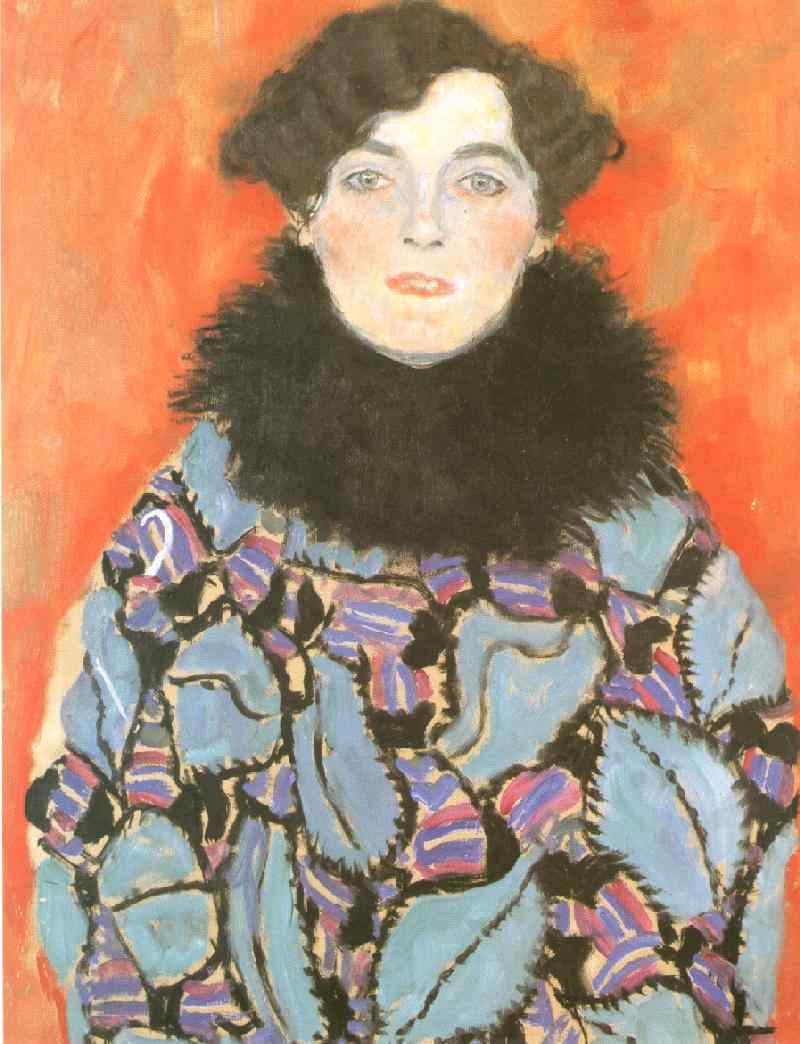 Gustav Klimt's Golden Years
Klimt's 'Golden Phase' was marked by positive critical reaction and success. Many of Klimt's paintings from this period utilized gold leaf (his use of gold can first be traced back to Pallas Athene in 1898 and Judith I in 1901) and the works most popularly associated with this period are the Portrait of Adele Bloch-Bauer I in 1907 and The Kiss 1907-08 (widely considered to be the greatest painting ever, better than even the Mona Lisa).
Klimt's work is distinguished by the elegant gold or coloured decoration, often of a phallic shape that conceals the more erotic positions of the drawings upon which many of his paintings are based. This can be seen in Judith I (1901), and in The Kiss (1907–1908), and especially in Danaë (1907). One of the most common themes Klimt utilized was that of the dominant woman or femme fatale.
Art historians note an eclectic range of influences contributing to Klimt's distinct style, including Egyptian, Minoan, Classical Greek, and Byzantine inspirations. Klimt was also inspired by the engravings of Albrecht Dürer and the Japanese Rimpa school.
His mature works are characterized by a rejection of earlier naturalistic styles, and make use of symbols or symbolic elements to convey psychological ideas and emphasize the "freedom" of art from traditional culture. Topics wise he would also paint ideas concerning the dangerous side of sexual attraction, the destructive "femme fatale" side of women, and even castration in the Freudian sense
During the early years of the 20th century Gustav Klimt took trips to Venice and Ravenna, both famous for their beautiful mosaics, where he studied their gold technique and was inspired by the Byzantine imagery.
In 1904 Klimt collaborated with other artists on the lavish Palais Stoclet, the home of a wealthy Belgian industrialist, which was one of the grandest monuments of the Art Nouveau age. Klimt's contributions to the dining room, including Fulfillment and Expectation, were some of his finest decorative work, and as he publicly stated, "probably the ultimate stage of my development of ornament."
Between 1907 and 1909, Klimt painted five canvases of society women wrapped in fur. His love of costume is expressed in the many photographs of Emilie Flöge modeling clothing he designed.
Klimt himself normally wore sandals and a long robe with nothing underneath as he worked and relaxed in his home. His simple life was somewhat cloistered, devoted to his art and family and little else except the Vienna Secessionist Movement. He avoided cafe society and other artists socially. Klimt's fame usually brought patrons to his door and by this time he could afford to be highly selective. His painting method was very deliberate and painstaking at times and he required lengthy sittings by his subjects.
Like Auguste Rodin, Klimt also used mythology and allegory to thinly disguise his highly erotic nature, and his drawings often reveal a strong sexual interest in women. His models were routinely available to him to pose in any erotic manner that pleased him and he had quiet bohemian affairs with many of them.
Klimt wrote little about his artistic beliefs or this methods. He wrote mostly postcards to Emilie Flöge and kept no journal and few notes. In a rare writing called "Commentary on a non-existent self-portrait" he wrote:
"I have never painted a self-portrait. I am less interested in myself as a subject for a painting than I am in other people, above all women... There is nothing special about me. I am a painter who paints day after day from morning to night... Who ever wants to know something about me... ought to look carefully at my pictures."
In his later years the amount of ornament in Gustav Klimt's work decreased. He became more interested in representational drawing and his work was more self-reflective as his dwelled on his life and old age. He also had become stubborn in his old age and did not consider any part of the human anatomy ugly, shameful or ignoble and thus drew or painted them all. A famous figure in Austria's art world by this time he was chided for embarrassing the nation with his "pornography".
In 1911 his painting Death and Life received first prize in the world exhibitions in Rome, one of the greatest highlights of his career.
In 1915 his mother Anna died. Gustav Klimt died three years later in Vienna on February 6, 1918, having suffered a stroke on January 11th and a bout of pneumonia. He was interred at the Hietzing Cemetery in Vienna. Many of Klimt's paintings were left unfinished.
Klimt's paintings have brought some of the highest prices recorded for individual works of art. In November 2003 Klimt's Landhaus am Attersee sold for $29,128,000, but that was soon eclipsed by prices paid for other Klimts. In 2006 the artist's Apple Tree I sold for $33 million and Birch Forest sold for $40.3 million. Both works had been recently restituted to the heirs of Adele Bloch-Bauer.
The 1907 portrait Adele Bloch-Bauer I beat Picasso's record price 1905 Boy With a Pipe (sold May 5th 2004 for $104 million) as the highest reported price ever paid for a piece of art sold at a public auction: US $135 million, it was purchased for the Neue Galerie in New York by Ronald Lauder on June 19th 2006.
On August 7th 2006 Christie's auction house announced it was handling the sale of the 4 works by Klimt that were recovered by the Bloch-Bauer heirs after a long legal battle. They auctioned Portrait of Adele Bloch-Bauer II in November 2006 for $88 million, the third-highest priced piece of art at auction at the time. Collectively the five restituted paintings netted over $327 million.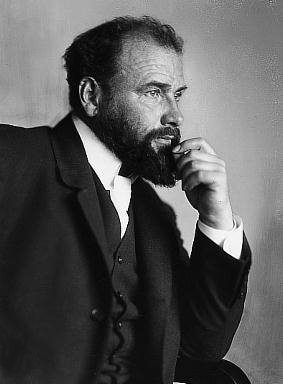 Gustav Klimt Quotes
"After tea it's back to painting - a large poplar at dusk with a gathering storm. From time to time instead of this evening painting session I go bowling in one of the neighbouring villages, but not very often." - Gustav Klimt
"All art is erotic." - Gustav Klimt
"Although even when I am being idle I have plenty of food for thought both early and late - thoughts both about and not about art." - Gustav Klimt
"Even when I have to write a simple letter I'm scared stiff as if faced with looming seasickness." - Gustav Klimt
"I can paint and draw. I believe this myself and a few other people say that they believe this too. But I'm not certain of whether it's true." - Gustav Klimt
"If the weather is good I go into the nearby wood - there I am painting a small beech forest (in the sun) with a few conifers mixed in. This takes until 8 'o clock." - Gustav Klimt
"On my first days here I did not start work immediately but, as planned, I took it easy for a few days - flicked through books, studied Japanese art a little." - Gustav Klimt
"Sometimes I miss out the morning's painting session and instead study my Japanese books in the open." - Gustav Klimt
"Then I paint again for a while: if the sun is shining a picture of the lake, if it's overcast then a landscape from the window of my room." - Gustav Klimt
"There is no self-portrait of me." - Gustav Klimt
"There is nothing that special to see when looking at me. I'm a painter who paints day in day out, from morning till evening - figure pictures and landscapes, more rarely portraits." - Gustav Klimt
"Today I want to start working again in earnest - I'm looking forward to it because doing nothing does become rather boring after a while." - Gustav Klimt
"True relaxation, which would do me the world of good, does not exist for me." - Gustav Klimt
"Whoever wants to know something about me - as an artist which alone is significant - they should look attentively at my pictures and there seek to recognise what I am and what I want." - Gustav Klimt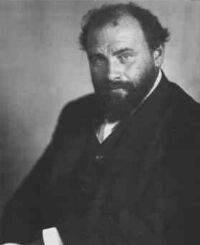 Chronology of the Life of Gustav Klimt
1862 - Gustav Klimt was born on July 14 in Baumgartern, near Vienna, Austria.
1867 - Enters the Vienna School of Art, where his talent is immediately recognized.
1879 - His brother Ernst Klimt also begins his study at the School of Art.
1877 - Klimt, together with his brother Ernst and Franz Marsch, begins to work on commercial projects.
1880 - They are commissioned to produce a ceiling painting for the Sturany Palace.
1881 - Begins to work on illustrations for the book Allegorien und Embleme.
1885 - Klimt employs gold leaf for the first time in a small sketch.
1886 - Begins to work with his brother Ernst on decorations for the new Burgtheather.
1888 - Wins the Gold Medal for his artistic creations, in Vienna.
1890 - Wins the Imperial Prize for his work at the old Burgtheather.
1891 - The Ministry of Education rejects him as a professor at the Kunstakademie.
1892 - After the death of his brother, he starts a close friendship with Ernst widow's sister, Emilie Floge.
1894 - Commissioned to decorate the ceilings of the Great Hall of Vienna University.
1895 - Winner of the Great Prize in Belgium, for his work at the Esterhazy theater.
1897 - The Secession was founded, with Klimt as president.
1898 - First Secession's Exhibition and first appearance of its monthly magazine Ver Sacrum.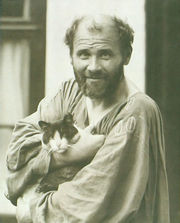 1900 - Klimt's Philosophy is awarded the Grand Prize at the World Fair in Paris.
1902 - Klimt paints the Beethoven Frieze in fresco for the Secession building.
1905 - Klimt withdraws from the Secession group.
1908 - The first Art Exhibit opens in Vienna. Klimt is represented with 16 paintings, including The Kiss.
1909 - The end of Klimt's golden period. Starts working at the Stoclet Palace.
1911 - Gets First Prize at Rome's Universal Exhibition, with his painting Death and Life.
1914 - The Expressionist painters criticize his work for being "old fashioned".
1915 - His mother dies and his palette becomes darker.
1916 - His work is displayed at the World's Fair in Berlin.
1917 - He starts working on his paintings Adam and Eve and the unfinished The Bride.
1918 - On January 11 Klimt suffers a stroke. He dies on February 6.