Lawrence Alma-Tadema
The Art History Archive - Biography & Art
---
This Website is Best Viewed Using Firefox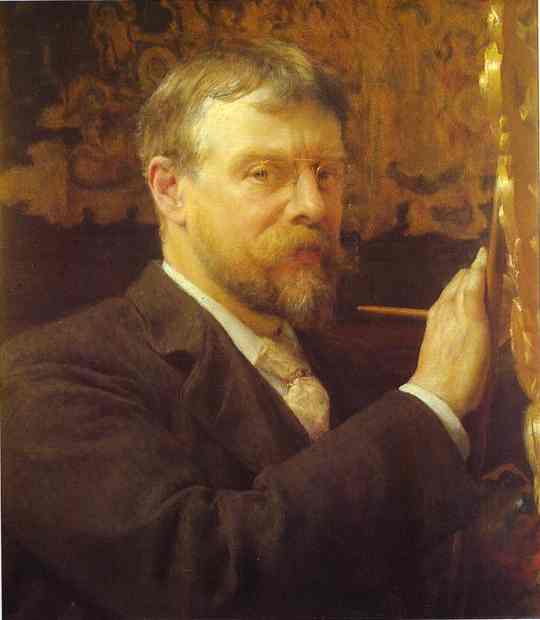 Sir Lawrence Alma-Tadema
1836-1912
Biography:
Laurens Tadema was born in Dronryp, Holland on January 8th 1836, the son of Pieter Tadema and his wife Hinke. Pieter and Hinke were members of the Baptist Church, and from this puritanical background would come the work ethic which drove Tadema junior all his life. Shortly after his birth the family moved to the town of Leeuwarden, where in 1840 Tadema senior died.
In 1852 Lourens became a student at the Antwerp Academy, where he studied under a number of noted practitioners of the Romantic school. Born also at this time was his interest in the Ancient World and archeology, which became the driving force in his whole artistic career.
In 1862 Lourens visited London for the first time, where he saw and was impressed by the Elgin Marbles, as well as some ancient Egyptian artefacts. In 1863 he married Pauline Gressin de Boisgirard, and they honeymooned in Italy, that magnet for most aspiring artists of the time. Whilst in Italy Lourens Tadema visited a number of times, and was fascinated by the newly excavated ruins of Pompeii, and kept a photographic record of these visits.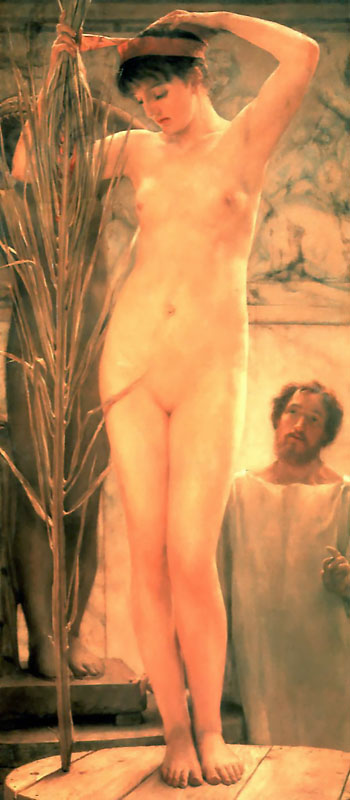 On returning from Italy the young couple moved to Paris, where Tadema met the celebrated art dealer Gambert, who quickly realised the potential of his young Dutch friend. At around this time the painter produced a number of pictures featuring his charming young French wife as a model. Lourens and Pauline had three children, a son who died in infancy, and two daughters, Lourens, and Anna, who was herself to become a highly talented, and sadly undervalued watercolourist. In 1869 the unfortunate Pauline died. Also at around this time, helped by the connections of Gambert, Lourens Tadema's paintings started to attract attention in London. This was followed by a move to London in 1870, probably motivated by the political instability on the Continent as well as progressing his career.
In London Lourens took pupils whist he established himself, and in 1871 he married his seventeen year old pupil Laura Epps, daughter of a prosperous doctor who was also an international merchant. This second marriage was enduring and happy, though childless, and Laura became stepmother to Anna and Laurens, fairly successfully as far as I am able to establish. Laura was herself an artist of talent, she was an intelligent woman, and her work was not derivative of that of her husband.
Around this time Lourens Tadema became Lawrence Alma-Tadema, a change which shrewdly moved his name forward in catalogues and exhibitions. He also became a naturalised British Subject. The artist started to become both commercially and critically successful, with John Ruskin one of the few dissenters.
The Tademas also became well known on the social circuit, shrewdly associating with the wealthy upper middle class society from which his major clients were drawn. In 1883 the family moved from Regents Park to the house in St John's Wood formerly occupied by Tissot and his mistress Kathleen Newton. Here they held the famous 'At Homes,' which were to become a feature of London Society.
The Tademas loved music, which was a part of these evenings, and among the guests were Paderwski and Tchaikovsky. Other notable guests included the Prince of Wales and Tadema's great friend Leighton, President of the Royal Academy. The house was much extended and featured a magnificent studio with a dome and gallery.
In 1899 Tadema was knighted in the special Birthday Honours List to celebrate the eightieth birthday of Queen Victoria. A banquet was held on 4th November in celebration of the knighthood of the popular painter. It was attended by a large number of fellow Academicians and friends, and a speech by the great man was received with acclamation.
In 1902 Tadema was created a member of the Order of Merit, the new honour in the direct gift of the sovereign King Edward VII. By 1905 the critical reputation of the artist had started to decline, and in 1909 Lady Alma-Tadema died.
Lawrence Alma-Tadema continued to paint, but his output decreased, and he died at the Spa in the German town of Weisbaden on 25th June 1912. He left a considerable sum of money to the Royal Academy.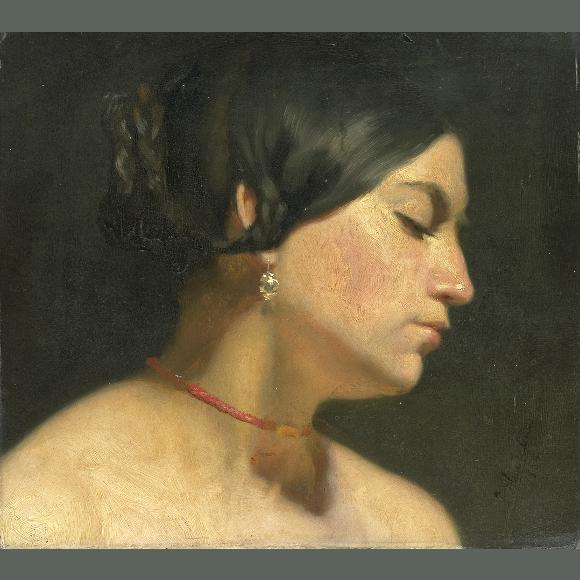 Paintings
Alma-Tadema painted pictures without deep-meaning or significance, essentially his work was decorative. His painting of metal objects was brilliant, but what really made him as a successful artist was his ability to paint marble, so popular in those times of nostalgia for ancient civilisations. His work tended to be frozen moments in time, and to be photographic in nature, rather like that of Tissot. He was also a distinguished and accomplished portrait painter. Among his most notable achievements are 'This is our corner,' of 1873 a touching evocation of his daughters as children, his self portrait in the Uffizi Gallery, and his portrait of George Henschel of 1879. In truth Alma-Tadema was a man of his time, and a highly successful entrepreneur-he gave the prosperous self-made picture buyers what they wanted.
Alma-Tadema has left behind a large number of beautiful decorative pictures. I visited the Exhibition at the Walker Gallery in 1997, and I was just amazed at the standard of the paintings, and of the impression they made together.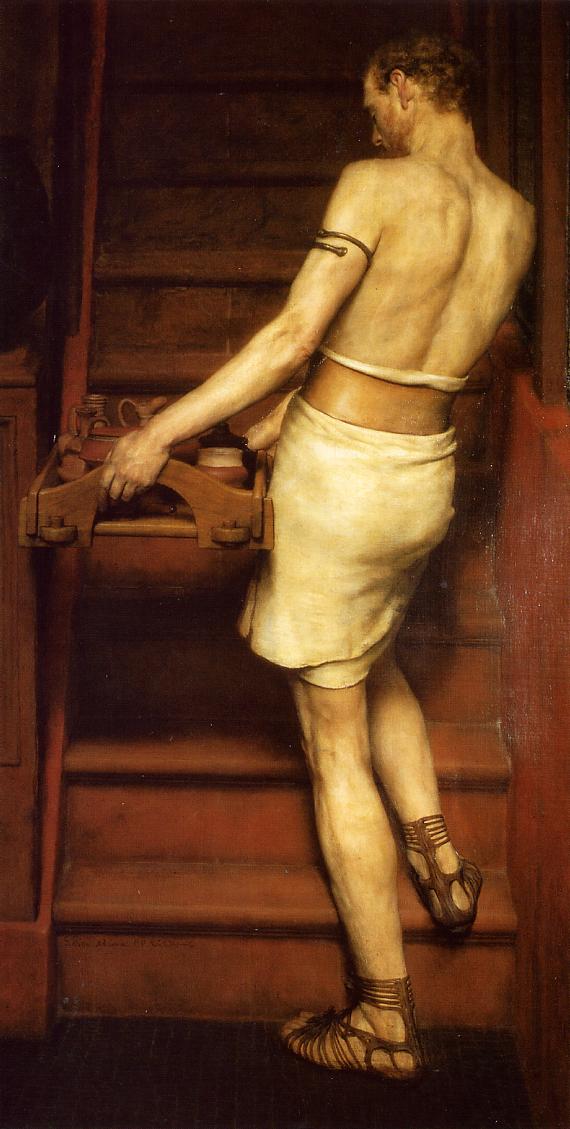 Paintings by Lawrence Alma-Tadema