The Video Art History Archive
The Art History Archive - Video Art
---
This Website is Best Viewed Using Firefox
The 2nd half of the 20th century was dominated by the medium of television and film. Where once art galleries were major sources of entertainment now it was movie theatres. Mass produced films shown to the masses and making millions of dollars in revenue.

But as film and video technology expanded so did artwork. Andy Warhol (American) and Nam June Paik (Korean) shot experimental videos in the early 1960s. Nam June Paik's "TV Clock" was 24 monitors each a Zen inspired colour band. While Warhol filmed happenings of performance art, Nam June Paik was essentially using the video camera as a paintbrush and the TV screen as a canvas.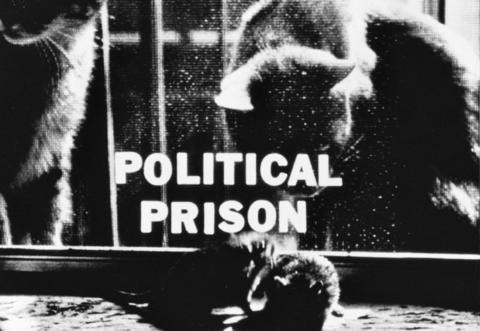 Canadian Joyce Wieland also experimented with video art in the later 1960s and 1970s, eventually even shooting a feature film: "The Far Shore". She also made a funny documentary called "The Rats Life and Diet in North America", which is a farce on Vietnam War draft dodgers. Its a story of a group of rats (the draft dodgers) being chased by a cat (the United States military) while on their way to Canada.
In the 1980s new artists like Bill Viola and Gary Hill used video to capture a stream of conscious thought, to show the mind's eye moving from one thing to the next as a narrative (complete with metaphors).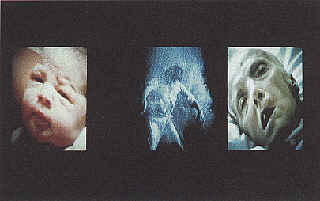 Viola's "Nantes Triptych" (1992) used Tantric Buddhism and Christian mysticism to discuss the mysteries of life and death. It consisted of three video panels (15+ feet high each) showing his wife giving birth on the first, his mother dying on the third and in the middle himself swaying and drifting underwater.
Gary Hill's early works were abstract but he eventually started using the human figure and voices, like in his "Primarily Speaking" (1983). In 1992 he stopped using spoken words to create "Suspension of Disbelief" in which he shows a nude man and woman on 30 screen monitors with the camera flowing over them at different speeds (sometimes so fast its just a blur).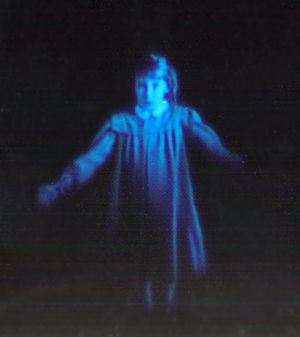 Gary Hill also created "Tall Ships" in 1992 (again with no sound) in which he projected grayscale images of people on to the wall of a dark corridor. The feeling of the piece is one part "Twilight Zone" and one part "Strangers in a Dark Alley". The people in the images move and appear to try to interact with the viewers. A girl runs forward towards the viewer, an old man glares at the viewer. The overall feeling is that the viewer is looking into the spirit world, and likewise the spirits are looking back.
Jenny Holzer however took video to a new level. By ignoring image and focusing on text only she was to incorporate phrases, quotes, sayings and poetry into her artwork in pieces like "Installation: Jenny Holzer" (1989-90) at the Guggenheim Museum. The piece consists of video signboards showing different phrases rotating around the room and 17 granite benches so that people can sit and read the signs. The sayings on signboard were what she called "mock cliches" in which she made up sayings that didn't exactly make sense like "A SENSE OF TIMING IS THE MARK OF GENIUS" and "ATTITUDE MAKES ALL THE DIFFERENCE IN THE WORLD".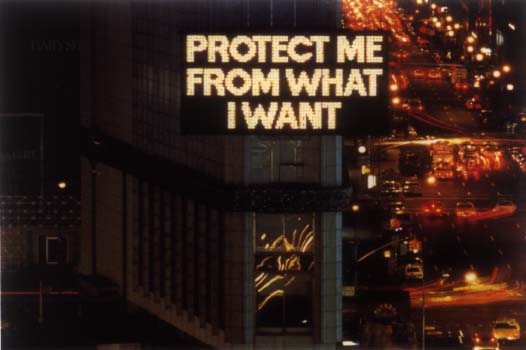 Holzer used the phrases in other works like her installation in Times Square in 1985-86 and "Truisms" to create a feminist dialogue with phrases like "EVERYONE'S WORK IS EQUALLY IMPORTANT, HUMANISM IS OBSOLETE", "MEN ARE NOT MONOGAMOUS BY NATURE" AND "PROTECT ME FROM WHAT I WANT".
In the Post-9/11 and YouTube world video art has now expanded into popular culture and anyone can make video art, and as such young tech-savvy artists like Canadian artist Charles Moffat have appeared to create playful music videos like "Samurai Jack is Too Sexy" (2004) and at the same time blatant anti-war art like "Fear Americans 1: Bushitler" (2004) in which he splices together pastiched video from various sources, including video of George W. Bush picking his nose spliced with a nuclear explosion (to the music of David Bowie singing "God is an American"). Moffat's video art works include "Nightmares in the Morning" (2001) and "Nuclear Winter" (2005).
Note: Some of the videos are difficult to find due to them being removed from YouTube.
Book Reviews:
Video Art - A Guided Tour
AUTHOR: Catherine Elwes
Video art dominates the international art world to such an extent that its heady days on the radical fringes are sometimes overlooked often unknown. Video Art, a Guided Tour is an essential and highly entertaining guide to video art and its history. Elwes, herself a practicing artist and pioneer of early video, traces the story from the weighty Portapak equipment of the '60s and '70s to today's digital technology, from early experiments in 'real time' to the 'new narrative' movement of the '80s. She also examines video's love-hate relationship with television. Artists discussed include, amongst others, Nam June Paik, Nan Hoover, The Duvet Brothers, Dara Birnbaum, Bill Viola, Pipilloti Rist, David Hall, Stuart Marshall, Stan Douglas, Smith & Stewart, Steve McQueen and Sam Taylor-Wood. Elwes brings to life the excitement and political fervour of video art's early days and follows its journey to its current status as the default medium for contemporary art.
Finding a good website designer in the GTA can be tricky. You want someone professional who doesn't cost an arm and a leg. When it comes to Toronto Website Design why not hire the straight shooters? designSEO.ca offers free quotes and they also provide Search Engine Optimization and video editing services. So if you need Toronto SEO and website design think designSEO.ca.
The History of Video Art:

Video art is often said to have begun when Nam June Paik used his new Sony Portapak to shoot footage of Pope Paul VI's procession through New York City in the autumn of 1965. That same day, across town in a Greenwich Village cafe, Paik played the tapes and video art was born. This fact is sometimes disputed, however, due to the fact that the first Sony Portapak, the Videorover did not become commercially available until 1967. In 1959 Wolf Vostell incorporated a television set into one of his works, "Deutscher Ausblick" 1959, which is part of the collection of the Museum Berlinische Galerie possibly the first work of art with television. In 1963 Vostell exhibited his art environment "6 TV de-coll/age" at the Smolin Gallery in New York. This work is part of the Museo Reina Sofia collection in Madrid.

Prior to the introduction of the Sony Portapak, "moving image" technology was only available to the consumer (or the artist for that matter) by way of eight or sixteen millimeter film, but did not provide the instant playback that video tape technologies offered. Consequently, many artists found video more appealing than film, even more so when the greater accessibility was coupled with technologies which could edit or modify the video image.

The two examples mentioned above both made use of "low tech tricks" to produce seminal video art works. Peter Campus' Double Vision combined the video signals from two Sony Portapaks through an electronic mixer, resulting in a distorted and radically dissonant image. Jonas' Organic Honey's Vertical Roll involved recording previously recorded material as it was played back on a television — with the vertical hold setting intentionally in error.

The first multi-channel video art (using several monitors or screens) was Wipe Cycle by Ira Schneider and Frank Gillette. An installation of nine television screens, Wipe Cycle for the first time combined live images of gallery visitors, found footage from commercial television, and shots from pre-recorded tapes. The material was alternated from one monitor to the next in an elaborate choreography.

At the San Jose State TV studios in 1970, Willoughby Sharp began the "Videoviews" series of videotaped dialogues with artists. The "Videoviews" series consists of Sharps' dialogues with Bruce Nauman (1970), Joseph Beuys (1972), Vito Acconci (1973), Chris Burden (1973), Lowell Darling (1974), and Dennis Oppenheim (1974). Also in 1970, Sharp curated "Body Works," an exhibition of video works by Vito Acconci, Terry Fox, Richard Serra, Keith Sonnier, Dennis Oppenheim and William Wegman which was presented at Tom Marioni's Museum of Conceptual Art, San Francisco, California.

Many of the early prominent video artists were those involved with concurrent movements in conceptual art, performance, and experimental film. These include Americans Vito Acconci, John Baldessari, Joan Jonas, Dan Graham, Bruce Nauman, Peter Campus, William Wegman, Martha Rosler and many others. There were also those such as Steina and Woody Vasulka [1] who were interested in the formal qualities of video and employed video synthesizers to create abstract works.

Notable pioneering video artists also emerged more or less simultaneously in Europe and elsewhere with work by Wolf Vostell (Germany), Dieter Froese (Germany), Wojciech Bruszewski (Poland), Wolf Kahlen (Germany), Peter Weibel (Austria), David Hall (UK), Lisa Steele (Canada), Colin Campbell (Canada) and others.

Although it continues to be produced, it is represented by two varieties: single-channel and installation. Single-channel works are much closer to the conventional idea of television: a video is screened, projected or shown as a single image; Installation works involve either an environment, several distinct pieces of video presented separately, or any combination of video with traditional media such as sculpture. Installation video is the most common form of video art today. Sometimes it is combined with other media and is often subsumed by the greater whole of an installation or performance. Contemporary contributions are being produced at the crossroads of other disciplines such as installation, architecture, design, sculpture, electronic art, and digital art or other documentative aspects of artistic practice.

The digital video "revolution" of the 1990s has given wide access to sophisticated editing and control technology, allowing many artists to work with video, and create interactive installations based on video. Some examples of recent trend in work include entirely digitally rendered environments created with no camera, and video that responds to the movements of the viewer or other elements of the environment. The internet has also been used to allow control of video in installations from the world wide web or from remote locations.

Emerging in the 1970s, Bill Viola (USA) continues as one of the world's most celebrated video artists. Matthew Barney is another well-known American video artist, creator of the Cremaster Cycle. Other contemporary video artists of note include Americans Gary Hill and Sadie Benning, Pipilotti Rist (Switzerland), Shaun Wilson (Australia), Stan Douglas (Canada), Douglas Gordon (Scotland), Martin Arnold (Austria) and Gillian Wearing (UK).